It was technically my third time in Paris, but only the second one I could remember. I had gone to EuroDisney when I was a child, so that memory of Paris was pretty much lost to time (and no doubt eclipsed by visuals of Mickey Mouse and photographs of an ice-cream-covered young me). But I visited once again a few years ago, and I still remember those strolls around Place Vendome, Marais, the Seine.
Note: My visit to Paris was provided courtesy of Rail Europe in collaboration with Mama Shelter Paris; however, all opinions and viewpoints expressed in this post are, as always, my own. This post does contain some affiliate links, for which I will earn a small commission (at no extra cost to you, of course).
If you want to get to Paris for a four-day getaway with airfare, hotel, and a Paris Pass included, book a trip with amazing rates at Great Value Vacations. To just get discounted tickets and a citywide pass, check out the Paris Pass!

The Perfect City for Wandering ("Flâner")
Paris is one of those cities I enjoyed so much more the second time around. Not that I don't love the Louvre, the Eiffel Tower, Place Vendome, Notre Dame, and the Catacombs. But, it's nice to have already hit the high tourist points and then have the freedom to explore.
The French have a word for this, my favorite activity of all time – flâner: roaming around without a destination.
I stayed in the 20th arrondissement, far removed from the tourist center. Here are the spots I meandered through, which I highly recommend if you want to wander around some local, (slightly) less tourist-centric parts of the city.
Spend a Day in the Latin Quarter
On either side of the island that's home to Notre Dame are great neighborhoods to meander around – first and foremost, the Latin Quarter, on the south side. Located in the 5th and 6th arrondissements, it contains plenty of gorgeous, historic buildings from the 16th to the 18th century, as well narrow, sloping streets (just a heads up, your thighs will get quite a workout going up those hills).
This is a popular student area, thanks to the nearby Sorbonne and several other campuses, so plenty of cafes, bookshops and markets line the charming roads, along with some Roman influence and ruins. It also holds some great, less-visited Paris sights like the Pantheon (yep, there's one in Paris too), and is near the famous Jardin du Luxembourg.
Things To See:
Pantheon

 – Built in the 1700s, the Pantheon has incredible architecture and is the resting place for Voltaire, Rousseau, and Emile Zola.

Arènes de Lutèce

 – Roman amphitheater ruins surrounded by gardens.

Rue Mouffetard

 – The most scenic medieval, narrow, sloping streets in the area, with a street market operating most days.

Eglise Saint-Etienne du Mont

 – A 15th-century church next to the Pantheon.

Place de l'Odeon – A beautiful place to wander around, with a historic 1700s-era theater.
Admire the Architecture of Rue Réaumur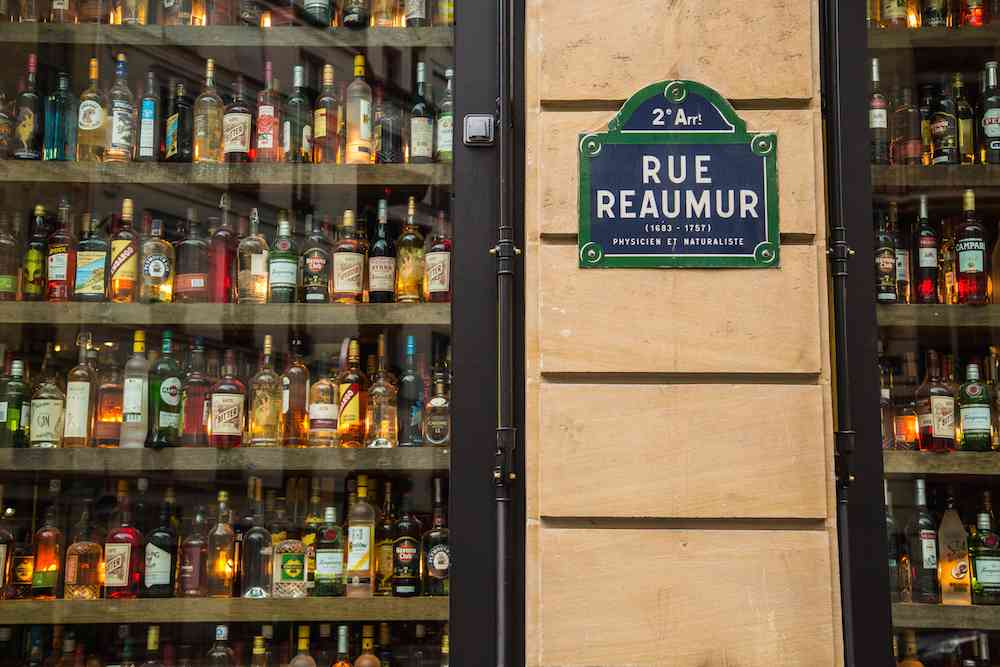 It might be hard to believe if you love this city, but at one point, Parisians wanted a change from their distinctive Haussmannian architecture. So in the center of the 2nd arrondissement, the city council created a new street and asked architects to craft some innovative buildings – a prize would go to the best one.
As a result, you can see everything from iron structures to Art Nouveau buildings here along Rue Réaumur. Check it out!
Explore Nouvelle-Athènes and the Passages
Walk around the hilly, hipster, artsy neighborhood of Montmartre if you haven't been there before, but if you want to get some space from the huge tourist crowds after that, walk down towards the 9th Arrondissement and slowly make your way to the 2nd Arrondissement below.
The 9th Arrondissement is known as "Nouvelle-Athènes," thanks to the Hellenic influence on the townhouses and mansions in the area. This area is relatively big, so there is a lot to explore, some fun areas for shopping and dining, and some rougher areas in between. You'll also come across many shopping "passages" in the 9th & 2nd arrondissements (they are neighboring 'hoods, despite the numbers), cool pedestrian shopping areas under arched roofs between major streets.
Things to Do:
Walk Down Rue Montorgueil
Located in the elegant 2nd Arrondissement, Rue Montorgueil is much more fun and relaxed than most other parts of this upscale area. It is a bustling pedestrian street with restaurants, cafes, and eclair shops lining the main road.
---
Local Tip: I got an eclair from L'Eclair de Genie, and it was one of the most delicious things I've eaten – this coming from a person who is not really into desserts. Check it out.
---
People Watch at a Café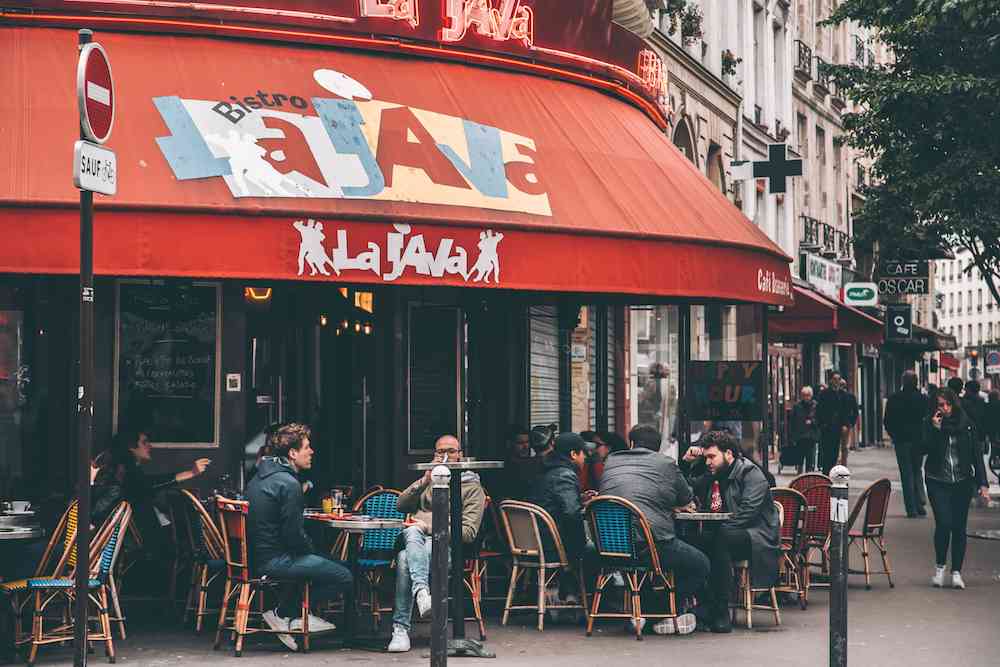 With the exception of the café above and a few others, you know what I love about many Parisian cafés? They set up all their seats facing outwards. It's like they want you to just sit down, order a cappuccino, and watch the world go by. So why not do so? Paris is meant to be taken in slowly.
---
Local Tip: Try ordering in French. Actually, try picking up a few general phrases you might need in French before visiting Paris because locals do appreciate it. Here's a French phrase guide!
---
Spend a Night in Oberkampf
Oberkampf is a young, up-and-coming, alternative kind of neighborhood, with plenty of cool restaurants and bars. It helps to know some French to get around here, though it's not necessary, and as with any up and coming hipster nightlife area, it has its grungy parts.
Things To Do:
Cafe Charbon – An Oberkampf highlight. DJs play pop and electro beats and cool kids from all over Paris come here; according to locals, it gets insanely packed on weekend nights (open until 4 AM). Bonus: you can also get dinner here.
Cantada II – A gothic-looking rock bar with live performances in the basement, and a huge selection of absinthes at the bar.
La Fine Mousse – A bar for those of you (and me) who love craft beer.
Just Explore! Street Art & Street Shots
The above suggestions are a starting point. But honestly, just start walking and see where the road takes you! Paris has so many beautiful little streets and corners, but also edgy neighborhoods full of life, young energy, and of course, plenty of street art.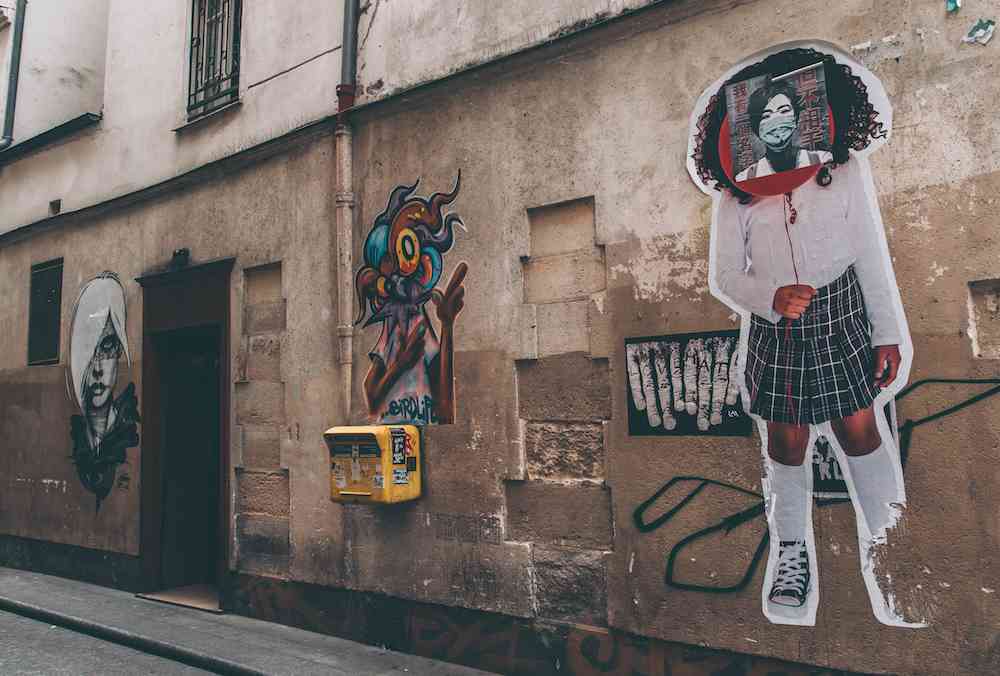 Instead of sticking to the major boulevards, follow the small passages, narrow alleys, sloping streets, and you never know what you'll discover or where you'll end up. Of course, always follow your instincts and stay alert – if some place looks sketchy or has very little traffic, perhaps it's best to avoid it unless you're with a local who OKs the area.
Paris is, above all, one of my favorite areas for people watching, street scenes, and street photography. If you go outside the major centers, the city is much less about elegance and glamor, and much more edgy, diverse, and energetic.
So go ahead and explore!
Want to Visit Paris Yourself?
If you're visiting Paris again, search and book some great Paris hotels here.
Want to stay where I stayed? Book Mama Shelter Hotel.
If you want to explore Paris next year, book Contiki Travels in Europe now and save 10%!
Booking from within the EU? Check out Trafalgar Tours in France.
First time in Paris? Check out my post on which Paris attractions you should visit!
Is there a city you enjoyed more the second time around? Comment below, then share and pin away! To follow more of my travels and photos, stay up to date on Lose the Map Instagram!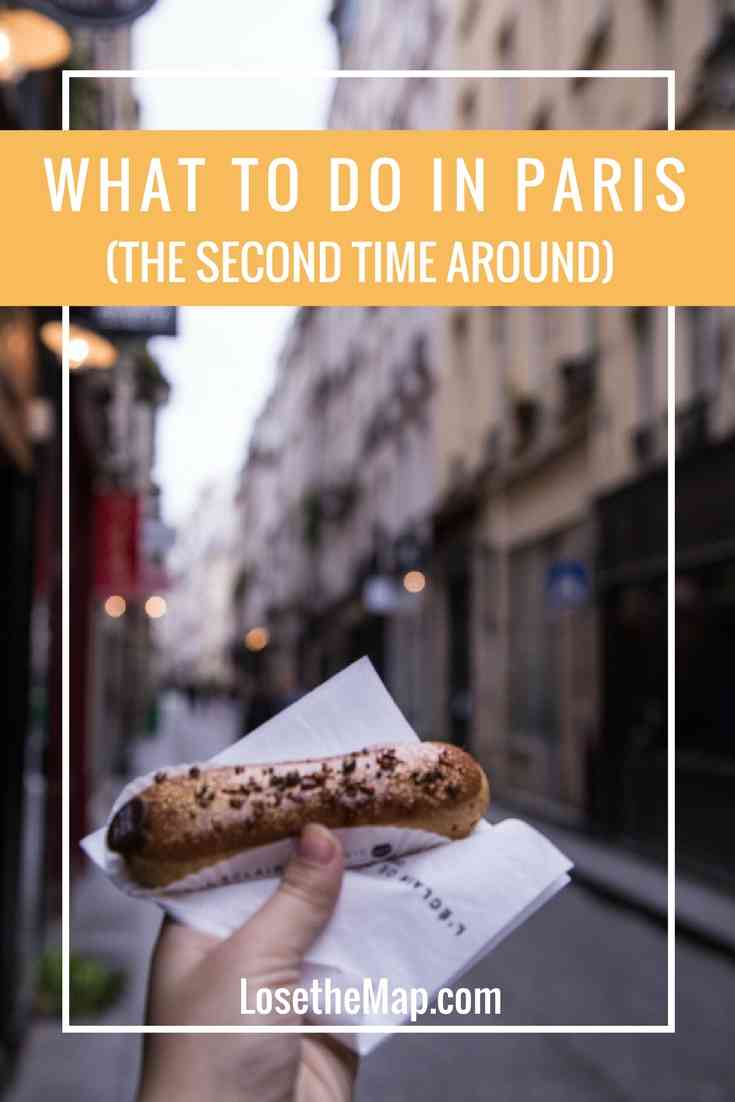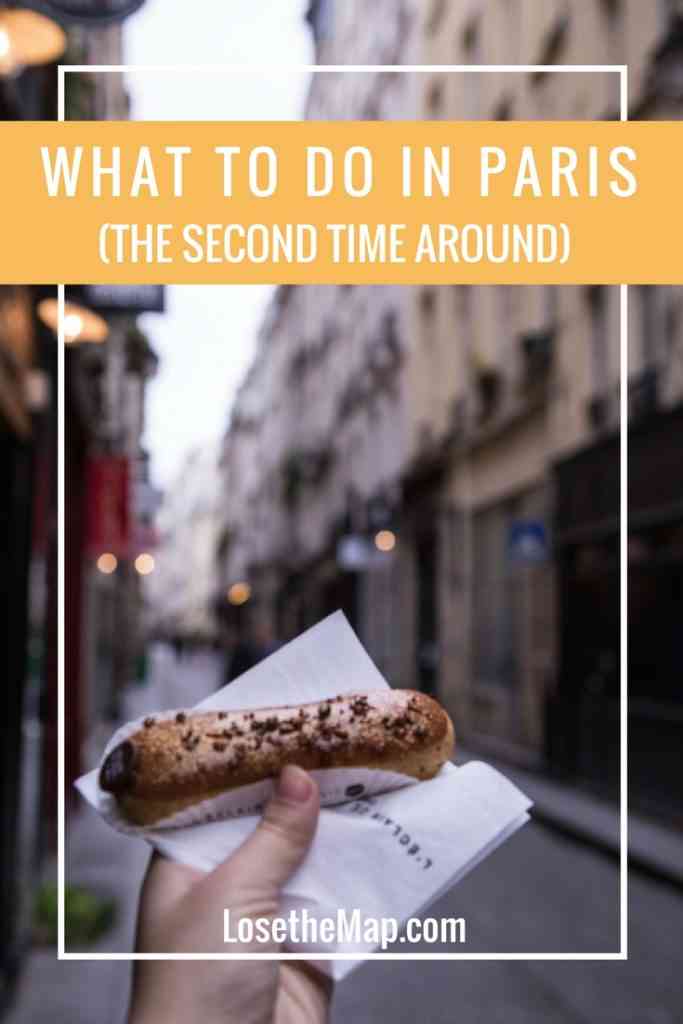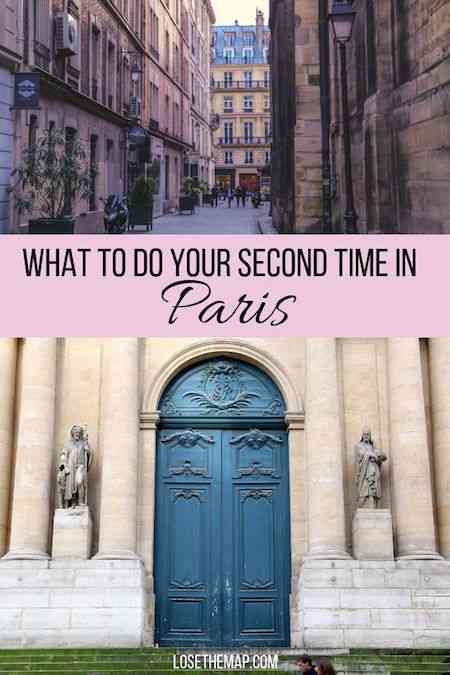 SaveSave
SaveSave
SaveSave
SaveSave