From "In Bruges", the Colin Farrell movie you need to see – a character describes Bruges: "How's a fairytale town not somebody's fucking thing? How can all those canals and bridges and cobbled streets and those churches, all that beautiful fucking fairytale stuff, how can that not be somebody's fucking thing, eh?"
The word "fairytale" gets thrown around a lot in travel. "The cobblestone alleys made the town look like a fairytale", "we walked through the fairytale setting", "a fairytale sunset", etc., etc, towards infinity, ad nauseum. I'm probably guilty of this myself.
I'm also here to tell you that almost every use of that word that doesn't apply to Bruges is just plain wrong.
That's right, travel writing community, you have to take it all back. Because there is only one fairytale dimension in this world, and that is Bruges. (Maybe Prague too; I'll give you Prague)
There is something almost unreal about Bruges. It seems too beautiful, too well-preserved, too charming to be a town in the here and now, a place in the present.
Every time I came across someone who was born and raised in Bruges, it seemed crazy to me that people actually live here, and that this wasn't the latest, most authentic development of some kind of nostalgic theme park. Every time I passed a house, I found it so hard to believe that someone was in there; eating, sleeping, calling it a home.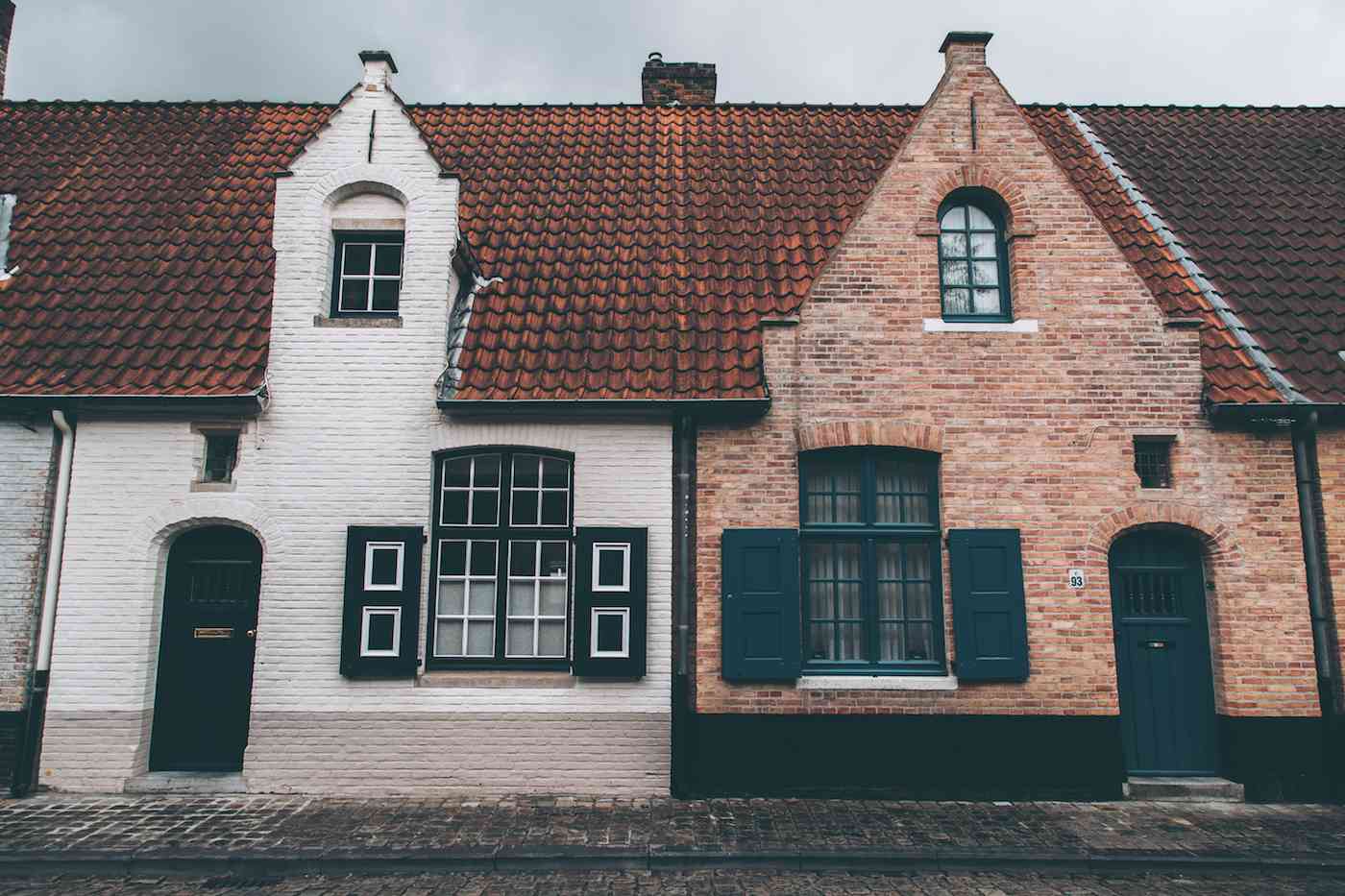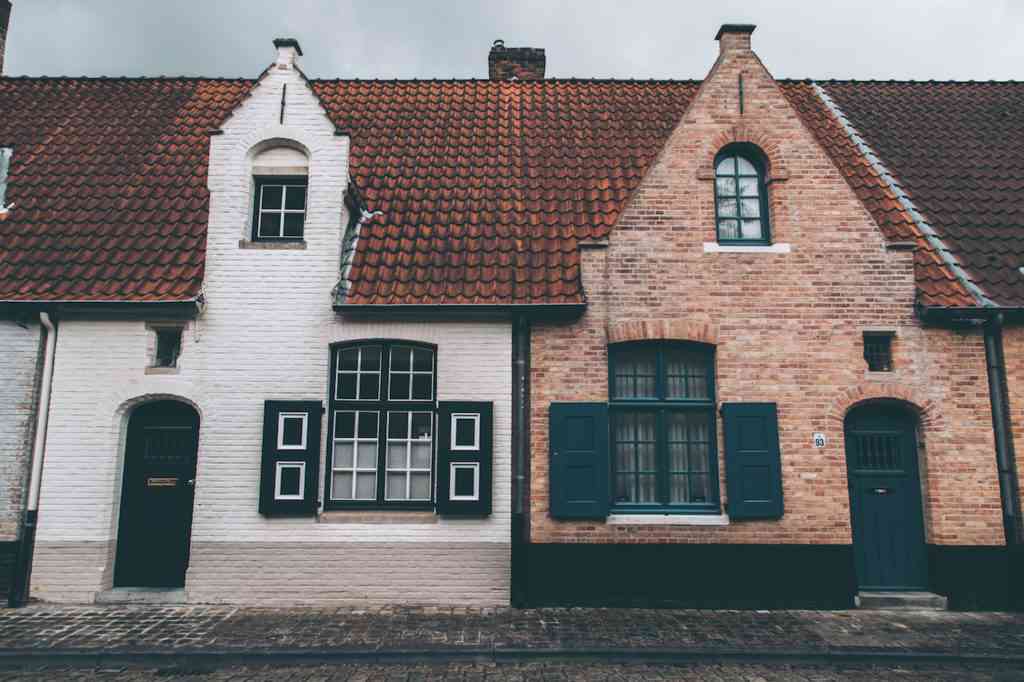 Getting Around Bruges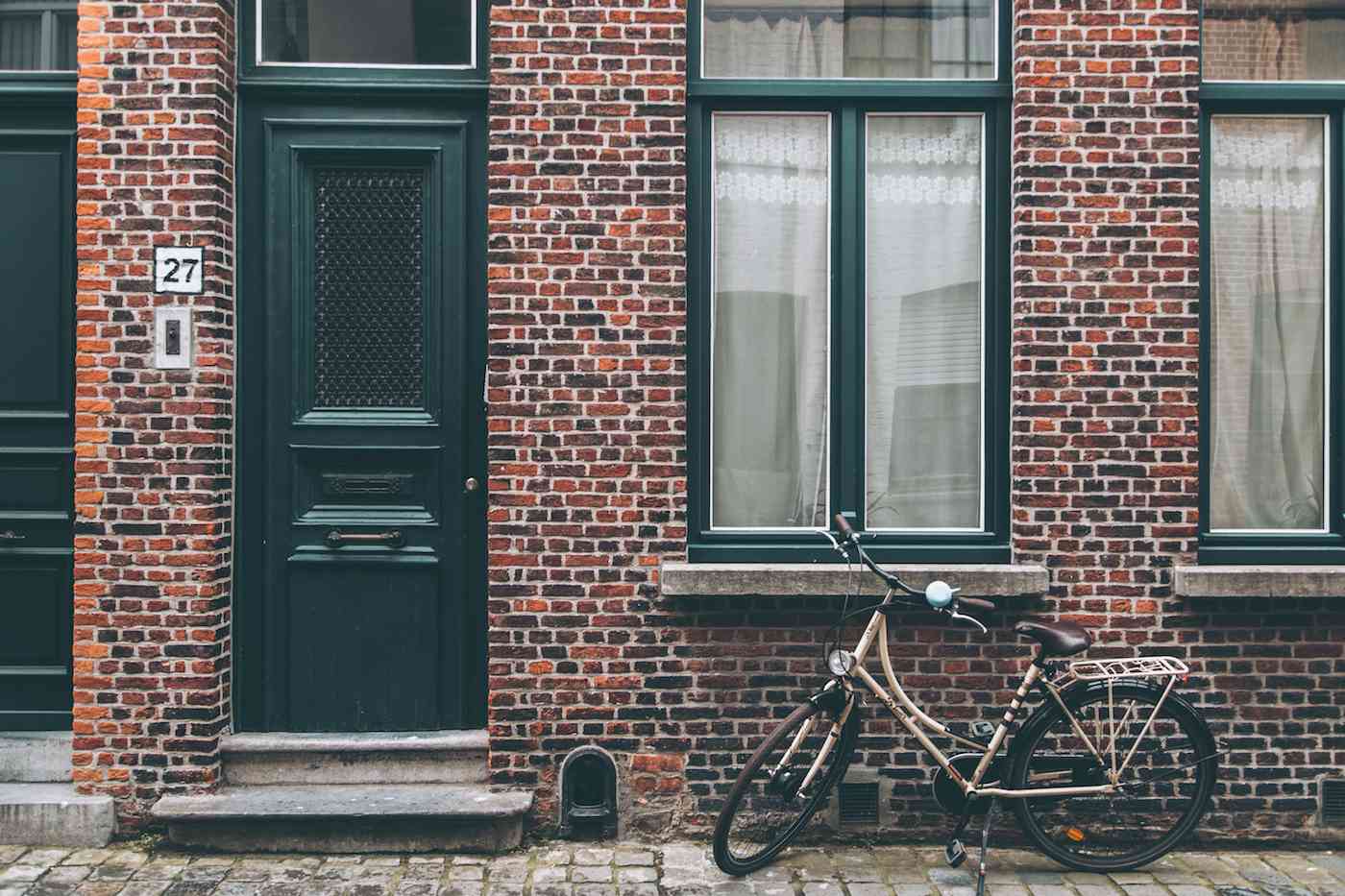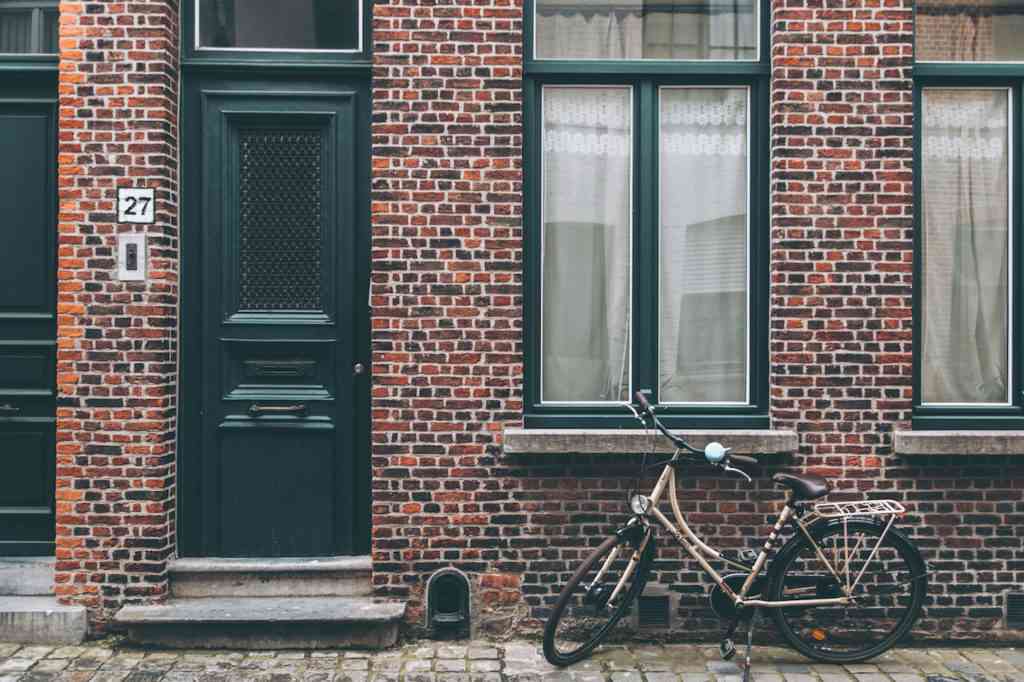 You might notice the bicycle parked out front above. If you don't feel like walking around Bruges – though the city is small enough to be easily walkable – biking seems to be the second most popular way to get around.
If you're in a romantic mood (hello my coupled up readers!) you could always hire a horse-drawn carriage.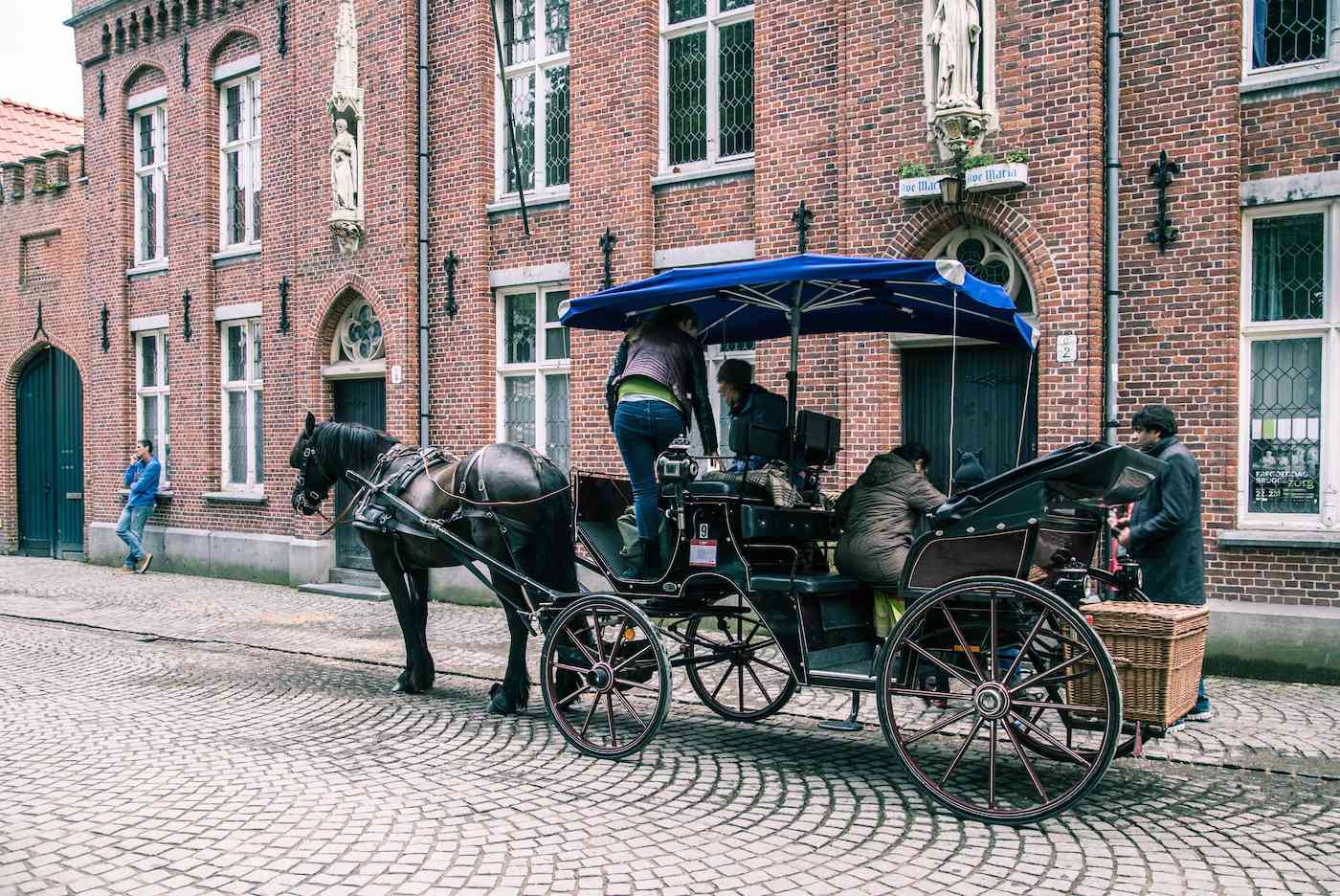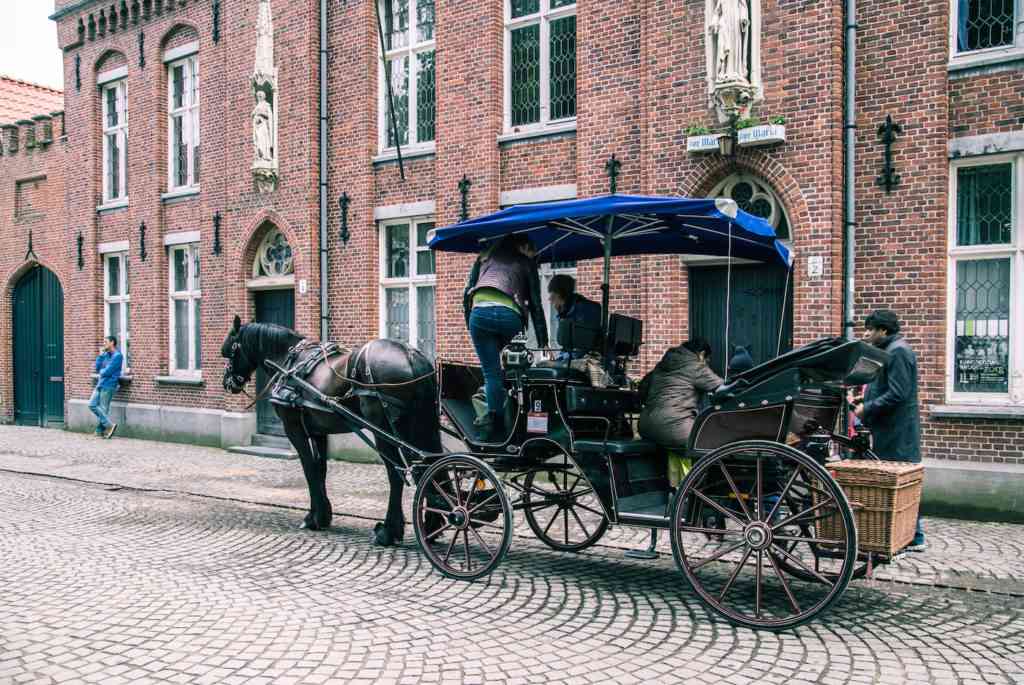 Your other option would be to take a canal cruise. I personally didn't, just because I visited during a weekend in May, which seems to be a busy tourist time in Bruges – every boat was jam-packed. But I managed to get plenty of beautiful views of the canals that wind throughout the city regardless.
A Little History
To give some context to this beautiful town: Bruges is the capital of West Flanders, part of the northern/northwestern Flemish portion of Belgium. The locals speak a dialect of Dutch known as Flemish; knowing some Dutch may help you a little, but two separate friends from the Netherlands told me that they didn't understand local people in Bruges (or Brugge, in Dutch) almost at all when they spoke.
I stayed at an incredibly cozy bed and breakfast called Huis 'T Schaep. I believe the 'T, which you'll see often in Bruges, is pronounced "het". Any Flemish speakers, please correct me below!
---
Local Tip: I highly recommend the above mentioned Huis 'T Schaep if you ever stay in Bruges. The prices might seem a little high, but they're actually very affordable compared to the hotels in the area, especially if you book in advance on a weekday (I booked last minute for a Friday night). Each room in this period townhouse has a unique, classic design, and Michael and his family, the owners of the B&B, will literally make you feel like family, and help you out with whatever you need.
Disclosure: The link above is an affiliate – no difference for you in price, but I do get a small commission if you book through the link.
---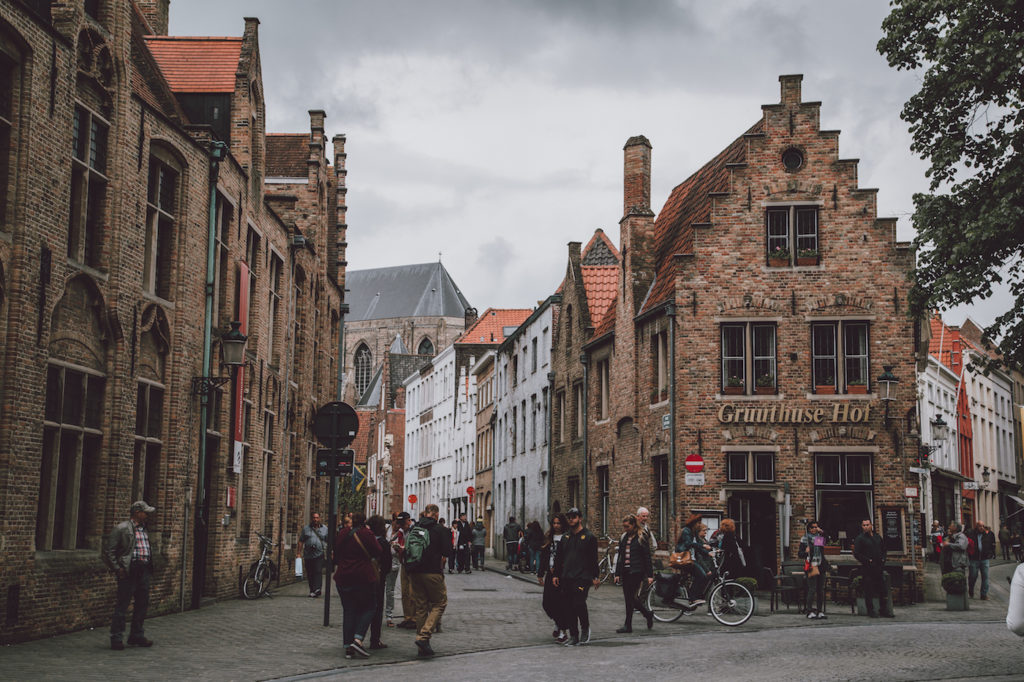 As you walk through Bruges, you'll notice a lot of brick Gothic buildings like the ones above. That's part of the reason the historic center of Bruges has been designated a UNESCO World Heritage Site. The first signs of people in Bruges date from between the 1st and 3rd century, a small settlement of Gallo-Roman people. The next few centuries have been lost to time, but the timeline officially picked back up again in the 9th century, when Charles the Great built a fortification on Burg Square, to protect the area from Vikings. Bruges became a major center for the textile trade by the 13th century thanks in part to its extensive canals, part of a natural river called
Bruges became a major center for the textile trade by the 13th century thanks in part to its extensive canals, partly formed by a natural river called Reie – which is why you'll notice a lot of the canal names end in -reie (Spiegelrei, Langerei, Groenerei, Spinolarei), and partly dug to form part of a city rampart.
The city center currently has a population of around 20,000, though greater Bruges has 118,000 people. Historians estimate that the city center had 40,000-45,000 people back at its apex, at around 1300-1400. Not to mention the population back then was incredibly rich as well, thanks to the textile business and trade.
Walking around Bruges, it's hard to imagine this was ever a thriving center of industry. Even with the throngs of tourists near the center, a slow pace of life and sense of tranquility pervade every corner of the town.
Sightseeing in Bruges
Most tourists tend to concentrate in a couple of central areas in Bruges; even if you want to avoid the crowds, you should definitely check out these places. Below is the picturesque corner of Braambergstraat and Pandreitje, one of the most photographed parts of the city.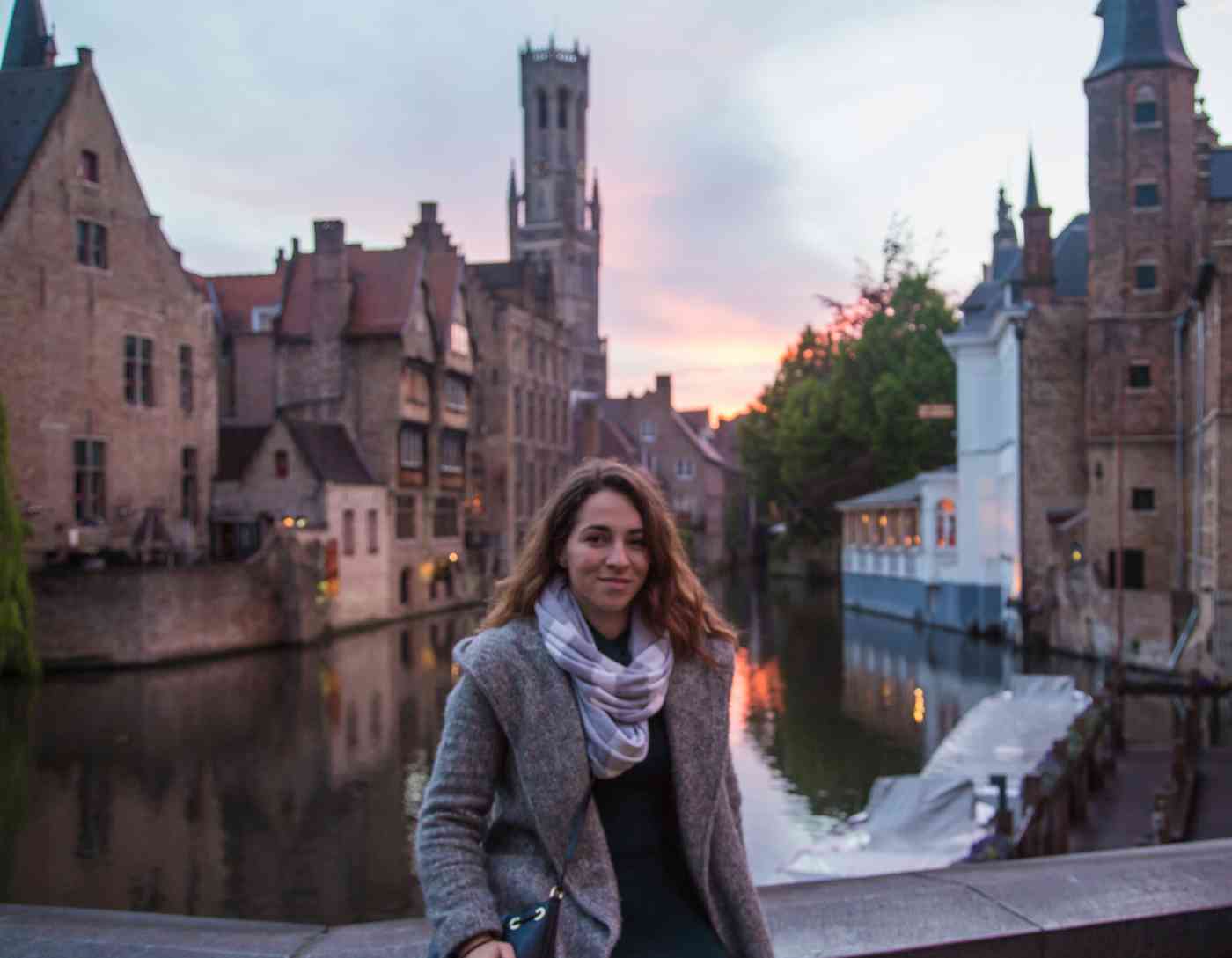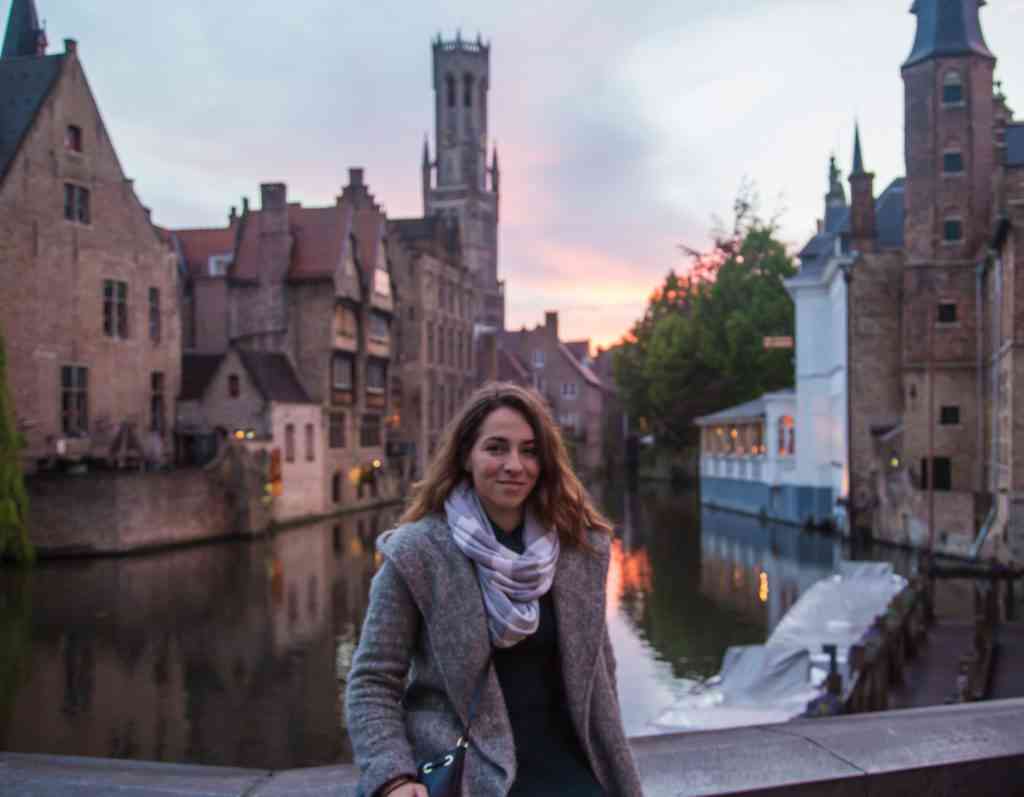 You can walk about five to ten minutes from this place to Place de Bruges, the central square and market.
---
Local Tip: Within or just a few blocks away from the Markt area are some of the best Bruges museums; I recommend Groeningemuseum (the furthest), Historium Brugge, and Sint-Janhospitaal.
---
Here in Place de Bruges you can get a great view of the Belfry, which is 83 meters high and towers over the rest of the town.
If you have some stamina and/or have worked out at some point within the past year, brave the 366 steps to get to the top of the tower. You will be out of breath, but you will be rewarded with a great view.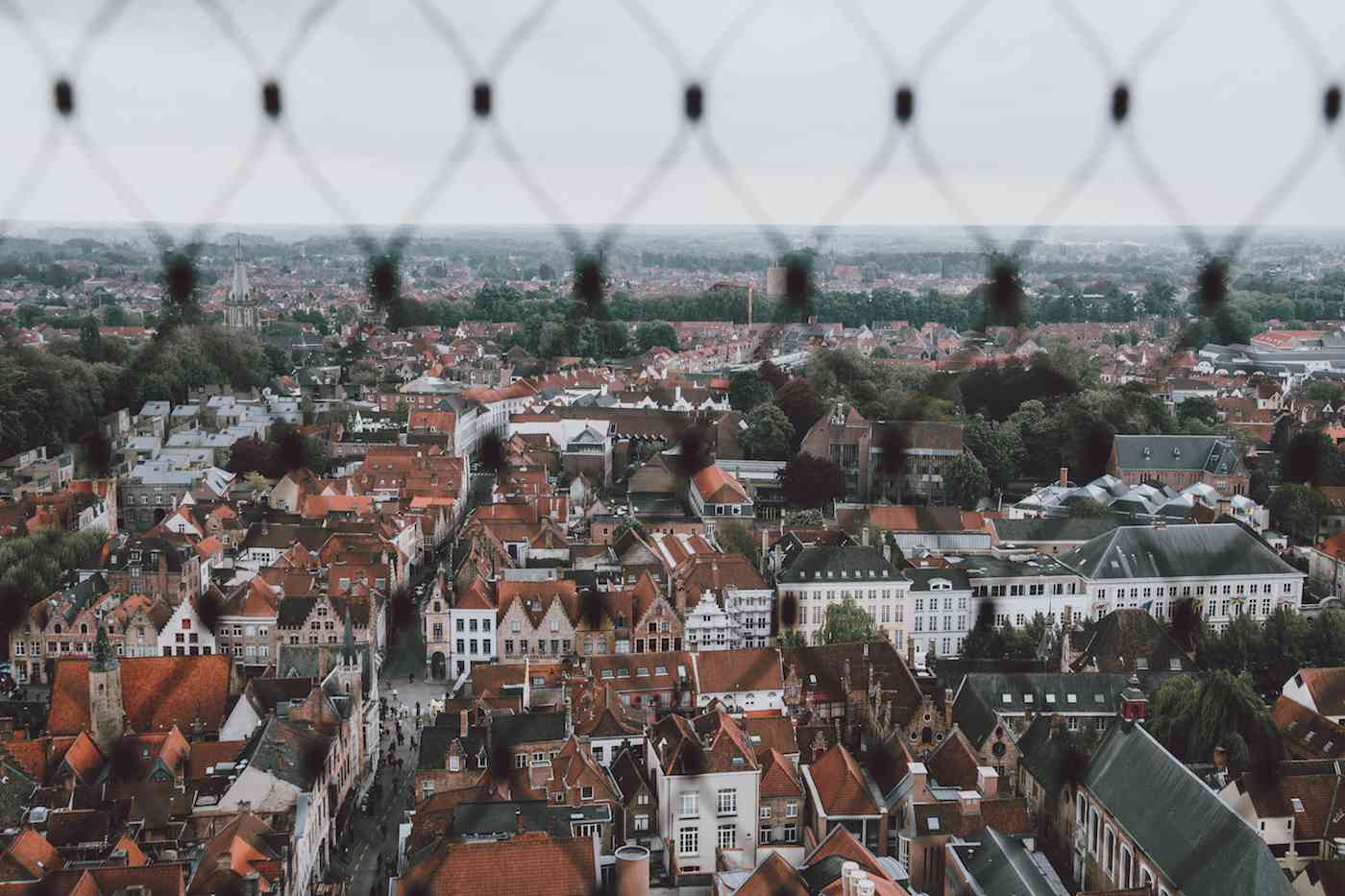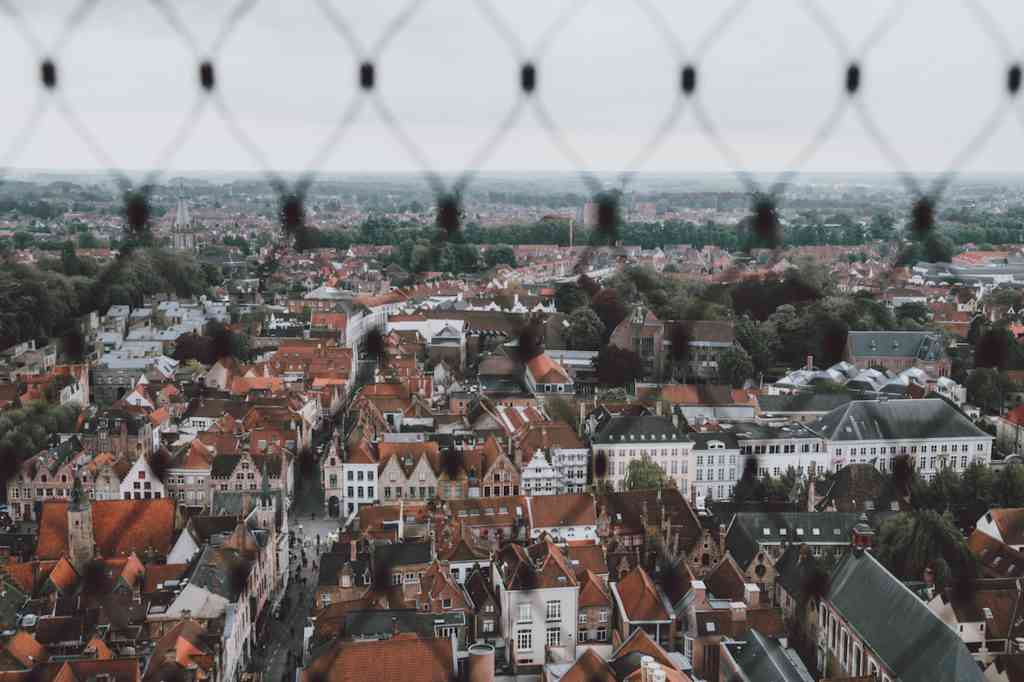 After you've hit these major sights, my advice is to just #losethemap and explore! Bruges is so easily walkable, and so full of beauty at every corner, that there's no real reason to make a route or plan. Take a stroll through the city and see where it takes you.
You can go from bustling major arteries to small, quiet alleys with a single turn. You will come across bars, restaurants, museums, and almost anything else just by getting lost around town.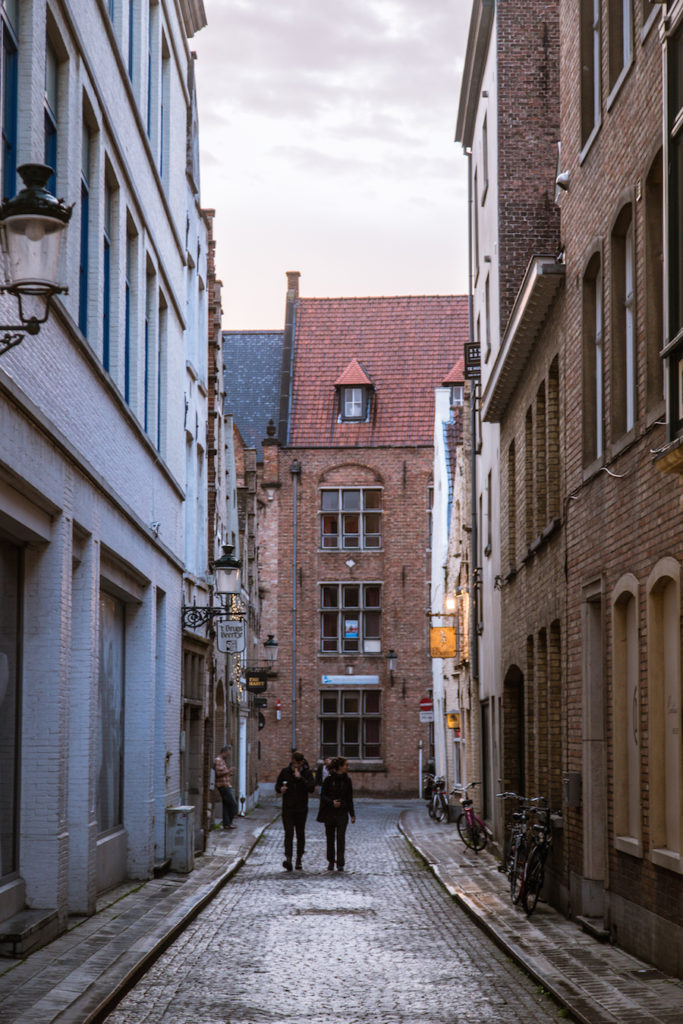 ---
Local Tip: One of my personal favorite spots was Minnewaterpark, a green space and canal-filled area that was great for taking a moment to sit and relax. Didn't hurt that the flowers in the park were in full bloom when I visited as well.
---
Food and Drink in Bruges
It's Belgium, so you know you're going to get your waffles, beers, chocolate and fries on.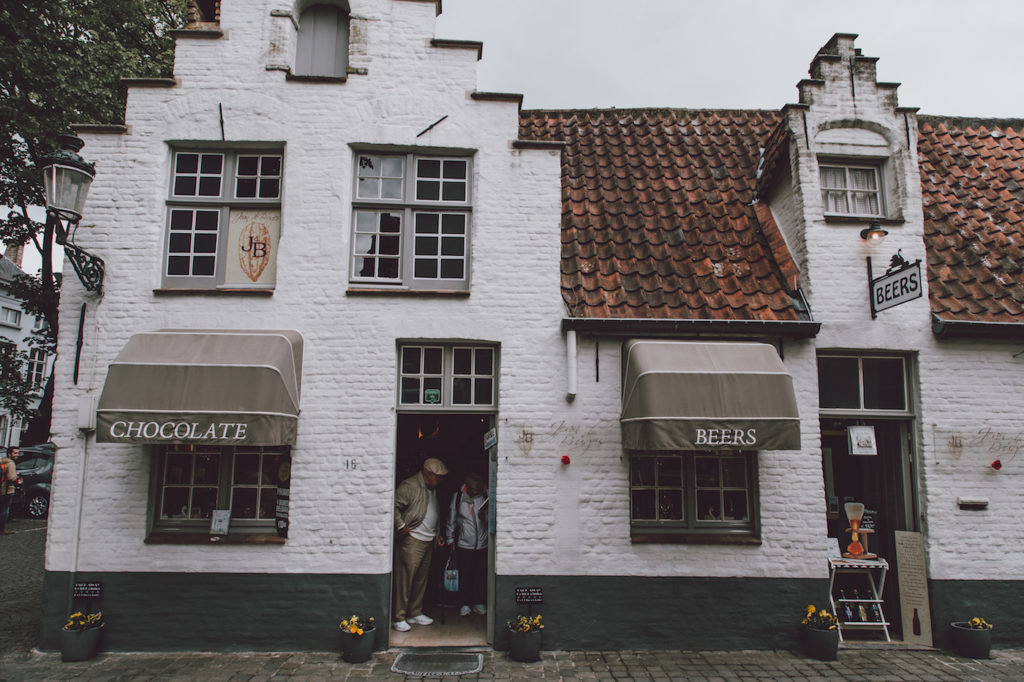 ---
Local Tip: Stop at Pur Chocolat – Walstraat 1, 8000 Brugge – and pick up a variety of chocolates to snack on while you're walking around. I just asked the friendly chocolatier behind the counter to pick out some of his favorites, and I was extremely satisfied (and full) with his choices.
---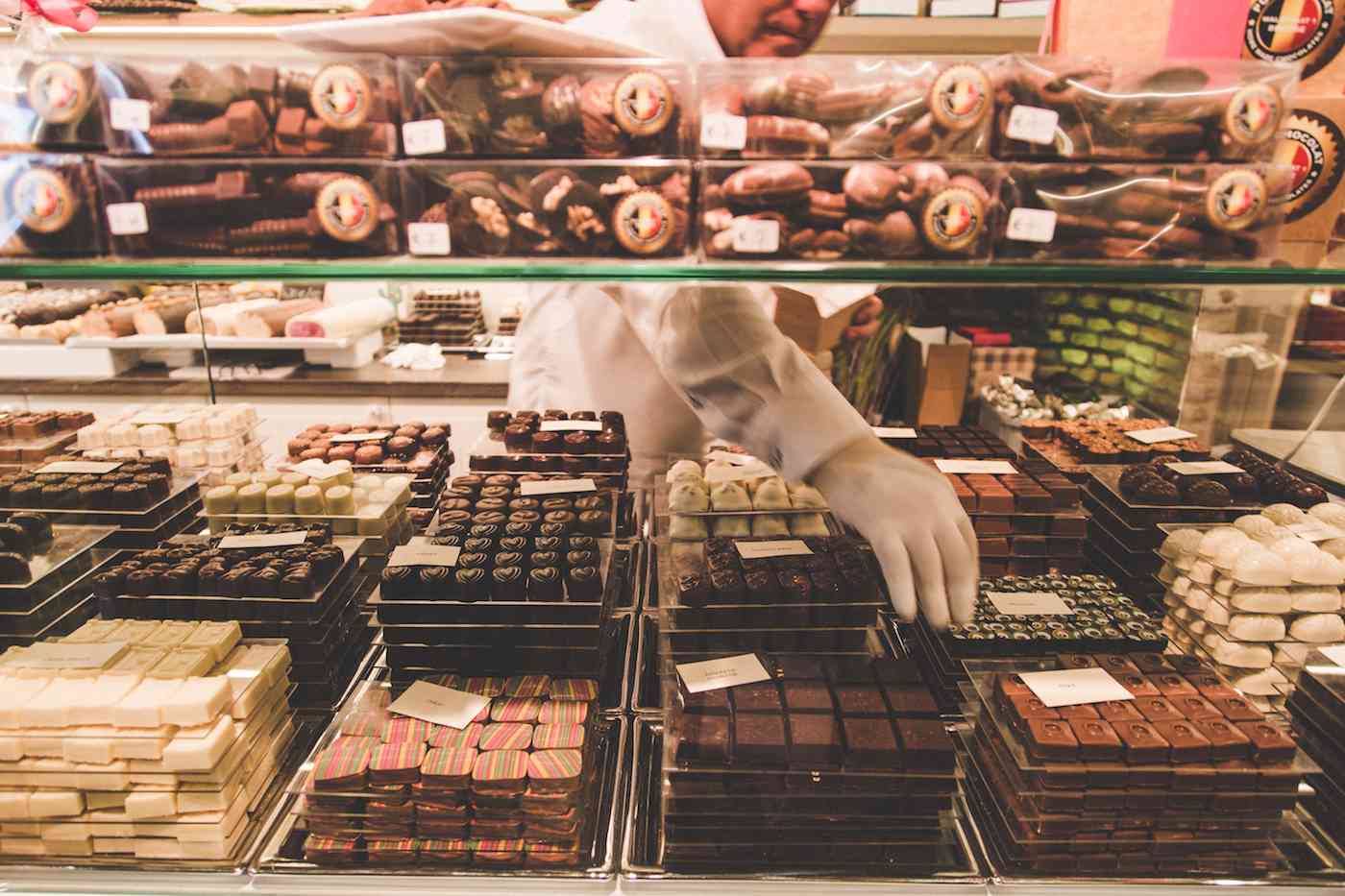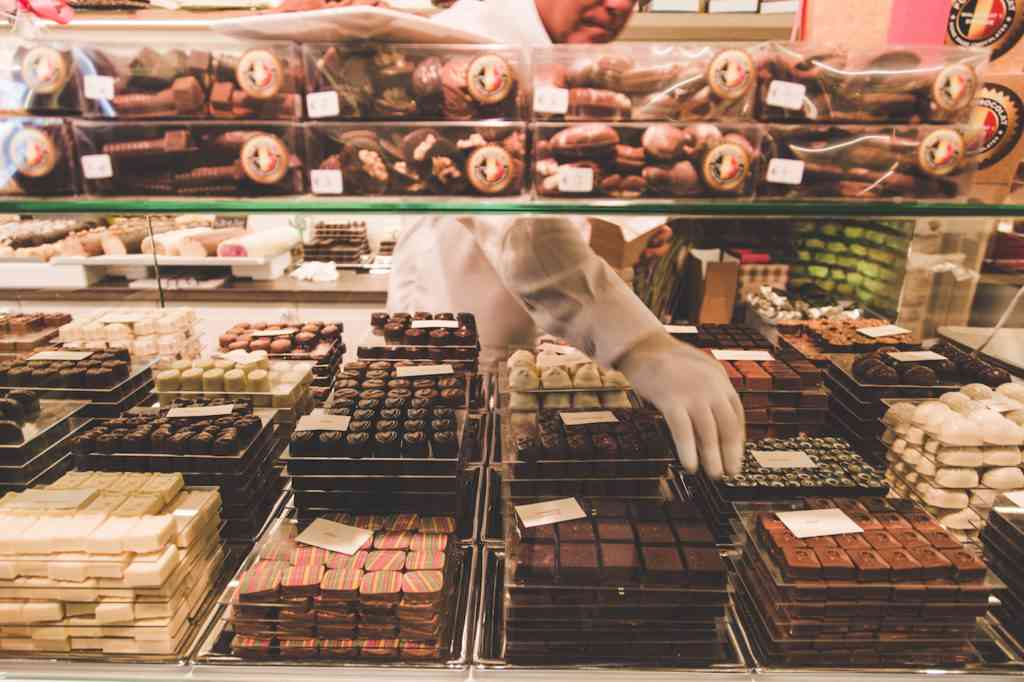 Check out Burg, an encircled square with plenty of eateries and bars on the side, just a few paces from central Place de Bruges, or walk north of Markt and find a little alley behind the square. I stopped at Bar des Amis here, which had a great local selection of beer.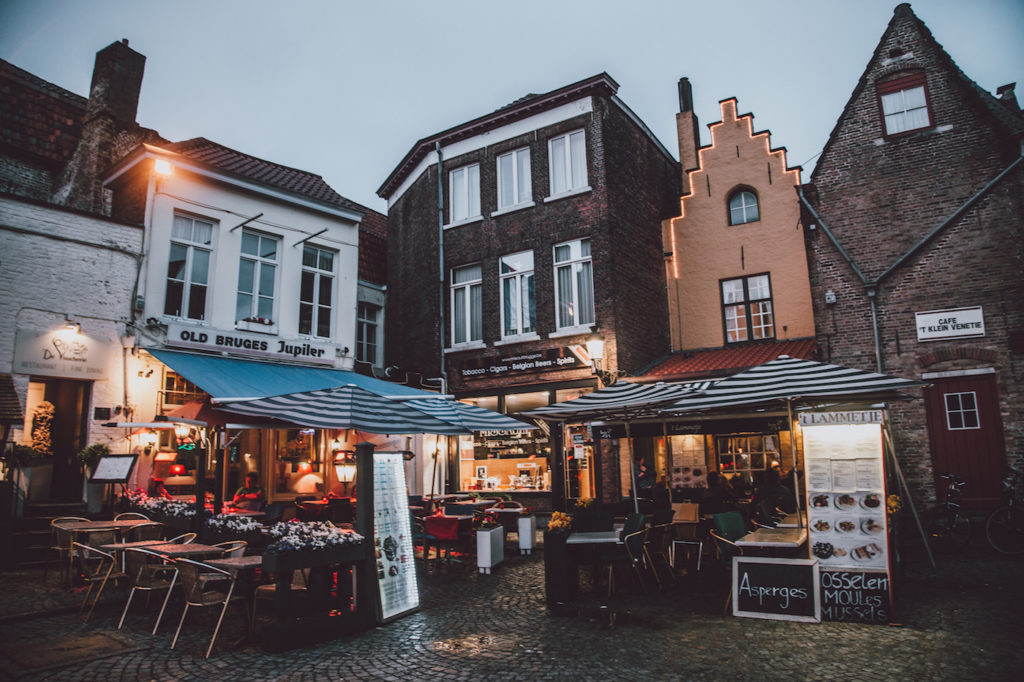 ---
Local Tip: If you want a brewery tour or just some great, classically Belgian affordable beer, stop at the Half Moon Brewery, locally known as Brouwerij De Halve Maan. The address is Walplein 26. Try the Straffe Hendrik, which won best beer in the world a few years ago.
---
At night I headed, thanks to my host Michael's recommendation, to Reliva, a fine dining restaurant with a chill atmosphere that serves fresh, local Flemish dishes. Best of all, it's tucked on a quiet street in a pretty sparsely visited part of town, so you will find some peace away from the tourist masses here.
The Sun Sets in the Town
The light of sunset and the canal reflections at night in Bruges are mesmerizing; they lend an air of magic to the already lovely alleys, houses, and statues of the city.
The water of the canal seems to get extra still, and some of the tourist crowds leave the area, creating perfect conditions for both photography and general relaxation.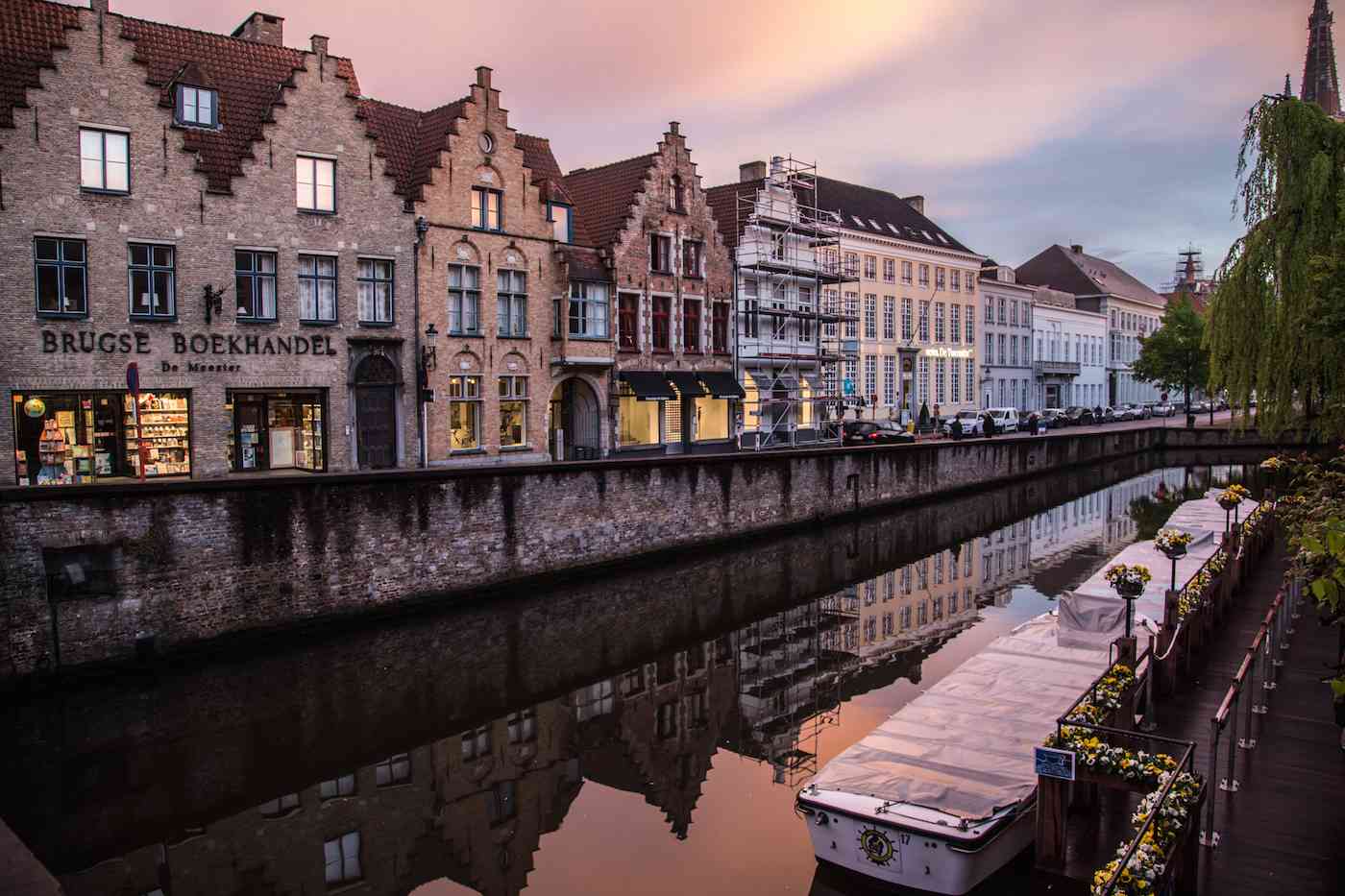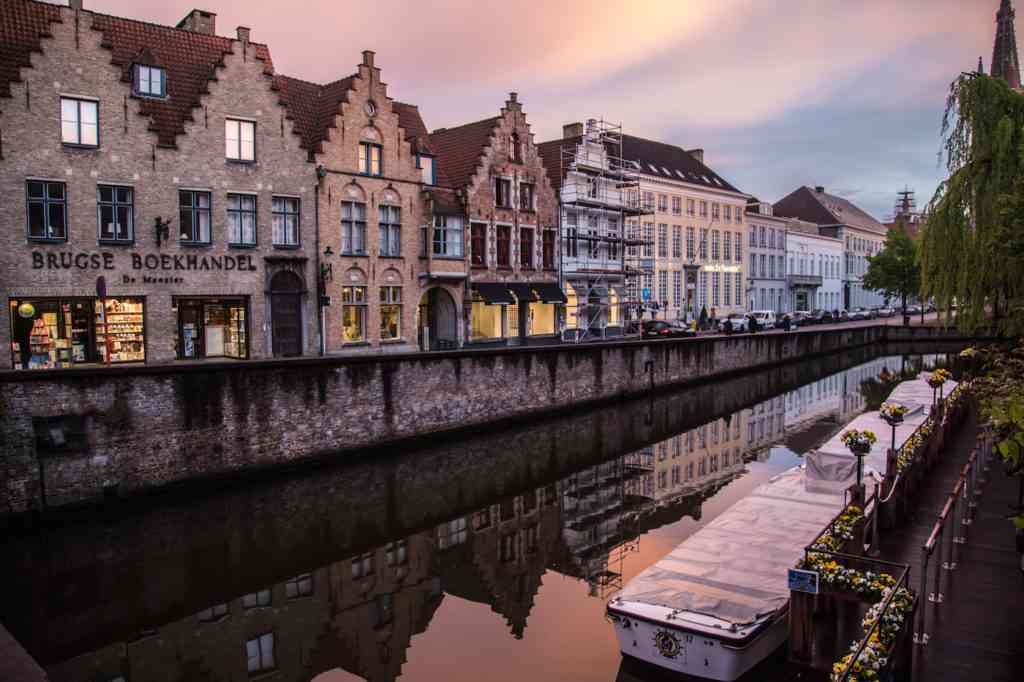 At night, the street lamps all over town are turned on, and the visual effect this provides is incredible.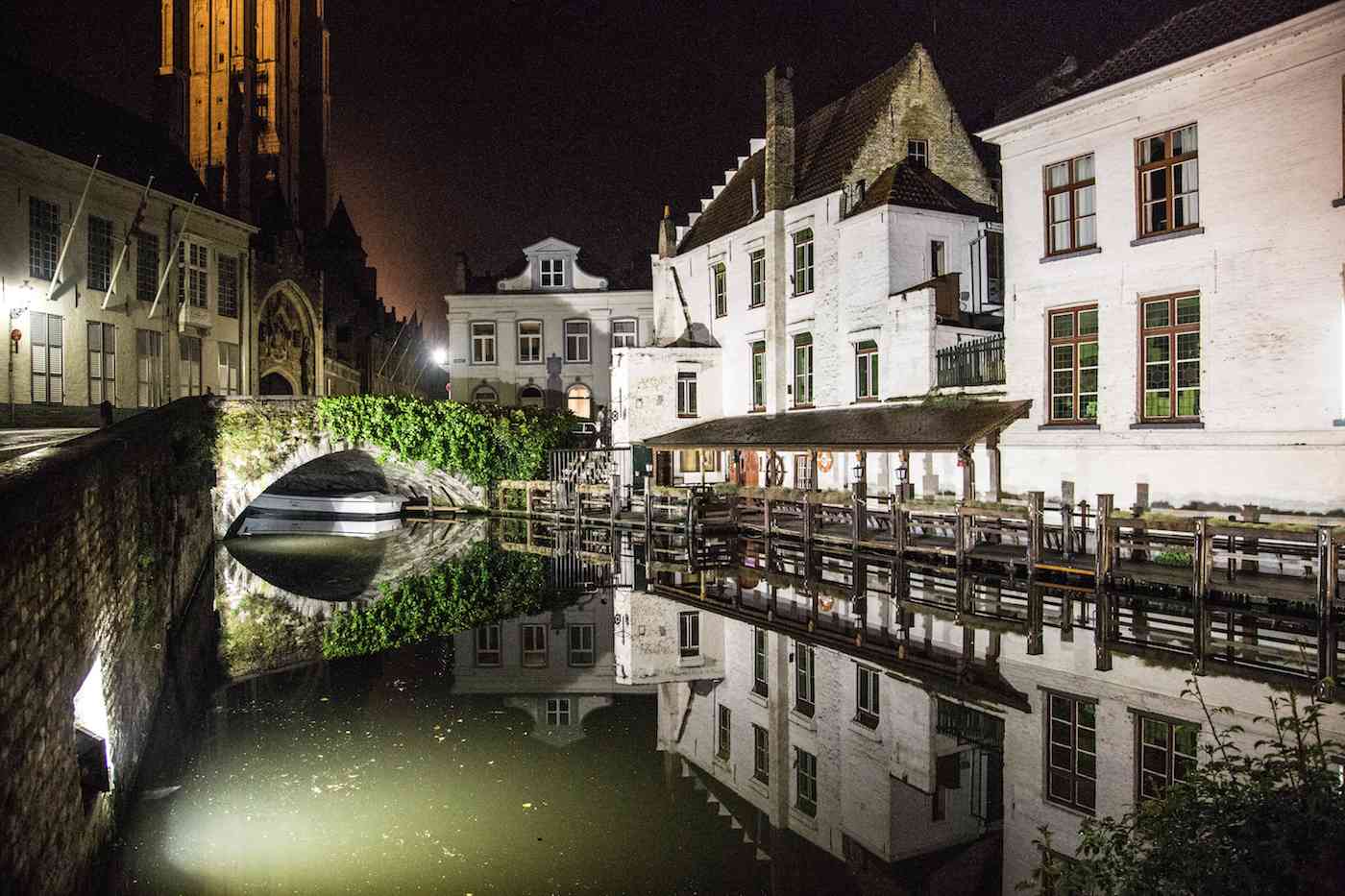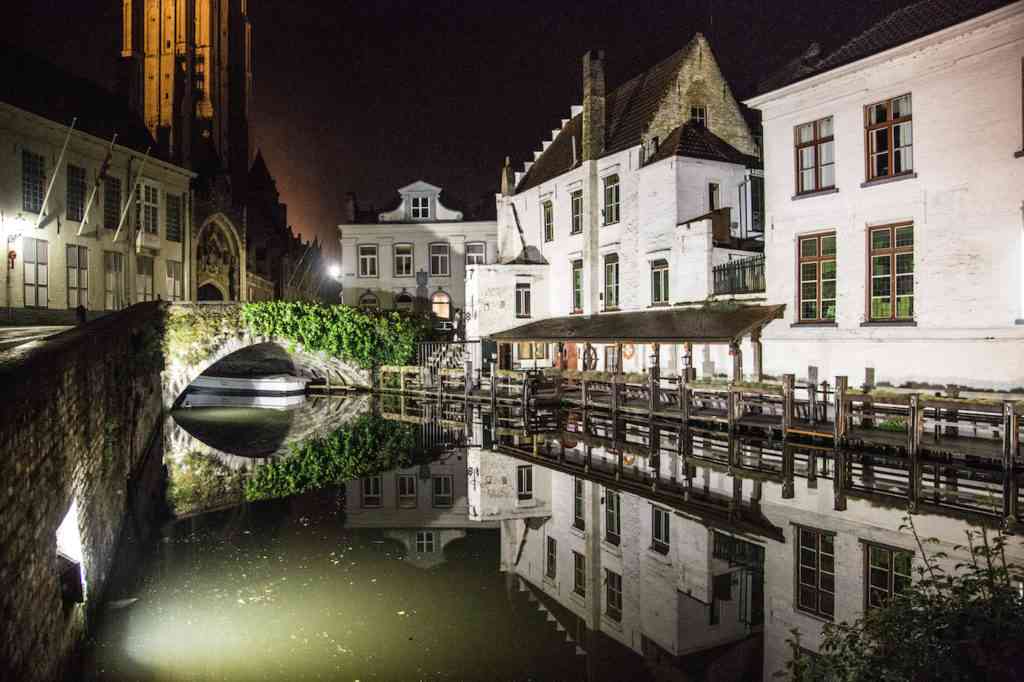 I don't have much left to say here. Sometimes I do photo essay about towns that I didn't have much time to experience fully, sometimes just because a destination was especially visually striking.
I decided to do a post on Bruges in photos because the images say much more than I could. Bruges literally left me speechless.
However, even with these photos, nothing can come close to the experience of walking around this ancient town, this city that looks like it should have been lost to time and yet still not only exists, but thrives.
Have you been to Bruges? What did you think? If you liked this post and want to share, pin away!