Most people associate Los Angeles with palm trees, celebrities, sun, surfers, and…the list ends there. That's why plenty of travelers will hit Hollywood and Venice Beach, and then walk away confident that they've pretty much seen LA. I'm writing this LA neighborhood guide because I believe those people are missing out.
After almost six years of living in Los Angeles, I am still in the process of discovering this city. Every neighborhood has its own character, its own crowd, its own high points. There are gritty, urban neighborhoods, peaceful, park-filled areas, hard-partying corners of the city, ethnic enclaves with incredible cuisines from all over the world, districts in transition from industrial to artistic, and everything in between.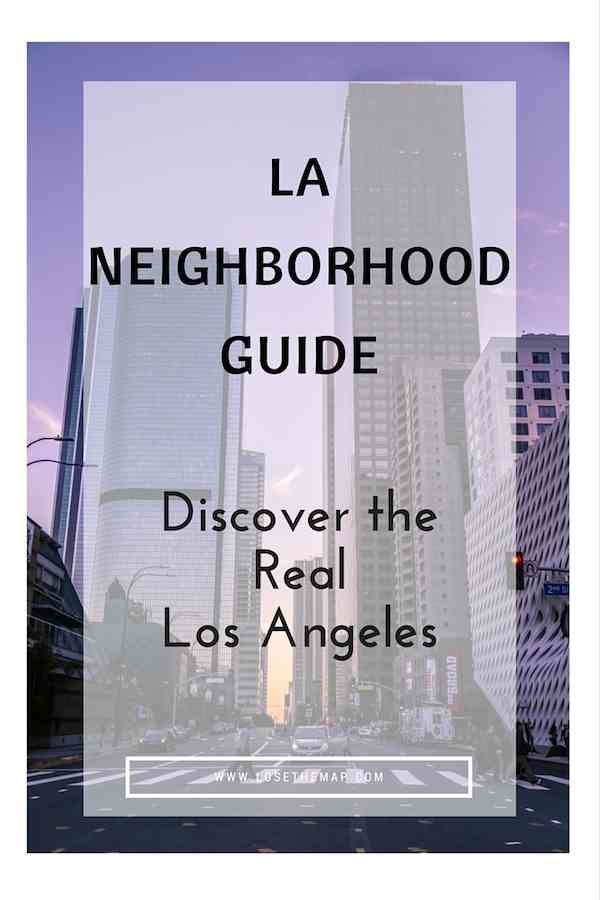 I don't want to craft exact itineraries, but rather, get the local vibe of each area and give some food/culture/party highlights for each place. And perhaps just poke fun at some other neighborhoods as well.
Some neighborhoods I've combined together because of closeness and similarity, and some I haven't included because I'm not that familiar with them yet – don't ask me what to do in Mar Vista, I have absolutely no idea. I will be updating this guide constantly, but in the meantime, if you want to get out of the LA tourist bubble, or just see which neighborhood matches your style the best, check out this LA neighborhood guide to 26 (+2) different neighborhoods below! 
Arts District – From Warehouses to Art Exhibits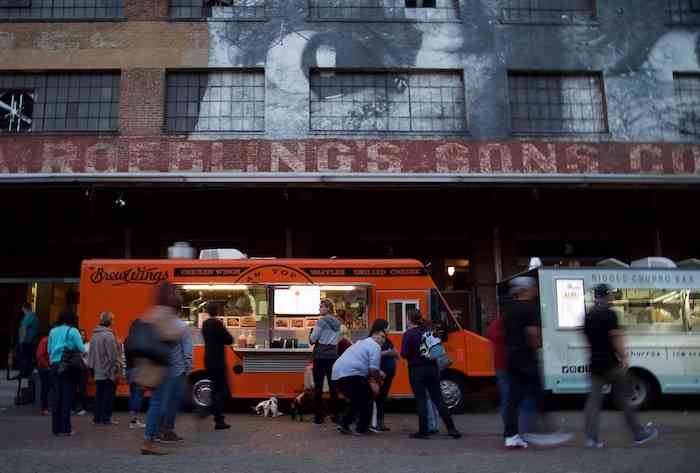 This is one of my personal favorite neighborhoods, located right next to downtown LA. The Arts District has a somewhat seedy reputation, partly due to the fact that you have to cross Skid Row to get there. But if you take the time to explore it you will find a very young, artistic culture popping up among the abandoned warehouses. Old  industrial spots now house craft beer breweries (Angel City Brewery), arcade-themed bars (EightyTwo), and neighborhood favorites like Villains Tavern, with food trucks lining up on the streets. Overall, this is a great place to spend hours with friends on a Sunday afternoon and evening.
Local Tip: Don't forget to check out the A+D Museum and get an inside look at the struggling artist's process at Art Share LA, a multi-disciplinary studio space that also houses the artists that exhibit and perform there.
Bel Air – Security Will Be Escorting You Off the Premises Shortly
Bel Air is full of enormous residential houses owned by people who think Beverly Hills is middle class. 60% of the area isn't even accessible unless you live here and can get through the private gate. However, if you want some NBC exec to hear your frustrations about your favorite cancelled series, shouting in the middle of any street here should reach at least one of them. Just be prepared to find that a) they don't care because they still get to drive a Maserati and b) you just got yourself on the wrong side of a private security guard.
Local Tip: You are not the Fresh Prince and you are not welcome here. But, pretty houses!
Beverly Hills – You Can't Afford Things Here, But Pass On By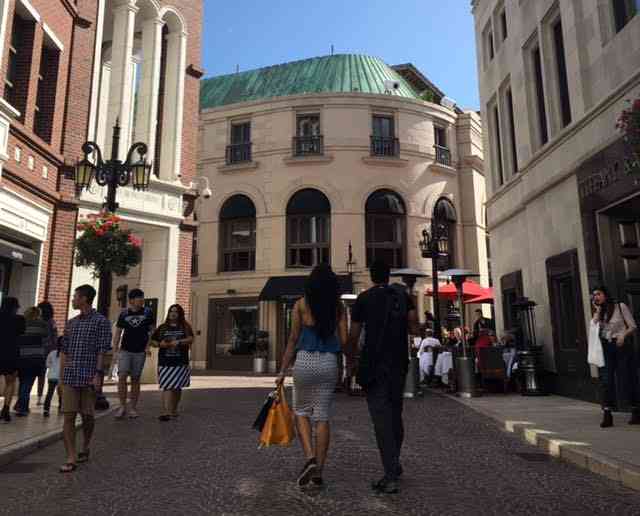 Go ahead and do the classic tourist walk on Rodeo Drive, but don't plan on buying anything unless you find an ice cream cart by the side of the road. A ring here is worth more than your kidney; after all, kidneys fail, but diamonds are forever.
Fellow film & TV buffs: check out the Paley Center for Media exhibits, and try to get in as an audience member for one of their frequent panel discussions with actors, directors and producers. At night, Villa Blanca and Spago's are both excellent restaurants to try, though they are obviously on the pricey side.
Local Tip: Make a stop at Go Greek Yogurt for some really good frozen yogurt and Greek iced coffee, and then get yourself to Greystone Mansion, the former home of one of LA's first oil tycoon families, plagued by a quite tragic past.
Boyle Heights – Looking for the Best Mexican Food? This Is It.
In a city full of great tacos, Boyle Heights beats them all, probably thanks to its large Mexican population. The heart of the neighborhood is in Mariachi Plaza, where you will find mariachi bands playing for most of the day, and the best known restaurant is La Serenata de Garibaldi, which offers a whole range of Mexican cuisine beyond the usual taco/burrito combo.
Local Tip: I once had a taco at Al & Bea's Mexican food, and for a brief moment, I tasted heaven. Looks are deceiving here, check it out.
Burbank – This. Is. Warner Brothers. And Some Suburbs.
Probably the most "families-live-here" area included in my LA neighborhood guide, Burbank is a quiet place set up to accommodate residents, rather than tourists, with one exception – a big chunk of Burbank has been overtaken by Warner Brothers Studios, so try to get on their studio tour if you haven't done anything similar before. The tour gives you a great insight into behind-the-scenes moviemaking; you will see both indoor and outdoor sets on the lot, and get major nostalgia for some TV shows and films of your childhood – "Friends" and "Free Willy" anyone?
Local Tip: At night, watch a show at Flappers' Comedy Club. They always have a killer line-up.
Compton – The Hip Hop Life
If you want to veer away from the vegan and gluten-free restaurants of West LA,  get some real damn meat at Bludso's BBQ in Compton. Check out the Hood Life Hip Hop Tour – run by the Game's stepfather  –  which takes you through the area and gives you a lot of insight into the hip hop legends that grew up there. And let's be real, it's kind of cool to ride through the hometown of Kendrick Lamar, NWA, and…Kevin Costner? For real.
Local Tip: Head to neighboring Watts to see what has to be one of the coolest and strangest architectural landmarks in LA – the Watts Towers Arts Center. For safety reasons, this is one area I would suggest you get to during the day.
Culver City – Not Too Much, Not Too Little; Just Right
Culver City used to have a pretty boring "meh" reputation among Angelenos, but it's changed a lot over the past decade. Shops and restaurants have sprung up along Washington and Culver, and the area is easily walkable. Culver City is the perfect place for those who want to spend a relaxing afternoon somewhere and find things to do, but don't want the noise and fuss of other busy districts. Be warned though, there is not much in the way of sightseeing compared to other areas in the LA neighborhood guide.
Downtown LA – The "City" Part of the City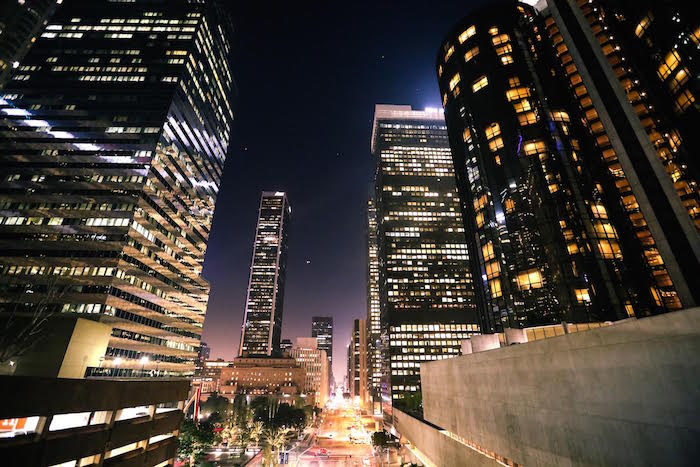 A walk around downtown will quickly disprove LA's false reputation as "a city with no culture". From the brand new Broad Museum filled with modern art, to the stunningly designed Walt Disney Concert Hall and Center Theatre Group performances at LA Music Center, cultured travelers will love this section of LA. Downtown LA is also one of the few areas of the city with a classic urban vibe, which you can get a good view of from rooftop bars like Perch and the Rooftop at The Standard. If you're up for it, discover downtown's hidden side with a little exploring.
Local Tip: If you want to see some little-known spots most tourists don't know about, take in the great architecture at Union Station and the Bradbury Building, and when you're done with the latter, hop across the street into Grand Central Market to fill up on German sausages (Berlin Currywurst), tacos (Ana Maria) and brunch (Eggslut). Also worth a stop for its cinemas, shops, and restaurants: LA Live.
Eagle Rock & Highland Park – Quirkiness on LA's Eastern Outskirts
Eagle Rock and Highland Park are relatively quiet neighborhoods far removed from the bustling center of LA, with some really quirky, artistic places to visit. Check out Snivling Sibbling, which has some weirdly fascinating antiques and furniture, and grab lunch at CaCao Mexicatessen, which puts a creative twist on the Mexican cuisine you usually find in LA (duck confit tacos and homemade tortillas and salsa). At night, head to the beer garden at Verdugo.
Local Tip: Cross under the 101 highway to see the murals of Historic Filipinotown.
East Hollywood – A Cool Hodgepodge of LA Locals
This is where LA's large immigrant communities (and cuisines) have taken hold, as East Hollywood is home to Thai Town and Little Armenia. You will get one of the most authentic experiences in LA here thanks to the food carts populating the streets and the frequented-by-locals-only dive bars. Experience a Thai massage at one of the spas dotting the roads of Thai Town, get food at one of the many delicious and affordable restaurants of Thai Town Plaza, or try some Lebanese-inspired dishes at Marouch Restaurant.
Local Tip: At night, get to The Faculty and settle in for all-night beers and comfort food next to second and third-generation Angelenos.
Hollywood – Good Films and Music Surrounding Tourist Swarms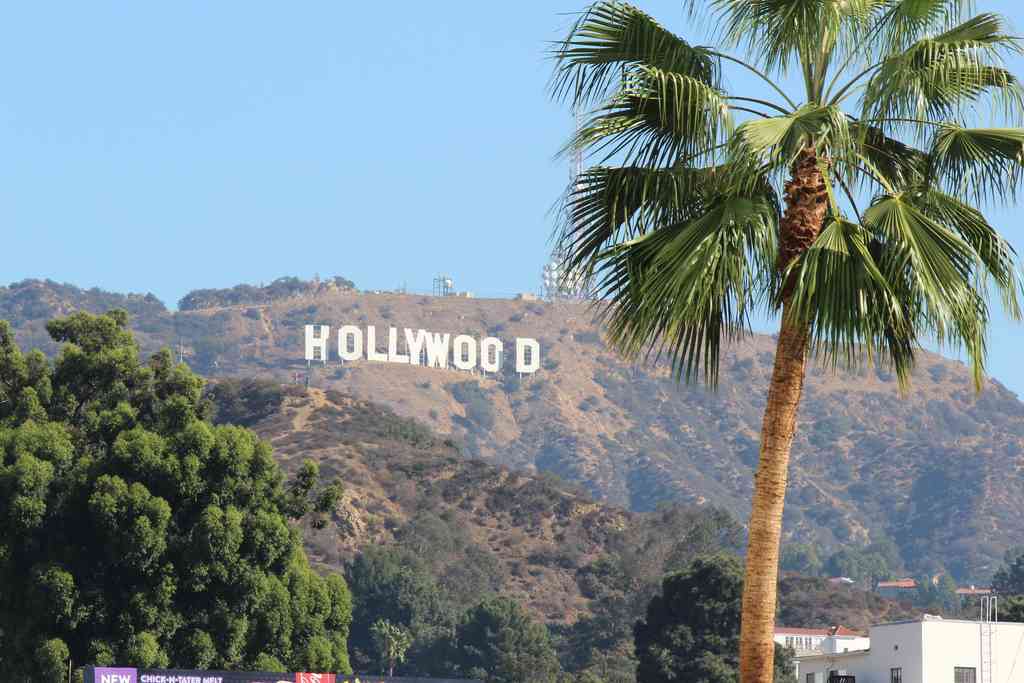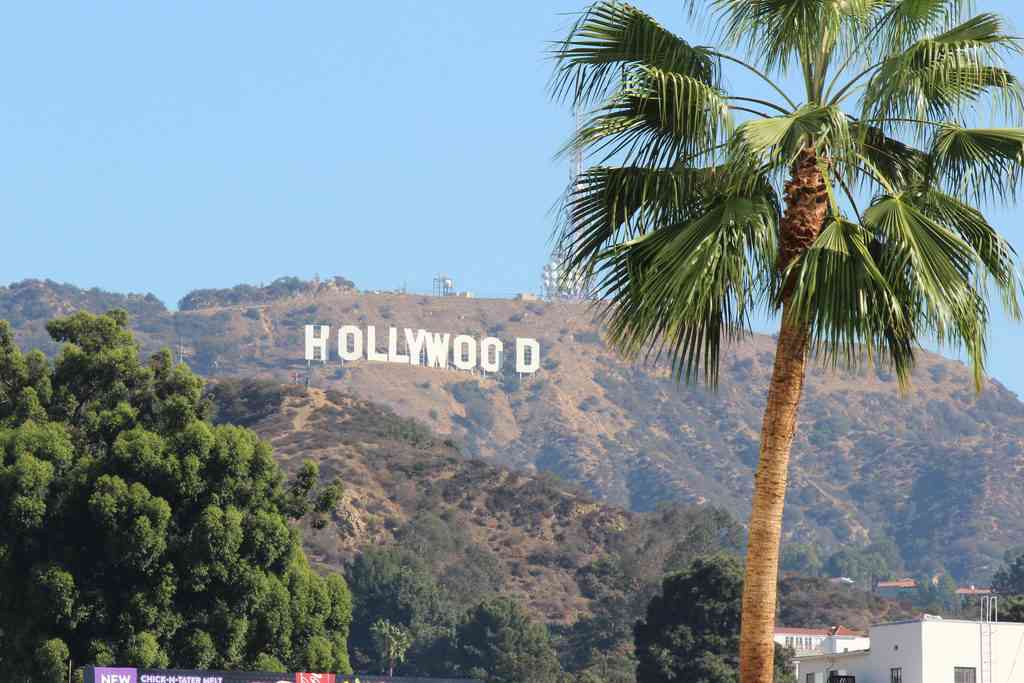 Photo via Flickr by Shinya Suzuki
The bad news: Hollywood is usually overrun by tourists and people trying to sell you things. The good news: they tend to confine themselves to a six-block radius on Hollywood Boulevard. If its your first time here, I think it's worth a walk through the crowds to see the historic Grauman's Chinese Theatre and find your favorite musician/actor/performer's star on the Walk of Fame. When you're done walking along Hollywood Boulevard, head up to Runyon Canyon to hike and admire some great views of the city.
At night, settle in for an outdoor concert at the famous Hollywood Bowl, watch a movie at ArcLight Hollywood (try to see a screening inside the impressive dome – we are SERIOUS about our movies), or head to Hollywood Forever Cemetery to spread out a blanket and enjoy a really unique outdoor movie-going experience. Music lovers – check out the enormous Amoeba Records store, or head to Bardot's School Night on Monday nights to see live up-and-coming acts perform; clubbers – wear something you think is too revealing, and you will still look like a nun in one of the huge dance clubs lining Hollywood Boulevard.
Local Tip: To hang out with more locals and less tourists, check out Franklin Village, which has cozy bookshops, great restaurants/bars like Birds, and UCB improv performances all on the same block.
Hollywood Hills – Removed and Scenic With a Dash of Creepy
The Hollywood Hills are a mostly residential area home to Mulholland Drive, great for driving around and getting some good views of the city at sunset and at night. The Universal Overlook gives you a good perspective of the Valley, while the Hollywood Bowl Overlook lets you see downtown LA in the distance, and of course, the Hollywood Bowl. This area is a little strange at night, thanks to the zero people anywhere outside, lack of lights, and tight turns amid dark, massive houses. Not to mention the amount of weird celebrity shit that has happened over the years here. But if you want to get some good overall shots of the city, it's a beautiful place to visit!
Local Tip: A lot of after parties happen here after (most of) the local clubs close at 2 AM. It's not that strange for word to just get spread around the club or bar with an address of the house where everyone is heading to right after last call.
Inglewood – Always Your First LA Neighborhood
Inglewood is home to the rage-inducing mess known as LAX International Airport, so it's usually the first place visitors pass through. It might not be as busy as other LA neighborhoods, but highlights include The Forum, one of the best concert venues in all of Los Angeles, the Front Page Jamaican Grille, which has some of the best Caribbean food in LA in a very simple, uncluttered space, and Lavender Blue, which has jazz and drinks.
Koreatown – All About the BBQ and Karaoke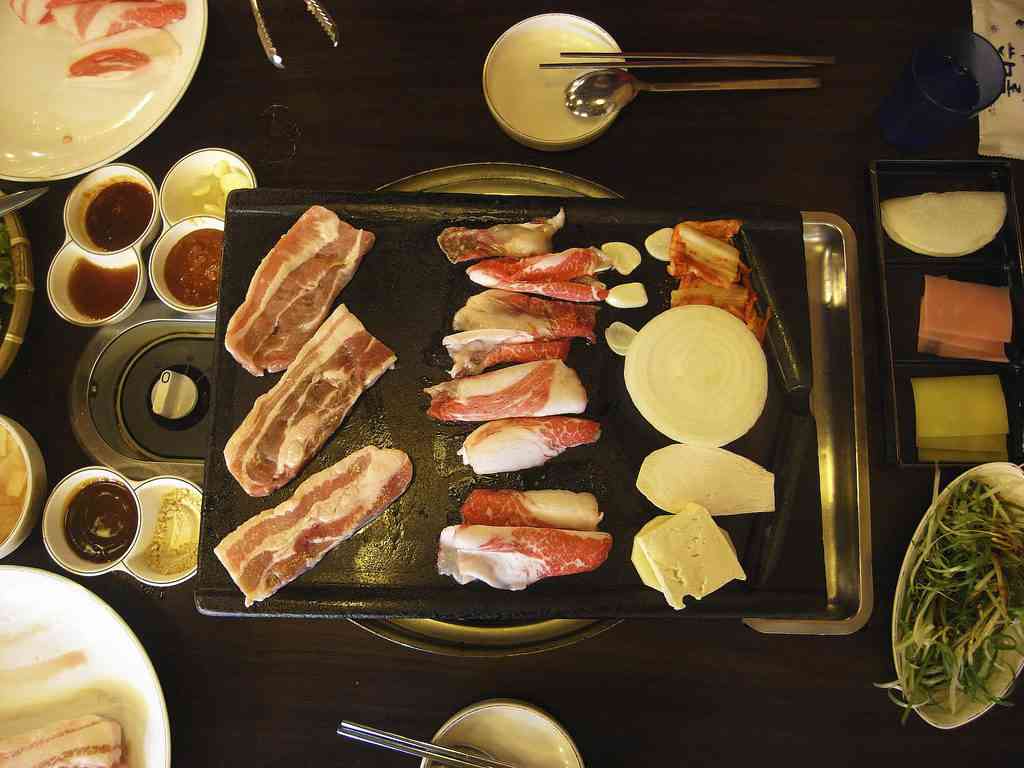 Out of all the areas listed in this LA neighborhood guide, Koreatown is the one that makes me the hungriest just thinking about it. Take a big group of friends and go to Chapman Plaza, which houses some great Korean BBQ and drinking joints (I personally prefer Kang Ho Dong Baekjeong – get the beef combo and soju), and then head to one of the private room karaoke bars nearby like Pharaoh Karaoke Lounge or Shrine.
Local Tip: Surprisingly, I've found some of the best cookies and buns of my life in Koreatown at Pot Café, so end your neighborhood exploration by obeying your sweet tooth and dropping by.
Long Beach – Don't Believe the Old Dr. Dre Songs
Visitors to LA who have only heard about Long Beach in rap verses might be a little intimidated, but Long Beach has changed a lot since those days. There are so many places to stroll around and spend the day in: the canals of Naples Island, the restaurants and shops on Pine Avenue, downtown Long Beach with its row of Art Deco buildings, and the gorgeous waterfront.
Local Tip: Don't forget to stop in the Aquarium of the Pacific and hop on the impressive and massive Queen Mary, where you can learn some cool history and even stay for the night.
Los Feliz – The Laidback Home of Griffith Park
Los Feliz is a mostly residential area best known for being home to Griffith Observatory. Hike up the trails around the observatory during the day to see some nice panoramic views of the city, and at night, explore the planetarium and gaze up at the stars. Down the road you will find plenty of parks and picnic areas, as well as the Greek Theatre concert space. To explore the rest of Los Feliz, walk up and down Vermont Avenue and Hillhurst Avenue between Los Feliz Boulevard and Hollywood Boulevard, where you will find (my personal favorite) the independent bookstore Skylight Books, Dresden restaurant, Sidewalk Grill, and The Study bar.
Local Tip: If you're willing to lose yourself in Los Feliz' small, winding side roads, you will stumble onto Franklin Lloyd Wright's Ennis House.
Malibu – Rich People By the Beach and Canyons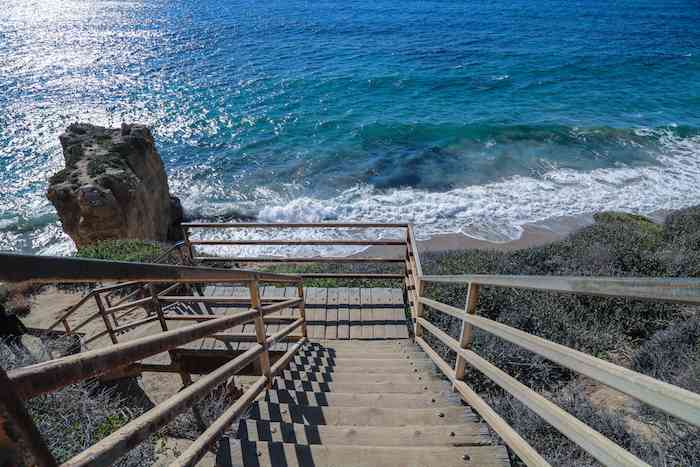 This world-famous wealthy neighborhood – as you can tell from this LA neighborhood guide, there are quite a few wealthy neighborhoods in the city – is known for its waterfront houses, surf culture, and pristine beaches, each with its own reputation.  Head to Zuma Beach to spend a sunny Saturday on the sand with friends, go to El Matador State Beach to climb up rocks and splash in crashing waves in an isolated bay, or hit up Paradise Cove in the afternoon to get food and drinks while watching the sunset over the water. The most impressive building in the area is by far the classical art-filled Getty Villa, a must-stop destination in Malibu. If you want to enjoy some fine dining, stop at Nobu, Moonshadows, or Duke's, as long as you're independently wealthy and/or can subsist on ramen for the next week.
Local Tip: Hike up Temescal Canyon for a beautiful walk through the woods and panoramic views of Malibu at the end.
Miracle Mile/Mid-Wilshire – Museums all the Way
Mid-Wilshire is known for housing plenty of agency offices, but assuming you're not trying to get on TV you will probably be more interested in checking out LACMA, the museum with the lit up street lamp exhibit where every last person you know on Instagram has taken a photo. The LA County Museum of Art has great permanent collections and interesting temporary exhibits usually revolving around film and photography.
Local Tip: Take the time to explore some of the lesser known museums here as well, like Petersen Automotive Museum, which pays tribute to LA's deeply ingrained car culture with exhibits of classic cars and LA streets throughout the ages, and La Brea Tar Pits, an Ice Age fossil excavation site and museum.
North Hollywood – Actors Moving On Up
North Hollywood has small theaters, dance classes, neighborhood bars and great restaurants opening up all over the NoHo Arts District. This is where you should go to see local actors exercising their craft while trying to make it to the top, with bizarrely unique and fun shows at places like Zombie Joe's Underground Theatre (trust me – it's amazing) and Spoken Funk.
Local Tip: If you're up for trying something totally different on your trip, take a dance class at Millennium Dance Class, where many singers and actors have been whipped into shape over the years with some of the best teachers in LA.
Pasadena – Small Town of the Really Smart & the Really Old
Pasadena is technically outside the Los Angeles city limits, so it has more of a "town" feel than most LA neighborhoods. This is the home of Caltech, so at any given time there are genius-level IQs walking all around you. Old Town Pasadena is a pretty, walkable area with bistros, bookstores, record stores, and artsy craft shops. Other than the students, the average age of the general population here appears to be in the low 80s, so the neighborhood is much more quiet and peaceful than most.
Local Tip: For obvious reasons, I'm obsessed with the Distant Lands Travel Bookstore.
Santa Monica – Seaside Family Fun and All That Jazz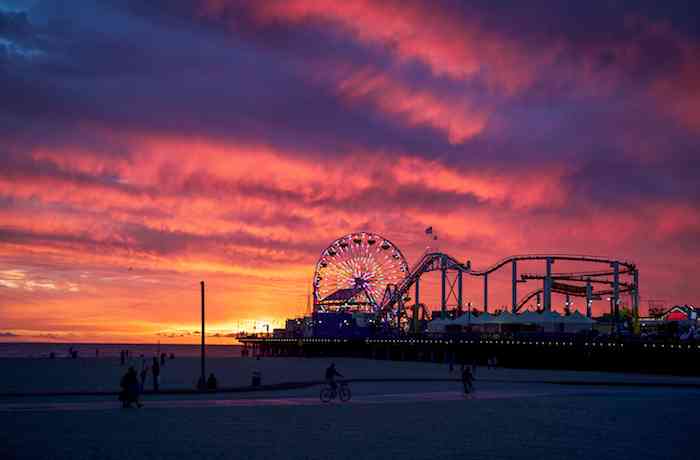 This is one of the most family-friendly coastal communities in LA, and well known for the cheesy but charming Pacific Park ferris wheel on Santa Monica Pier. Walk down the pedestrianized Third Street Promenade, which is absolutely bursting with restaurants, cafes, and shops you can spend the whole day at, or get active by renting a bike and cycling the beach trails down to Venice and back.
Local Tip: When you're done enjoying the outdoors and lying on Santa Monica Beach, devour some beer and burgers at Father's Office or get tacos at Border Grill. For those of you feeling fancy, huh, eat at one of the more upscale places lining Ocean Avenue, like BOA Steakhouse.
Sawtelle – Little Osaka
This neighborhood is called a lot of things, but its mostly nicknamed Japantown, thanks to the high concentration of shops and restaurants opened by immigrants from across the Pacific Ocean. For some Japanese-style whimsical shopping, head to Giant Robot and check out their art and toy collection. Otherwise, get some Korean and Japanese mix at Seoul Sausage Company, or try some authentically Japanese, simple and fresh sushi and sashimi at Sushi Tsujita.
Local Tip: Nijiya Market has an awesome selection of Japanese food, snacks and groceries.
Silver Lake & Echo Park – Where Hipsters Find Coffee and Records
Like any self-respecting hipster neighborhood, Silver Lake is where you'll find lots of organic food options, indie concerts, and trendy coffee shops – Intelligentsia or the more neighborhood-shop-style Cafecito are two local favorites. During the day, you can enjoy the sun with a stroll around Silver Lake Reservoir, or check out some quirky neighborhood shops like Old Style Guitar Shop or the comic book store Secret Headquarters. Echo Park has some cool coffee shops and restaurants as well, and is generally considered to be Silver Lake's slightly more affordable sister.
Local Tip: At night, grab tacos at Guisados or Vietnamese food at Blossom, and head to The Satellite for live music, Bar Stella for carefully-made cocktails, or the slightly sketchy but incredibly fun Los Globos, a dance club which plays a different style of music almost every night. 
Venice – Skaters. Surfers. 4/20ers.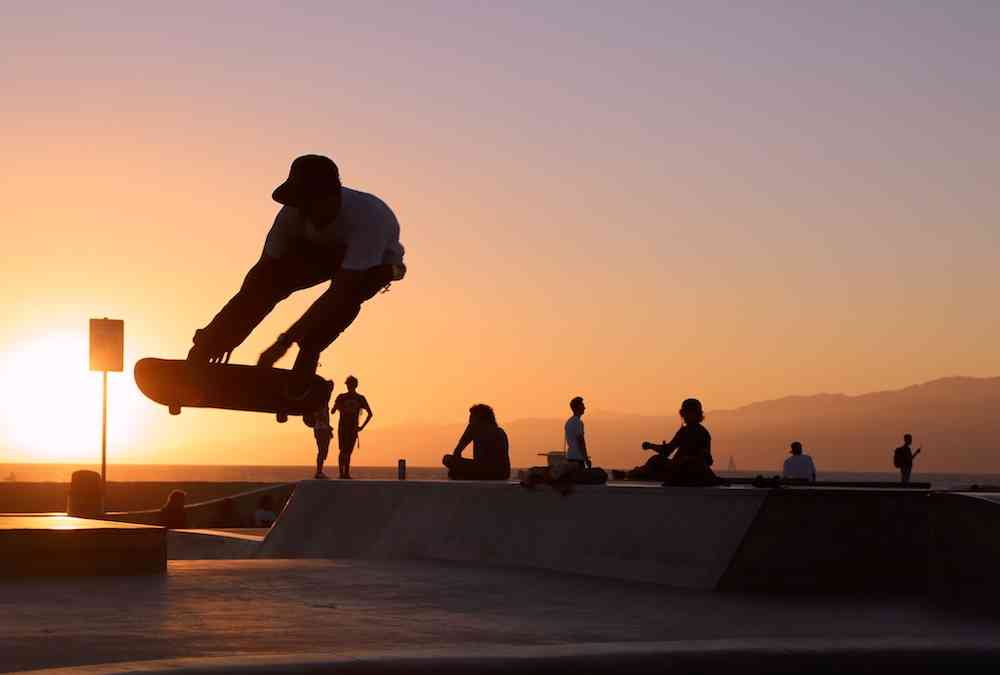 Almost everyone has heard of Venice Beach, famous for its surfers, skaters, Muscle Beach bodybuilders, and relaxed attitude towards recreational drugs. Walk along the boardwalk, get embarassed by 10-year-old kids pulling crazy skate stunts at Venice Skate Park (no it's not your imagination – they ARE cooler than you), stop at Venice Ale House for a midday beer, and then head to Abbot Kinney for coffee and sandwich shops and surf wear.
Local Tip: If you want to get away from the beach crowds later in the day, walk by the Venice Canals, grab a drink at High Rooftop Lounge to get a great view of the neighborhood, or head to The Otheroom.
West Hollywood – Party in Boys Town and the Sunset Strip
This is the incredible area I call home, so I am biased to love it above all others in the LA neighborhood guide. West Hollywood has a great reputation for lively nightlife and being LA's most LGBTQ-friendly neighborhood. This is where the famous Sunset Strip is located, where you can find friendly neighborhood bars like the Den on Sunset, the infamous and upscale Chateau Marmont, and legendary rock venues Whiskey a Go Go and Troubadour, which host incredible up and coming indie acts performing live almost every night. If you want to get fancy, check out the great LA view at Mondrian's Skybar or have dinner and drinks at PUMP restaurant and lounge. During the day, browse the boutiques on Melrose for unique LA fashion, which gets weirder and/or more goth-like as you walk eastwards, or grab a delicious and enormous brunch at Taste on Melrose, Kitchen 24, or Hugo's, if you're vegetarian.
Local Tip: If you just have one day to explore the neighborhood, hit up MOCA Pacific Design Center for some ultra-modern art and design exhibits, grab dinner at the beautifully designed Katana, and head to the infamous Abbey at night.
Westwood – The College Town
This UCLA neighborhood has an overwhelming amount of restaurants and cafes that have popped up to accommodate the college students wandering around, but it is also home to some of LA's best lesser-known parks and museums. Walk through the tranquil Mildred E. Mathias Botanical Garden and the Franklin D. Murphy Sculpture Garden before stopping at the Hammer Museum to see some up and coming modern art exhibits with an edge.
If you want to save or share this article, Pin away below!

I hope to expand this LA neighborhood guide is the future, as I continue exploring neighborhoods I still feel I don't know much about. What other area would you include? Would you suggest a place or activity I haven't thought of? Comment below!