As I had mentioned yesterday in my little love letter to Shibuya, Shinjuku and Shibuya are quite superficially similar. Both are lively, central neighborhoods where young crowds wind their way through an endless barrage of bars and restaurants to get the most basic of human needs, food and beer.
But Shinjuku has a slightly different atmosphere…and hides one of the most incredible drinking destinations in the world within its streets.
Disclosure: This post does contain some affiliate links, for which I will earn a small commission (at no extra cost to you, of course). However, all opinions and viewpoints expressed in this post are, as always, my own.
First Impression of Shinjuku
A woman I had met earlier that day recommended I try a specific restaurant in Shinjuku when she heard of my plans to explore the neighborhood later at night. She told me that after I exited the metro, on the left-hand side of the street, I would see the restaurant's sign.
Well..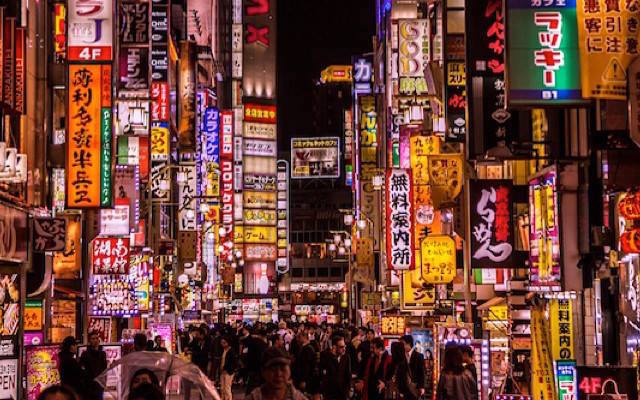 I'm still not 100% sure if she was genuinely screwing with me, or actually trying to be helpful while forgetting that my Kanji-reading skills are non-existent. Also, how does anyone find anything in this city?! I can't even imagine the energy and rapid scanning it takes to search for the one sign you're looking for among the 3,000,000 present.
I was starting to think the citizens of Tokyo would seriously rock at "Where's Waldo?".
There are few quite streets in Shinjuku; a steady stream of people flows in both directions on every large, neon-lit avenue, and noise is kept to a maximum. It was also the one place in Japan where I saw wave upon wave of non-Japanese people passing me. While walking down Yasukuni-dori, I heard English, German, French, and Portuguese. Hostels must have special rates here.
So to summarize, Shinjuku seemed vibrant and fun, but something felt off for me. I wanted to keep exploring to find what it was.
And then, I walked into a bygone era of bar heaven..
Golden Gai: The Coolest Bars in Tokyo
Golden Gai ("Golden District") is a small area of Shinjuku made up of just six alleys, with over 200 bars squeezed into them. And when I say squeezed, I mean it. A lot of the bars can only fit 5-10 people. Don't worry, chances are you may not get into them anyway, as some bars cater only to regulars and you need an introduction to get inside.
Bars are pushed and stacked one on top of the other, many of them bearing their own unique themes, ranging from Halloween (Zucca) to flamenco (NaNa).
The point is this: Golden Gai is the best area for drinking in Tokyo, hands down. It is unique and absolutely unforgettable.
The frenetic crowds, bright lights, skyscrapers and noise of Tokyo gave way to narrow, low-lit alleys lined by shack-like wooden bars, none more than two or three stories high, the only noise a dim hum emanating from inside the bars on my left and right. I couldn't wait to start opening doors and discovering what each bar held inside!
Slight problem…
Which Golden Gai Bars Can You Enter?
As a white non-Tokyo local, I had been told there were some bars I would not be welcome at. I wanted to explore so badly, but my fear of opening a bar door just to see a dour Japanese bartender pointing me back outside as the customers stared and laughed at my awkward exit almost paralyzed me.
However, I worked my way around this issue, and you can too. Here are some guidelines for how to navigate Golden Gai:
Bars with the door ajar will almost certainly be alright with you entering.
If there is any English sign or menu on the outside, you are welcome.
Do you have a local friend? Find one. Go with them. They will know better and can communicate with the owners. (This is what I did. As in I literally found someone friendly-looking while wandering around, and they kindly offered to show me around).
Overall, more and more Golden Gai bars are opening up their doors to outsiders as younger (and occasionally foreign) owners take over, so the chances of you entering an awkward situation decrease year by year.
The Artists' Hangout
I walked into a corner bar that served food, as my stomach was rumbling. I wish I could tell you the name, unfortunately it was written in Japanese. I ordered from the polite waiter and looked around.
Two Japanese men in their 20s huddled in their corner over some sketches. Another was sitting alone writing paragraph upon paragarph by hand – none of that Starbucks laptop shit here. A couple next to me was joking and laughing. Four men were in another corner laughing over what looked like a script being tossed around and around.
I had heard that Golden Gai was an artists' hangout, a place for writer, actors, artists, musicians, and other intellectuals to meet up. Sort of like the miniaturized version of Montmartre in Paris.
My udon came, and I did a decent job of getting it into my mouth with the chopsticks, accompanied by a slurp, which I was told the Japanese do when eating that particular dish. Considering I am one of the sloppiest eaters imaginable, slurping wasn't that hard to accomplish.
I bar-hopped the rest of the night with the help of my local friend I met just outside the first bar, got a little drunk, and enjoyed the cozy, cramped streets of Golden Gai. One of the few nights where I think "once in a lifetime" really applies.
Save this info on Golden Gai by pinning below!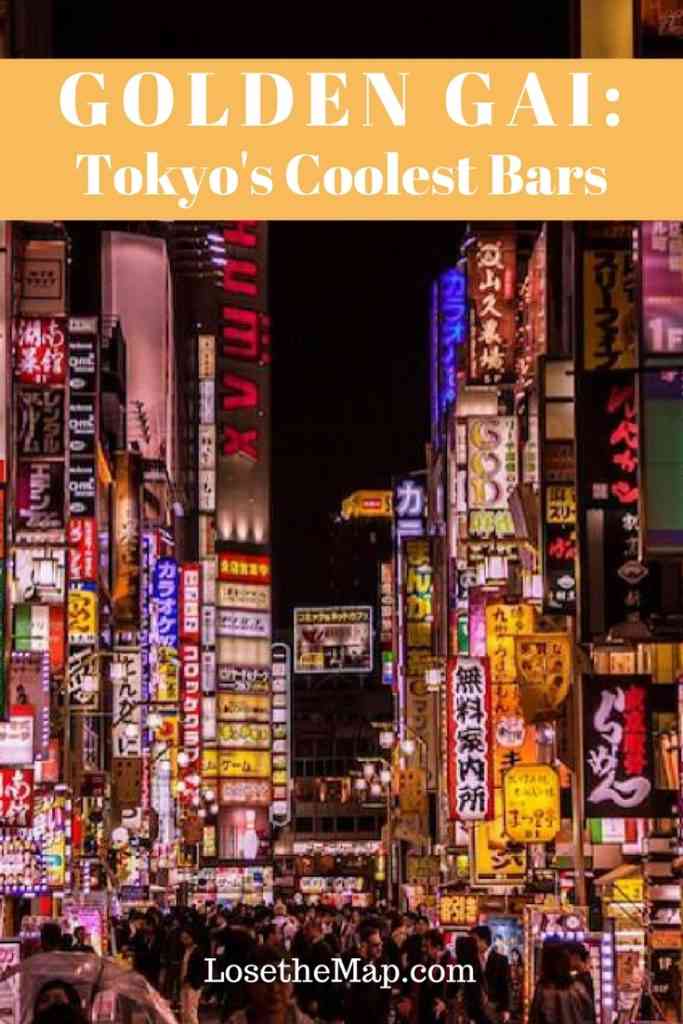 Want to Visit Tokyo Yourself?
If you're visiting Shibuya, search and book some great Tokyo hotels here
Want to stay in a Shibuya Airbnb like me? Sign up with my Airbnb link and get $40 in credit!
If you want to explore Shibuya next year, book Contiki Travels in Japan to see the country now.
First time in Japan? Check out my First Impression of a Gaijin to see what you can expect!
Have you visited Golden Gai? If not, what's your favorite drinking neighborhood in the world? 
SaveSave