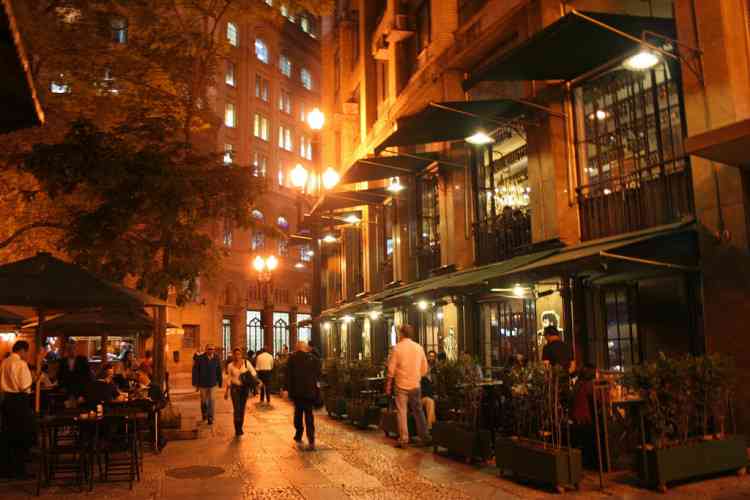 As the second biggest city in the world, São Paulo has enough options for nightlife to keep you partying for years. But if you want to narrow your choices and get a better sense of the bars and clubs you would like to explore, the following guide will help you understand which part of the city's vibrant nightlife scene suits your best.
Make sure you have the energy to keep up with São Paulo nightlife, as on the weekend most Paulistas head to bars at 9-10 p.m., clubs at midnight, and keep going until 5 or 6 a.m.
Photo by Victor Tognollo via Trover.com
Baixo Augusta
Baixo Augusta is the name for Rua Augusta between Avenida Paulista and downtown. It is probably the single best place in São Paulo for pub crawls, with a long row of bars, clubs, and live music venues mostly open to the street.
If you like cheap drinks and hate fancy, pretentious clubs, Baixo Augusta is the place for you. The rule of thumb is the further away you get from Avenida Paulista, the seedier the bars get. Try Espetinho do Gaúcho for a quick bite to eat, then head to Funhouse, which is a strange but cool mix of bar, house party, and club. The best part about Baixo Augusta is that the bars are close to some of the cheapest hotels in São Paulo, so you can party close to home.
Vila Madalena
If you would best describe yourself as "artsy" or "alternative," Vila Madalena is probably your beat. It's a bohemian neighborhood with plenty of street art, where bars strive for quality and vibe, not size. Expect to find some pretty small cafes and bars here and slightly bigger samba clubs.
Check out Filial for its warm, friendly atmosphere and great cheap beer on tap. If you've come to Vila Madalena to dance, head straight to Ó do Borogodó.
Itaim Bibi & Vila Olimpia
Photo by Emanuel Santanna via Trover.com
For more chic clubs and bars full of wealthy Paulistas, head to Itaim Bibi or Vila Olimpia. The drinks here are more expensive, and the dress codes slightly stricter than for the rest of the city, so only head to these neighborhoods if you have a good budget with which to work.
If glamour in nightlife is your scene, check out some of the rooftop bars of São Paulo hotels in this area, or head to Bardot in Itaim Bibi. Bardot is known for its cocktails, delicious menu, and especially its Sunday afternoon DJ-accompanied parties. People come here to see and be seen in this mirror-covered upscale bar. For live music, you can head to the classy All of Jazz venue.
Barra Funda
Some trendy mega-clubs have opened in Barra Funda that have made the neighborhood a popular destination for Paulistas and travelers who want to dance until dawn. Try D.Edge if you're a fan of electronica, but put your name on the guest list through email to cut your cover charge.
There's also the gay-friendly Blue Space and The Week, which each host multiple dance floor and lounge areas. The Week has a huge pool area and six different bars, while the DJs favor mostly house and electro music.
Every neighborhood in São Paulo has something unique to offer in terms of nightlife, and no matter where you go, you will definitely have a great time staying out all night among friendly and lively Paulistas.