Paris is full of internationally recognizable landmarks and tourist attractions – the Eiffel Tower, Montmartre, the Arc de Triomphe, and about 100 others that have been listed in every travel resource ever published.  This is not just a 'top attractions of Paris' list.  Instead I wanted to describe my personal experiences at 8 of the top Paris tourist attractions, in order to help you understand if the destination is for you, and the best and most efficient way to enjoy each.
This post does contain some affiliate links, for which I will earn a small commission (at no extra cost to you, of course). All opinions and viewpoints expressed in this post are, as always, my own.
There are a couple of glaring omissions (Notre Dame, Jardins du Luxembourg), because I did not get to those attractions and therefore can't give a personal opinion on how best to enjoy them.  But for most of the top sights, read ahead!  If you want to enjoy most of the sights and the museums without paying separate fees, or get discounted tickets, check out the Paris Pass!
1) The Eiffel Tower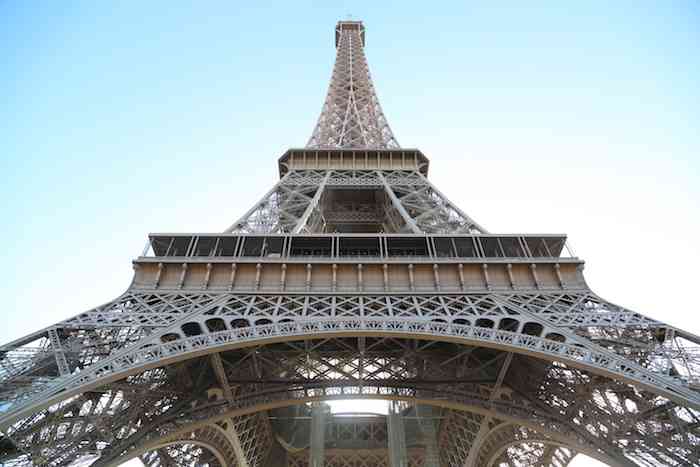 Probably the most iconic Parisian landmark, the Eiffel Tower attracts thousands of visitors daily.  And you will see every last one of them just ahead of you while waiting in line.  Expect a wait of 2-3 hours for the elevator here, at a minimum.
Now, I'm not going to recommend skipping the Eiffel Tower on your Paris trip, because it is one of the most famous structures in the world.  But either get there as early as possible (the tower opens at 9:30 AM in the winter, 9 AM in the summer – check the website), or be prepared to take the stairs.  The line for the stairs is usually much shorter (I got in with almost no wait time at all), but the downside is that if, like me, you've skipped the last 6 months of gym visits, it will feel like a long way up.  And that's just for the first floor.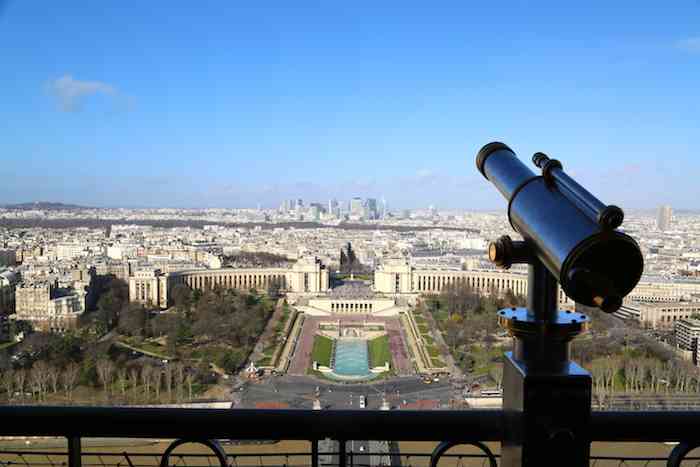 Best Way to Enjoy It:
I recommend walking up to the first floor (maybe even the second, if you're feeling extra fit), taking a few pictures while walking around the perimeter, and then heading back down.  You can take the elevator all the way to the top if you'd like, but that's a separate one hour line you need to wait on, as well as an extra ticket.  Besides, it will just be a somewhat higher view than the one you already saw lower down.  Not to mention you don't really get the best pictures of the Paris skyline, because the city's most prominent landmark is under your feet rather than in the shot.
The other option is taking pictures from the ground and out in the gardens, admiring the building from the exterior, and not going up at all.  No one will know.
My Experience: 7/10
2) The Louvre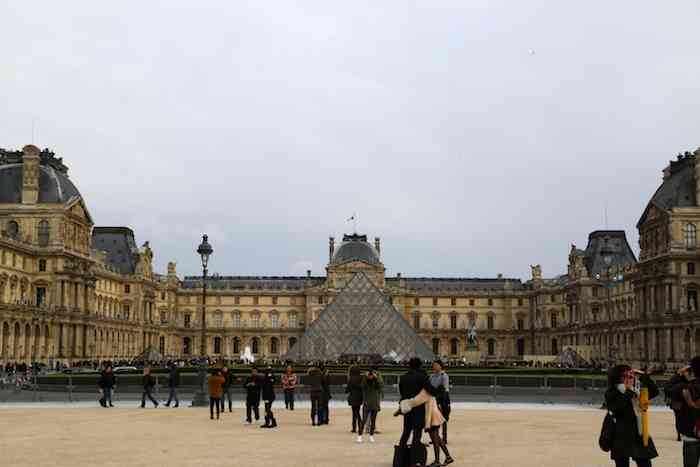 The Louvre, in addition to being architecturally stunning, houses one of the largest (over 1,000,000) and most famous collections of art in the world, including Leonardo da Vinci's masterpiece, the Mona Lisa.  The downside to the Louvre is that it is a maze of hallways that you can spend all day walking through and realize you still haven't seen 7/8ths of the museum.  It takes several days to fully explore, so if you're going for the day, try to use your time wisely.
Best Way to Enjoy It:
Get a museum pass (useful in any case, if you also want to head to other Parisian museums and landmarks), and you will automatically be put in a shorter line with almost no wait time in order to enter.  Grab a set of headphones or download the Louvre Audio Guide App on your smartphone if you want more information about the paintings, since the descriptions next to the artwork are generally in French.  Then check out where the sections you are interested in are located, and head directly to those, even though you will get certainly get lost several times, and it's best to just accept that early on and go forth anyway.  If you don't believe me, check out Nomadic Matt's excellent post on the Louvre.
Honestly, unless you're passing near it, skip the Mona Lisa.  It's small, covered with glass that reflects light and makes viewing difficult, and chances are you will be viewing it through small openings between the heads of 80 people ahead of you.  Sorry to sound culture-less, but Google Images probably gives you a better view than you could ever get in the Louvre.
My Experience: 6/10
3) Champs Elysees & Arc de Triomphe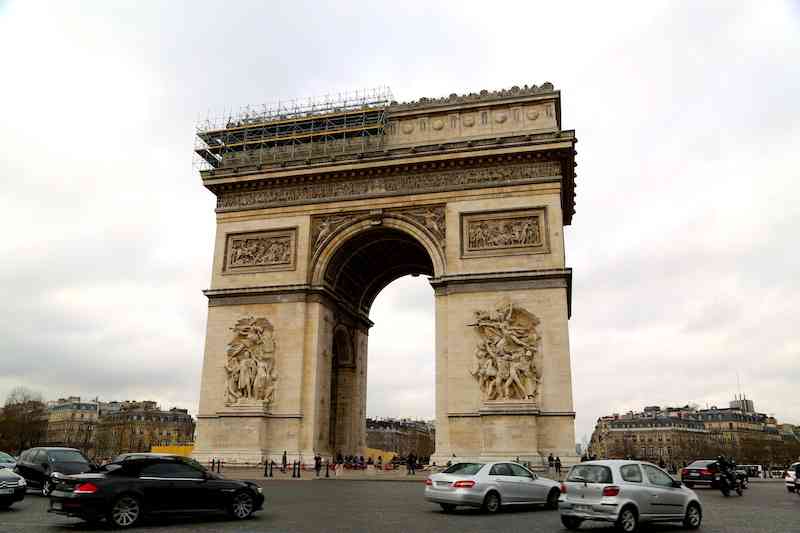 This was probably one of my favorite walks in Paris.  Walking the Champs Elysees from end to end will take around 30-45 minutes.  But it is definitely worth it for the people watching, the beauty of approaching the Arc de Triomphe, and the boulevard-wide shop-lined sidewalks made for foot traffic.
Best Way to Enjoy It:
Start from the Place de la Concorde, and walk towards the Arc de Triomphe, which will seem deceptively close, but in reality is a good 2.5 km/1.6 miles away.  Take your time strolling down the boulevard, as you will pass many beautiful buildings, and might want to stop and take a picture or just gaze at the classic architecture.  If you'd like, take a small detour to your left early on in the walk to view the Grand Palais and the Palais de la Decouverte.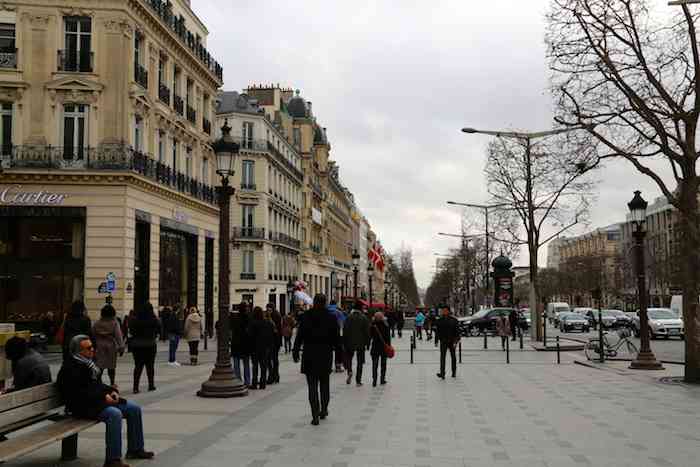 Walk on until you arrive at the Arc de Triomphe, then take pictures and admire away.  Backtrack on the opposite side of the road.  You will pass shops and cafes on your way, so if you want to stop and relax, there are plenty of places where you can sit and sip an espresso.
My Experience: 9/10
4) Montmartre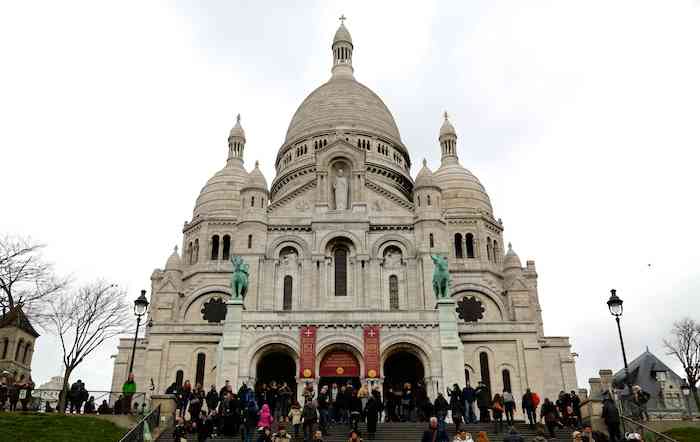 The beautiful Basilica of the Sacré Cœur and its surrounding neighborhood are definitely must-see attractions for those visiting Paris.  Montmartre is a historic neighborhood up on a hill, famous for being a former artists' hangout in the late 1800s and early 1900s.  Cafes, bars, and shops line the alleys around the church, while Place du Tertre, a gathering for local street artists, is just a few steps away.
Best Way to Enjoy It:  
Walk up to the Basilica and you will get majestic views of both the church and the Paris skyline.  Then head further down, and if you have time and are so inclined, stop at the Place du Tertre and have a street artist do your portrait.
Further down the alleyways, almost at the foot of the hill, are endless specialty food shops; whatever you want to binge on, whether it's cheeses, sweets, seafood, or croissants, you can find it here.
My Experience: 8/10
5) The Catacombs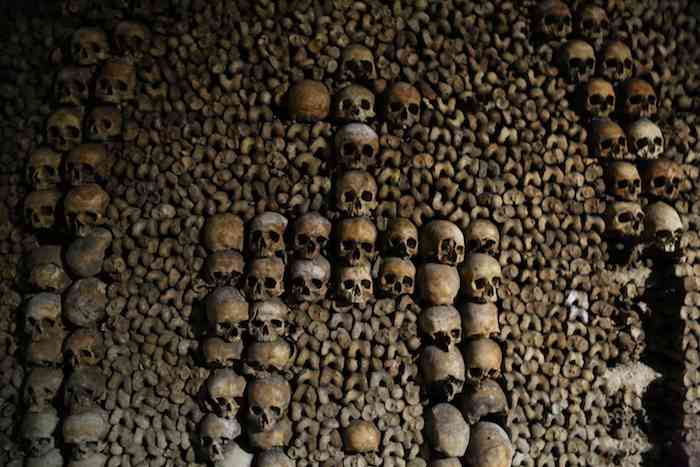 The Parisian catacombs are a fascinating and morbid destination in Paris.  If you want an 'alternative' day of sightseeing and a break from more conventional Paris tourist attractions, this underground ossuary should be your top destination.
Best Way to Enjoy It:
To be honest, there's not much choice in what you can do here.  Get to the catacombs early (they open at 10 AM, except for Mondays), as there was a 1.5 hour wait when I got there at 1 PM.  It's a surprisingly popular destination.  If you do have to wait in line, do what I did with the rest of my group, grab sandwiches and snacks from the bakeries across the street, and eat your lunch while waiting.  Tickets prices are cheap, and the walk through the joint museum and catacombs takes 30-45 minutes.  Just do your best not to think about how the skulls and bones around you were real people once, and you will feel much less disturbed.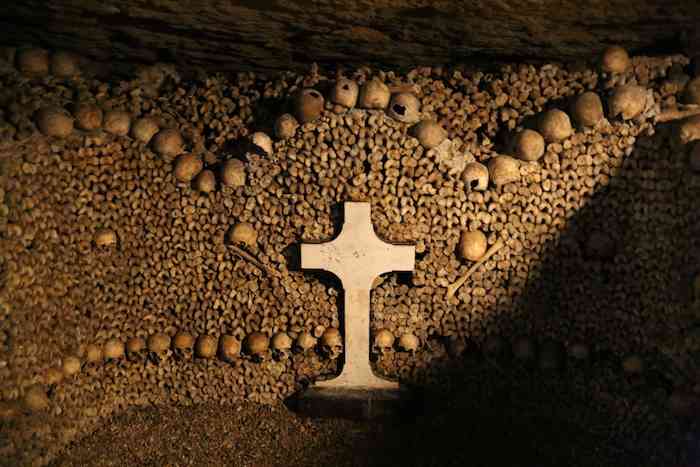 BUT: if you have any type of claustrophobia, anxiety disorder, or young children with you, I would seriously recommend you not visit the catacombs.  The website and the people working the ticket booth give the same warning; in some sections of the tunnel, I was almost brushing the ceiling with my head at a height of 5'8″.  Definitely not a place for the claustrophobic.
My Experience: 9/10
6) Moulin Rouge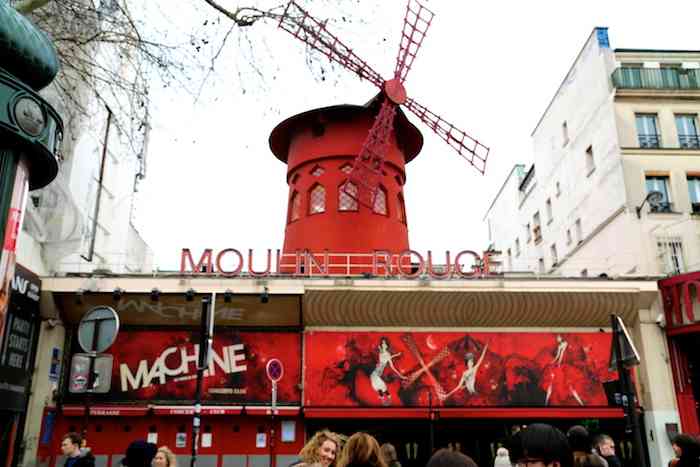 I'm going to be upfront and say that my views on my night at Moulin Rouge might be skewed, because I went in with no idea of what to expect, except for the visions of old burlesque and cabaret shows I had in my head.  Moulin Rouge was…definitely nothing like that.   I'm genuinely torn as to what to say, because the acts in between the dancing are insanely impressive, and a couple of the dancers' tricks really shine, but the whole show seems like a shadow of what it could have been.  I will be covering the experience more in depth in my next post, so stay tuned.
Best Way to Enjoy It:
Do not get dinner here.  There are much better places to dine in Paris.  If you've signed up for the show, just skip to the main event, even if it's actually a quite confusing experience.
The only nod to Moulin Rouge's racier and flashier past are the glittery costumes of the dancers and the fact that the fabric covering their breasts has been removed.  Other than that, it's a pretty straightforward variety show.  Mostly average dancing numbers, interspersed with some awesome circus tricks, one good song, and several annoying ones.
My Experience: 60% of the night – 4/10; The other 40% – 9/10 (like I said, I'm torn here)
7) Latin Quarter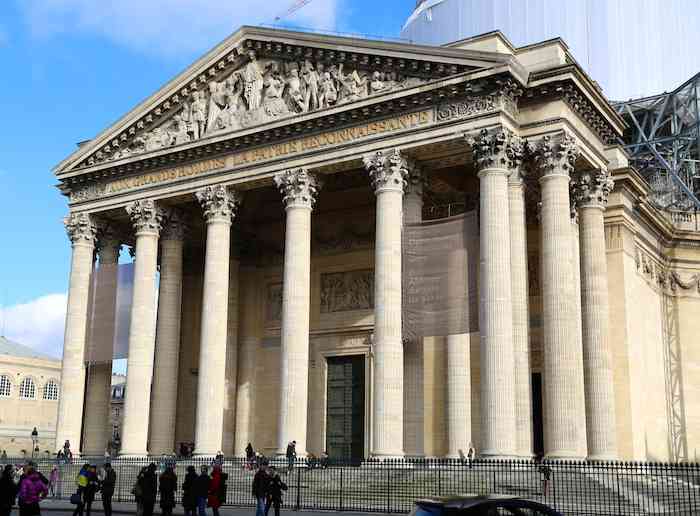 My soft spot when I travel is always for walkable, interesting neighborhoods, and the Latin Quarter definitely did not disappoint.  The neighborhood has been built up around the Sorbonne, one of the most prestigious universities in Paris, so there are a lot of college-age people walking around, but the area is not limited to that.  It is also home to some great historic and walkable sites, such as the Pantheon, the Grand Mosque of Paris, and the Jardin des Plantes.
Best Way to Enjoy It:
Starting at the giant roundabout on the eastern corner of the Jardin des Plantes, walk west around the gardens, or if you don't mind paying 11 Euros for entry, head into the entrance, on your right just as you start walking down Rue Buffon.  After emerging from the gardens (and the museum and zoo, if you wanted to head in), exit at Rue Linne and Rue Daubenton.  At the next block, the Grand Mosque is on a side street on your right hand side.  After you've seen it, continue west until you hit the southern end of Rue Mouffetard.  Take it all the way up until you get to a small square/roundabout, and stop and rest for coffee.  This neighborhood is beautiful, so definitely take your time and lots of pictures.  Then continue west, until you hit Rue d'Ulm, at which you will make a right to see the Pantheon.
That's the route I took, but you can take many others and chances are you will find beautiful buildings and streets all over the place, so feel free to explore!
My Experience: 10/10
8) Place Vendôme & Surrounding Neighborhood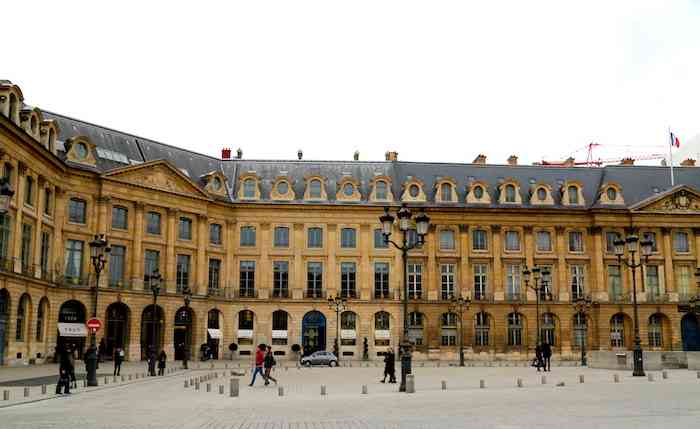 This square is one of the most high-end and well-known shopping areas in Paris.  However, even for someone as anti-shopping as me, this is a good area to walk around and it also has some interesting attractions just a short distance away, such as the Palais Garnier and the Madeleine.
Best Way to Enjoy It:
Start from the intersection of the Rue des Pyramides and the Rue de Rivoli.  Walk west on Rue de Rivoli, where you will pass a lot of brasseries and cafes, while having a clear view of the Tuileries Garden just across the street.  Then walk up the Rue de Castiglione, through the Place Vendôme, and if you keep heading up you will arrive at the Palais Garnier.  Then turn left on Boulevard de la Madeleine to arrive at La Madeleine, turning again left on Rue Royale to see the Place de la Concorde ahead of you.  If you'd like to do some more window shopping, make a left on Rue Saint Honore, and gaze at the bags that inexplicably cost $4000 as you make your way back.
My Experience: 8/10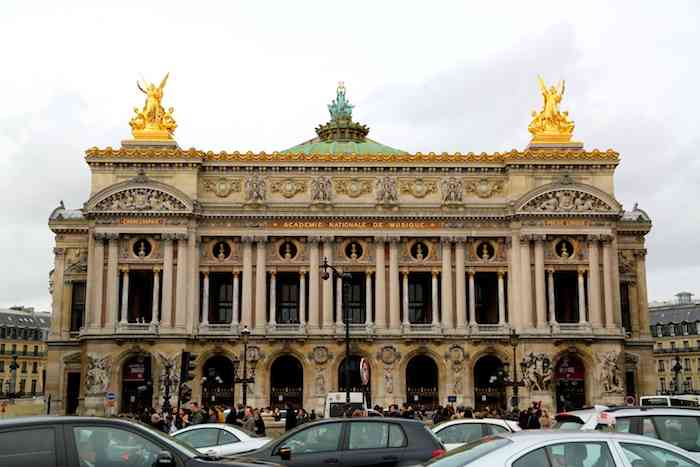 What were your experiences with the places you visited in Paris?  Did you feel there were any attractions that were underrated or overrated?  Feel free to comment!
To get a feel for this city outside of the attractions, see my first impressions in pictures of Paris here.