When most people think of Cologne (Köln in German), they think of the first thing a visitor sees in Cologne: the imposing edifice of the city's famous Gothic cathedral.
---
Note: My visit to Cologne was provided courtesy of Rail Europe in collaboration with Qvest Hotel; however, all opinions and viewpoints expressed in this post are, as always, my own. This post does contain some affiliate links, for which I will earn a small commission (at no extra cost to you, of course).
If you don't have time to read this post, Pin away below for future reference!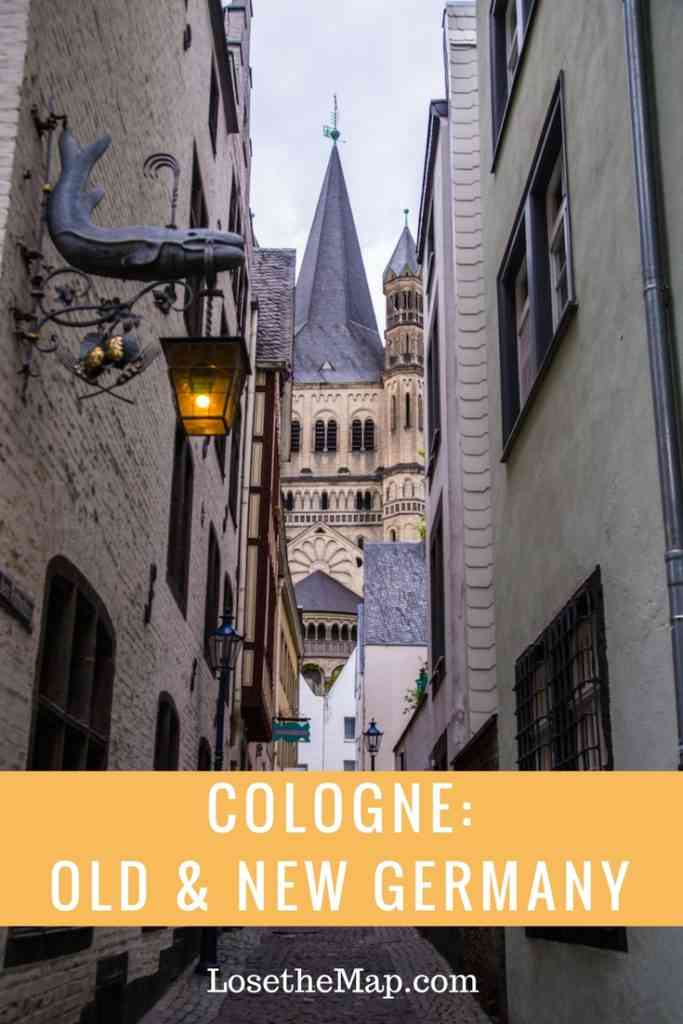 ---
It's hard not to notice this grand edifice no matter where you are in the city. The Köln Cathedral is the first thing you see when you exit the train station, and it towers so much over the skyline that you can get a glimpse of it from almost everywhere.
The second thing I noticed on the way to my hotel is how oddly new everything else seemed. Block-like concrete buildings lined the streets, with a few nods here and there to a more storied past where the city blocks had survived the artillery shells of World War II, but overall, this section of Cologne seemed very modern; practical; one might stereotypically say, German.
The cloudy sky and sparse drops of rain contributed to the gray atmosphere, and for a moment, I wondered what I would spend the day doing in this town.
However, this is why it pays to go beyond first impressions; and in order to do that, you have to wander, get lost and truly explore. I walked through the grid-like streets until I came upon the Old Town, with its alleys, medieval architecture, and welcoming pubs – it was there that I saw a completely different side to the city.
The riverfront bars and Alter Markt square were packed with people on this cloudy yet decently warm day, offering menus heavy on meat and beer (the locally brewed ale, named Kölsch, is wonderfully cheap at around 1.50 Euros), housed in classic Teutonic architecture with steeply slanted roofs for the harsh Northern European winters.
The colorful houses lining streets with traditional lamp posts and cobblestone pavements made me feel like I had entered a different town altogether. In this way, Cologne is a little microcosm of the constant identity struggle I see in Europe between the old and the traditional, versus the progressive, the modern and the new. An identity struggle that never necessarily results in a winner – just in this strange little dichotomy.
To start with, this former traditional bastion of Christianity is now one of the most gay-friendly cities in the world, with a summer Pride event that's one of the biggest in Europe. The modern, block-like concrete buildings that now line the streets, due to the fact that approximately 72% of the town was bombarded in World War II, butt right up against the idyllic narrow alleys of the Old Town (painstakingly re-built after the war).
The old atmosphere yet progressive attitude of the city was even evident in my own lodgings at Qvest, a historic city archive converted into a modern boutique hotel, a building that retains it's neo-Gothic architecture while modern art and photographs hang on the walls.
Cologne's top-notch museums help visitors better understand the different aspects and historical eras of the city. The modern Museum Ludwig, with over 350 works of modern art, and the Roman-Germanic Museum, which follows Cologne's history from Roman to Medieval Times are two of the most popular. I was also personally fond of the Chocolate Museum, which goes into a three-thousand-year-old history of chocolate, for obvious reasons.
Before the sunset, I boarded a river cruise (which I highly recommend to travelers) to see Cologne as many of the city's oldest visitors had first seen it, coming upon it on the riverbank while sailing on the formidable Rhine.
I noticed the ultra-modern crane buildings of the Rheinauhafen neighborhood (no, I don't know how to pronounce that, but try moving your mouth as though you're attempting to dislodge something from your throat) – another row of cool, modern, geometrical facades, that look intriguing on their own, yet almost schizophrenic on the opposite bank from the weathered Gothic Köln Cathedral.
But cruising down the slow-moving yet powerful Rhine River, with the wind in my face and a hazy blue sunset on the horizon, I fell in love with the strange split nature of this lovely city. Cologne pays tribute to its roots while continuously looking forward; innovation and tradition don't necessarily pull in opposite directions here, but instead, co-exist side by side, though sometimes uneasily.
In some ways, isn't this just like the evolving face of Germany?
As I sat in one of the city's best pubs that night, Gaffel am Dom, taking much too long to realize that the waiter would keep never stop bringing me Kölsch until I placed a "beer mat" over my glass, I realized how misunderstood modern Germany can be. Cologne has one of the warmest nightlife scenes in the country, and everywhere I went at night I saw smiles, boisterous conversations, and plenty of beer. A very far cry from the typical stereotype outsiders have of Germans – this impression of a people that are models of order and efficiency, almost robotic in their approach to life – a very unfair characterization, I thought.
Part of the reason I love traveling and exploring is that I always gain a deeper understanding of a place and its culture; better yet, I often have stereotypes I didn't even realize I carried, shattered to pieces.
That's why a stop in Cologne is necessary if you're visiting Germany. Go to the Cathedral and the museums, cruise down the Rhine, but after you're done with that, walk along the streets of the Old Town and plop into the first promising beer hall you see. Stop sightseeing and just sit, observe, drink, relax. You'll get to see the old Germany, the new Germany, and better yet, get a real idea of German culture beyond the stereotypes.
Since I only had a limited time in the city, I can't write too much more in-depth on the subject; however, I can't wait to go back and see more.
Want to Visit Cologne Yourself?
If you're visiting Paris again, search and book some great Cologne hotels here
Want to stay where I stayed? Book Qvest Hotel
If you want to explore Cologne with a local tour guide, check out Viator tours (save 10% with this link)
Need to book a last minute trip to Cologne? Check out Last Minute Travel for the best deals!
Is there a city you enjoyed more the second time around? Comment below, then share and pin away! To follow more of my travels and photos, stay up to date on Lose the Map Instagram!
SaveSave
SaveSaveSaveSaveSaveSave
SaveSaveSaveSaveSaveSave
SaveSaveSaveSave