If you're looking for a weekend break in Europe, and also want to fill up on as much food and art as possible, Madrid is definitely the place for you. Food, culture and nightlife play such a huge part in the lifestyle of this city, that it can be hard to decide what to do in Madrid if you only have a limited time to explore the capital.
I'm not exaggerating about the focus on food either: Madrid is foodie heaven, which I realized when approximately 80% of the recommendations I got before heading there were all food-related. So if you only have 48 hours in the beautiful Spanish capital, here are some things to do in Madrid.
If you want to get discounts to tickets, museums, and other venues throughout the city, check out the Madrid pass!
General Rules for a Weekend in Madrid
Adjust your sleep schedule!
If you are someone who likes to finish dinner by 7 and be in bed by 10 at the latest, this isn't really going to work out for you in Madrid. Every dinner I had with Spanish people started at 9-9:30 PM, and no one seemed in any special hurry to start their night until around 11:30 on the weekend. Learn to love it.
Almost everything is walkable.
Most of the major attractions and things to do in Madrid are in the city center, meaning you can walk pretty much everywhere. The center is pretty safe and the streets around nightlife centers are crowded even in the early hours of the morning, so as long as you exercise normal "big city" precautions, you should be fine.
Saturday: What to Do in Madrid
Visit the Museo del Prado
Fans of classical art will find gorgeous pieces inside the gorgeously laid out Museo del Prado. Admire works by some of Renaissance Spain and Italy's most famous artists, including Velasquez and Goya. I found some of El Greco's most famous, intense works here, making the 15 Euro admission well worth it.
Alternative Museum Options: Many people also enjoy the Thyssen-Bornemisza Museum, which displays European art from the medieval ages to the 20th century. Investigate all the art and museum options available when deciding what to do in Madrid.
Now it's time to get down to the serious business of eating. Platea is the ideal place to do this, as the former movie theater has now been turned into a giant market and eatery (and cocktail bar/club at night). Sit downstairs in El Foso to order food from all around the world, ranging from local Spanish cuisine to Peruvian appetizers and sushi.
Afternoon at Plaza Mayor
Plaza Mayor is probably the most famous tourist attraction in Madrid; I wouldn't recommend eating here, as the restaurants tend to be overpriced tourist traps, and there are plenty of more authentic and delicious options just one street over from the city's main square. Spend some time here just strolling and exploring the streets and pedestrian alleys around the city's center.
Not only will you get a tasty meal and excellent service at Sobrino de Botin, but you can also check off "ate at world's oldest restaurant" from your travel list after dinner here. Call ahead for reservations to get into this long-running establishment, which was first opened in 1725.
Night Out in Madrid
If you're looking for great nightlife in Madrid, don't go to any of these places at 10 PM and wonder why it's kind of dead. Spanish people are still finishing dinner at that time, so clubs don't really get going until after midnight. Depending on what your nightlife style is, here are some suggestions for what to do in Madrid at night:
General, popular nightlife spots: Plaza de Santa Ana and the side streets off Gran Via are good starting points to explore.
Pub crawls and tapas bars: Cava Baja and Cava Alta are insanely popular streets for beers and snacks.
Alternative, hipster, real late-night spots: Try the neighborhoods of Malasaña and Lavapies, where the bars are a mix of trendy and gritty.
Most tourists visit the famous Chocolateria San Gines in the middle of the day to get a taste of the establishment's hot chocolate and churros. Local Madrileños rarely do that; instead, they come here for a late night snack to soak up the alcohol and end a long night out before going to bed. If you're looking for things to do in Madrid like a local, Chocolateria San Gines is open 24 hours, so no matter what time your night ends, you can always stop by for some comfort food.
Sunday: What to Do in Madrid
I'm going to generously assume you're still nursing a mild hangover this morning, so what better way to sort it out than at Mercado de San Miguel. Browse the food options and pick up some jamón snacks, or check the mozzarella bar to see all the different ways you never knew mozzarella could be eaten. Some people say a beer helps clear your hangover right up; I, of course, completely agree wouldn't personally know anything about that, but beer and wine are definitely available at the market as well.
Stroll Through Parque del Buen Retiro
On a beautiful, sunny, Mediterranean day, you can take advantage of the weather to stroll through Parque El Retiro, Madrid's giant green leisure area that attracts plenty of tourists and visitors throughout the year.   Explore the park's gardens and sculptures, or if you're on the more active side, row out onto El Retiro's lake.
Local Tip: Visit Reina Sofia on Sundays
I saw Picasso's Guernica at Museo Reina Sofia, which I highly recommend, as the scale of this masterpiece is impossible to grasp until you see it up close. Reina Sofia also has several works by Dali and other modern painters, as well as plenty of temporary, ever-changing exhibits. If you're wondering what to do in Madrid on a Sunday, this is actually the best time to get into the museum, as admission is free!
Sunset from the Bellas Artes Building
Head up to the rooftop terrace of the Bellas Artes building to get a gorgeous sunset view over the Madrid skyline. Don't make my last-minute mistake and get here half an hour before sunset though – there will be a huge line of people waiting to get inside. It's best to make your way up to the rooftop much earlier, settle in with some cocktails and snacks, and have a good spot secured for when sunset comes around.
Relax with Beers in La Latina
You can do this at any point during the day, as when it comes to what to do in Madrid on a Sunday, it is somewhat of a tradition for friends to meet up for chill beers in La Latina neighborhood. The further you get from Plaza Mayor, the likelier you are to have a more local (and cheaper) drinking experience.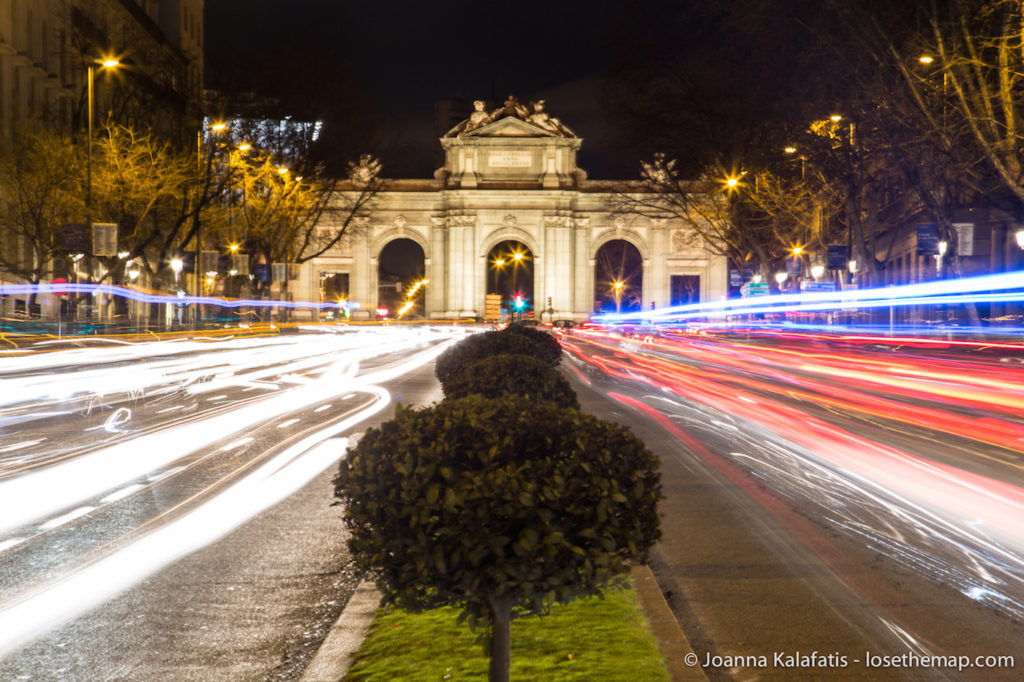 If you have an even shorter time in Madrid, check out this great post from Universal Jetsetters on what to do in a 6-hour layover in Madrid.
Have you been to Madrid? What places do you recommend in the city? If you liked this post, share and pin below!