If you've ever wanted to visit Bath in the UK, it's probably after seeing a photo of the city's beautifully rebuilt Roman Baths. Lovely as those photos are, what they don't show you is that the rest of the city could also easily be put on a postcard.
If you like this article, Pin below to save and share!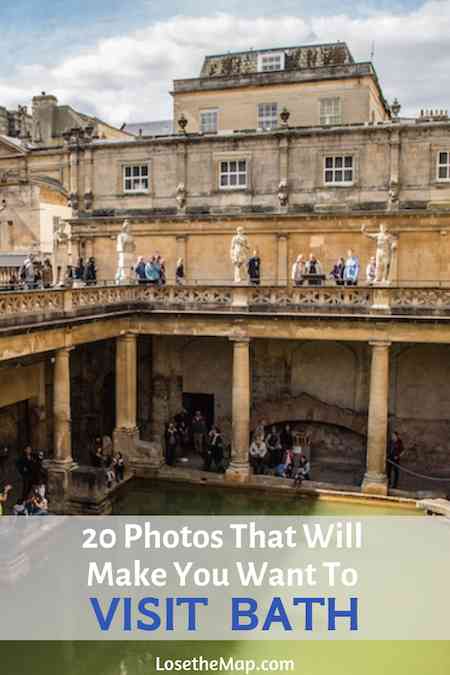 Bath is more than just a day trip – it's a temporary passage into another world and another time. Whether you're a photographer, a history lover, or just a traveler that likes walking through fairytale landscapes, you're going to love exploring Bath.
The first thing you might notice about Bath is that it is quite monochromatic, especially in its historic center. Most of the city was originally built from a cream-colored limestone known as Bath stone, and the architecture combines the elegant beauty of Georgian England with an ancient Greek/Roman aesthetic.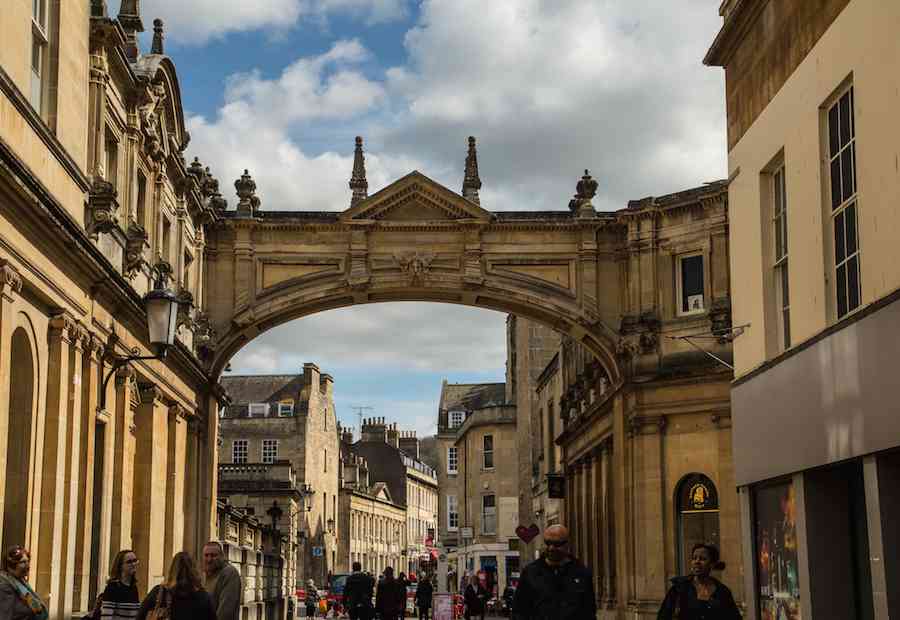 The fusion of English style and classic architecture is a big reason why the entire city of Bath became a UNESCO World Heritage Site in 1987. It gives the city a very romantic quality, and pays tribute to Bath's surprising age – the city was established as the spa town Aquae Sulis in Roman Times (60 AD).
When you visit Bath, touring the Roman Baths might be the most overdone, popular thing to do in the city, but the site is crowded with tourists for good reason. The recreated baths and Roman ruins housed on the site immerse you in the beginnings of the city, taking you on a journey to understand what the city may have been like and looked like in a time that now seems so far away and incomprehensible to us.
---
Local Tip: The water emerging in the baths is still considered by many to have great health benefits, so if you want to go soak up some health (ancient Rome style), head to Thermae Bath Spa right next door.
---
I stepped outside, walking through the endless rows of creamy-gold buildings that used to house wealthy Londoners and other English families in the 18th century, during the lively months they would spend in trendy Bath. That was back when rich people set aside a whole season for balls, socializing, and (assumedly) ordering servants around.
If the setting reminds you of a classic English novel, it won't surprise you to learn that Jane Austen set a few of her books here, as she spent some time visiting Bath herself and became quite enamored with the city as a young girl.
---
Local Tip: When you visit Bath, stop by the Jane Austen Centre on Gay Street (named during a different era), which gives you a lot of background on the author and her books, but is also intriguing for non-Austen fans who want to see what life was like in the late 1700s/early 1800s, and how families of different social statuses lived.
---
If you want to visit other museums, Bath is full of them, especially for such a small city. Check out the Holburne Museum (art), the Fashion Museum (historic fashion), and the Museum of Bath Architecture (you get that one, right?).
The building I enjoyed the most was No. 1 Royal Crescent, a perfectly preserved home from the late 1700s located on Bath's famous Royal Crescent (pictured below).
I stepped through the rooms of this grand, impressive house, and in each space, a tour guide greeted me ready to answer any questions I had and give me background on how each place was used – this makes the experience much more interactive and educational than most similar places I've visited.
You might be surprised at some of the facts you learn: for example, dinner was usually eaten around 3 PM (so guests would not have to make their way back home in the dark in their carriages), and if these classy gentlemen and ball-gown-bedecked ladies needed to use the bathroom during mealtimes in the dining room, they simply…did so, without leaving the room, with the assistant of pans and servants.
Lesson learned: while they may have looked pretty in paintings, people were really gross back then.
On my way back to town, I went through the Circus, three curved sections of housing that form a circle around a small green park. One gets the idea that the architects in Bath liked trying things out just to see what the result would look like. Good news: it all looks pretty great.
Further down, feeling a bit snack-ish, I stepped into Sally Lunn's Eating House (est. 1680), because it had an insanely old founding date and I needed to find out what it was all about.
It turns out Sally Lunn was the Anglicized name of a French immigrant who set up a bun shop and restaurant – because it is one of the few constants throughout the years that immigrants do food better, always – that is still operating to this day.
---
Local tip: If you don't want to wait in line forever to sit down at Sally Lunn's, get a bun and head down to the Parade Gardens to have a small picnic.
---
While sitting down by the River Avon, you can also gaze out onto one of Bath's most beautiful sights, the Pulteney Bridge. Its original design was an abandoned design for the Rialto bridge in Venice – more Roman/Italian influence evident in the city. When you visit Bath, this influence is hard to overlook.
After I finished my snack, I was fully energized to keep exploring the city; the good thing is, central Bath is so amazingly walkable that exploring is really easy to do. After hitting the major sights, I wanted to go exploring my personal favorite parts of any city – namely, the little backdoor alleys off the major roads (the tinier, the better).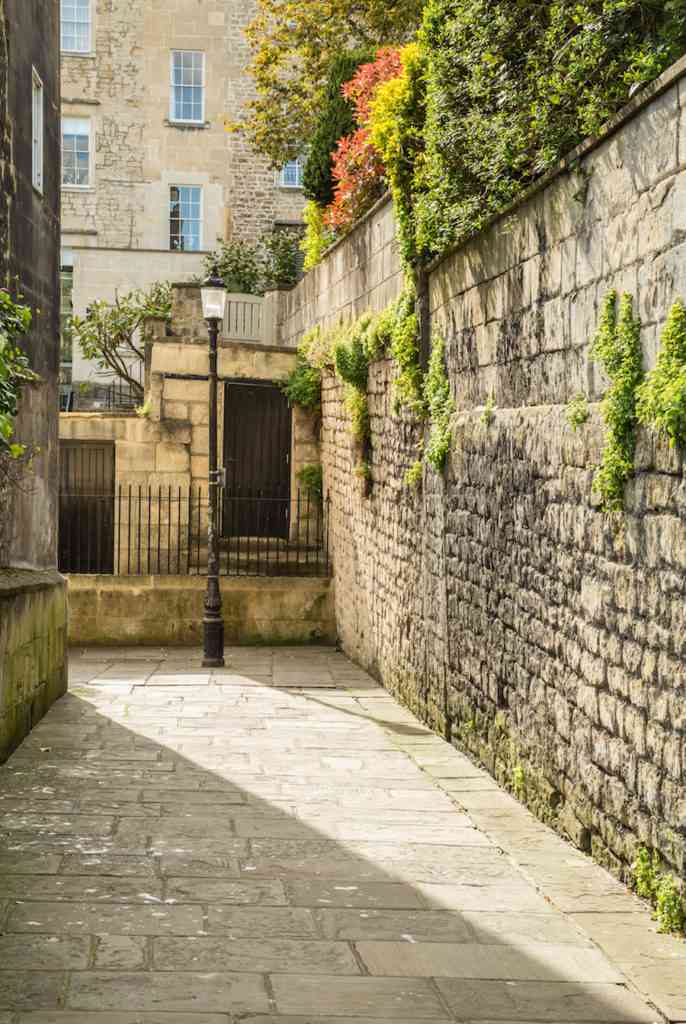 After taking a bunch of random turns, I came upon picturesque Queen Street, full of cafes, restaurants, and bars. You'll come across a lot of these cozy streets when you visit Bath.
---
Local Tip: Canary Gin Bar, pictured below, is highly recommended by Bath locals, and no one does gin like the English. Check it out and drink responsibly, keep it reasonable, if you're not driving, it's fine.
---
While walking through these very traditional-looking roads, perhaps the most surprising realization that kept hitting me is that people still live here – a good number of people (around 90,000 at last count).
Bath is one of those towns that is so rooted in the past, so well-preserved, that it continues to surprise me with every step I take that it is, in fact, a living, breathing, and lively city still. Bruges surprised me in a similar manner. Where I expected to find something akin to a museum, there were people absolutely everywhere in the streets, many of them locals, and this is their town.
I can't imagine what it must be like to live here and walk daily among buildings like Bath Abbey, an architectural masterpiece founded in 1499.
As the sun started to set, the light on the buildings dimmed and the atmosphere became ethereal.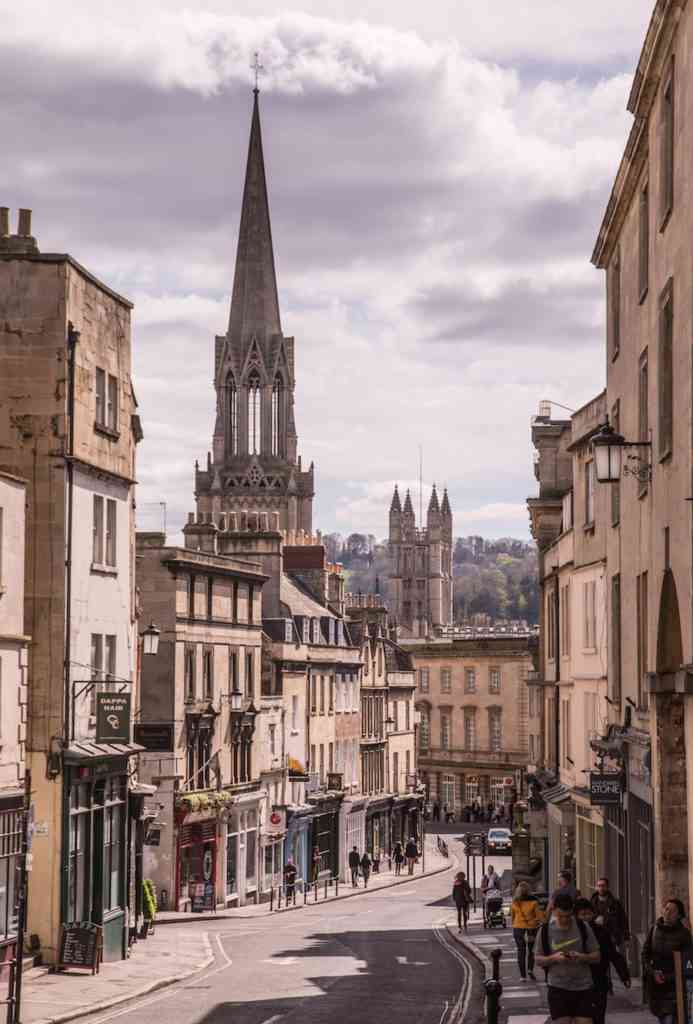 I headed up to Alexandra Park to get a view of the city below, and it did not disappoint. Definitely a vantage point to check out, along with Prior Park, if you ever visit Bath.
Seeing the full effect of the city's streets, buildings, and color all in one sweeping landscape was a grand visual experience that no photo can reproduce.
There are many things I didn't get to do, and for those I'll have to go visit Bath again. I wanted to eat dinner at The Circus restaurant, head up to Prior Park Landscape Garden, walk around a little more.
I left the city feeling like I had briefly stepped into the past, onto the streets and environments of Austen's England, then into the outskirts of a distant, ancient empire – into a world long lost yet still echoing throughout the present. The mesmerizing thing about Bath is that while the city romanticizes the past, it also brings it sharply into focus; while you're being blown away by grand buildings and meticulously crafted beauty, you're also learning about the hardships of a less advanced age and the challenging realities of another time.
Visiting Bath was an imaginative, mental journey as much as it was a physical one, and I personally can't wait to go back. If you're looking for a wonderful day trip or weekend trip from London, this is an amazing destination I highly recommend.
Have you been to Bath yet? What historic place have you been to that transported you to the past?
If you liked this post and want to save or share it, Pin away!

SaveSave
SaveSaveSaveSave