Travel has a lot of unexpected side effects: it triggers your imagination, it expands your worldview, it encourages you to connect with others and makes you a more confident, self-aware person.
Also, it tends to put 10 to 15 pounds on you.
The above estimate depends on the country and length of stay of course (want to lose weight on a trip? visit Japan), but overall, weight gain tends to be the one constant no matter what place I visit in this world.
A few years ago, I wouldn't really care, but over the last year I've been working on my health and fitness; not so much for my appearance, but because I realize how much being (and staying) in shape can benefit me on the road and in life in general.
Disclosure: Though Aaptiv did not pay me for this post, they provided me with a free temporary subscription. However, all thoughts and opinions are my own.
Don't have time to read this post now? Pin below to save it for later!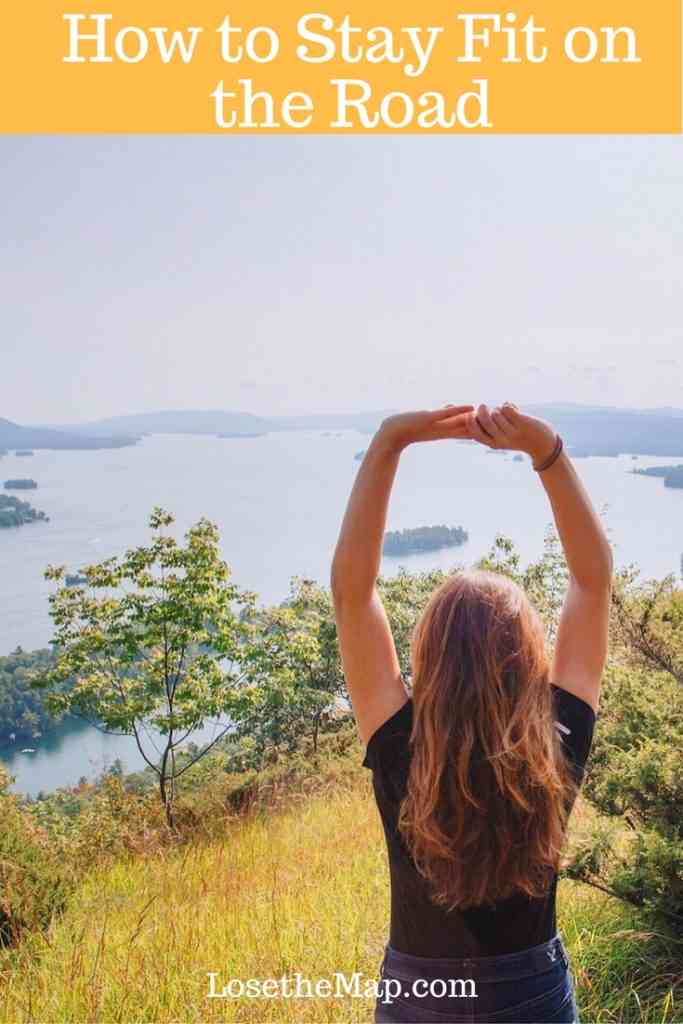 How Staying Fit Makes Me a Better Traveler
Here are just a few things I love when I'm in better physical condition:
I can walk around foreign cities for hours longer, taking photos from sunrise to sunset and exploring incredible neighborhoods without needing to stop and rest.
I find hiking up to incredible vistas and exploring local nature much easier.
I can try adventurous activities on my travels I might not have been confident I could do (or do for long) before, like mountain climbing and wakeboarding.
Everyone's reasons are different, but the fact remains that there are an overwhelming amount of reasons to stay fit while exploring a new place, and we all know we're not going to get there by dieting while on a trip – refraining from the millions of new, rich dishes and street food? Not happening.
Challenges to Staying Fit on the Road
So one option is left: exercise!
And not just on days when you have a hike planned or something of that nature; consistent and regular exercise.
Here we come to the second problem (at least for me): taking an hour a day when I'm in a beautiful new country to lock myself inside a gym ranks somewhere between giving up beer and watching a Kardashian marathon on TV on the list of "things I want to do in life". In other words, it's a hard pass.
Luckily for me, before my long summer trip to Greece, which usually packs on the pounds thanks to a combination of mojitos and souvlaki dinners, I found a perfect solution: Aaptiv.
Aaptiv is a new app that contains hundreds of fitness routines – some of them are meant for indoors training in a gym, but their new Fit for Summer program includes plenty of outdoors training exercises, such as running, walking, cycling, etc.
Aaptiv's fitness routines incorporate your exercise into your vacation plans – there are special beach walks and runs you can do, as well as general outdoor runnings programs with their own curated playlists.
Each program has a ranking to let you know the level of difficulty before you start – green is easier, yellow is intermediate, red is advanced/hard training. With each program, you can also see the number of calories you will burn, and the duration of the challenge ahead of time.
If you like a particular trainer or instructor, you can also go through their specific workout programs and select your workout from one of theirs.
My Favorite Aaptiv Routines
So how can you incorporate Aaptiv into your vacation/trip? Here are some of my favorite routines I easily incorporated into my summer plans.
Sandy Feet: This walking/jogging workout lasts under half an hour, and is specifically designed for the beach. The sandy surface makes you expend more energy, and as a bonus, you can fall into the sea to cool off at the end.
Summer Fun + Sand: A slightly easier version of the above "Sandy Feet" workout, this is just a power walk on the beach for those who don't feel up to a beach run just yet.
Rock and Roll Through The Hills: This was perfect for the hilly area behind my house in Greece. The workout has walking and jogging intervals, and ends with some lunges and squats to tone your legs.
Good Morning Yoga Wake Up: Perfect for morning beginnings, so instead of just rolling out of bed you can get you body ready to start exploring your destination of choice during the day.
There are plenty of others you can choose from as well, as well as warm-up and cool-down exercises to help you get through your workouts in the first place.
Aaptiv: The Details
I should tell you now that all this isn't free; however, a subscription to Aaptiv is so cheap compared to any kind of gym membership/fitness class, that signing up for this program is MORE than worth it.
Here are the full details you need to know about Aaptiv before deciding whether you should sign up:
Aaptiv Subscription Fee: $9.99 per month. Or $99.99/year, or $399.99 for a lifetime subscription.
Aaptiv Apps: Aaptiv can be downloaded on both iPhone and Android.
Aaptiv Availability: If you don't have a data plan, don't worry. Simply download the workout you want through a Wi-Fi connection, and then you can play it on your phone any time.
Aaptiv Free Trial: If you sign up for a month of Aaptiv, you get a 7-day free trial of the app, so you can decide if you want to stay signed up or not.
If you think of a new program or have suggestion for the app, the good news is that Aaptiv is pretty responsive to user comments. In fact, if you go to their Ideas Portal, you can see plenty of others customers' requests, and submit your own as well.
So now tell me – what do you do to stay fit on the road?
SaveSave