When most people hear about Patagonia they think of adventure, the majesty of nature, a journey to the edge of the world…or, possibly, a clothing brand you wear to show the world you're outdoorsy.
Well, I'm here to talk about the former. I've heard and read a lot of questions about Patagonia. These range from where it even is, to how to visit, to what there is to do there.
So in the spirit of pointing future travelers in the right direction, and finding a place to insert some of the 1400 photos I took there, enjoy this ultimate guide to exploring, sailing, and hiking Patagonia.
Quick Post Guide:
FAQs About Patagonia
Is Patagonia A Country? Where is Patagonia?
For some reason, this first question is one of the most popular FAQs. Patagonia is not a country. It's an area that encompasses the southern parts of Argentina and Chile.
Fun fact: Patagonia gets its name from the word Patagón, which is…also of unclear origins. Ferdinand Magellan described the local Tehuelche tribe this way, and in Portuguese the word meant something along the lines of "clumsy/deformed foot". This was based on the strange shoes they wore. You didn't expect the European explorers to be more sensitive than that, did you?
The area is also home to the southernmost city in the world – Ushuaia, Argentina.
How Do You Get To Patagonia?
Depends. Do you want to visit Argentinean or Chilean Patagonia? People usually either fly in to Ushuaia in Argentina, or Punta Arenas in Chile. Ushuaia is a good departure point for sailing around the Patagonian cape, where the land starts to be broken up by the sea. Punta Arenas is the nearest widely used airport for the stunning Torres del Paine National park.
Beginning your journey from these starting points will make getting to some scenic destinations, like El Calafate in Argentina, quite difficult. It might seem close, but the roads have to curve around enormous landscapes as well as international borders, so don't be fooled by how it looks on the map.
In fact, one might say….lose the map (I'm sorry. I'm so sorry. This is my humor in quarantine now).
Who Lives/Lived in Patagonia?
Unfortunately, the original locals of Patagonia were basically wiped out. You might recall I mentioned that Europeans encountered a local tribe called the Tehuelche when they first arrived. There was also a tribe called the Yamana in Tierra del Fuego, the southernmost inhabitants in the world when Europeans found them.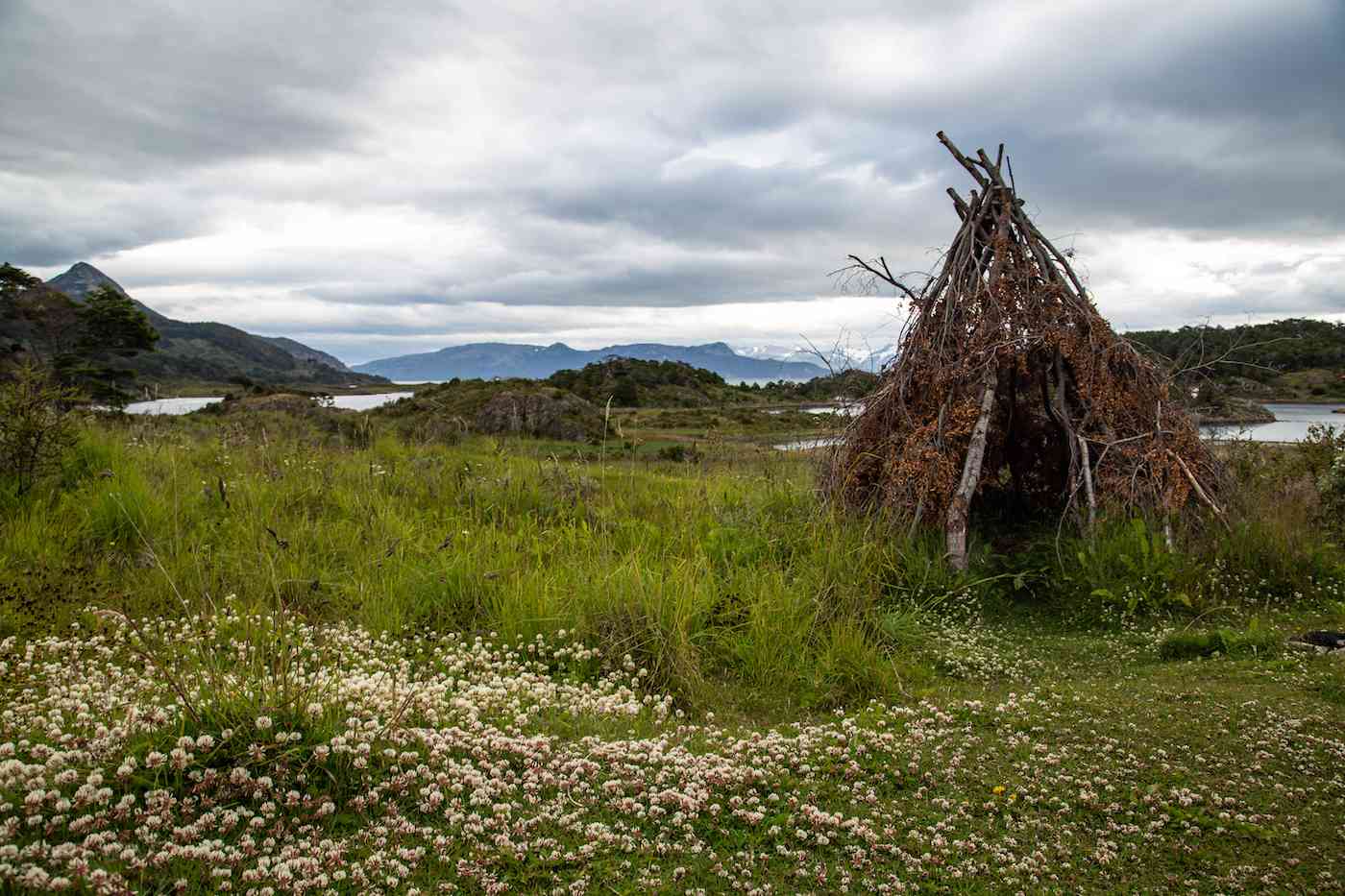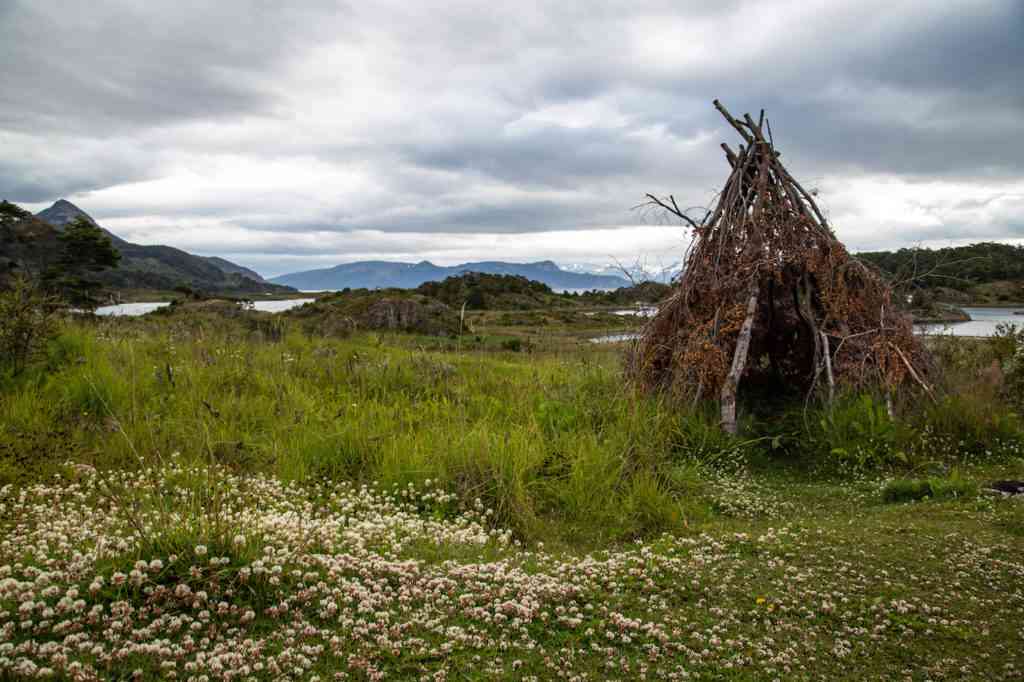 The Tehuelche were generally taller than the Europeans that landed. Considering the average European man was around 5'6″ at the time, that wasn't a huge accomplishment. But the visitors, prone to exaggeration and xenophobia, went back to Europe with tales of 15 foot giants roaming the land.
As was the case with many tribes and cultures throughout the Americas, disease and violence brought on by exploration and colonization wiped most of Patagonia's indigenous tribes out. However, remnants of the Yamanas' lifestyle, a few of whom were still alive in the late 1800s, have been preserved.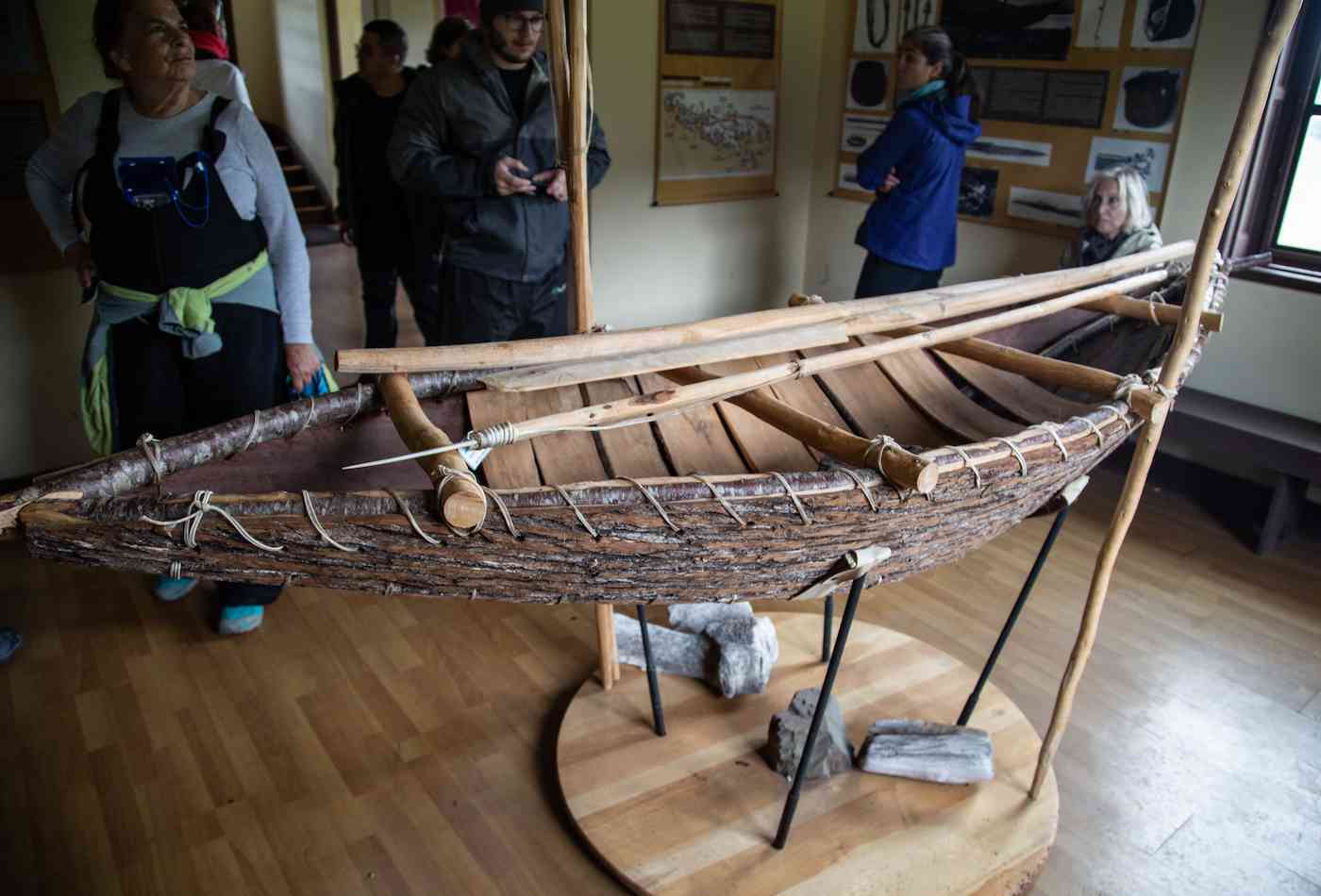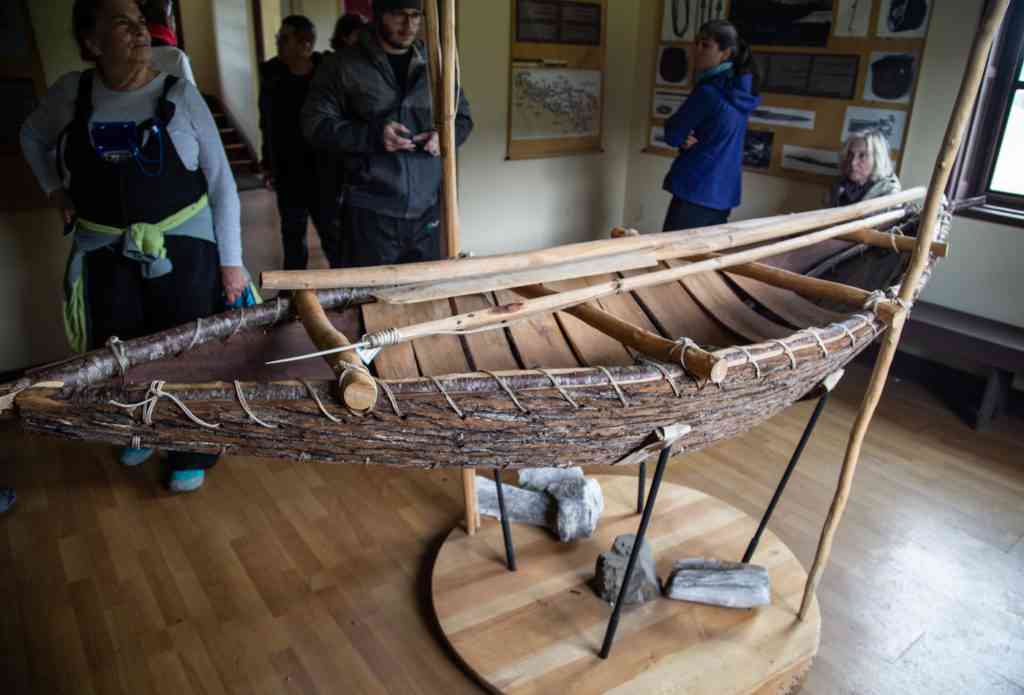 The Yamanas were semi-nomadic hunters, and used the canoe to move up and down the waterways of the area. You can see tepees and canoes the Yamana locals used at the Wulaia Bay Museum, as well as learn a little about Charles Darwin and his history in the area.
As for current locals, Ushuaia and Chilean Patagonia attract a lot of younger and/or seasonal workers. In Argentina, Ushuaia's status as a hub for international tourism mean that salaries here are almost twice as high as in the rest of Argentina; this also serves to attract people to the out of the way region.
Why Is Patagonia the "End of the World"?
The "End of the World" is a popular nickname for Patagonia. After all, it is the southernmost point of any permanently inhabited continent on Earth. We're not counting Antarctica; people on a research station are not permanent inhabitants.
Special sidenote for my readers: if you ARE interested in visiting Antarctica, come with me February 2022! I'm traveling to Antarctica with Chimu Adventures, and if you join me you get a 20% discount.
It is also the end of the Pan-American highway, aka my dream road trip. The highway comes to a stop at Lapataia Bay.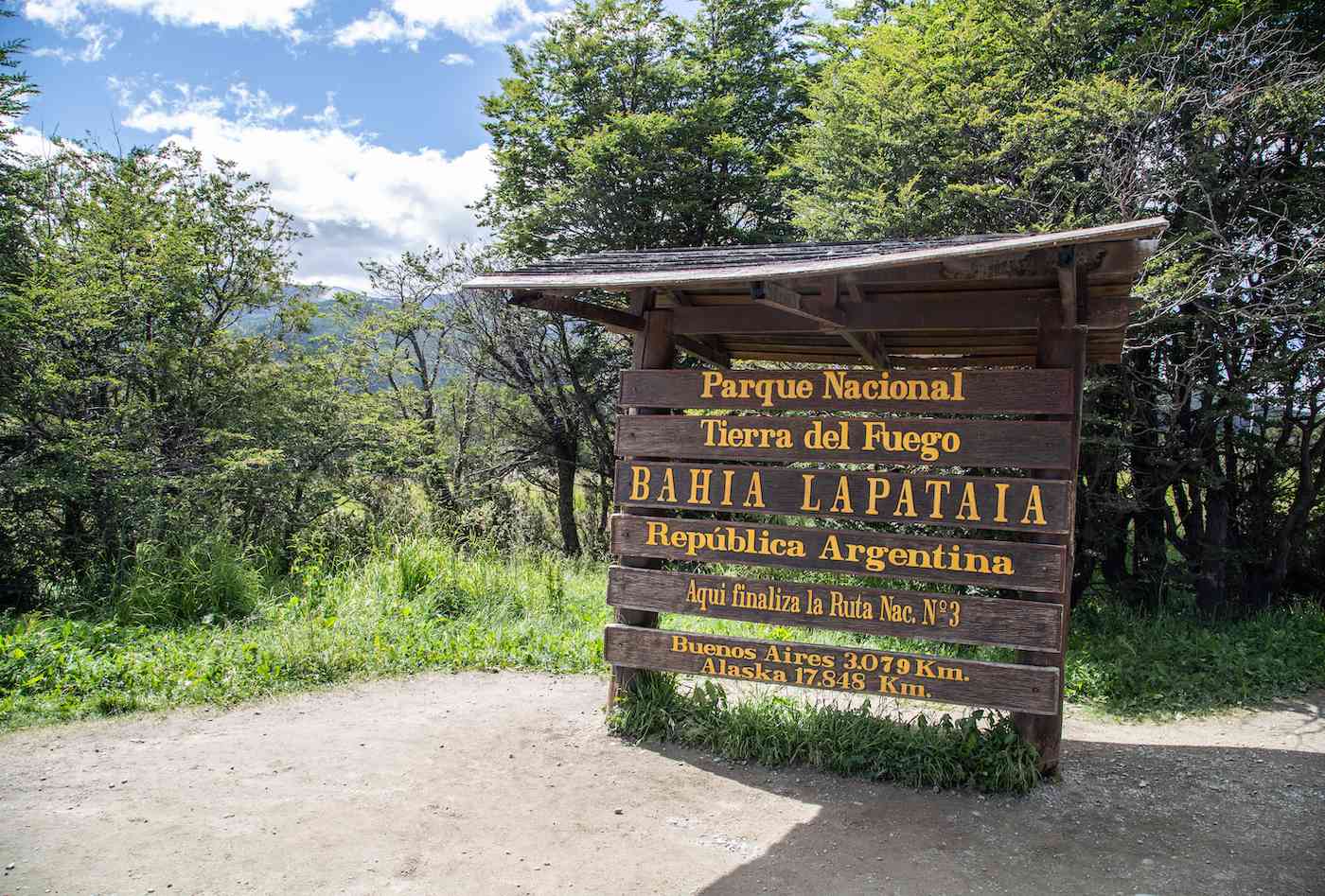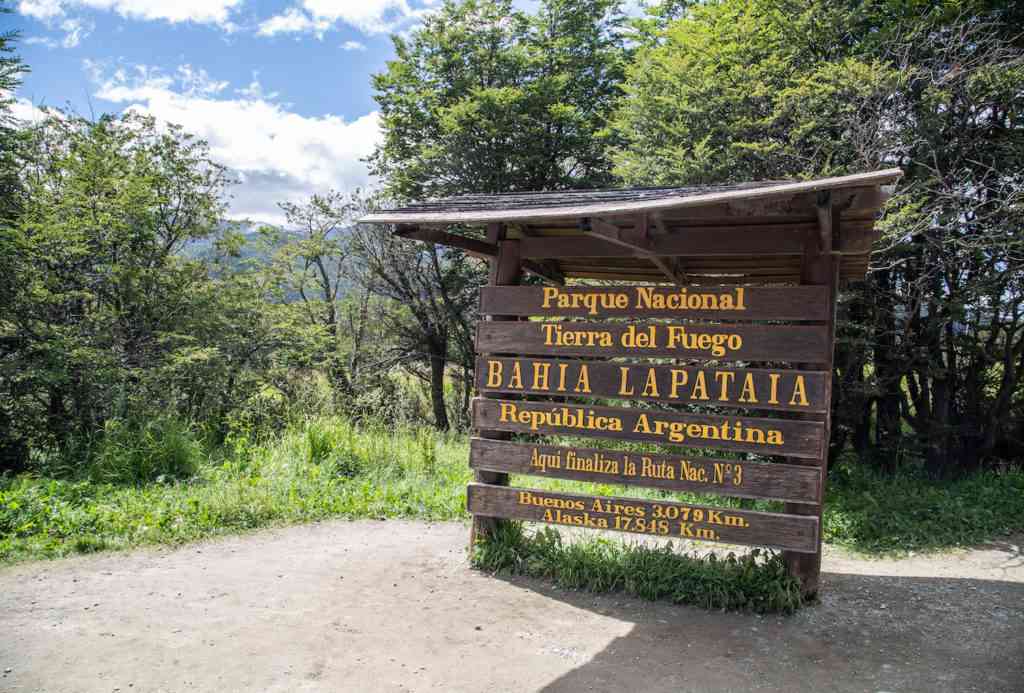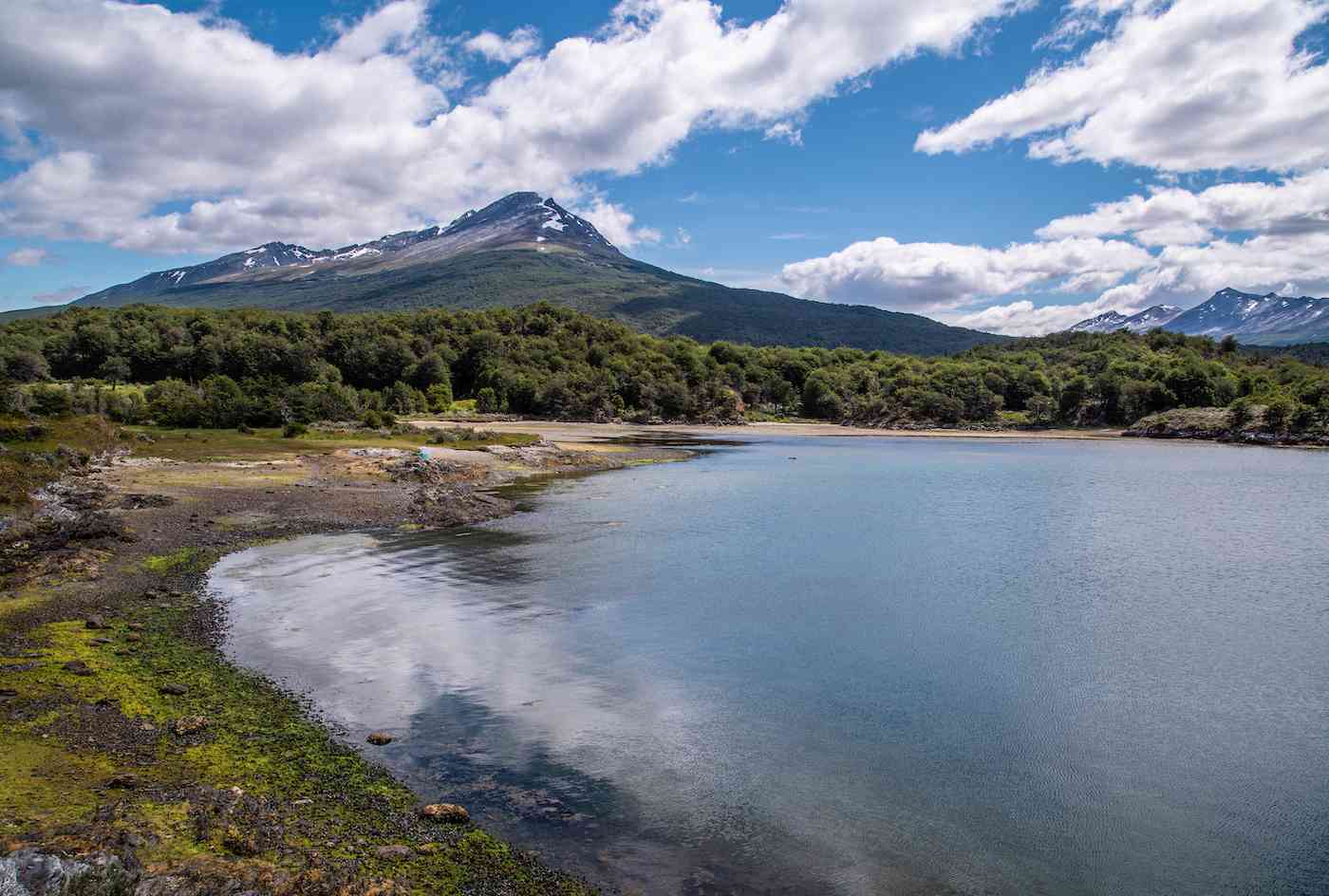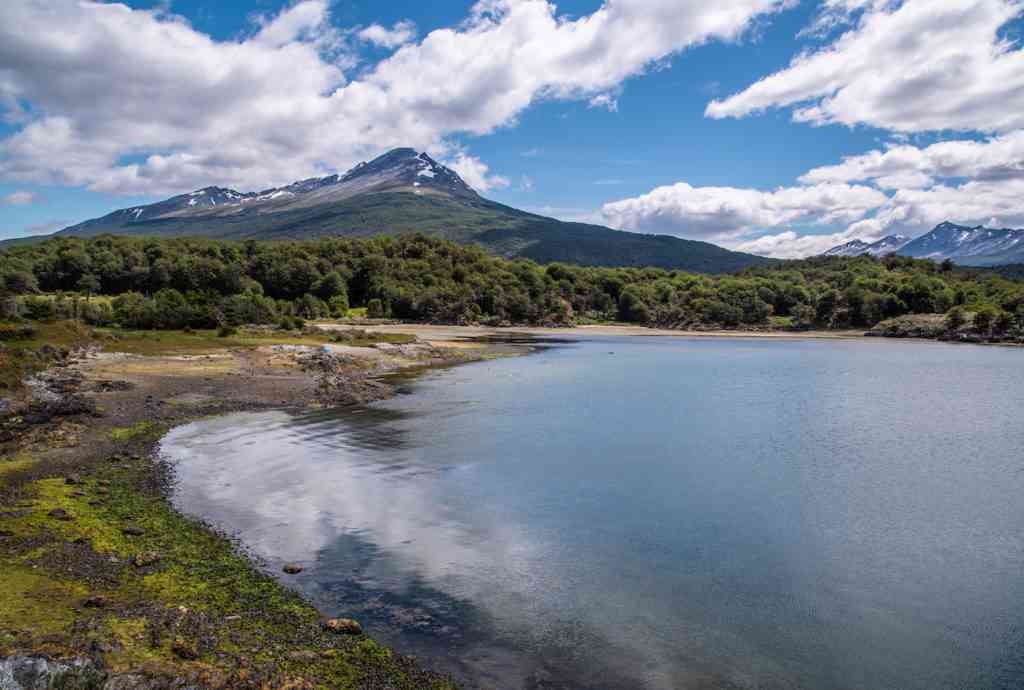 In fact, one of the cool perks of visiting Lapataia bay is that you will often meet people who just completed the Pan-American trip. We met one man from Panama who had just finished this truly epic journey on his motorbike (follow him at @mamaopanama on IG if you want).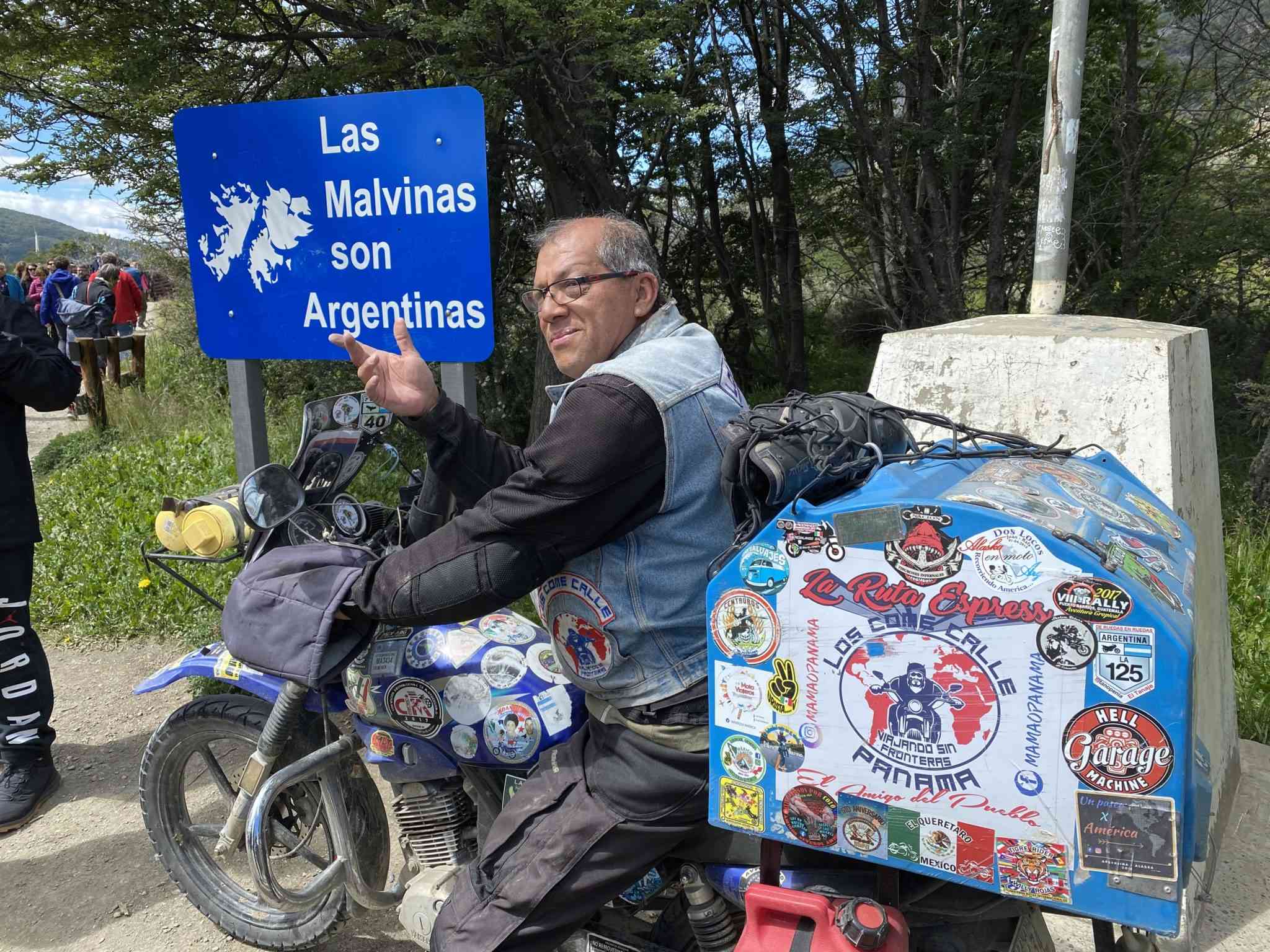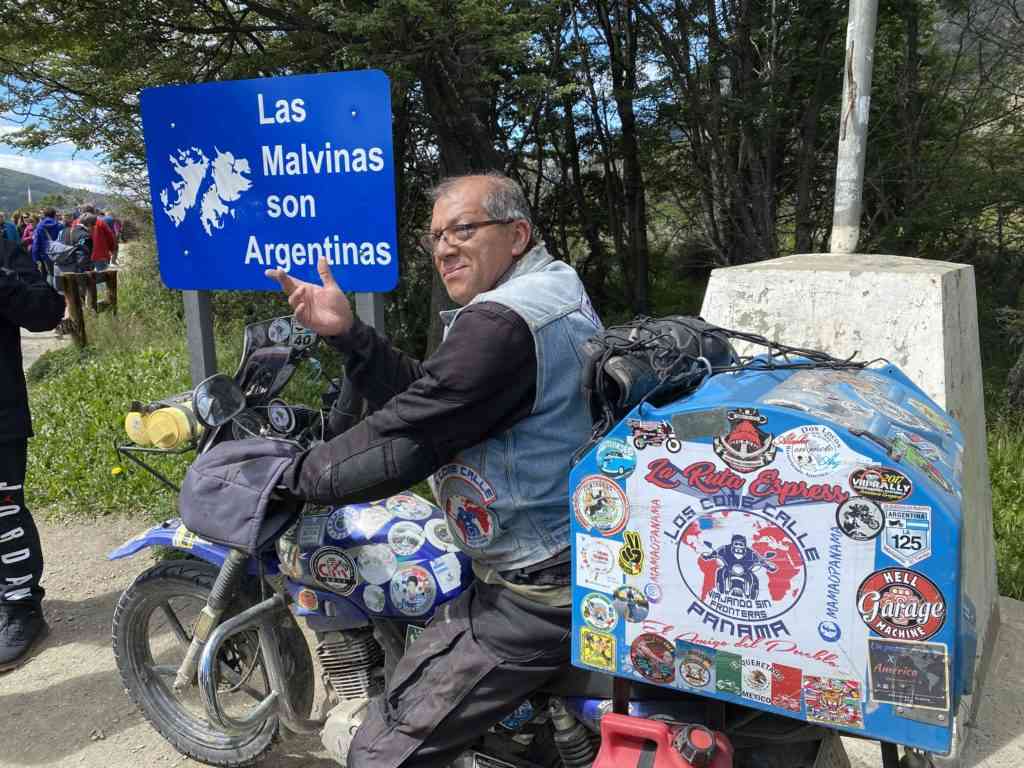 Sailing Patagonia
In the area around Tierra del Fuego, the land starts to be broken up by water channels everywhere, making sailing a popular method of getting around Patagonia. Most ships go down the Beagle Channel, which cuts straight through the Tierra del Fuego archipelago.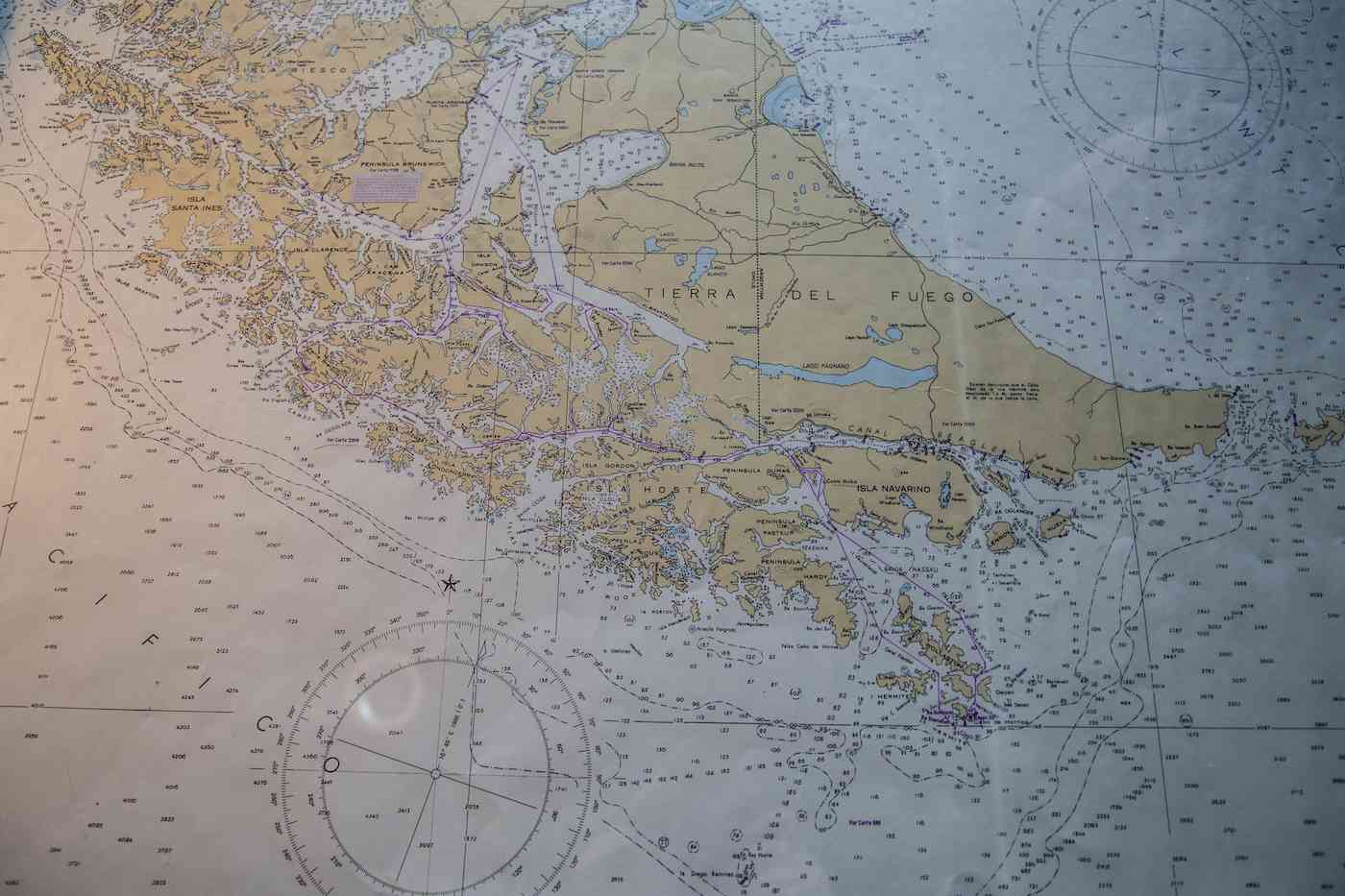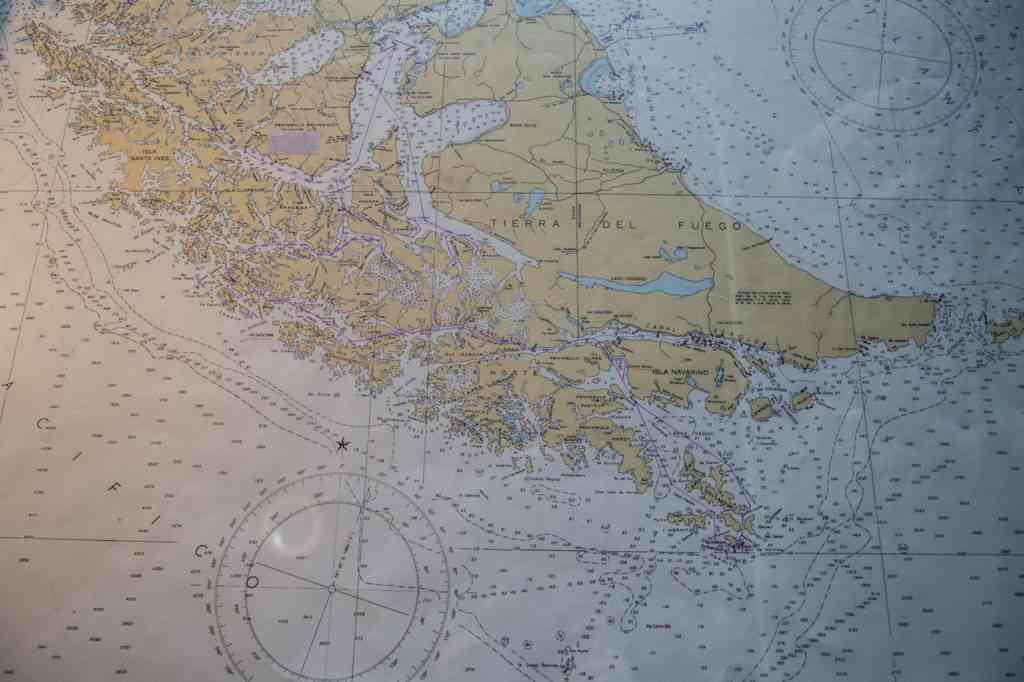 However, you can't just take off in any boat you want, especially if you're going to leave the hyper-protected, more inland areas.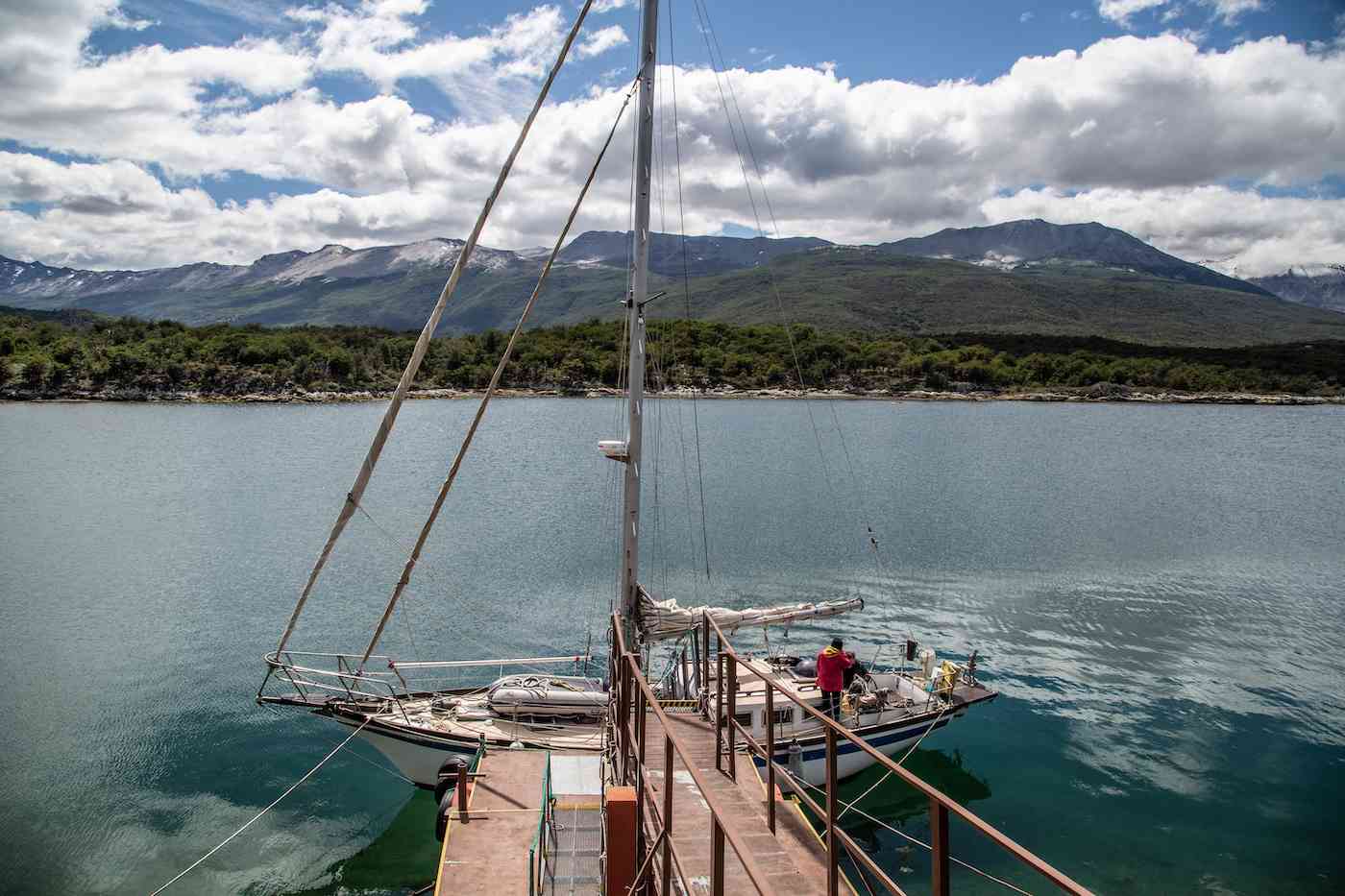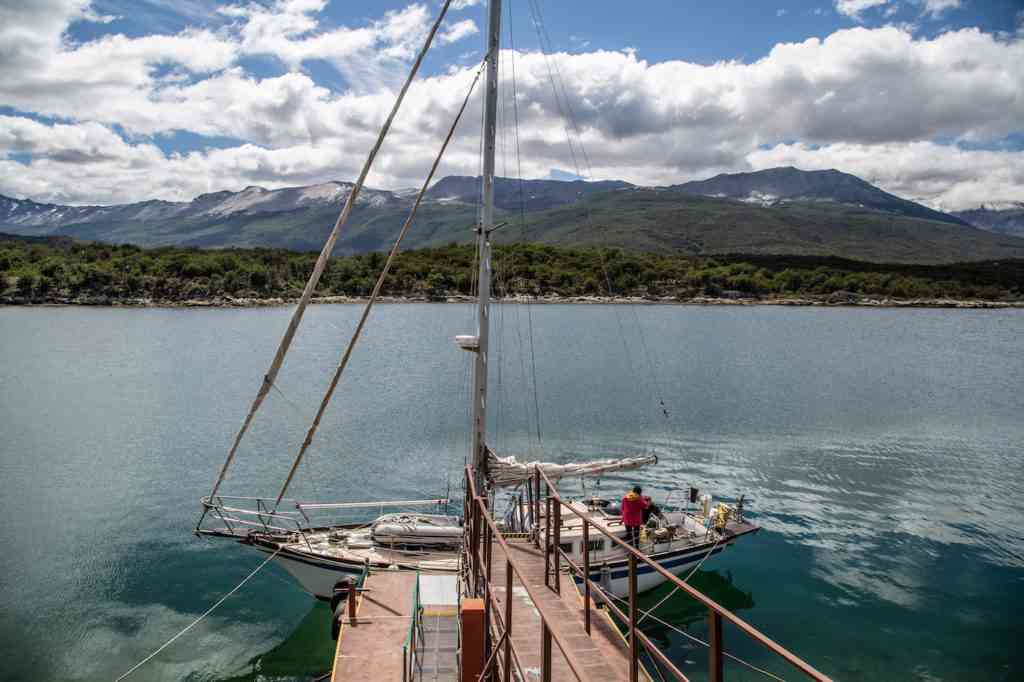 We traveled with Thomson Safaris on the Ventus Australis. For those prone to seasickness, you may want to have some patches or medication with you for the rougher parts of the journey. Sometimes the waters look like this: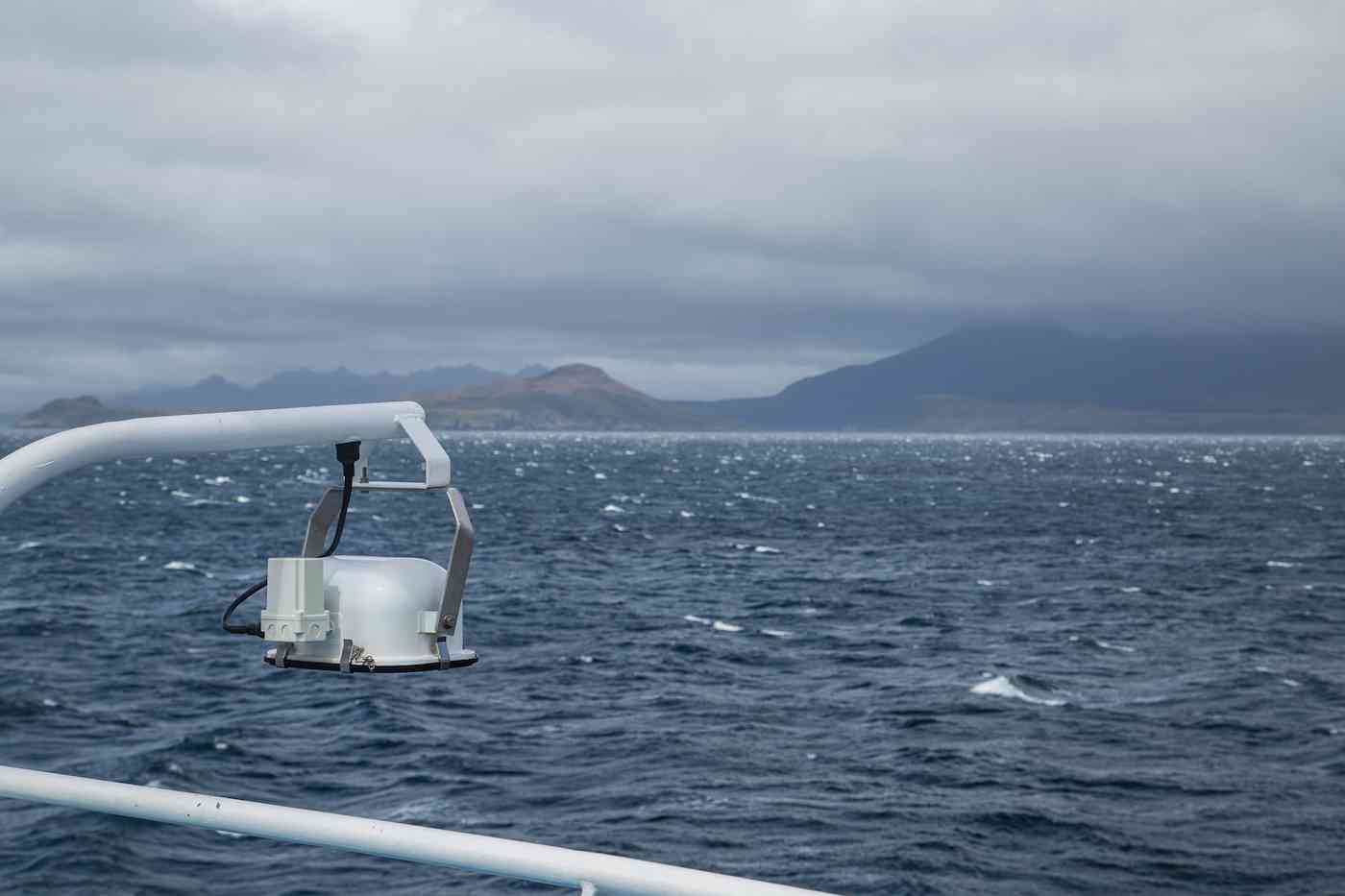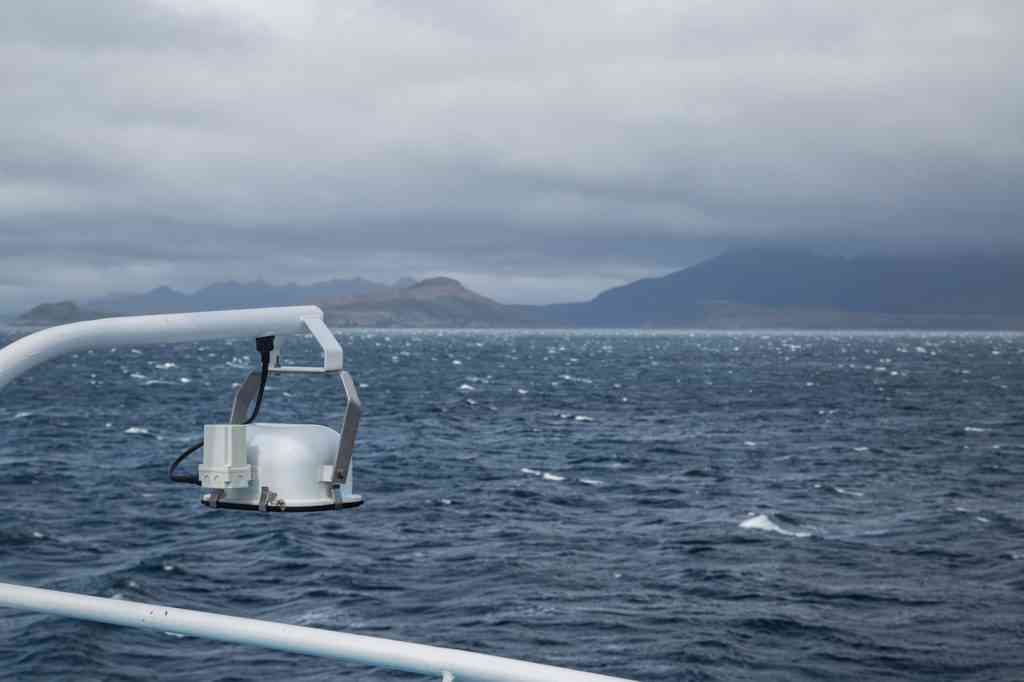 Tierra del Fuego & Wulaia Bay
Tierra del Fuego is often nicknamed the "the end of the world", and its name directly translates to "Land of Fire". Both way more badass than any nickname I've ever had.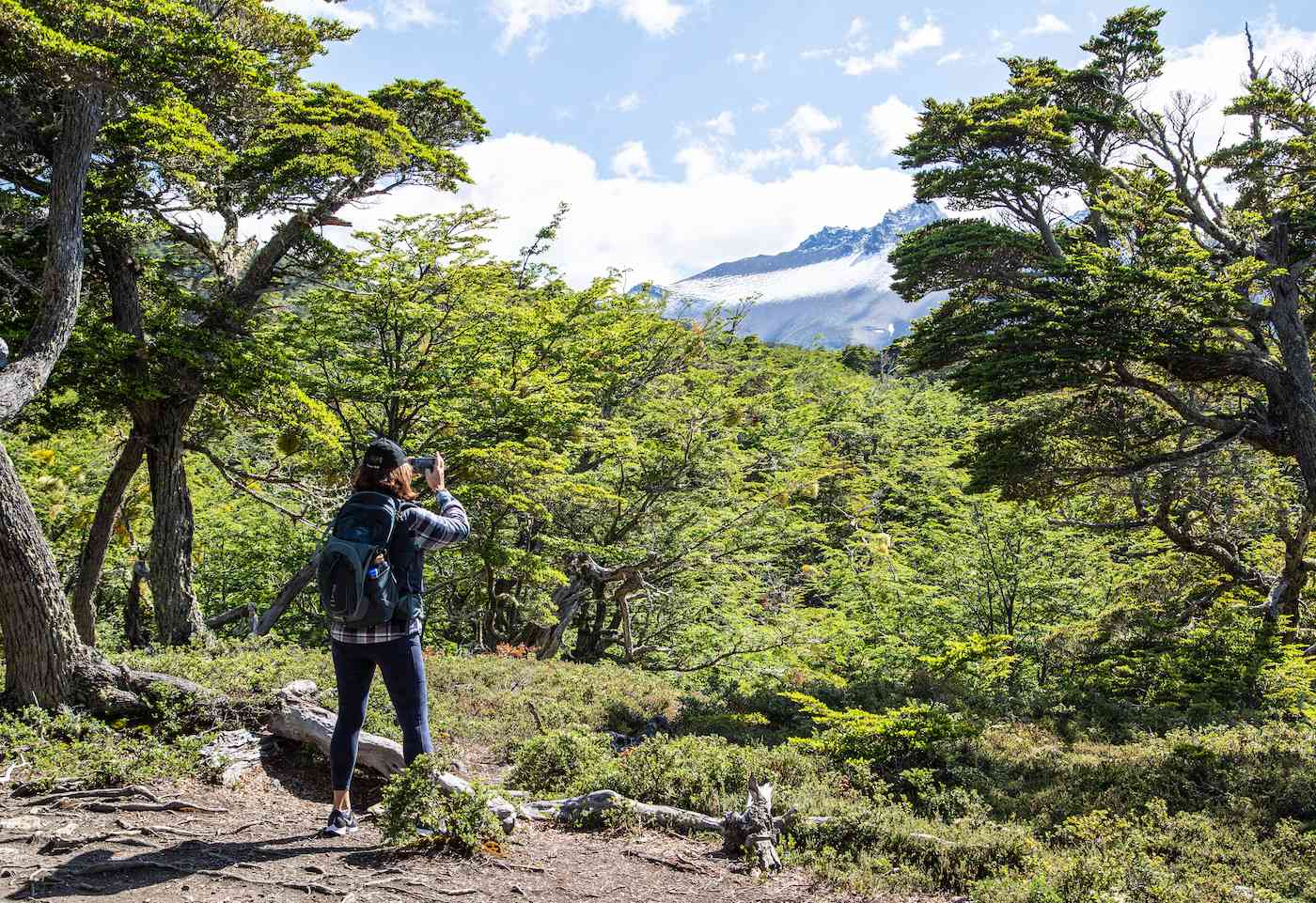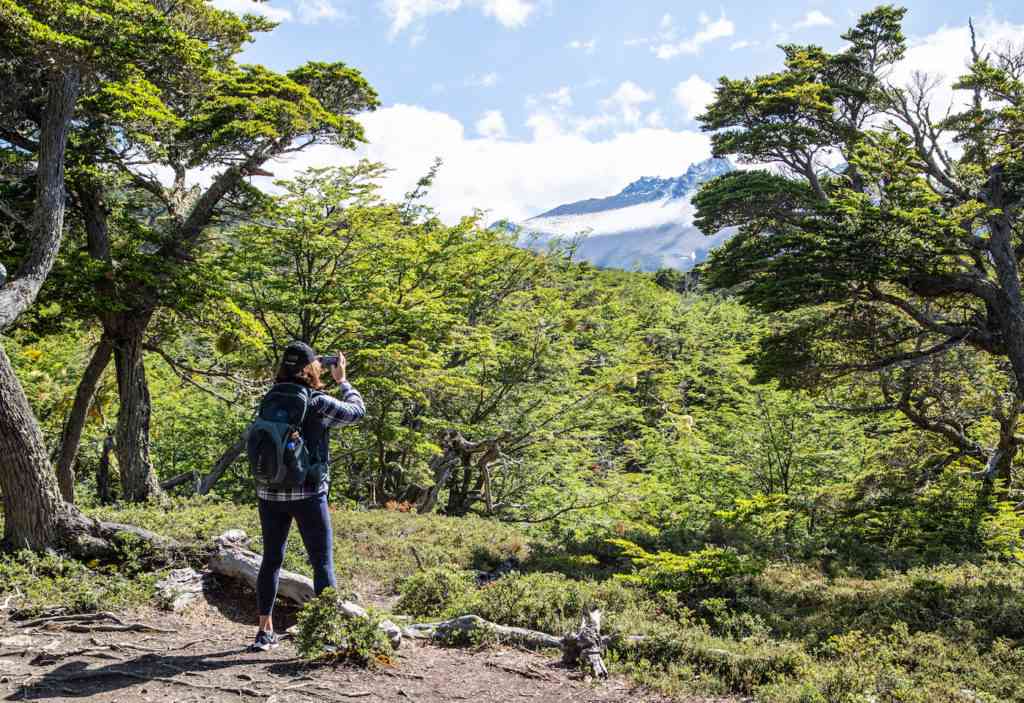 As usual, the area got its name by the time-honored tradition of "Europeans pass by and throw out the most generic description they can find before annihilating a place." In this case, the first Europeans were impressed by the fires they saw dotting the land as they sailed by. Local Yamanas kept the fires going to stay warm in the winter months.
Though it's often overlooked by those hiking Patagonia, Wulaia Bay on Isla Navarino has a GREAT hike with an incredible vista at the top.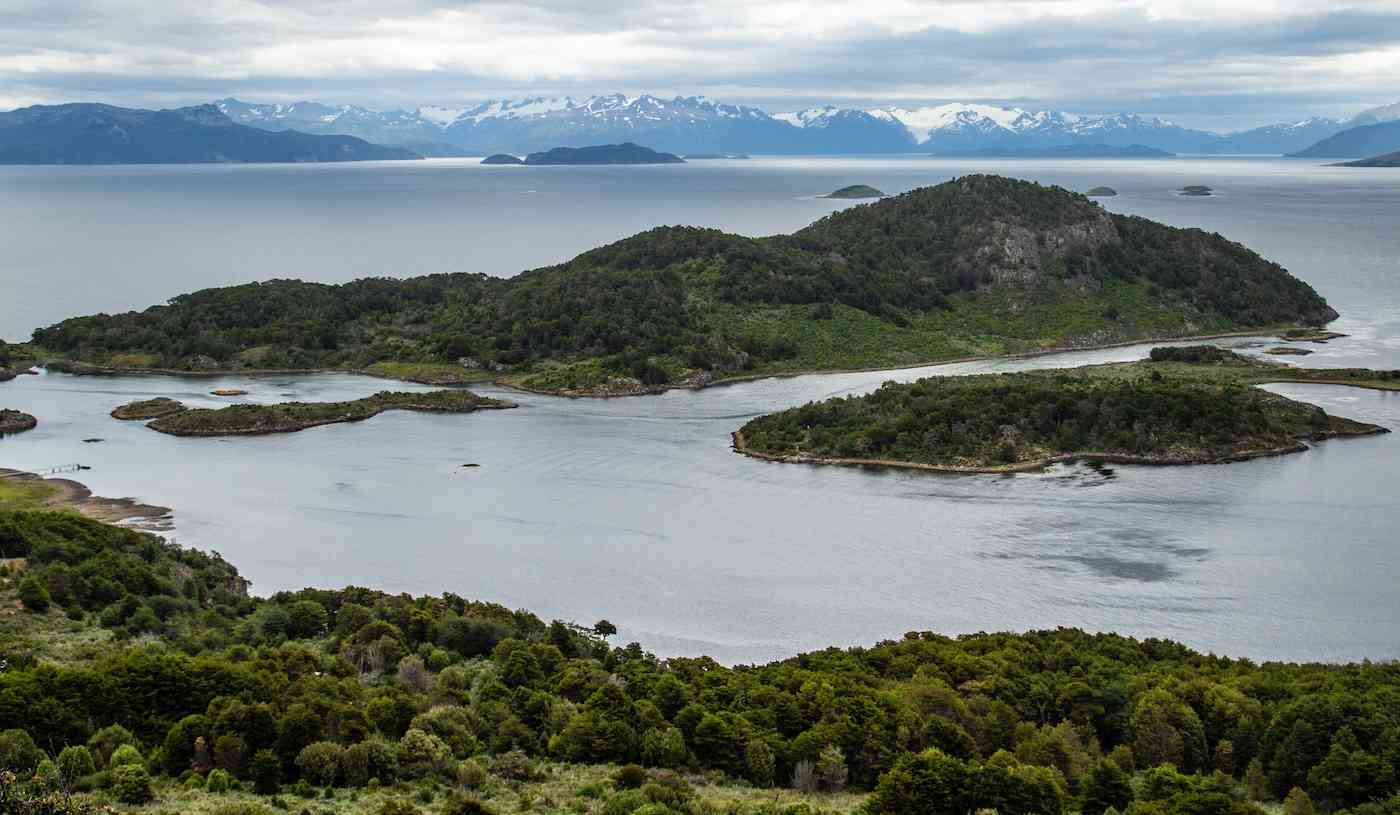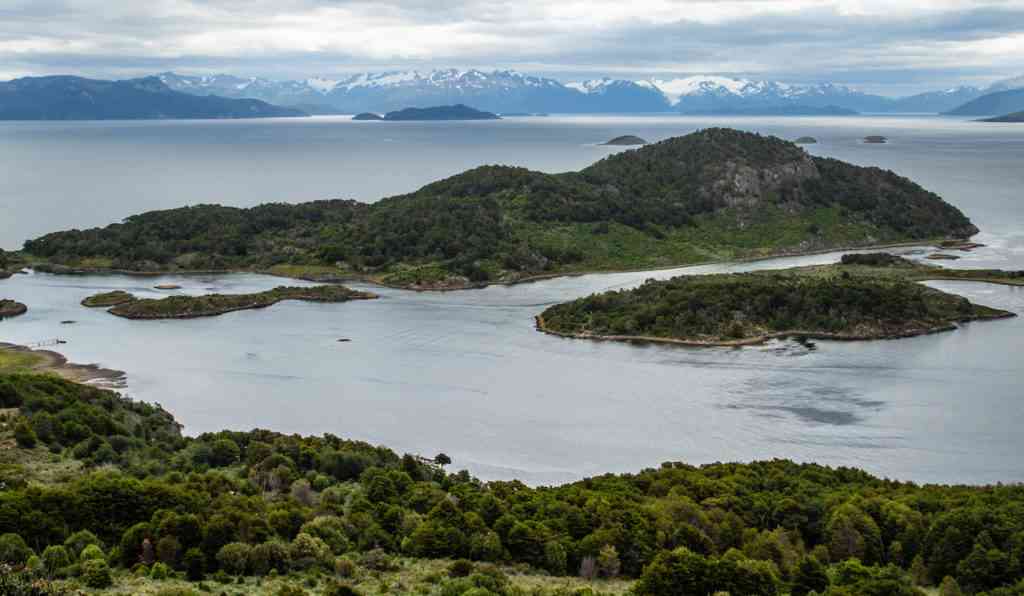 The mix of lush greens with the ice-capped, jagged mountains in the distance provides a beautiful backdrop to a low to moderate difficulty, gorgeous hike. I highly suggest taking rain gear in a backpack with you when hiking Patagonia, because the weather can turn to a drizzle (or a downpour) really quickly.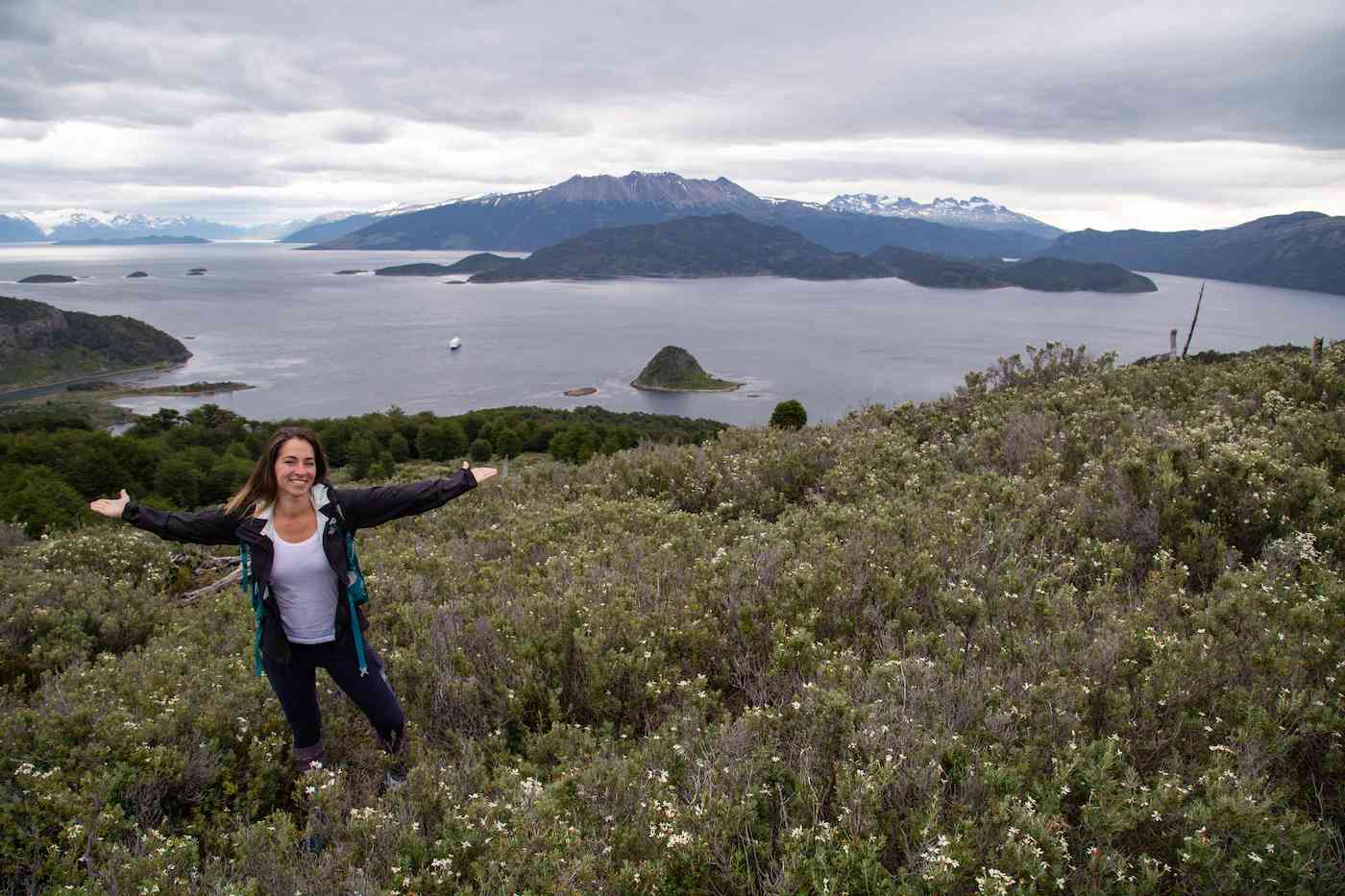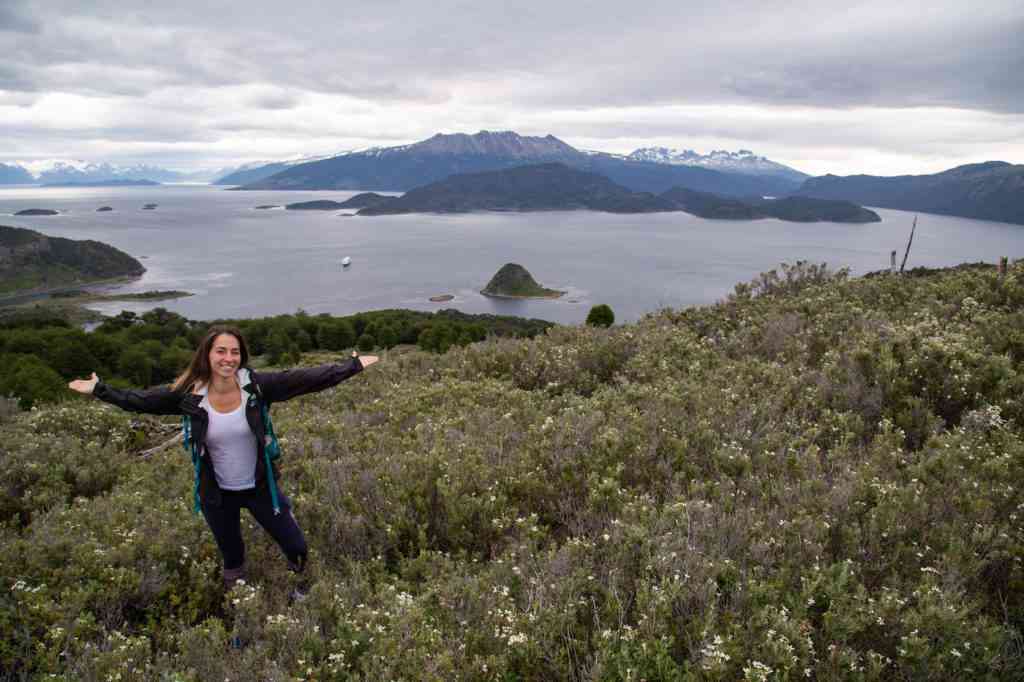 Cape Horn: Can You Actually Be Blown Off A Cliff? Apparently So.
Cape Horn. The terrifying outcrop where the world ends, bane of shipping companies, "the sailor's graveyard"; the reason the Panama Canal needed to be built ASAP.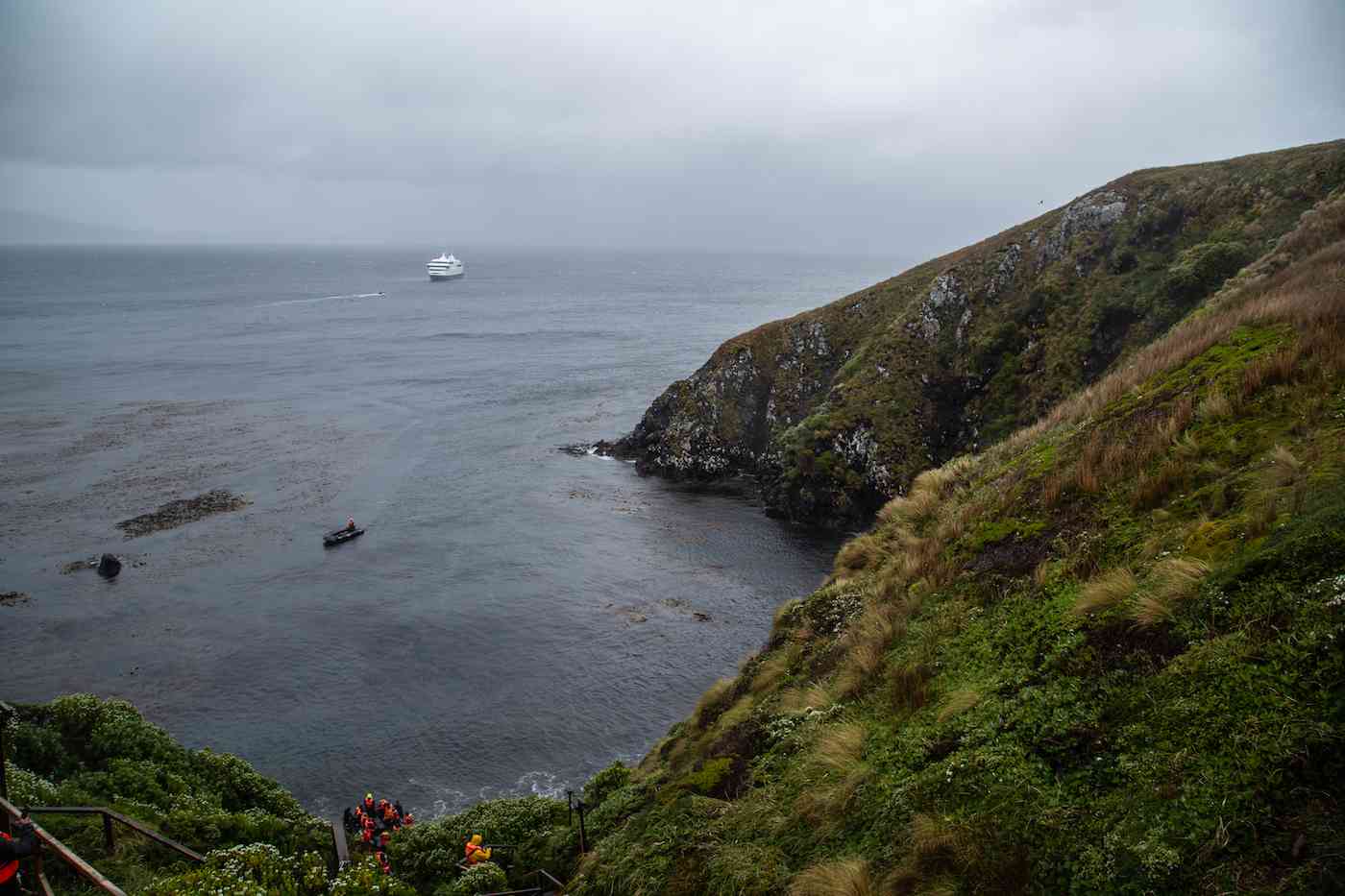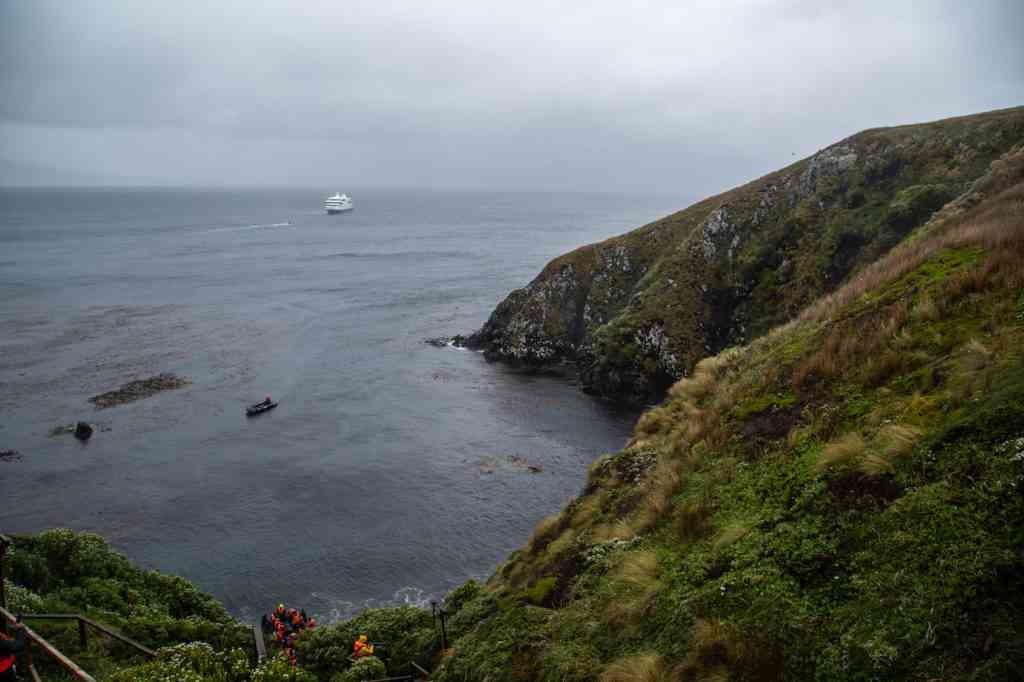 A combination of rough seas and horrifyingly strong winds have made Cape Horn one of the most dangerous places in the world for centuries. Large ships rounding the tip of South America had no choice but to go by the Cape. The trip was hazardous enough in the summer, with gale force winds (averaging 40 to 60 mph) blowing a minimum of 5% of the time. In the winter, those winds blow 30% of the time with horrible visibility.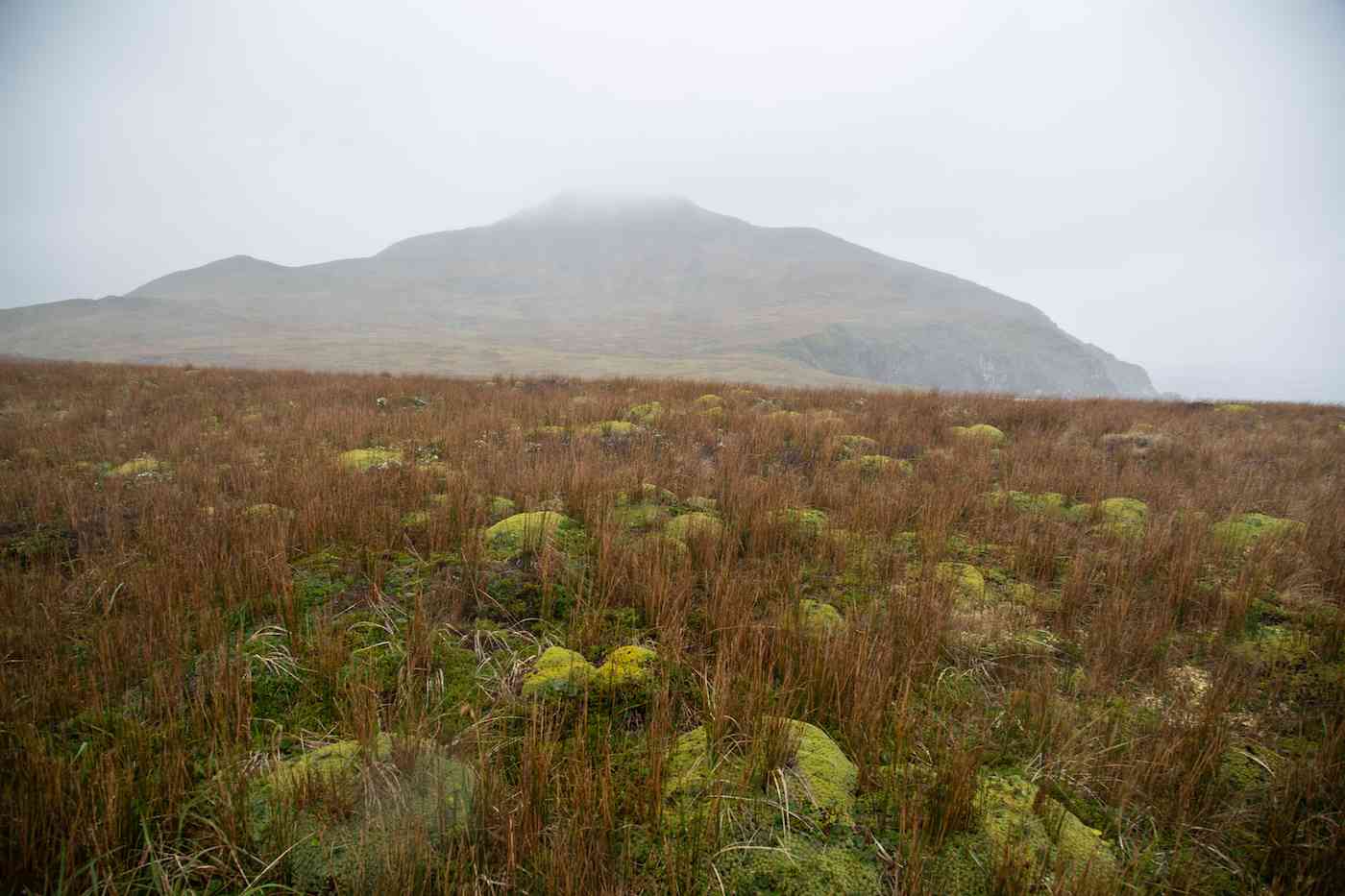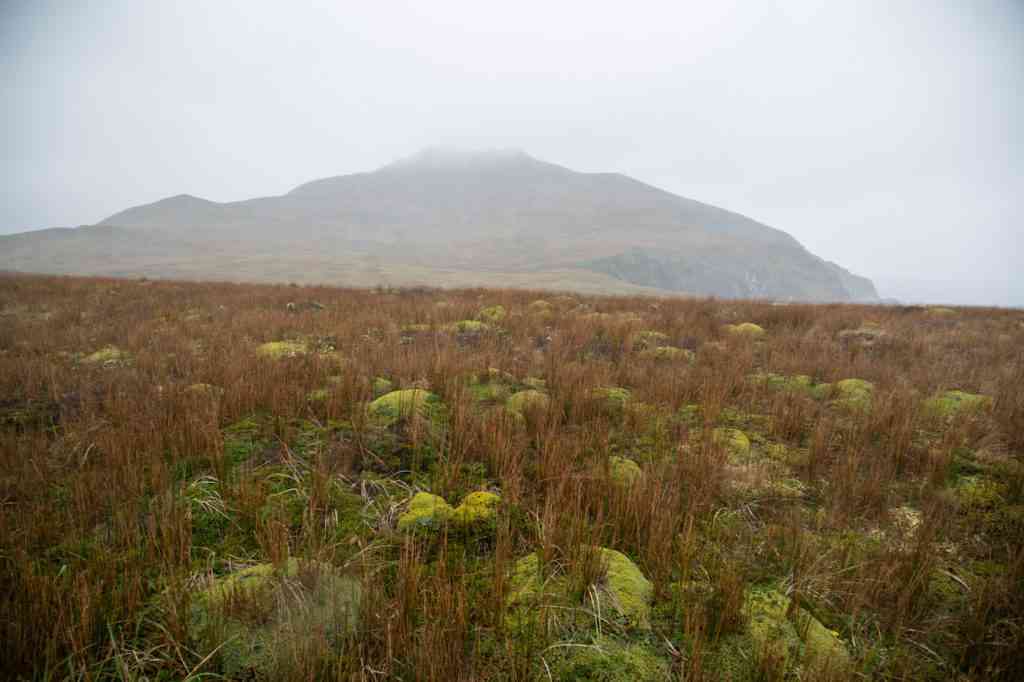 We disembarked on Zodiacs to climb up to the top of the cliff drop that is Cape Horn and see the sculpture at the top. The Cape Horn monument is a modern take on an albatross in flight – an old sailor's symbol for souls lost at sea. Historians believe over 10,000 sailors have died at the Cape.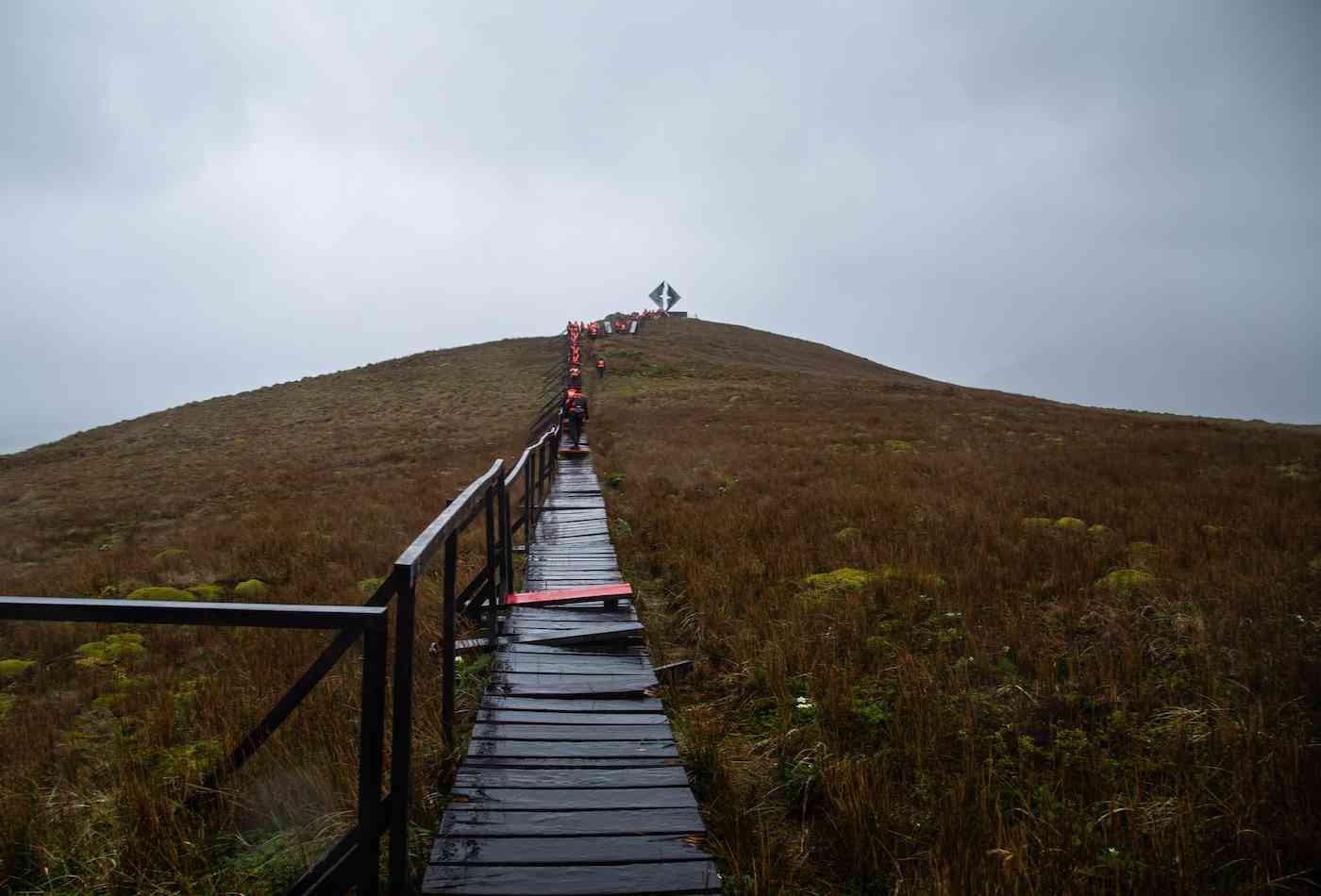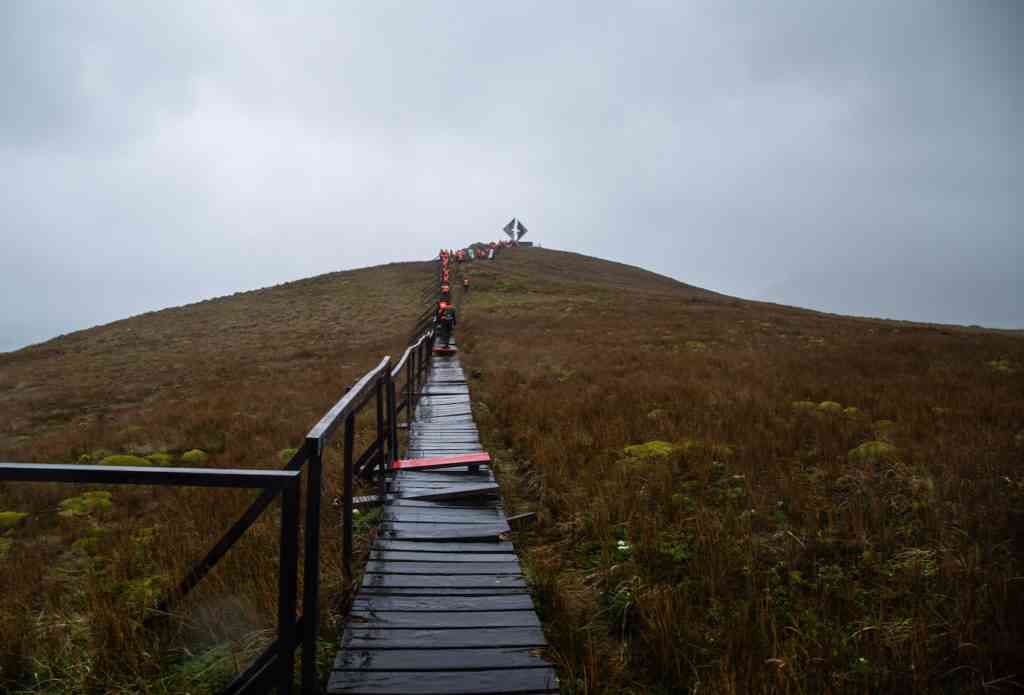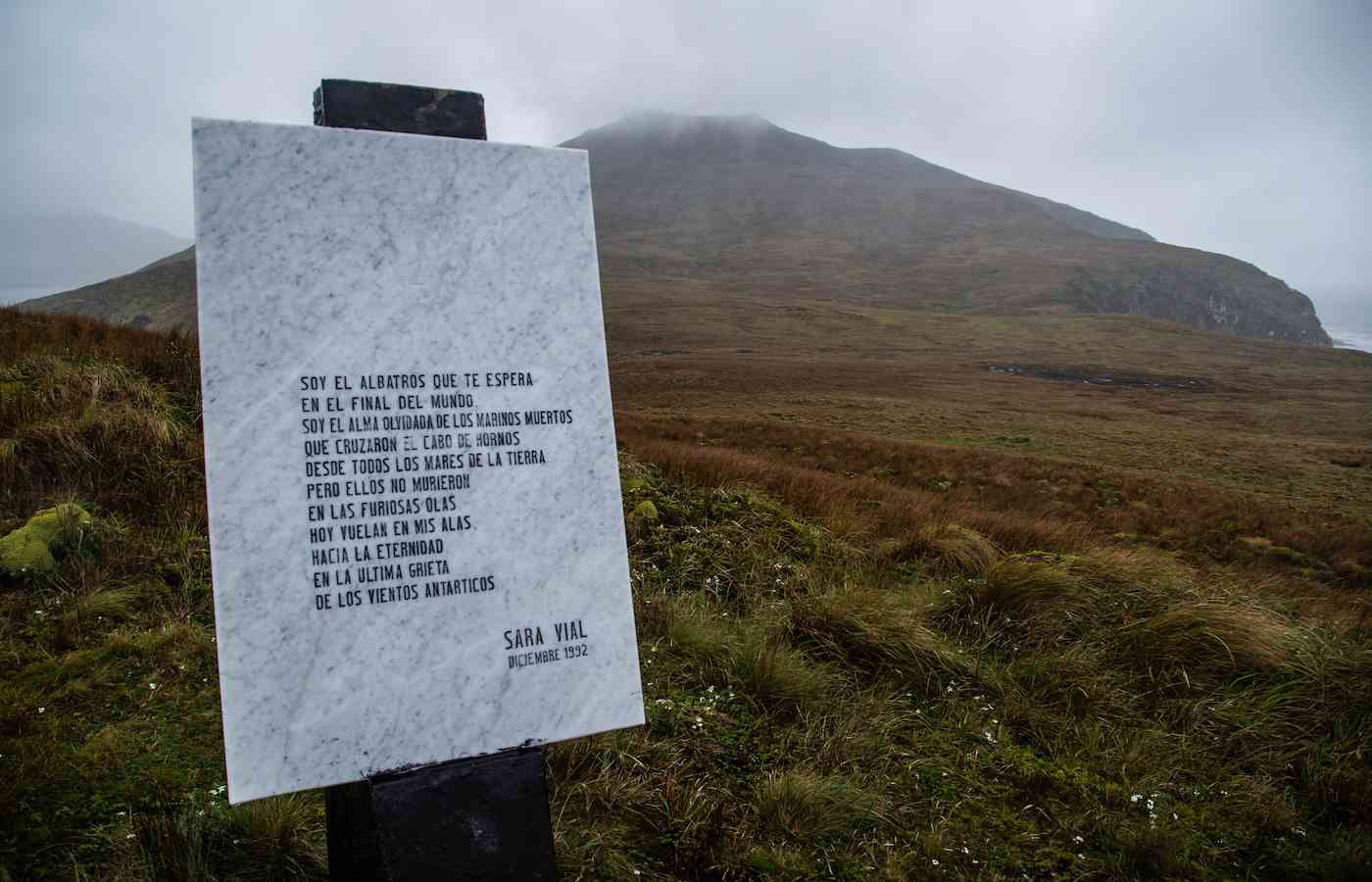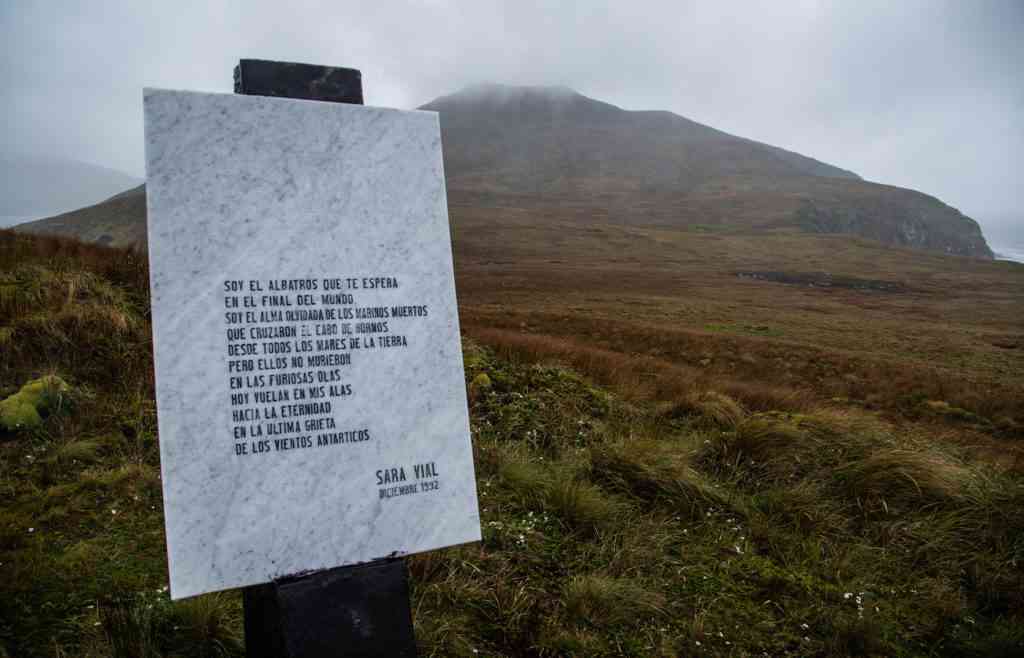 Right after I reached the monument, I only had time to take a couple of photos before I had to rush back to the ship. Our group leaders from the ship announced the wind was officially too strong, and we were unsafe on the cliff.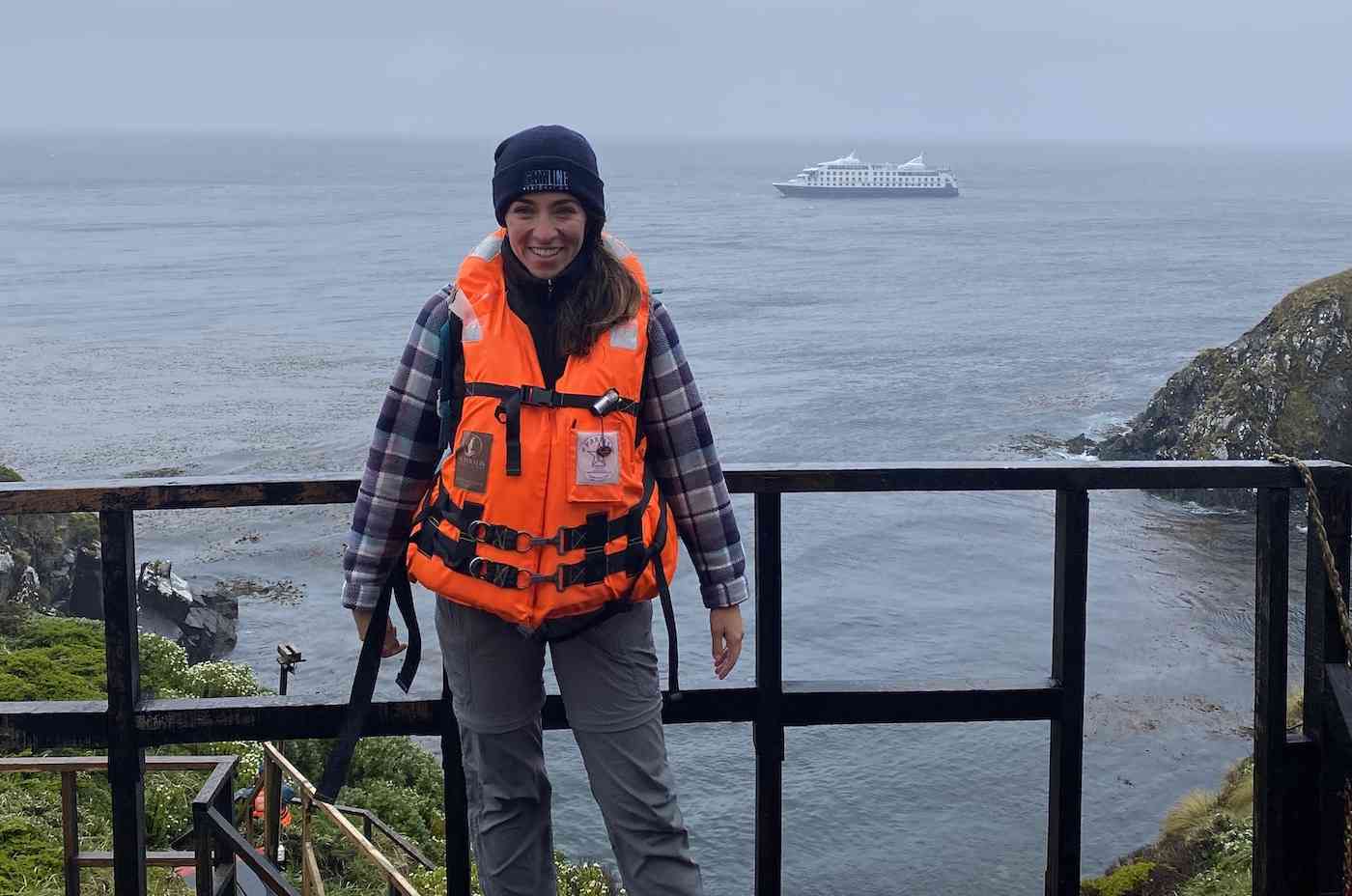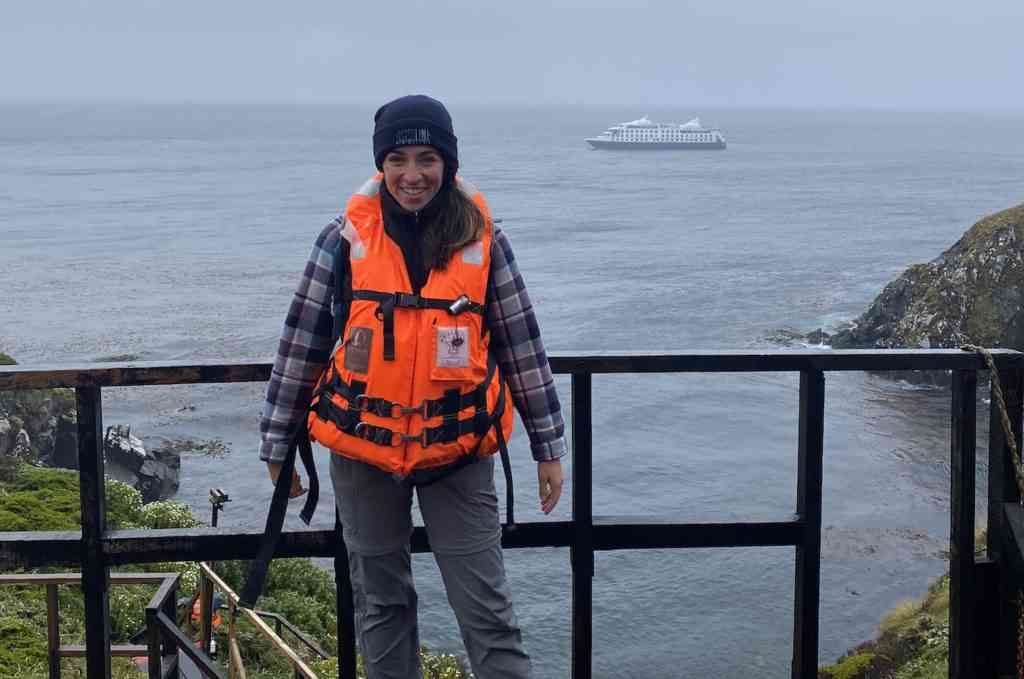 Exploring the Glaciers of Patagonia
Sailing around the cape, you will come across many grand glaciers. In total, Patagonia has 356 glaciers. The ones in the Tierra del Fuego area for the most part can be accessed only by ship.
Some glacier locations allow you to disembark and hike up so you can take a closer look. This includes the Aguila Glacier and Pia Glacier below.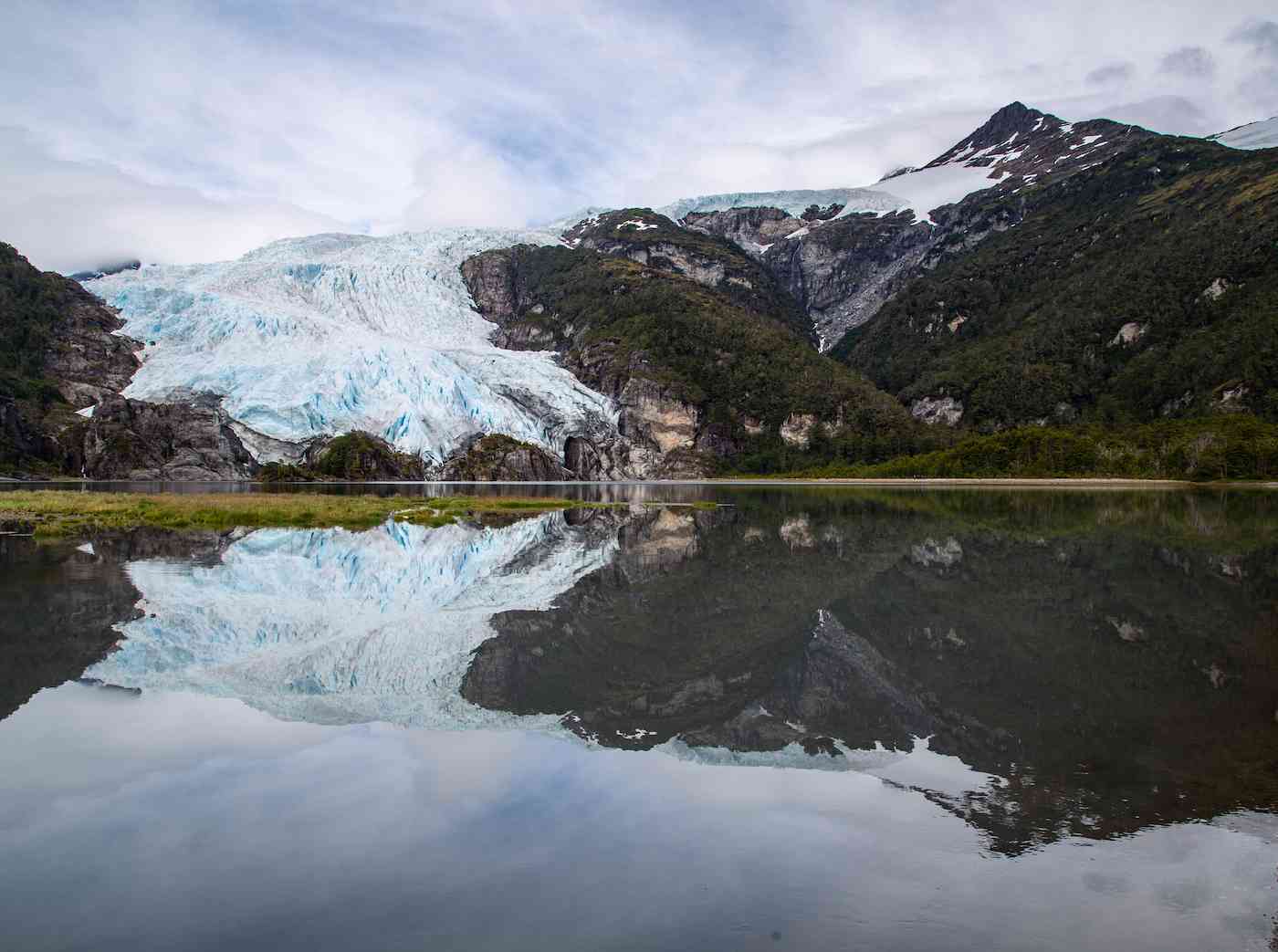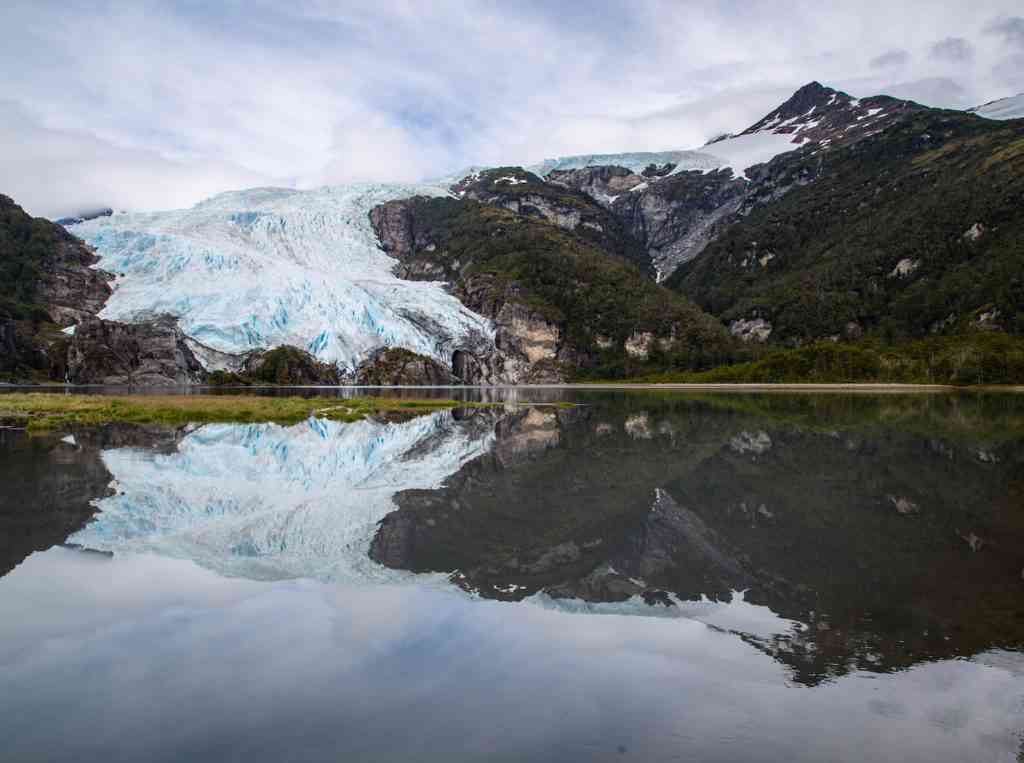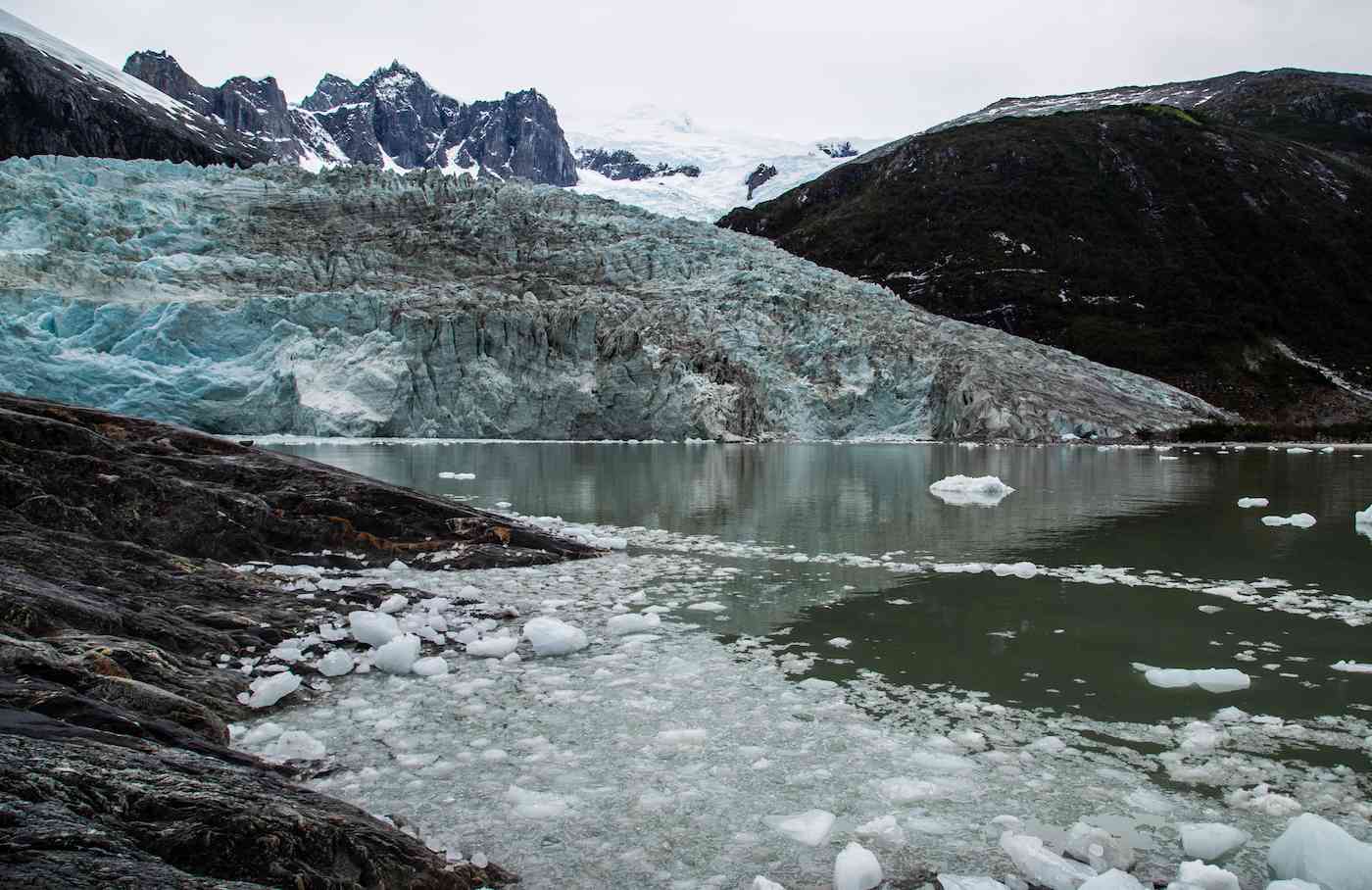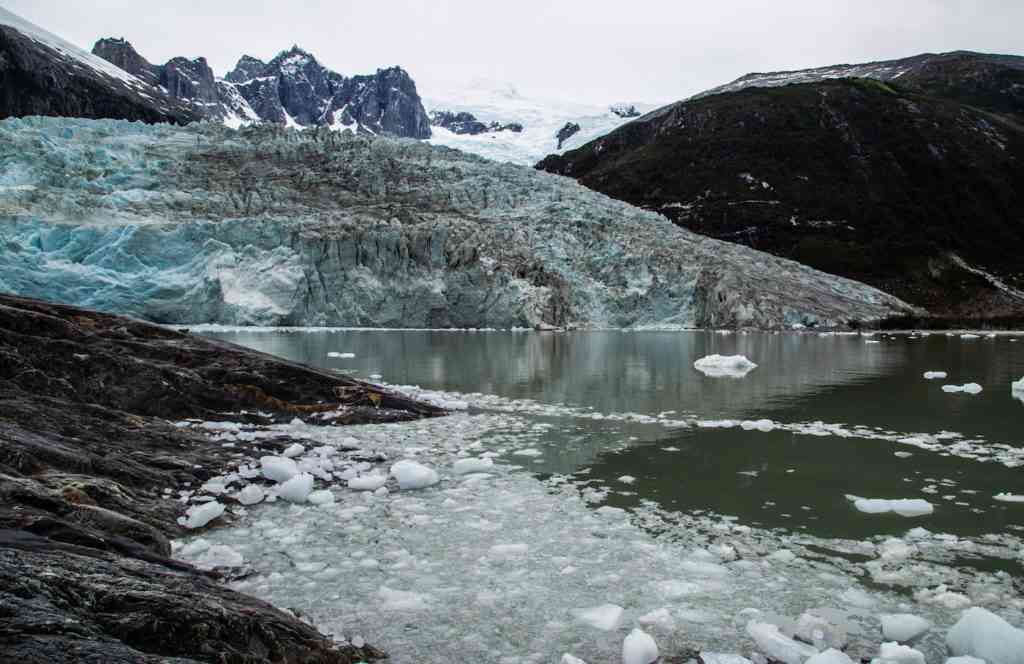 After taking this photo, while standing to the side of the massive Pia Glacier, I heard an earth-shattering sound. Something akin to a slow-motion whip crack, times 500. Then, gradually, a giant chunk of the glacier on the right-hand bottom side separated from the rest of its enormous, hulking base and slid into the ocean.
It was a mesmerizing and terrifying thing to witness.
That's one of the surreal things about Patagonia: the massive scale of EVERYTHING. The mountains are never-ending and inconceivably grand, the trees imposing and enormous, the furious winds physically sweep you off your feet as you walk on this untouched landscape poised to swallow you whole, just a tiny, fragile body lost in the unyielding vastness of this pre-historic land. It's exhilarating, terrifying, and humbling, all at once.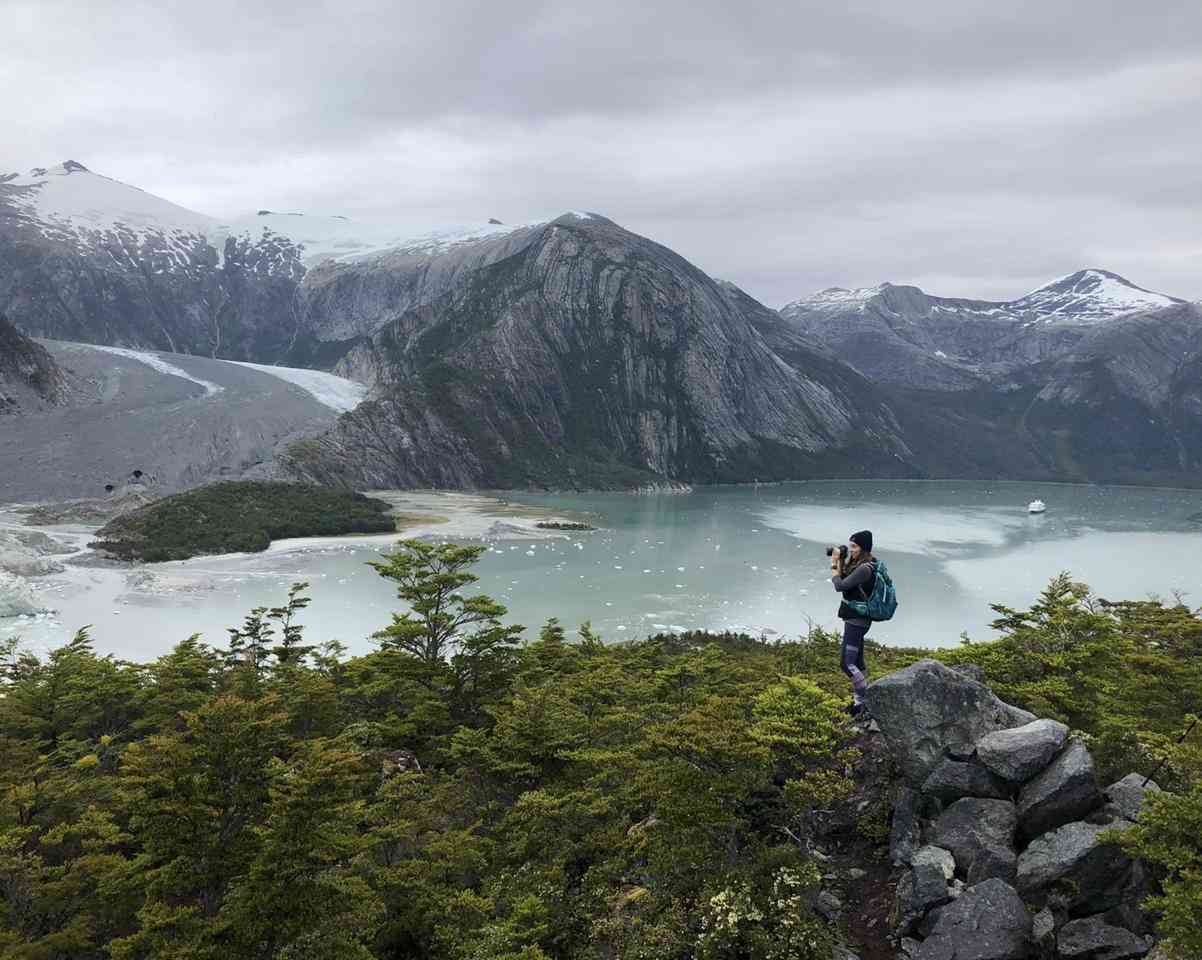 After rambling around cities for weeks and going on endless hikes, my leg muscles had started to abstain from the journey.
That means my feet were extra glad for the glacial excursions we could undertake in Zodiac boats. The Condor and Garibaldi glaciers were up next. You might be asking me how the hell glaciers are named. I don't know. It seems to be: 1) the person that spotted them first, 2) a random animal they happened to find nearby, or 3) *shrug emoji*.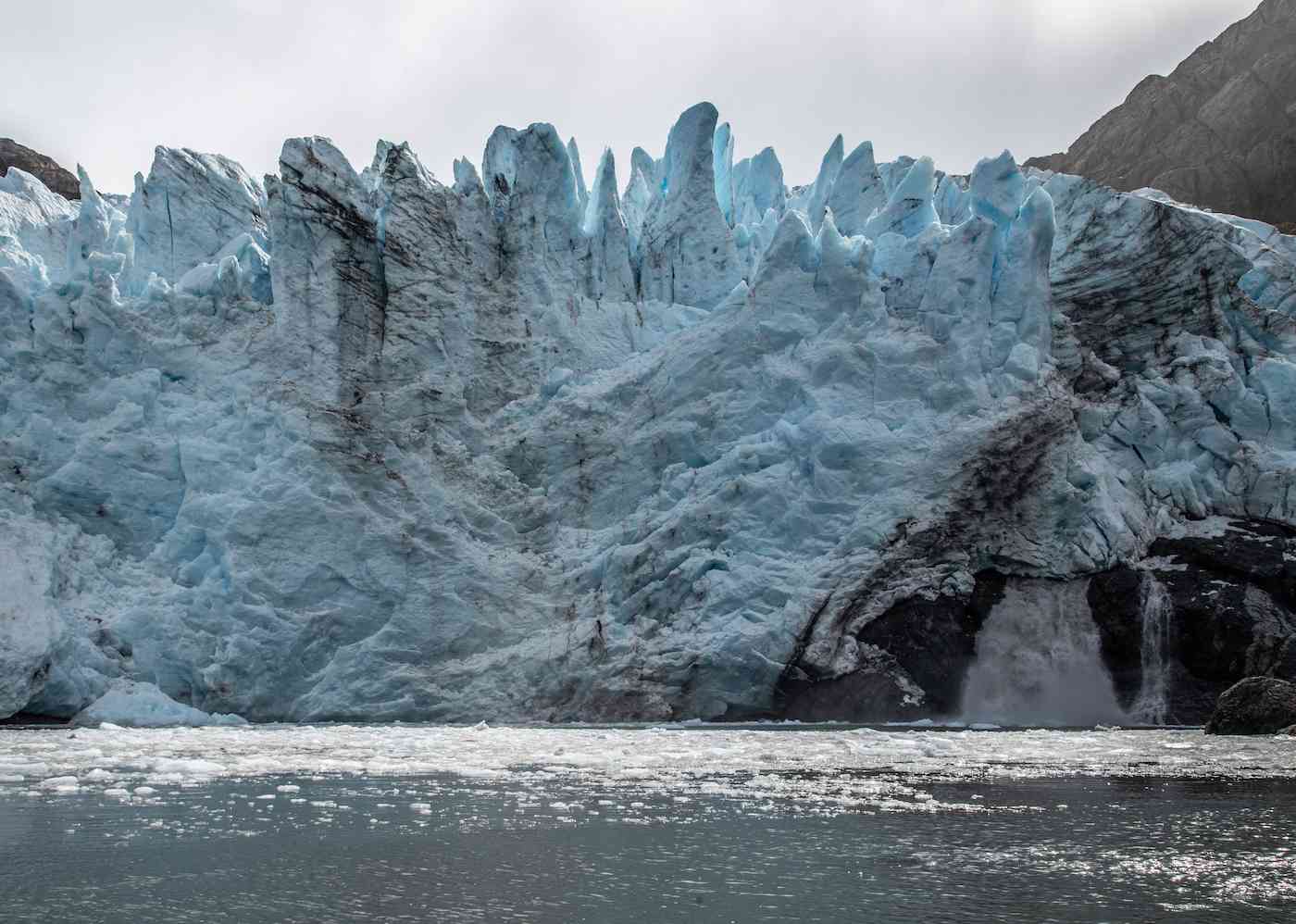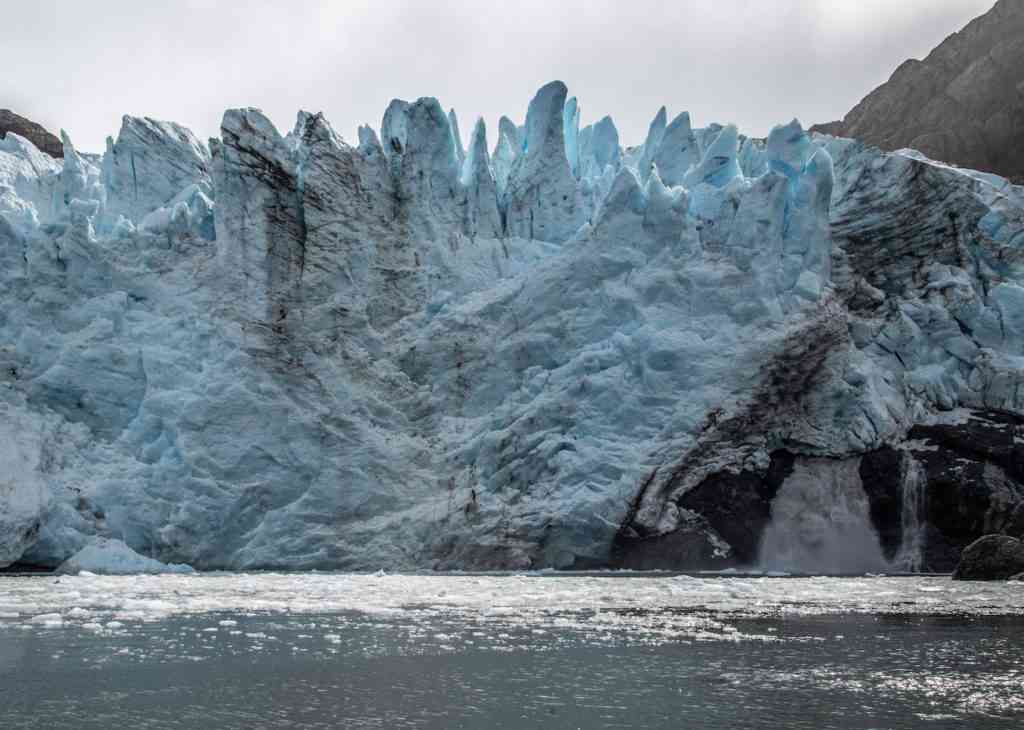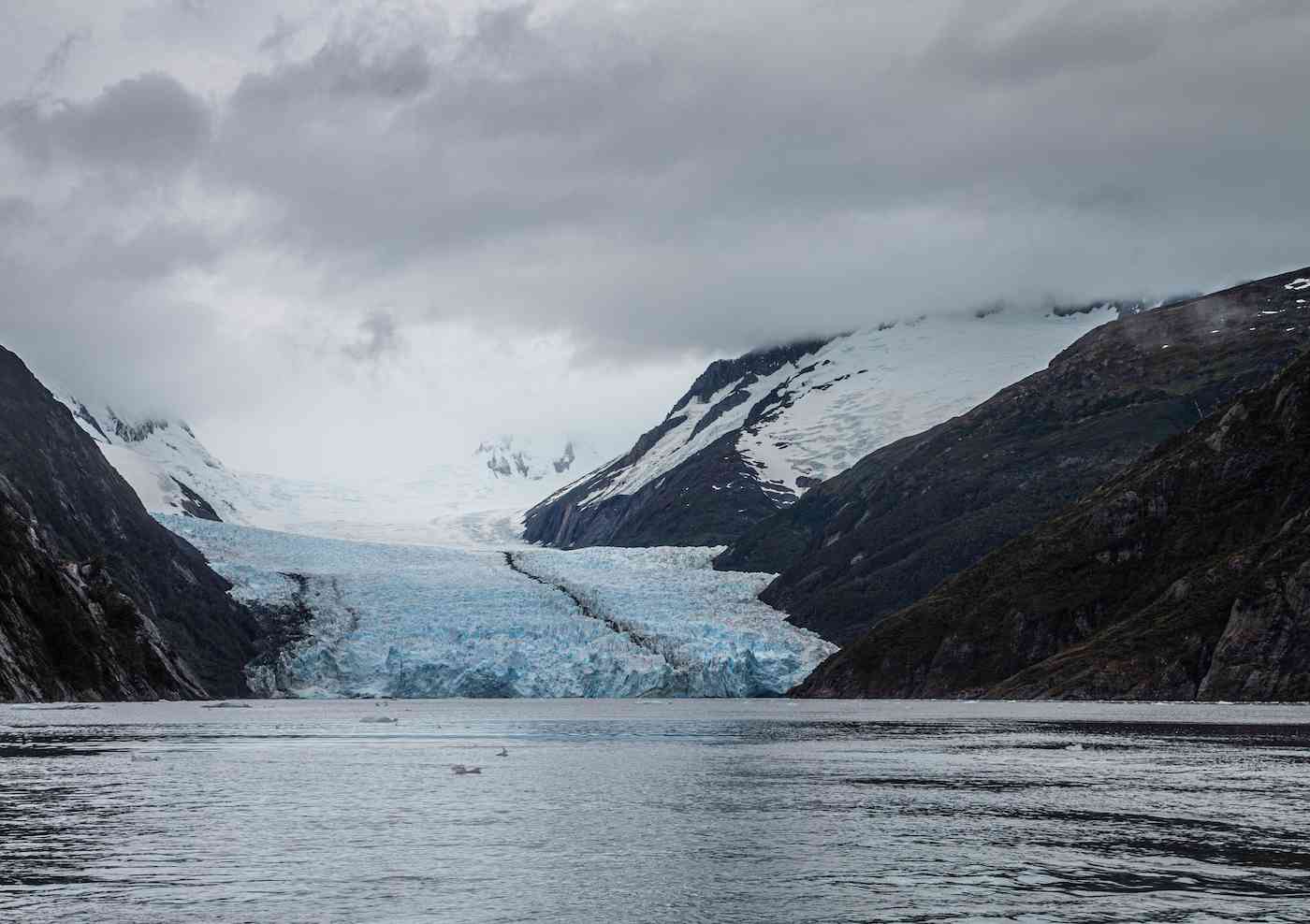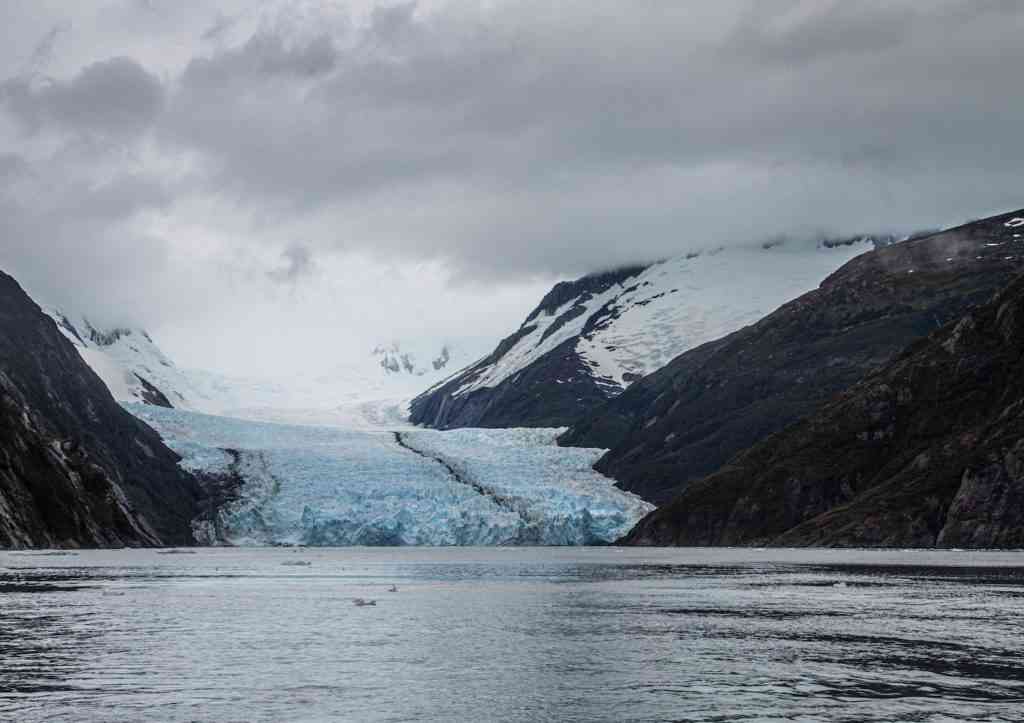 The point is, I could sit on my butt on a boat, marvel at these behemoths of ice, and enjoy a bit of respite. Respite, and ice water splashing my face.
Hiking Patagonia
The short rest on the boats was welcome, but it was time to get back on my feet. After all, I didn't go to Patagonia to NOT hike one of the most awe-inspiring landscapes on earth. Due to time constraints, we couldn't do the famous multi-day W trek or O circuit in Torres del Paine. They are both long trekking journeys involving camping and backpacking.
Good news is, I have plenty of other incredible (and shorter) hike alternatives to suggest!
Two Great Day Hikes in Torres del Paine
Torres del Paine may be the most well-known and stunning location in Chilean Patagonia.
The most (deservedly) famous day hike in Torres del Paine is the hike to Mirador las Torres – the towers the park takes its name from. It's an incredibly rewarding hike, but really long and taxing. Prepare to devote at least half your day, and likely more, to getting up to, and back down from the towers.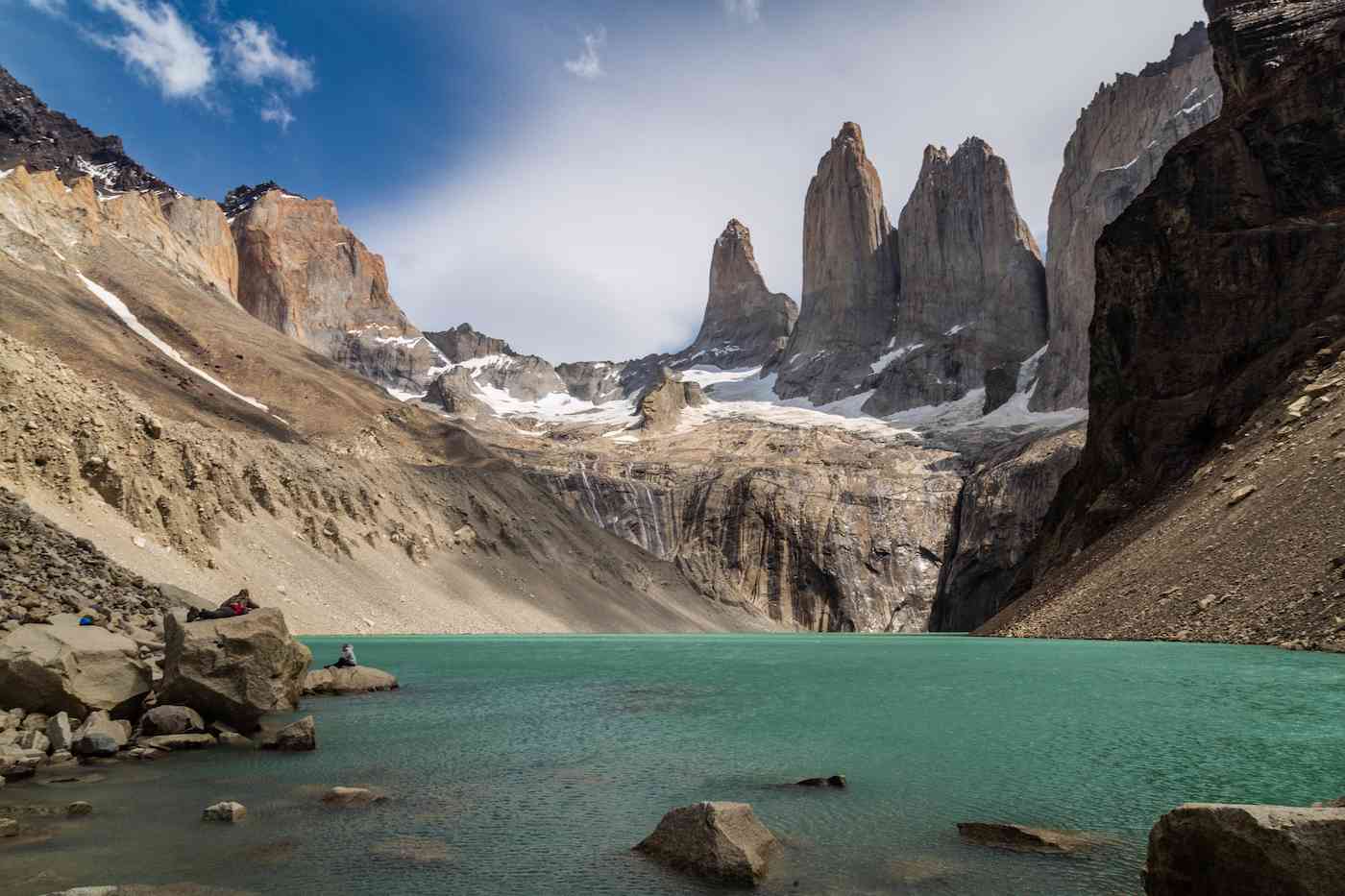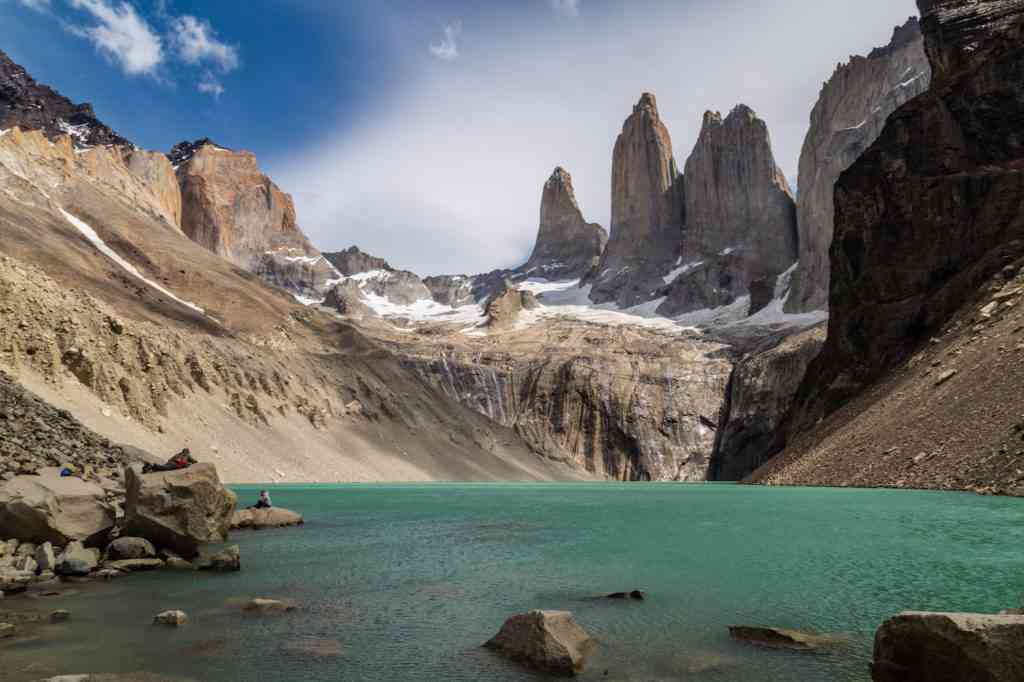 The end of the Mirador hike can be a little frightening. There are windy stretches where the path is narrow and there is little room between you and the edge. At one point on the return, I broke down and lost my mind a little on a horrendously windy, narrow, cliff-drop-adjacent turn, flat-out refusing to continue for a few minutes.
You can be an adventurous traveler and still occasionally break down like a whiny, terrified baby. We're human. We all have our moments.
Honestly, there are a few spots that will be tricky for those with a fear of heights while hiking Patagonia. But for most of the hikes, it's definitely manageable.
I also really enjoyed the Laguna Verde trail. There are stunning vistas throughout, but especially at the top of the hike. You look down onto an enchantingly turquoise blue lake. It's not Photoshop; the glacier that formed this lake gave it its surreal color.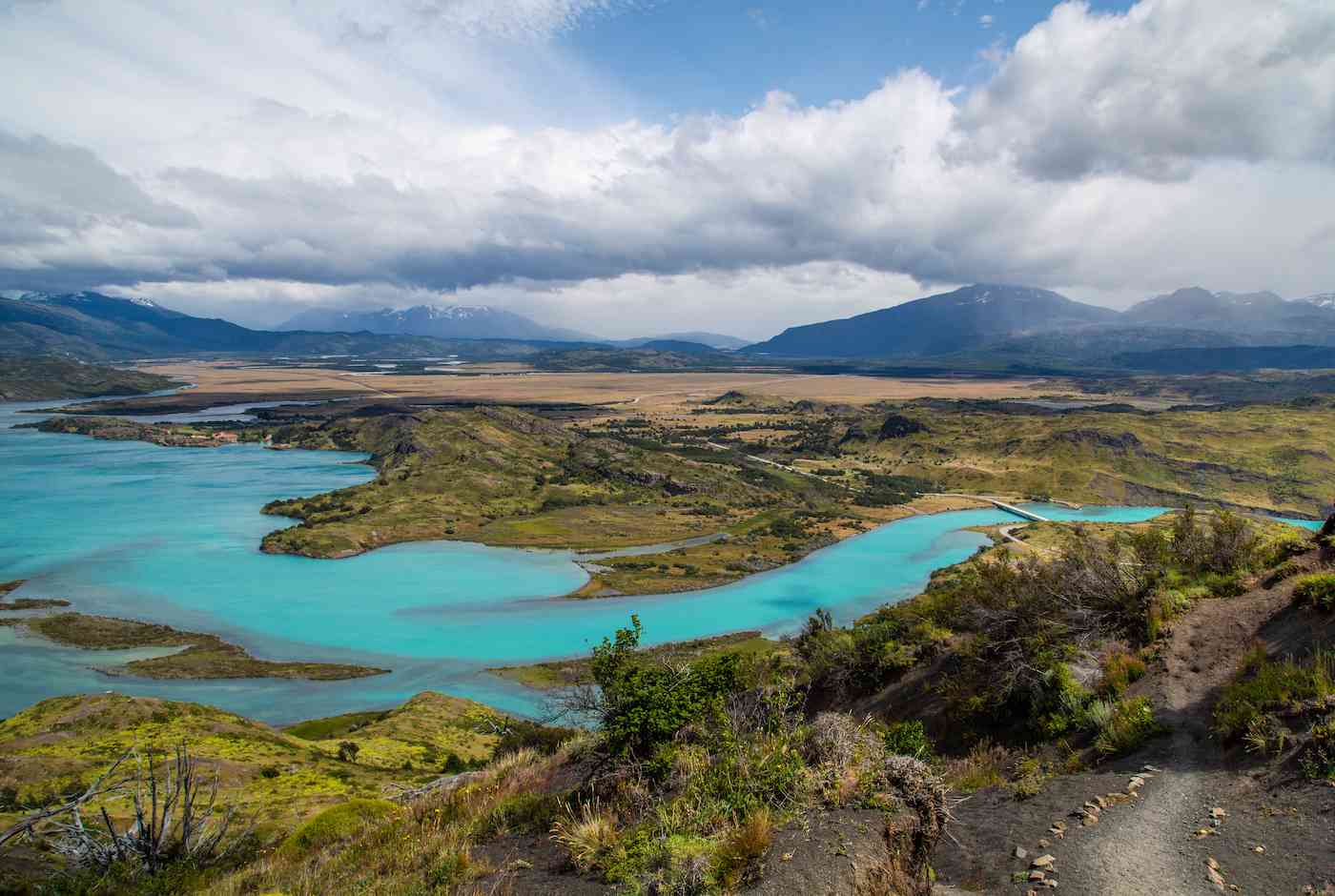 Through the Magellanic Forest
Another of the most short, fun and challenging treks I did in Patagonia was through the Magellanic forest near the Garibaldi Glacier. Spend some time exploring this area, but it's probably preferable to go with a guide, as there is not much of a clearly marked trail.
It was more of a clamber than a hike, as we made our way over boulders, under felled trees, and through rushing streams. Worth it to arrive at this waterfall.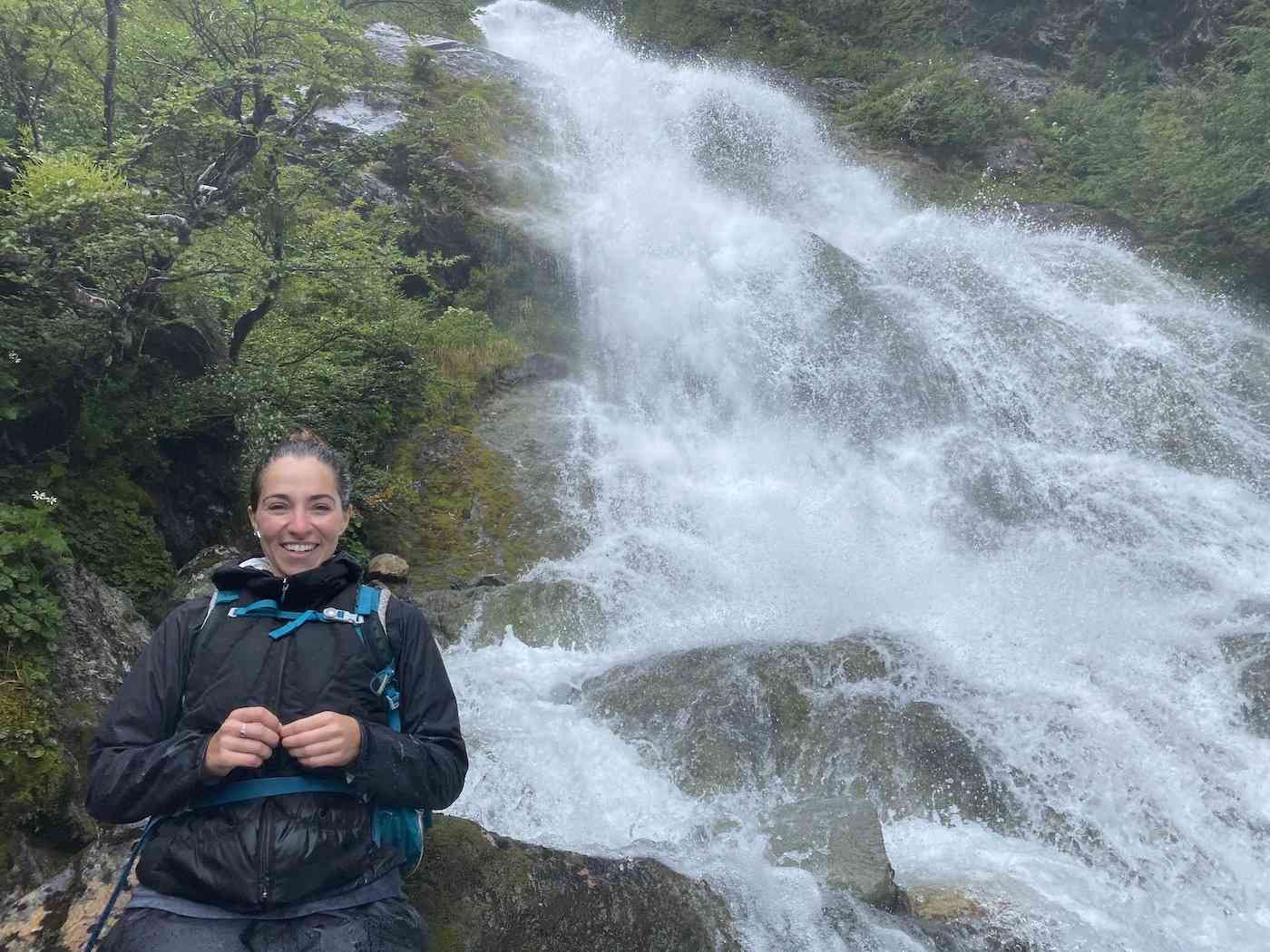 Spot Wildlife While Hiking Patagonia
One wonderful bonus of hiking Patagonia is getting a peek at incredible animals – especially on the Fauna Trail. I saw a whole new species I had never ever heard of before – guanacos.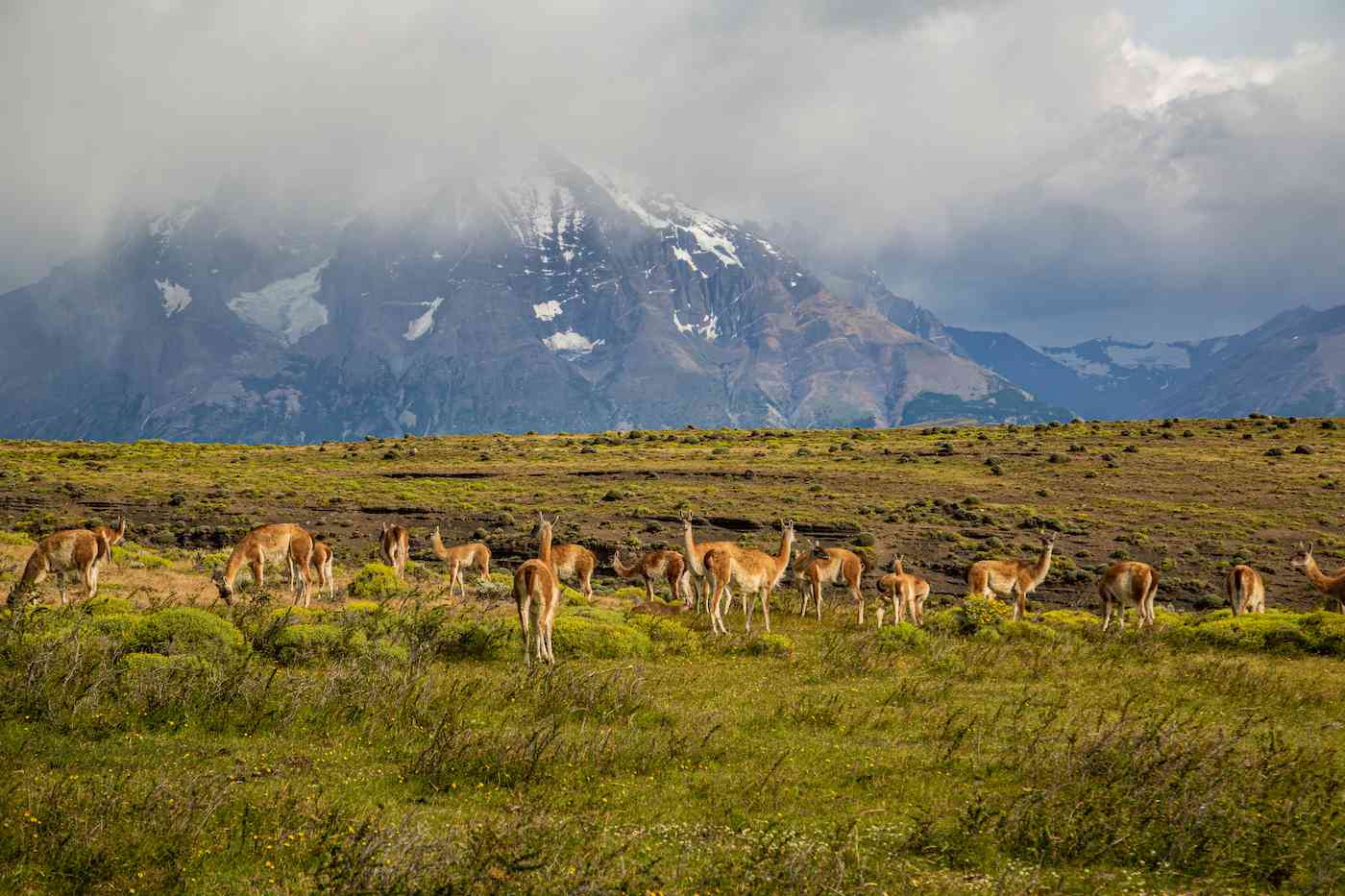 Visitors also have the option to go horseback riding in and around the park. Huasos – the Chilean equivalent to gauchos – will help you even if you've never ridden a horse before. I managed to capture a huaso and his herd on the run.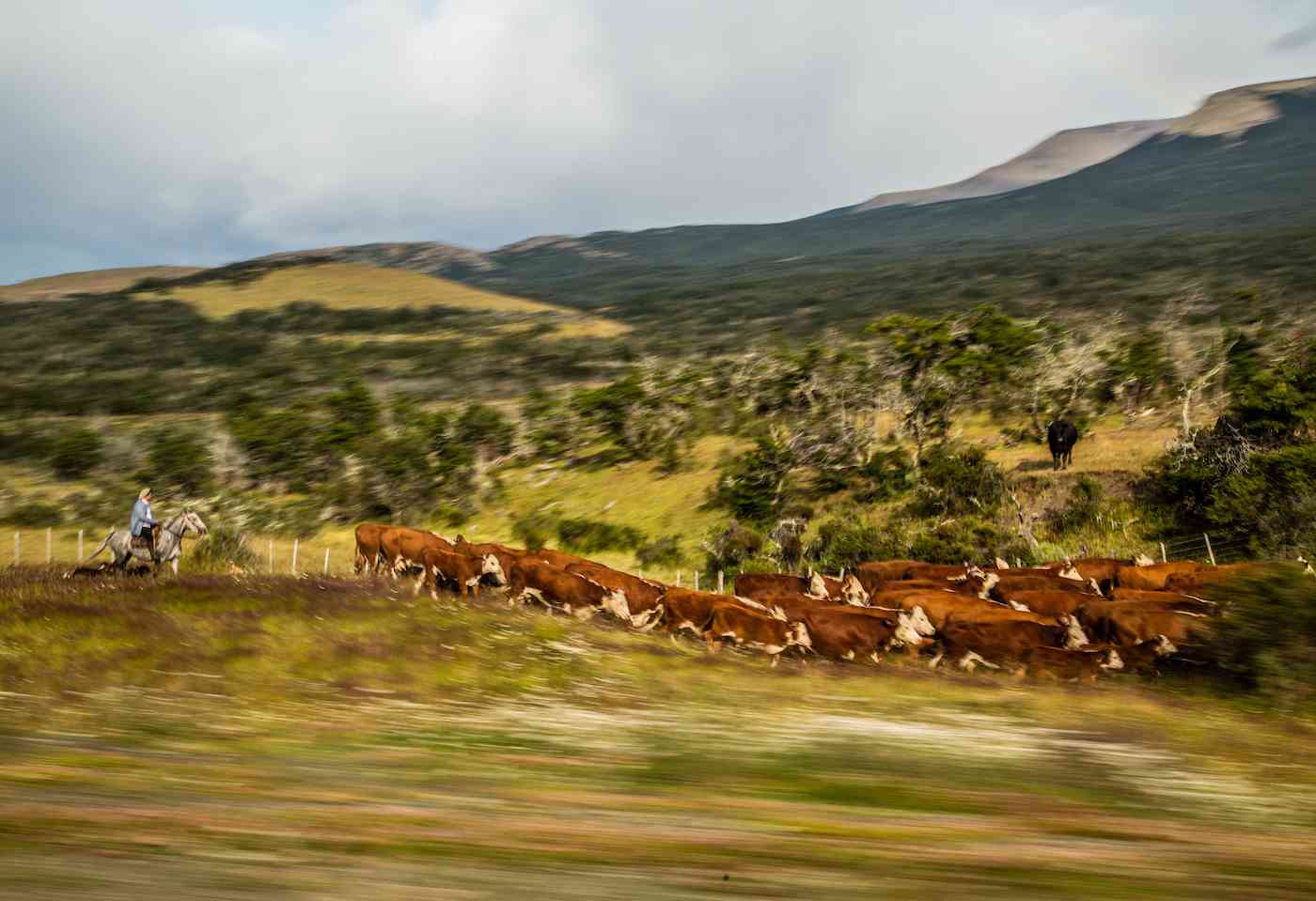 Cities and Hotels in Patagonia
Ushuaia – The Scenic Southernmost City in the World
Many people start their trip around Patagonia in Ushuaia, Argentina. With a population of around 56,000 people, and a Hard Rock Cafe, it's the biggest city on the Argentinean side in the region.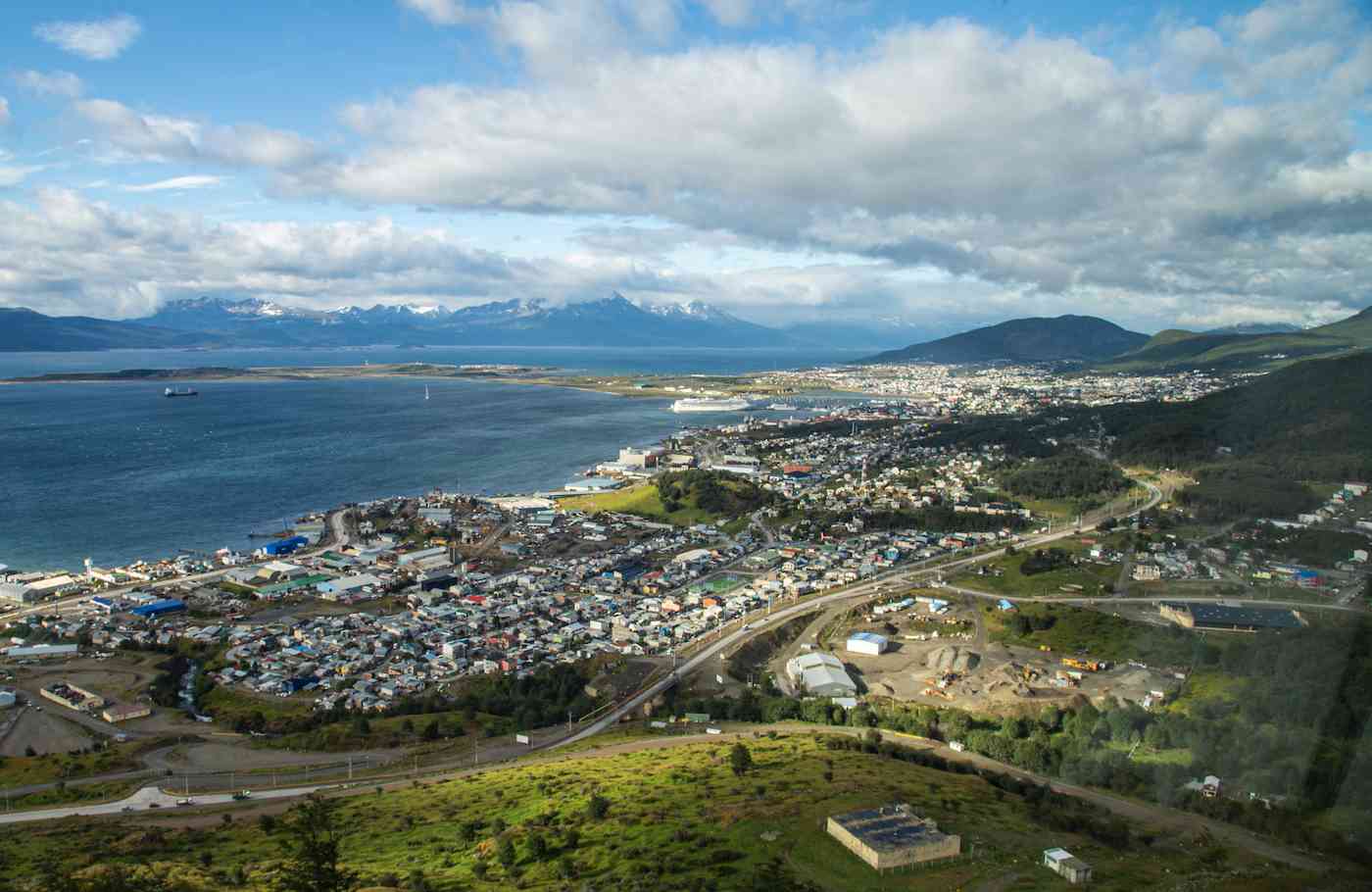 Ushuaia attracts a lot of younger seasonal workers, and serves as a launching point for international tourists exploring Patagonia and heading off to Antarctica.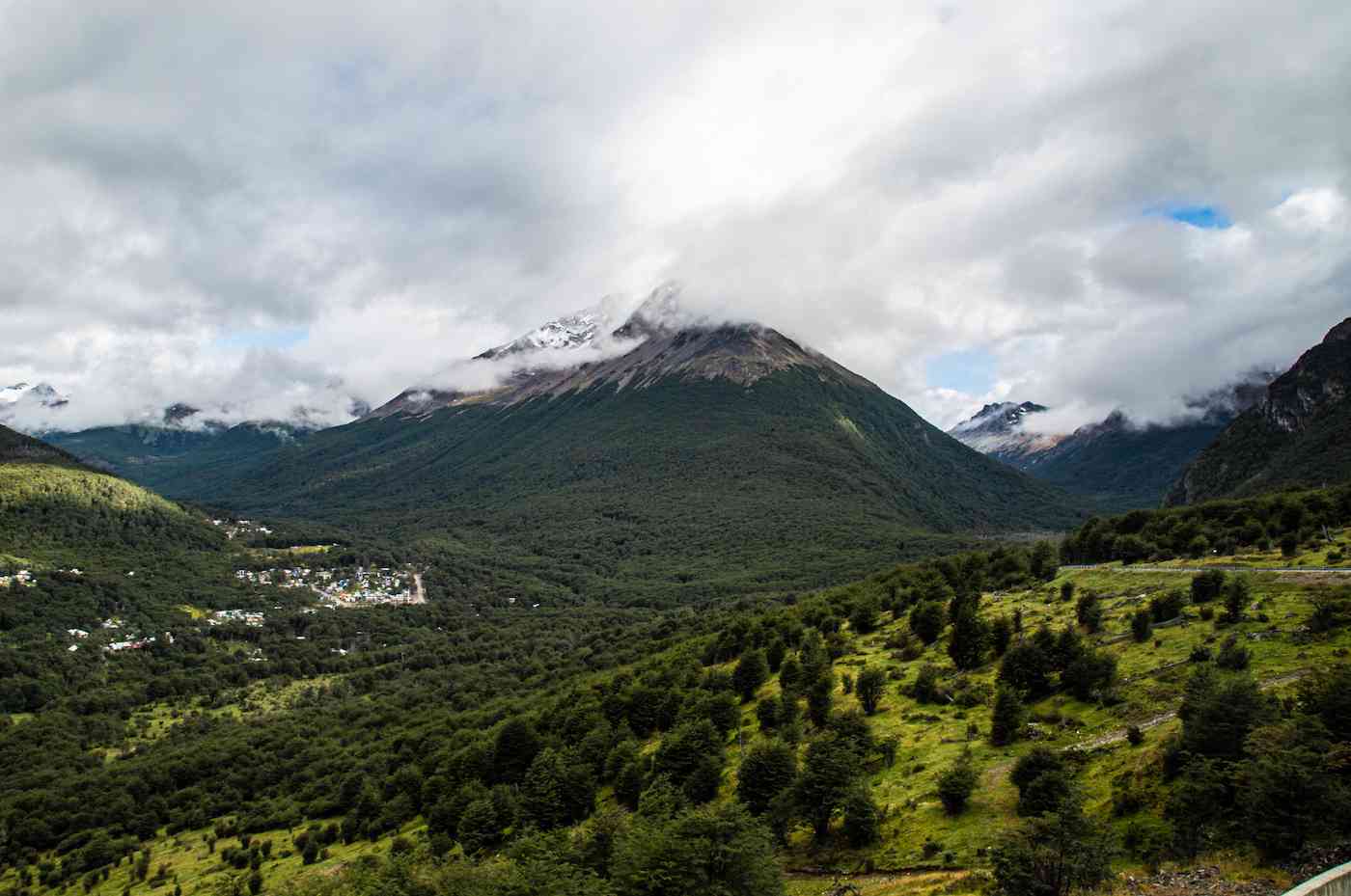 I will be writing more about Ushuaia and the surprisingly cool things to do there in the next post. Suffice it to say, Ushuaia itself is set in a stunningly scenic location. Bonus: all the seafood I had was absolutely excellent.
Puerto Natales – Beautiful Base for Exploring Torres del Paine
I LOVED Puerto Natales. This small town of just over 15,000 people felt like such a charming little community. There are cozy restaurants, cool coffee and ice cream shops, and a town square, all right on the water.
We rented bikes and went around town, found some good beer halls, and generally had a great time. Puerto Natales is the perfect place to relax, kick back, and be around people in an actual inhabited town after a long day of hiking the wilds of Patagonia.
Punta Arenas – Get In, Get Out, Prepare for Wind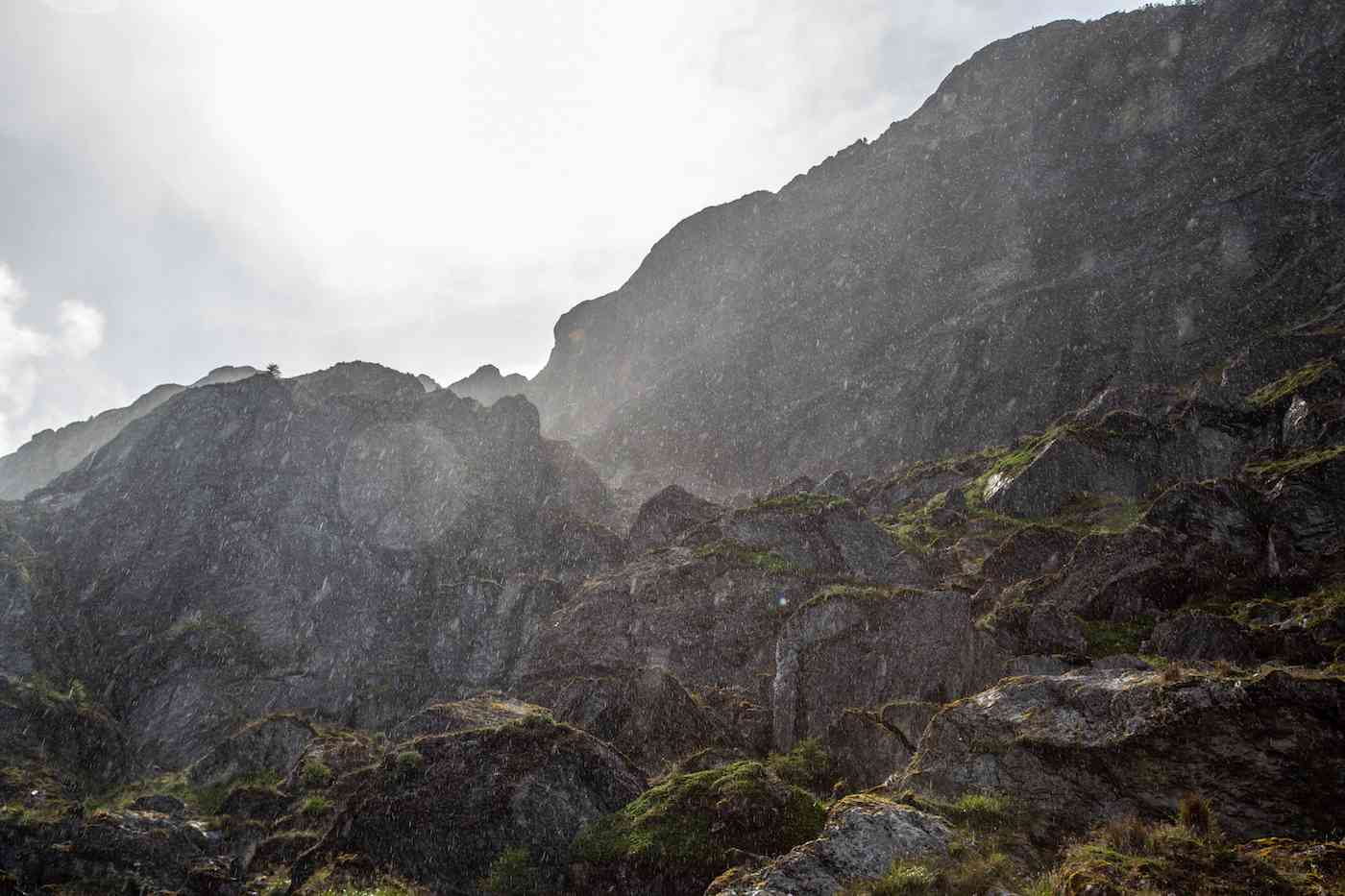 I don't have much to say about Punta Arenas. For those who know me, you know how rarely I'm completely silent on ANY destination.
Fly in, fly out, pray to God it isn't too windy on the day you fly out (it will be) because that was a terrifying take-off, and that's all I have to say. It seems a very straightforwardly functional, industrial city. It was also too windy the day we arrived by ship, and it took us a few hours to get into the port and dock.
Puerto Natales: it's too. Fuckn. Windy. Always.
Singular Hotel – The Best Hotel In Patagonia, Chile
Yes, I know it's the only one I stayed at, but I still have no qualms about naming the Singular Hotel the best hotel in Patagonia.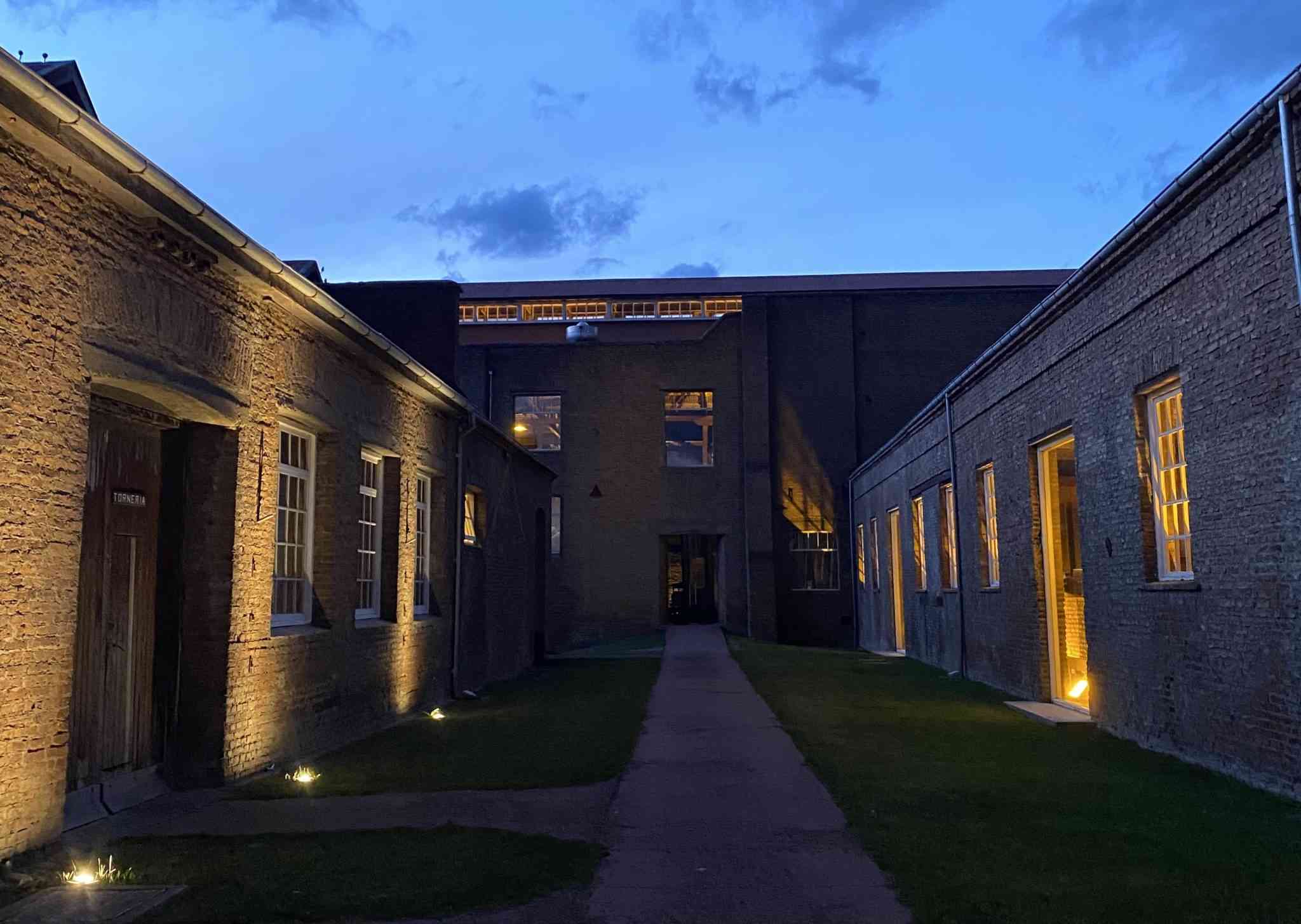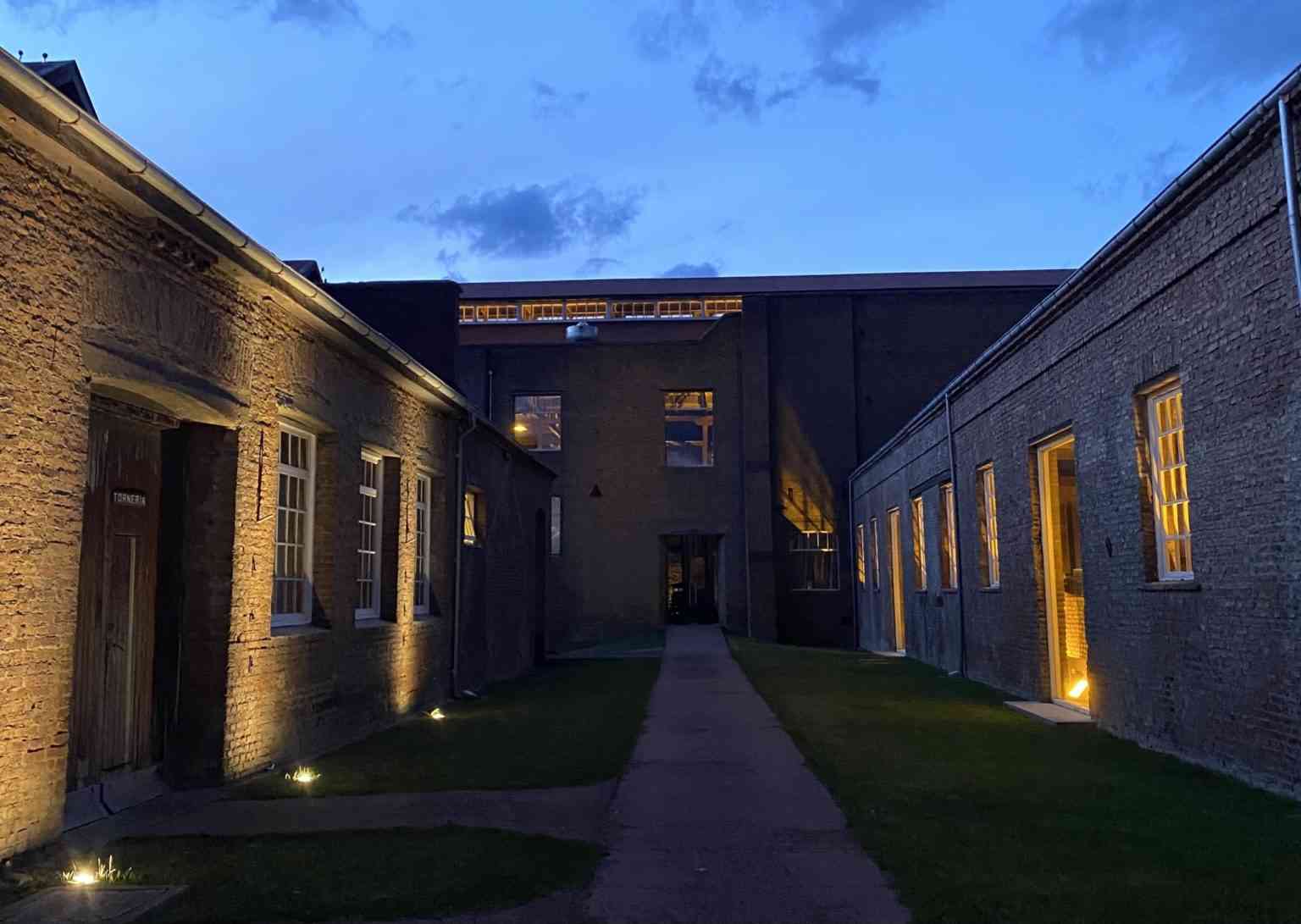 Built in a revamped old cold storage plant right outside Puerto Natales, the Singular Patagonia has one of the coolest designs I've seen, incorporating the building's past with a modern design. An entire section of the hotel is a museum dedicated to showcasing the old factory.
As with other points in this guide, I will shortly write a whole post for those who want to learn more about the Singular, its food, its rooms, and its activities.
Final Patagonia Tips: Things to Know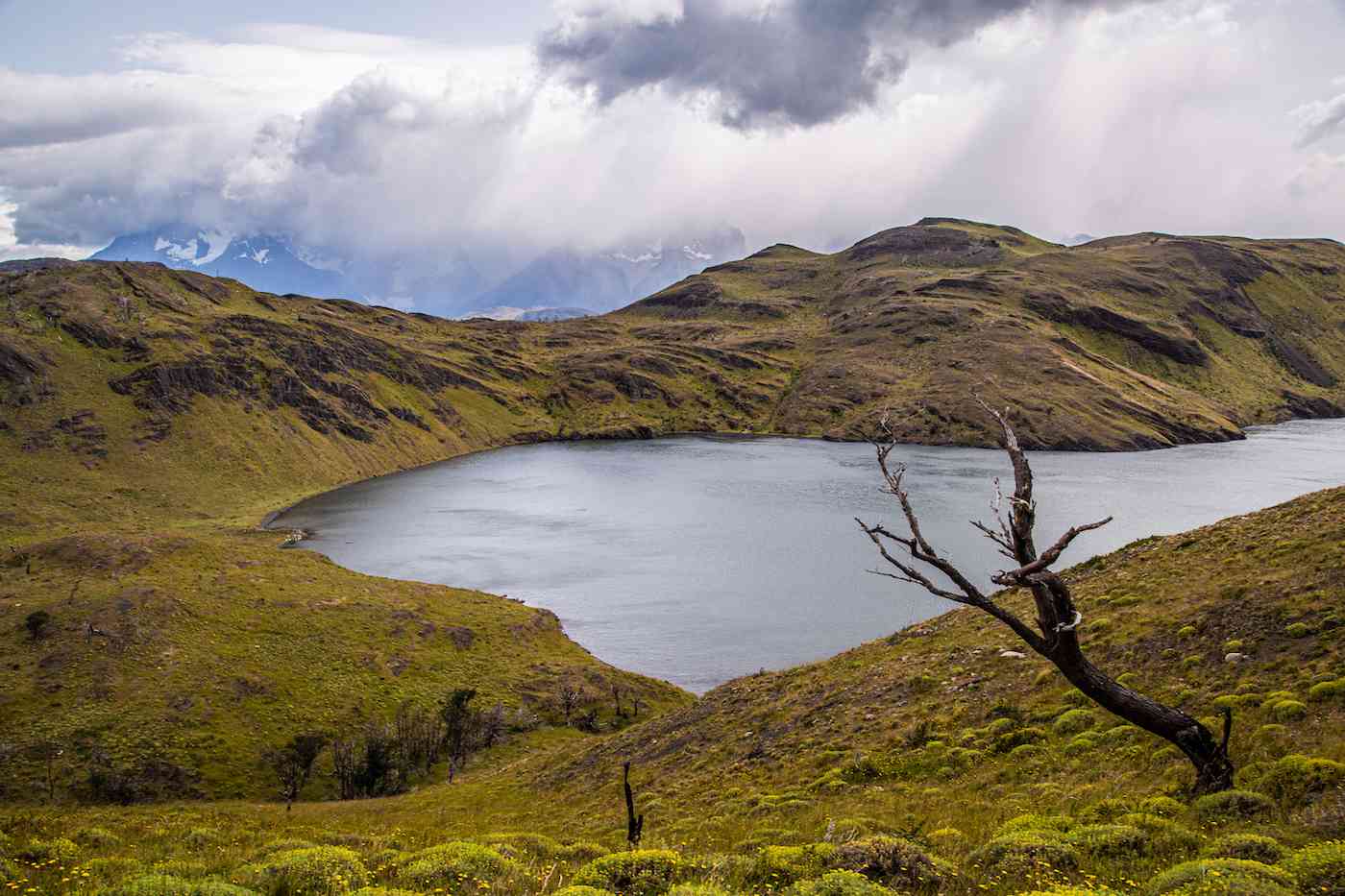 If this post inspired you to plan a trip to go exploring, sailing, or hiking in Patagonia, here's a short collection of final things to know.
High season is November to March (South American summer) – you may find a lot of things closed in the winter
Bring rain gear. Bring. RAIN. GEAR. As well as great hiking boots, Patagonia hiking clothes (wear Patagonia in Patagonia, be corny, why not), etc. Will follow up with a packing list for what to wear when hiking Patagonia!
You might not think you need sunscreen and a skin care routine here, but bring products with you. And if you don't have a skin care routine, start one. The wind is constant and merciless.
Don't try to rush through too many locations at once. Better to spend a few days in only one park, then half a day at each site.
Responsible travel: leave no trash behind!
Be aware that some excursions and plans are always weather dependent. Book flexible travel as ship docking and flights may be delayed, causing you to miss the next leg of your trip. And you may end up missing an excursion or two. We couldn't dock to see the penguins. It was. Heartbreaking.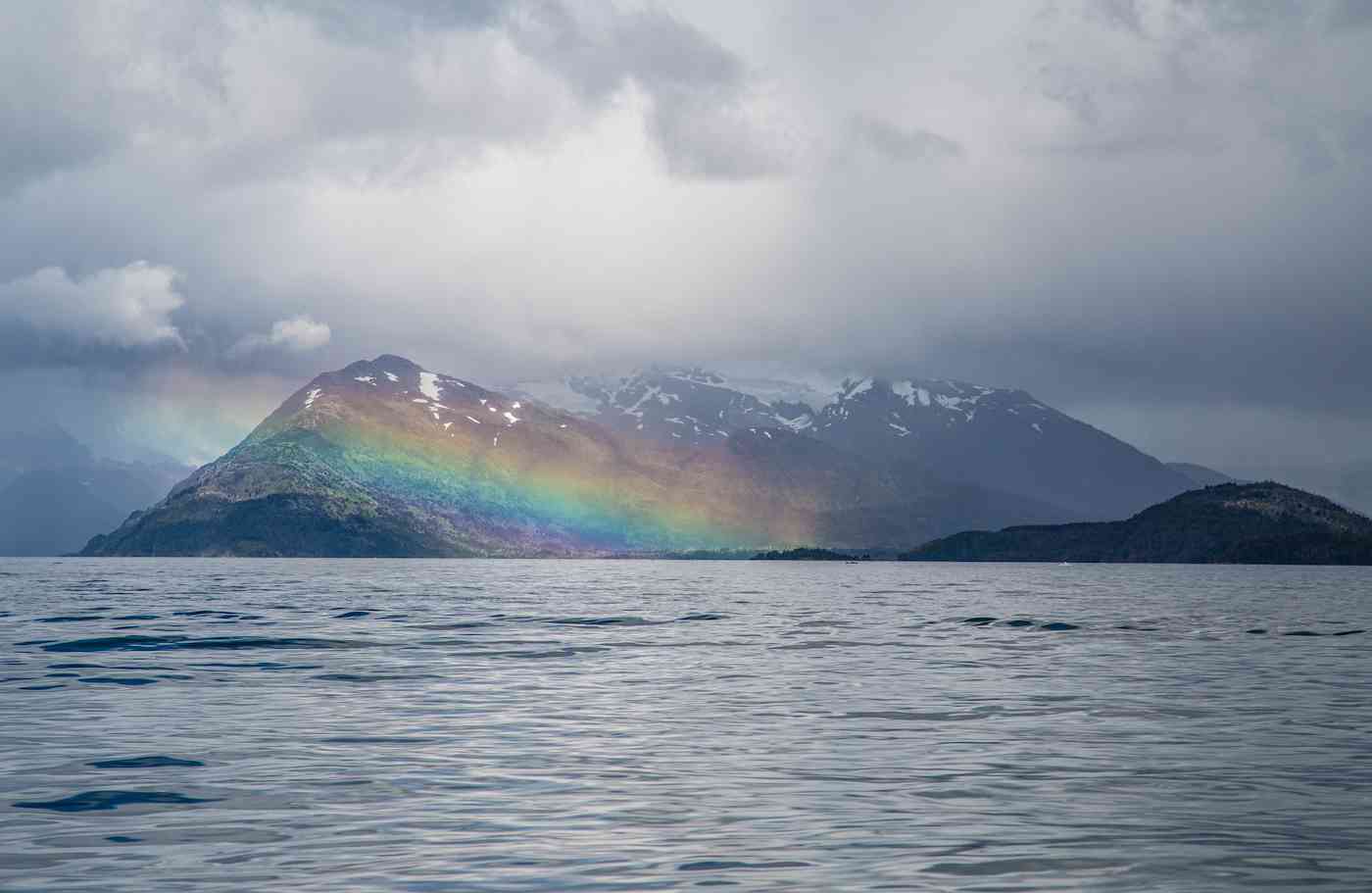 Have you been to Patagonia? What's the most incredible National Park you've seen on Earth?