Suppose you're visiting Italy this summer and need a way to cool off from Europe's "Lucifer" heatwave (actual, real-life nickname). In that case, you need to get yourself to some great Italian beaches where you can escape the summer heat and enjoy the beautiful Mediterranean Sea. 
I asked Anna Kay of MedCruiseGuide.com to step in and share the 5 Italian beaches she enjoys the most. Check them out below!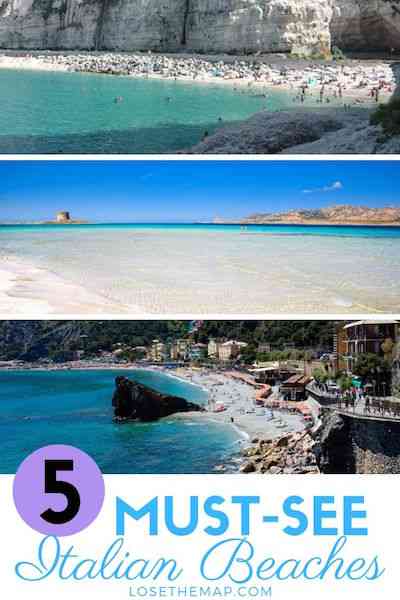 5 Must-See Italian Beaches This Summer
Italy is known for its beautiful and distinctive coastline that features picturesque seascapes, small nooks, and cliff-hanging towns above sandy beaches in the least expected places. These serve as serene swimming coves for tourists and locals alike who flock to the coast all summer and well into the autumn.
The sun-kissed beaches of Italy are heavily crowded in July and especially August when the vast majority of Italians enjoy the Ferragosto holidays. Some of the best beaches are quite secluded and not close to the big cities. But still, they attract large crowds of beach lovers.
Here are five beaches that must feature in your Italian summer holiday itinerary.
Tropea Beach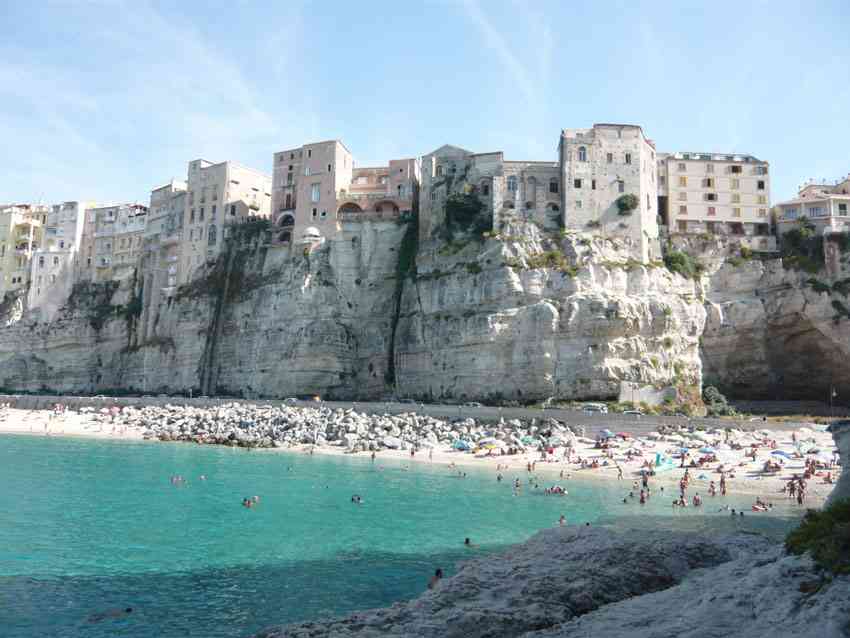 Tropea Beach, Italy (Photo by simo0082, CC BY 2.0)
Located in the southern part of Italy, in Calabria is Tropea Beach. The coastline overlooking the Tyrrhenian Sea is popularly known as the 'Coast of the Gods' or Costa Degli Dei. It is among the finest Italian summer vacation destinations.
Although Tropea is one of the most attractive seaside towns, it has managed to stay away from over-commercialization noticeable in several other famous Italian beach towns.
It has a scenic, historic center located on cliffs overlooking the sea. The town itself is quite big and has plenty of interesting things to explore. Boat trips and local railway lines help tourists move around the area without renting a car or motorbike, making it a carefree day on the beach.
Monterosso al Mare Beach
The picture-perfect Cinque Terre coastal area includes the famous five villages inaccessible for centuries, one of which is Monterosso al Mare. It is the northernmost town in this UNESCO-protected region where mountains descend into the sea, and colorful houses hang on cliffs.
A tunnel separates the two beaches of Monterosso al Mare beneath a hill with a convent overlooking the town. Fegina, the longer beach located right in front of the train station exit, became accessible only after the railroad allowed travelers to reach this isolated town.
It is a sandy beach mixed with small pebbles and is ideal for families with children. The nature surrounding it creates a dramatic setting, and the beach is a perfect place to relax after a long day of hiking between the Cinque Terre villages.
Cefalu Beach, Sicily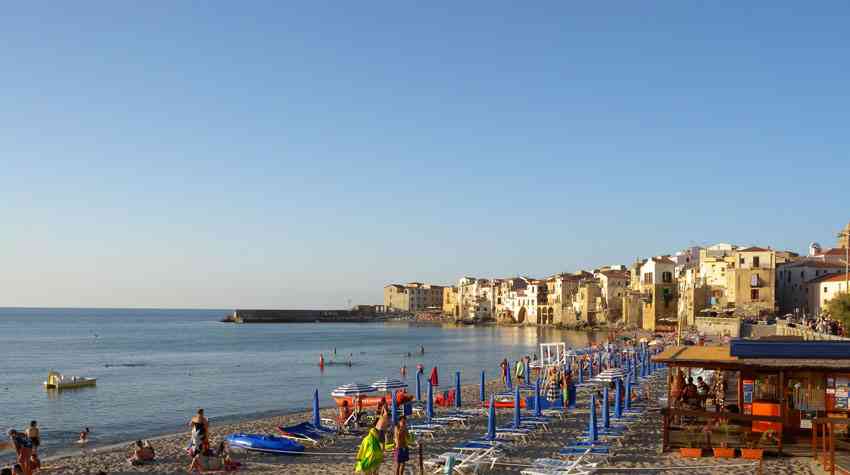 Cefalu Beach, Sicily, Italy (Photo by Jerome Bon, CC BY 2.0)
Sicily has a gorgeous 620-mile coastline. It comprises pebble-covered coves, golden sand beaches, beautiful seaside resorts, and untouched natural reserves.
Cefalu is considered to be among the most picturesque towns of Sicily. It is located on the northern Tyrrhenian Coast and is home to a long and pretty sandy beach. The numerous amenities available on this beach make it a popular choice for families looking to escape the hot Sicilian sun.
Cefalu is very close to Palermo and features a charming historic center. Make sure to walk around the centuries-old streets of Cefalu or go up to La Rocca and enjoy the stunning views of the bay when taking a break from the swimming.
Sperlonga Beach
South of Rome is the lovely seaside town, Sperlonga, and is easily accessible via public transport. Rome's second emperor, Tiberius, loved this enchanting little town and therefore decided to build a villa for himself here. According to writer Suetonius, this villa was named 'the Cavern' (referring to a hall found in a cave).
The north side of the town comprises modern Sperlonga that caters mainly to the tourists who like to spend time on commercially developed beaches.
But if you're looking to explore the real charm of the town, then you need to head south. Here, you will find an exquisite lengthy beach with incredibly clean water and sand. The shore is lined with trees and other plantations, and the atmosphere is that of luxury and peace. A perfect way to take a break from the fast pace of Rome!
Pelosa Beach, Sardinia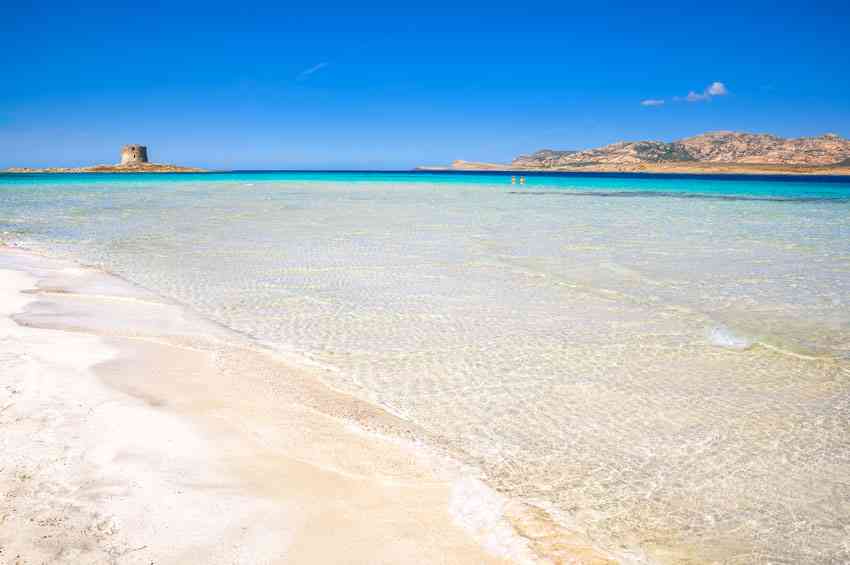 Pelosa beach, Sardinia, Italy (Photo by Tommie Hansen, CC BY 2.0)
La Pelosa beach in Sardinia is known for its white sands and turquoise waters and is perhaps one of the most sought-after beaches in Europe. Located in the far west of Sardinia, the beach is located at a short distance of 1.2 miles from Stintino (Cape Falcone) in Sassari.
The 300 meters (980 ft) long beach is home to an ancient 16th-century watchtower called the Torre della Pelosa. This was a part of the marine defense system of Sardinia.
The beach has two popular diving spots within the surrounding area, and it's as close as you can get to the Caribbean-type beach in Italy!
Italians love their sunny, sandy beaches, and the country is thronged by tourists from all over the world, especially during the lively summer months. These five Italian beaches should be a must-visit on your next trip to Italy!
If you liked this post and want to share, Pin away!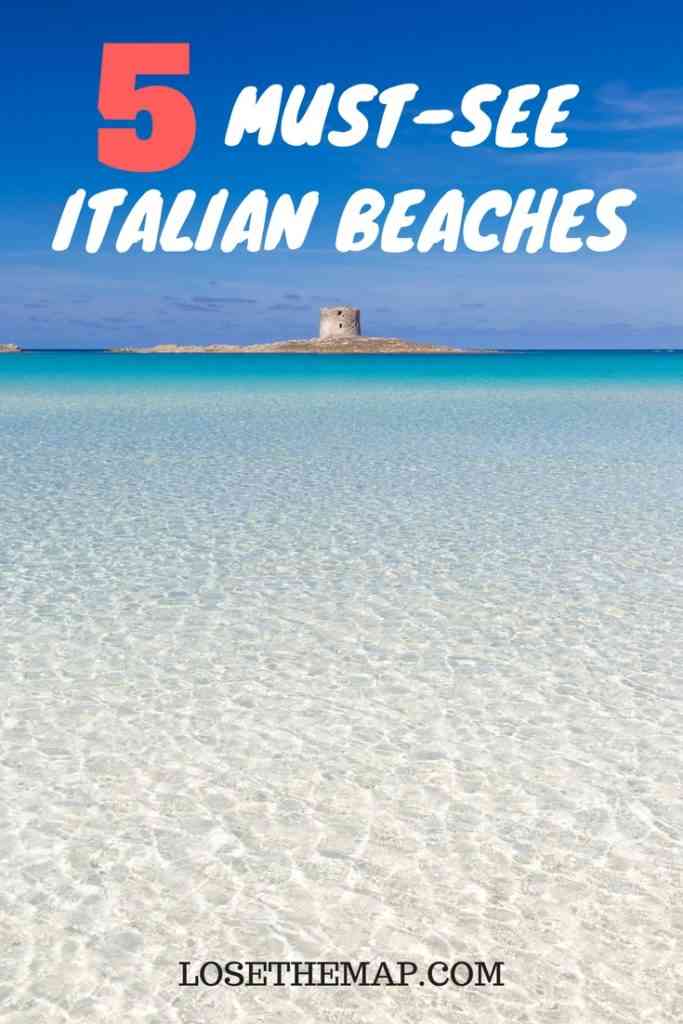 Anna Kay is an avid traveler and photographer, editor and social media manager at MedCruiseGuide.com with a passion for exploring and island-hopping across the Mediterranean.