When most people think of Greece, sun, sand and blue seas are usually the first thing that comes to mind. Even though I will be the last person to deny the incredible beauty of Greece in the summer, the country's reputation means it usually gets overlooked for winter tourism.
And this is a huge mistake.
Please note that this post contains affiliate links and any sales made through such links will reward me a small commission – at no extra cost for you. As always, all thoughts and opinions are my own.
Greece is more than just the Acropolis, Mykonos and Santorini. So many interesting cities, picturesque villages, mountains, lakes, and lesser known islands never really become known to non-Greek tourists, and are almost completely devoid of non-locals during the winter.
So here is your chance to discover another side of Greece, and to explore these great destinations among Greeks, rather than the usual swarm of tourists. Check out some amazing Greek winter destinations below! And if you're worried about cost and want to find even greater deals for hotels and airfare to Greece in the wintertime, check out Greece Vacations at GreatValueVacations.com! You can get airfare, hotels, and any ferry transfers included in these packages for a very low price (even lower in winter), but your day is completely your own to roam and explore.
Arachova (Αρἀχωβα)
One of the top destinations for winter sports in Greece is the mountainside village of Arachova, a picturesque town with narrow streets and stone houses, full of warm coffee shops and restaurants to take the edge off the cold outside. It has great slopes for skiing and snowboarding, plus a huge chunk of Athenians turn up here in the winter, so you will be surrounded by other Greeks enjoying the winter weather. If you are the kind of traveler who wants to go to the "in" destinations, know that Arachova is a top spot for wealthier Athenians in the winter.
Driving Distance: 2 hours from Athens
Pro Tip: On your way to Arachova stop at Livadia for lunch. Livadia is a town about 20 to 30 minutes before your final destinations, which is known for having some of the best souvlaki in all of Greece. Also, the historic site of Delphi is just a 15-20 minute drive further on from Arachova.
Mount Pelion (Πἠλιο)
This densely forested mountain near Volos is home to ski centers as well as some of the most charming villages in Greece, such as Makrinitsa, with its stunning view of the Aegean, and Portaria with its elegant old mansions. If you want to ski, walk around centuries-old streets, and admire beautiful forests and waterfalls all in the same trip, Pelion is definitely the place to go. For more active travelers, if snow hasn't covered the mountain, there are plenty of hiking trails through unspoiled nature to keep you exploring for days.
Driving Distance: 4 hours from Athens (3 hours from Thessaloniki)
Monemvasia (Μονεμβασιἀ)
Monemvasia is a visually stunning medieval town built into a majestic, large rock jutting out of the sea off the Peloponnesian coast. Throughout history, it has gone through Byzantine, Venetian, and Ottoman hands, lending it a unique atmosphere with arched alleyways, fortified walls, and a main cobblestone street (the former Agora) full of cafes, artisanal shops, and restaurants. Make sure you're out and about at sunset, when the light hits the stones and almost turns the whole town a shade of violet.
Driving Distance: 3 hours and 30 minutes from Athens
Pro Tip: Have a taste of Malvasia while you're here, the local sweet wine.
Athens (Αθἠνα)
Obviously Athens doesn't need much of an introduction; if you've been to Greece in the summer, chances are you've climbed up to the Acropolis and walked through the market at Monastiraki (or at least had a layover on your way to Mykonos).
But Athens in the winter is a much different, and in my opinion, better experience. In the summer months, locals become part of a mass exodus from the burning sun and 100-degree weather, leaving central Athens to be taken over by tour groups and a haze of traffic. In the winter, Athens becomes very much a fully Greek city again. Head out with the alternative crowd in Gazi, walk the charming streets of Plaka surrounded only by local Athenians, admire the beautiful old buildings in Psiri, and get your classy night out on in Kolonaki.
Driving Distance: None. Because, well..you're here.
Pro Tip: Head to six d.o.g.s., cafe by day, bar by night, with plenty of alternative and rock bands playing here as well during the week.
Zagorohoria (Ζαγοροχὠρια)
Zagorohoria is a protected area of 46 villages (or 48…no one can seem to agree), built amphitheatrically in Timvi, Pindos, and Mitiskeli. The towns are very traditional, with stone and wood architecture, but each town is also quite unique in what it offers tourists, so you have plenty of choices of which to visit, as well as a beautiful natural environment to take in and explore. Examples include Elafotopos, famed for its traditional architecture, Kipi, known for mountain sports and surrounding arch stone bridges, and Greveniti, with its old churches and frescos as well as surrounding streams.
Driving Distance: 6 hours from Athens
Pro Tip: Head to the Vikou Gorge (Φαρἀγγι του Βικοὐ) for some impressive scenery.
Agoriani (Αγὀριανη)
Sitting close to Arachova, but worlds away in its quiet charm, and atmosphere, this little known village also known as Eptalofos is about 900 meters up on the slopes of Mount Parnassos. Agoriani is full of traditional inns and a central square with cafes and small restaurants, but it is mostly known for its natural beauty, with water running through the town and a waterfall for tourists to see. This village is for travelers who really want a quiet, calm winter getaway. Bring your ski gear, and admire the views of Kallidromo and Zitouni mountains just opposite.
Driving Distance: 2 hours and 45 minutes from Athens
Pro Tip: Visit either of the two restaurants right on the town square; they both serve fresh, locally inspired dishes that will fill you up after a long day of skiing.
Still want to get to see some islands in the winter?
Many ferry routes to the islands get disrupted or don't run as often in the winter in Greece, and you probably won't be able to enjoy the beaches, but there is still plenty of beauty to be found in the Greek islands even when the temperature drops. In the winter, travelers become a rare sight, meaning islanders fill up the local establishments, and the islands actually become a favorite place for some writers and artists who find their winter getaway here, using the peace and inspiration to create.
If that is the kind of atmosphere you are looking for, check out the following places:
Hydra, Poros, Aegina (᾽Υδρα, Πὀρος, Αἰγινα)
These three islands are just an hour away from Athens by ferry, and routes continue pretty frequently during the winter months. You won't be going for the beaches at this time of the year, but you can enjoy the island's particular appeal all the same. Hydra doesn't allow cars on the island, so it's a calm, pedestrian-friendly oasis travelers love, with traditional stone houses lining the street. The town of Poros is overflowing with the signature Greek blues and whites in its architecture, and is also home to the Sanctuary of Poseidon. Aegina has a bustling main town with plenty of cafes and restaurants, and historic ruins of its own at the Temple of Aphaia.
Ferry Distance: From Athens – Aegina is 1 hour and 15 minutes, Hydra is 2 hours, Poros is 2 hours by ferry, BUT best way to get to Poros in winter, to avoid possible stormy seas, is drive to Galatas (2 hours) and take a 15 minute ferry across to Poros' main town.
Pro Tip: Check the weather and ferry routes before heading to the port, because if weather gets severe (rare, but still), the ferries may not run.
Syros (Σὐρος)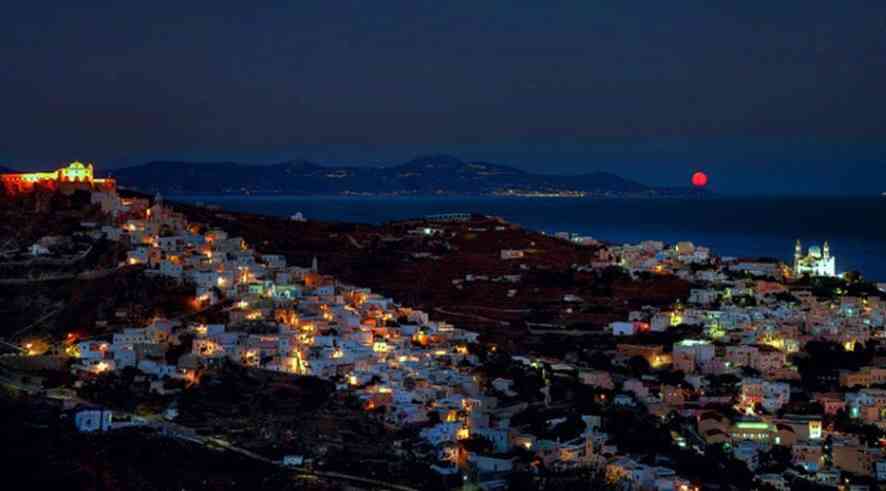 Syros is one of the few islands in the Cyclades of the Aegean Sea that maintains a pretty sizable population throughout the winter. The main town, Ermoupolis, used to be the capital of the Aegean, and as a result of that legacy many aristocratic, neoclassical houses line the streets, and locals maintain a taste for theater, film and the finer things. For a small island, Syros has a great variety of cultural and historic sites, from the medieval Ano Syros up on the hilltop to the grand town hall and truly huge main square that constitute the city center of Ermoupolis. There is a strong Catholic influence on the island (one of the few such places in Greece), so splendid Catholic and Orthodox churches are visible on the town's skyline.
In winter, all the mesmerizing buildings and city center are lit up for the holiday season, which makes Syros a beautiful sight even at this time of year. For travelers who want an island that combines history with cultural landmarks and the arts, Syros is a great place to visit in the offseason.
Ferry Distance: Four hours from Athens by ferry (but just a 35-minute flight if you can book one)
Pro Tip: Check out The Apollo Theater and try to catch a show; it is also known as La Piccola Scala because it was designed as a small version of La Scala in Milan.
Even if your budget is low, you can find affordable Greece Vacations at GreatValueVacations.com! If you want to share or save this article, Pin away!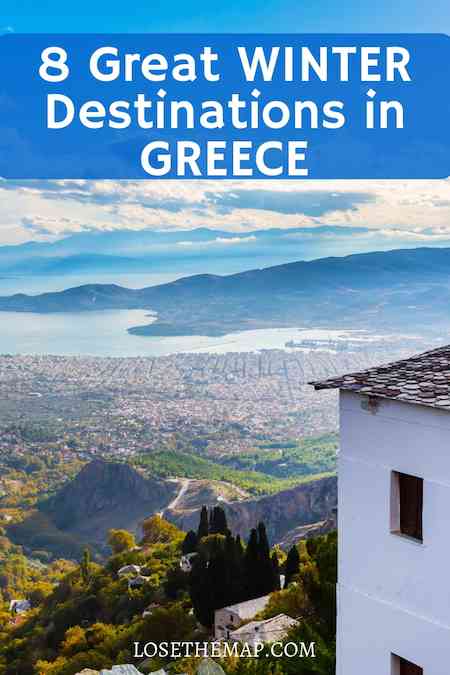 Have you visited any of these Greek destinations? Let me know what you thought in the comments below!