I made a time lapse during my last weekend in Death Valley, in order to try and capture a bit of the feeling I get driving through this wild, rugged, mesmerizing national park. Though it often gets overlooked by travelers, Death Valley has a completely unique landscape and beauty, which is why it also ranks among the 25 best National Parks in the US.
I always wanted to use a GoPro to record a road trip, so I turned on my GoPro Hero3+ from the time I entered the park westbound on highway 178, up to Death Valley Junction, and then when exiting westbound through the Panamint Mountains on highway 190.  The areas shown in the time lapse are indicated below the video.
Death Valley Road Trip Time Lapse – GoPro Hero3+ from Joanna Kalafatis on Vimeo.
00:12 – 00:20 => Badwater Salt Flats
00:22 – 01:06 => Artist's Drive at Sunset
01:17 – 01:20 => Passing through Furnace Creek
01:20 – 01:28 => Road to Zabriskie Point
01:40 – 01:45 => Death Valley Junction
01:51 – 01:56 => Mesquite Sand Dunes
02:01 – 02:11 => Heading up to Mosaic Canyon
02:23 – 02:39 => Wildrose
02:40 – 03:02 => Road to Skidoo
03:04 – 03:12 => Crossing the Panamint Mountais
03:13 – End => Father Crowley Vista Point
If you only have two days and want to know what to do during a weekend in Death Valley, this is the route I would follow to see some of the best sights, with a few alterations.  Though I've already covered this destination in a couple of posts, I figured I might as well attach a short and sweet travel schedule to this video!  The itineraries I like best are below.
How To Spend a Weekend in Death Valley – Best Routes:
Day 1
Enter westbound on highway 178, stop at the Badwater Salt Flats, go check in at either Furnace Creek Inn (high budget), Furnace Creek Ranch (medium budget), or the campgrounds (low budget).
After settling in, go for a hike in Golden Canyon, only 2-3 miles from Furnace Creek, then head down to Artist's Drive an hour or two before sunset to take the three-mile ride through the canyon with the best lighting of the day. Artist's Drive is so beautiful it almost seems fake; naturally occurring colors in the rock formations make it look like paint cans spilled out of heaven and splashed on this site.
After that, head past Furnace Creek again towards Zabriskie Point to catch the sunset, and if you're there during the full moon, the moonrise; though the valley is fully dark during the new moon, the full moon floods the entire landscape with light, in the absence of any competing light sources.
You can photograph the night sky at Zabriskie Point with great views; I would advise against venturing up to Dante's Peak for night sky photography, as the road is higher, longer, and winding, and it will be hard to find your way in the dark. I take no responsibility for you tripping and falling a few thousand feet down.
At night, grab a meal and a drink at the Furnace Creek Ranch, and if you're in Death Valley with dark skies (new moon phase), drive some distance away from Furnace Creek in order to get a clear view of the stars.
Check out the schedule of ranger programs to see if they are hosting an astronomer's night when you go – the view of the Milky Way will literally render you speechless.
Day 2
Stop at Harmony Borax Works, head up to Death Valley Junction, and then the rest of your route depends on what exit you decide to take.
Death Valley Westbound Exit:
Head west at the junction, and stop at the Mesquite Sand Dunes for some hiking.  Then continue on to Mosaic Canyon just a few miles down the road for another great hiking adventure. If you have a whole weekend in Death Valley, you will be amazed by the number of trails you can choose, each of them taking you through an alien landscape out of Star Trek.
Keep heading west, and if you have time, you can veer left onto Emigrant Canyon Road down to Wildrose.  Assuming you have a good vehicle for off-road driving (or are cool with possibly getting stuck in the middle of the desert), feel free to take the 9 mile detour off Emigrant Canyon Road to Skidoo, but know that the old ghost town is mostly leveled; you will only see a couple of creepy, abandoned buildings on the way.
Head back to highway 190 (main road), continue west, and grab a meal at Panamint Springs.  The local town houses a lot of the rangers and others who work in Death Valley National Park.
Exit through the Panamint Mountains and stop at Father Crowley Vista Point for one last look back.  (When you've exited Death Valley, if you take the north fork in the westbound route you will hit Lone Pine, which is a personal favorite small town of mine.  If you're in the mood for a BBQ dinner, stop here to end a perfect weekend in Death Valley on a BBQ-sauce-slathered high note).
Death Valley Northbound Exit:
Short route – Head north at the junction and make a stop at Ubehebe (no, you're not pronouncing it correctly) Crater, then continue on to Teakettle Junction for a few quick photos.  This rough road leads to Racetrack Playa, if you want to see the strange 'moving rocks' of Death Valley and their trails.  Know that heading to the playa is quite a long detour (about 27 miles), and you will have to drive it all the way back as well.  After passing Ubehebe (no, you're probably wrong again) on the way back, keep heading east,  and stop at quirky Scotty's Castle on your way out.
Long route – Head east at the junction on Daylight Pass Road, venture slightly outside the national park's borders to see Rhyolite, one of the best preserved Old West ghost towns, and take Titus Canyon back (a 2.5-3 hour drive on rough road; make sure your car can handle it).  When you exit Titus Canyon, continue northbound and follow the 'short route' itinerary.
Death Valley Eastbound Exit
Head east at the junction on Daylight Pass Road, and stop to see the Death Valley Buttes on your left, then stop at Hells Gate (with names like this, it's a miracle anyone ever visits) a little further down.  Exit the park, and take the detour on your left towards the ghost town of Rhyolite.
Final Thoughts on Death Valley
My weekend in Death Valley was mesmerizing and somewhat of a shock; before visiting, I had trouble imagining how such a stark, barren, rugged landscape could be so enchanting. My first visit changed everything, and since then I have been back multiple times.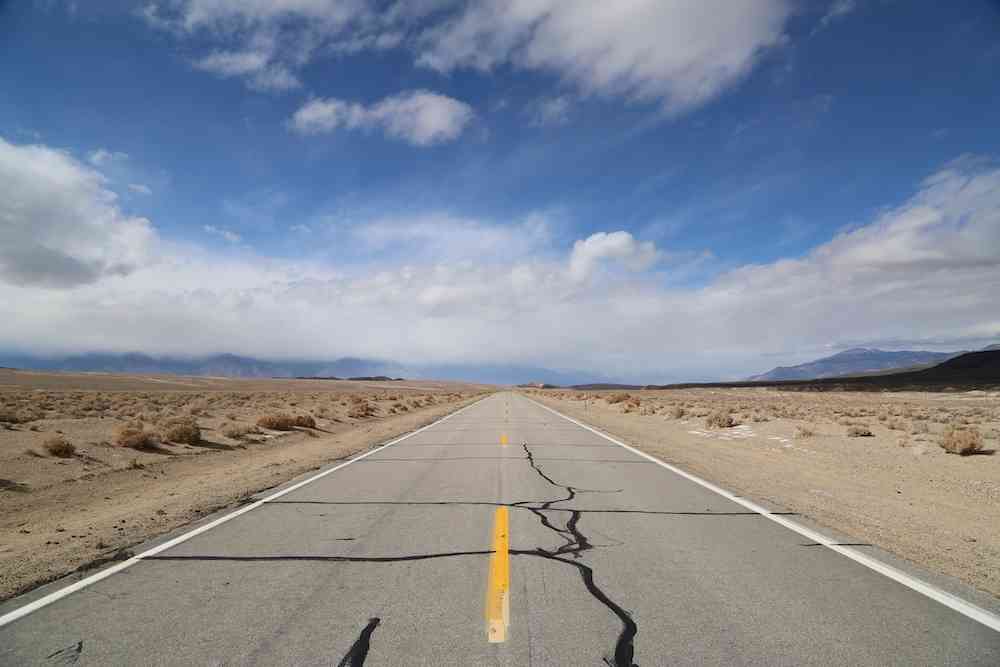 The best way I found to describe my experience is with a quote from one of my favorite travel writers, William Least Heat-Moon, in his book "Blue Highways":
---
"To say nothing is out here is incorrect; to say the desert is stingy with everything except space and light, stone and earth, is closer to the truth."
---
I can't quite describe the feeling you get from standing alone in the endless, unforgiving expanse of the desert – it's transcendent, humbling, illuminating. Exploring Death Valley gives you a sense of scale, a sense of clarity, that you just have to experience for yourself.
Have you ever been to Death Valley? If not, what place have you been to that's magical to you?
If you enjoyed this post, pin away and share below!