I stood among the slow-moving and sparse foot traffic of Calle Ocho on a sunny, relatively quiet Sunday morning in Little Havana. The air around me had that subdued feeling of the day after a crazy party. The people around me reflected my state of being perfectly; decidedly immobile, soaking up the sun, and slightly hungover from the never-ending Miami Saturday nights. I felt wonderfully at home.
I met up with my tour guide and group from Miami Culinary Tours anxiously expecting to a) get as much Cuban food in me as would possibly fit and b) learn a little something about the area.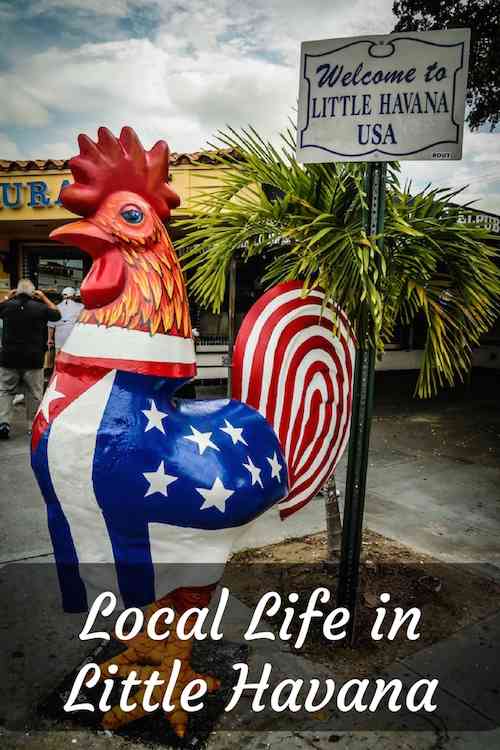 Little Havana: A History
There's no denying most Americans have a long-time fascination with Cuba, and for the past few decades, Little Havana was the closest most of us could get (although that seems to be changing). Our best-tropical-friend-turned-embargoed-opponent is now a romanticized kind of mystery for most US citizens.
Little Havana has been caught in the middle of this strange and contested history. Most people here are immensely proud of their culture but hate the Cuban government that forced their families into exile. They love the United States for providing them a home but nurse a sore spot after the Bay of Pigs fiasco, when they sent many of their young men back to Cuba to assist a US mission, only to have the Kennedy government turn their backs on them at the last minute (in case you're wondering, Little Havana has been firmly Republican for decades now).
Mostly, Little Havana is a place full of contradictions. But back to the Little Havana Tour.
Little Havana: Food!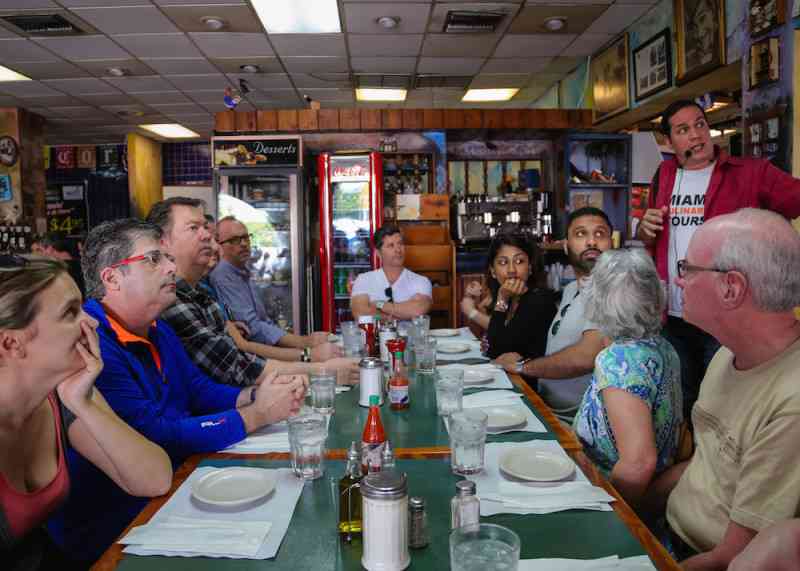 We started off at El Pub Restaurant, the oldest family-owned eatery in the area. There are original family recipe pages stuck on the walls of the joint. I would have tried to copy some to whip up my own Cuban recipes, but no one needs to be subjected to the products of my cooking. We started with some delicious empanadas and hot sauce: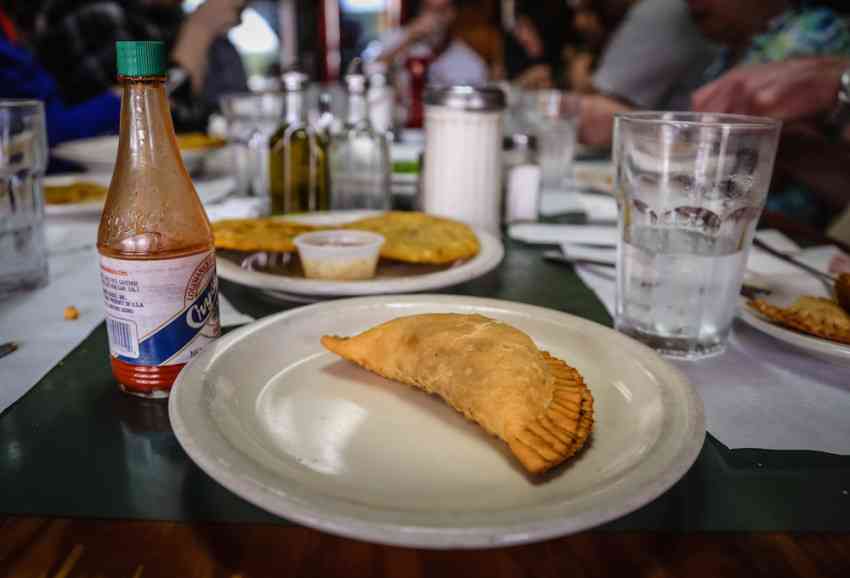 And moved on to tostinos – twice fried plantain slices: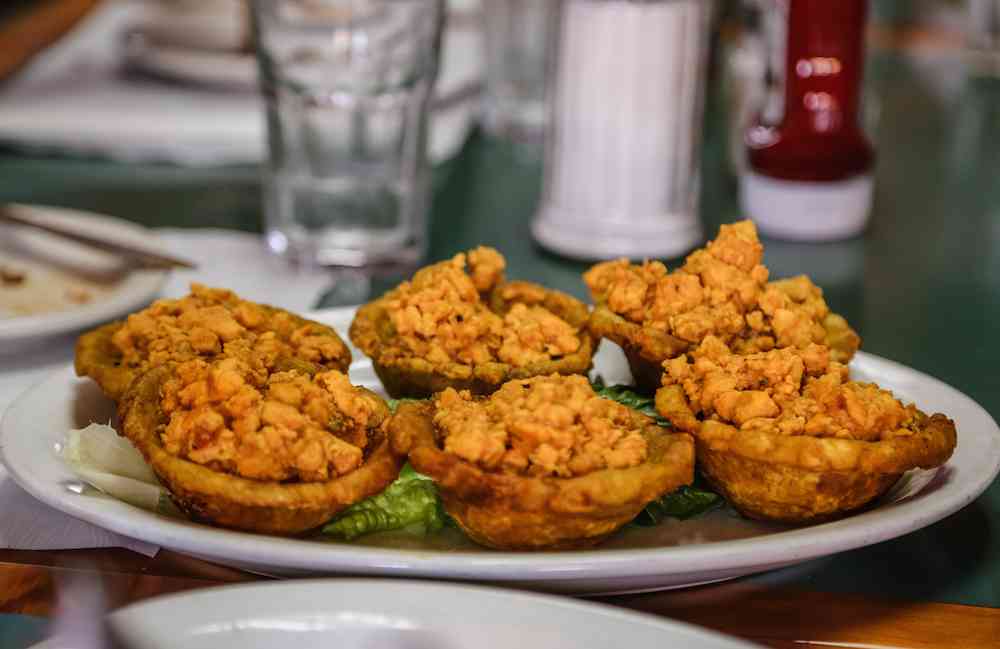 Cigars & Coffee
Our tour guide, Ralph, talked us through the history and context of these foods in Cuban culture, but you'll have to take the tour to learn all of that. He led us out the restaurant and down the street to the Cuba Tobacco Cigar Co. & Factory, where we were greeted by a Native American statue, and an equally still and posed Don Pedro.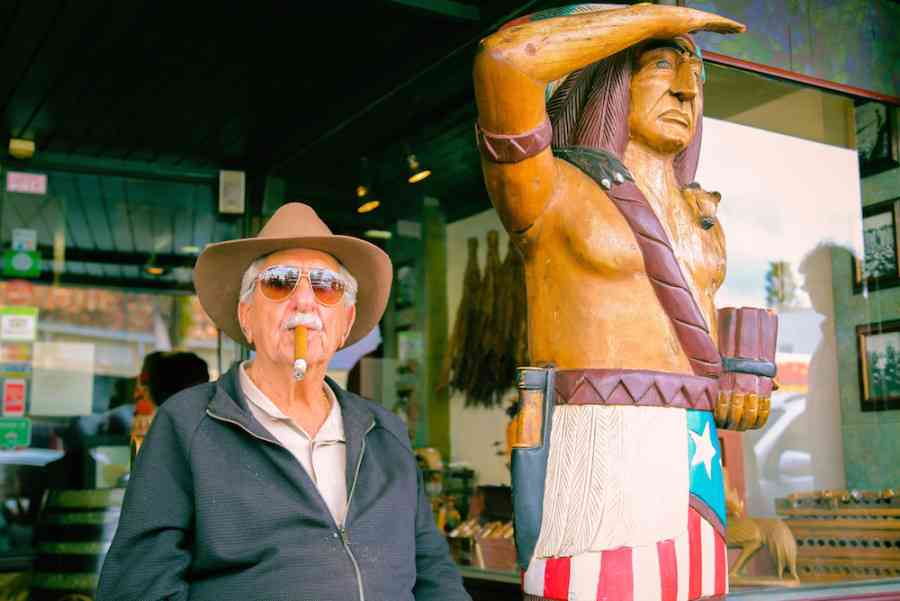 Don Pedro Bello Sr. is a well known figure in these parts, as he is the head of the family behind this award-winning Little Havana cigar factory. He sits outside his shop, keeps an eagle eye out on the streets, and communicates mostly by slight nods and smiles, rather than words. If I'm half that cool when I'm his age, I'll be a happy woman.
Seeing the actual making of a cigar was incredible; it goes through various stages, from rolling to labeling, and apparently it is quite common for women to work in these factories/shops as their smaller, nimbler fingers are more suited to cigar making.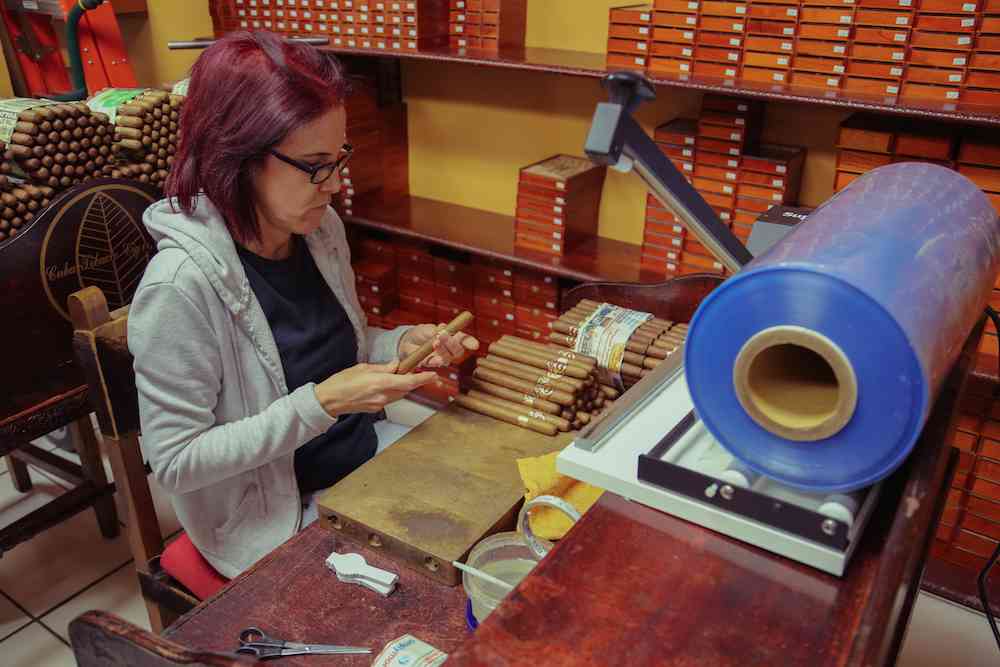 Back on the street, the air was filled with the subtle smell of cigars smoked hours ago, some flower perfume, and a vague bakery scent, all held firmly in place in the atmosphere by the subtropical heat. The street was more lively, with fruit vendors passing us by shouting in Spanish, and the older generation of Cubans starting to settle into coffee shops, benches and cafes to catch up.
We headed on down to Exquisito Restaurant, where coffee was 75 cents (if only that applied everywhere) and slices of pork-filled Cuban sandwiches were ready and waiting on a plate. Cuban cuisine seems to be all about pork, which is just fine with me.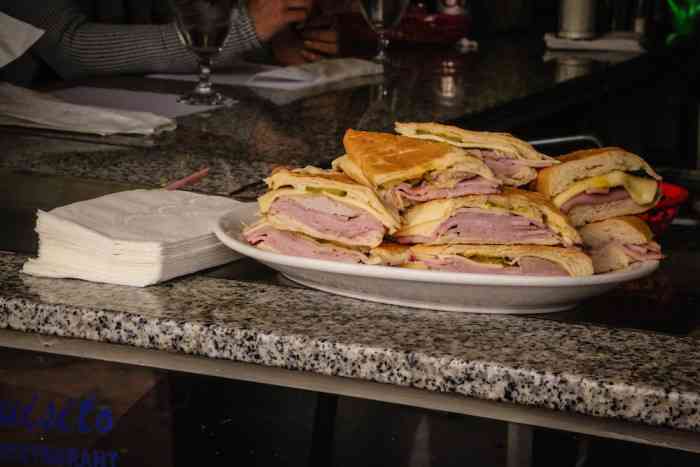 Have you ever had Cuban coffee? Yeah, pretty sure something illegal gets dropped in there. Don't be fooled by the thimble-sized appearance – this little cup cured any remains of my hangover in T-10 seconds.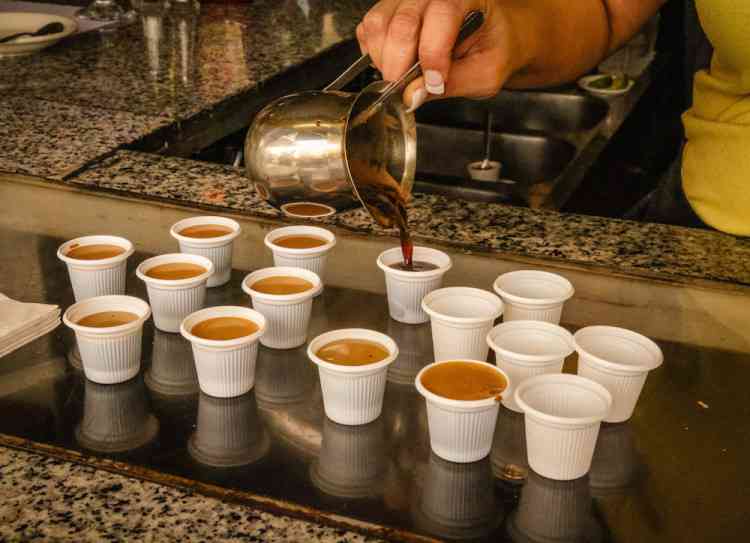 So obviously, our next stop involved a mojito.
Ball & Chain: Dancing and Drinks in Little Havana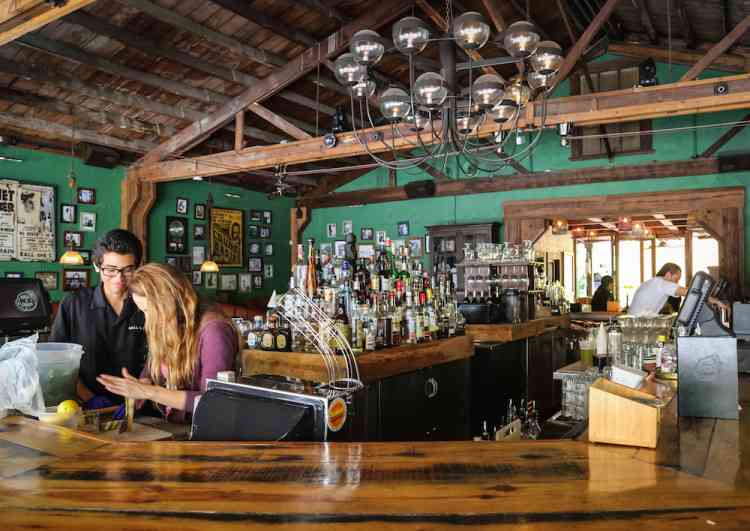 Welcome to the Ball & Chain, a late night live-music/dance club on the main street of Calle Ocho. The Ball & Chain was insanely popular in the 30s, 40s and 50s, when it was first open, and was just recently reinvented and reopened. Jazz legends like Billie Holiday and Louis Armstrong played and sang here until morning in the bar's heyday, thanks to ridiculous segregation laws that prevented them from staying and sleeping in South Beach after their shows there.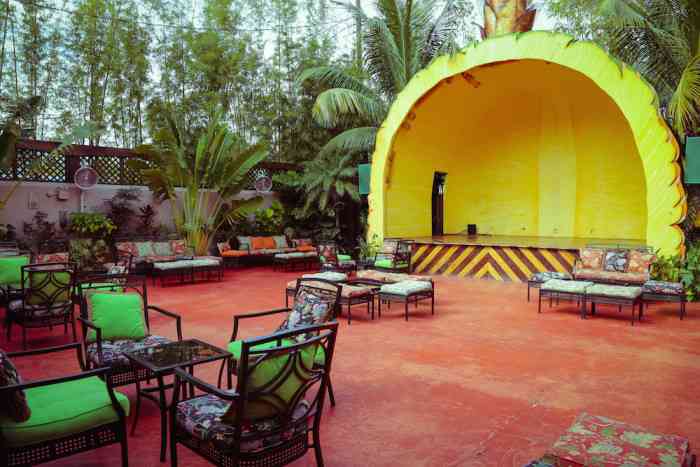 No matter, because South Beach's loss was Little Havana's gain. If you're in Miami, don't miss your chance to come here on a Saturday night and dance until 6 AM.
On our tour, this is the stop where the most smiles happened.
On to Domino Park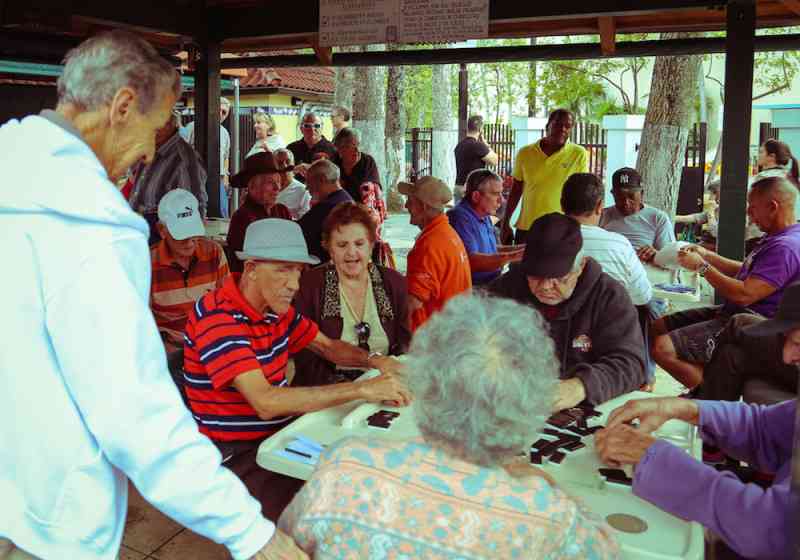 Even if you know nothing of Little Havana, you've definitely heard or seen something about Domino Park. Older Cuban men and women gather here and play the Cuban version of dominoes, with an intensity rarely seen outside bomb diffusing and Liam Neeson movies.
Rapid-fire Spanish, laughter, and the click-click-CLACK of dominoes being slapped down filled the air while I tried (unsuccessfully) to keep up with the players and the moves.
Here, the most knowledgeable Ralph explained quite a bit to us about Cuban history, the journey of Cubans in Miami, and Santeria in the area. Can't give too much away here because it would be unfair to the tour, but I suggest everyone gets on it next time they're in Miami if they want to explore the area's colorful history.
The Sweet Side of Little Havana
We then stopped by a 103-year old fruit stand. When your business lasts 103 years, you're doing something right. This is guarapo juice, squeezed straight out of a sugarcane with nothing added. Sweet, chilled, refreshing: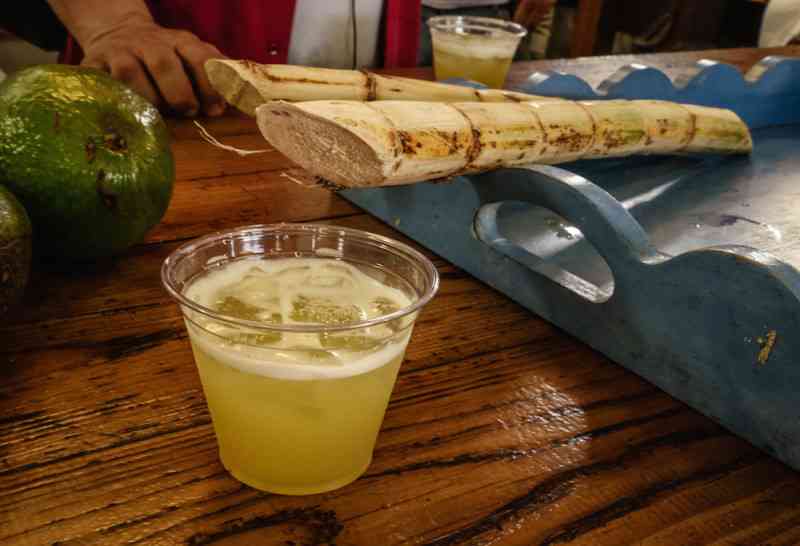 Lastly, a traditionally Cuban surprise sweet treat and a stop at the family-owned Azucar Ice Cream, with flavors ranging from classic to unexpected to tropical to completely out of this world.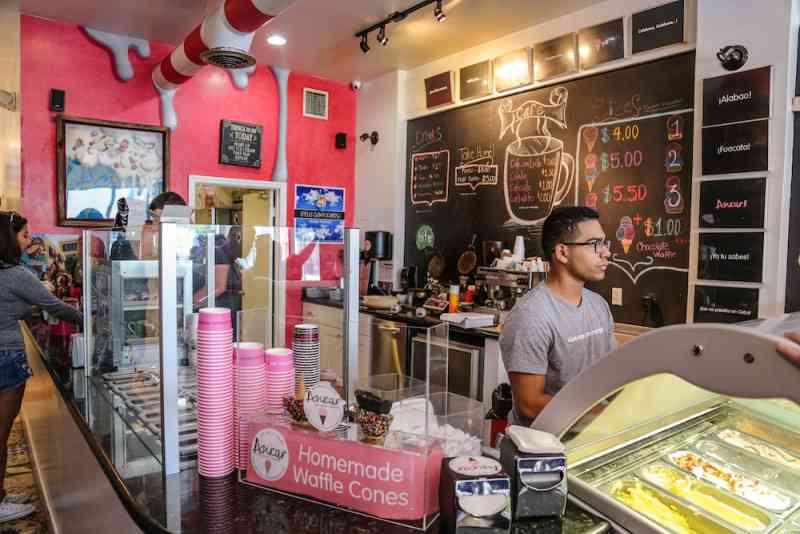 While gulping down my ice cream and giving my feet a rest, I realized I got a great glimpse into the lifestyle and history of Little Havana in the few hours I was there.  With Miami Culinary Tours, I learned a lot more context for what I was seeing than I would have if I was just walking around, tasted some delicious food, visited authentic, family-owned, local establishments, and had an actual walking encyclopedia with me to answer literally any question I could think of (thanks Ralph! And sorry for all the questions, Ralph!).
Without a doubt, Little Havana proved to be one of my favorite neighborhoods in the world!
Thanks to Miami Culinary Tours and my guide, Ralph de la Portilla, for showing me around Little Havana. As always, my opinions and words are my own; I only write about and stand behind tours I support and like. These guys treated me great, I would DEFINITELY recommend their tours for anyone visiting Miami and wanting to immerse themselves in the local neighborhoods a little better.