In an effort to keep discovering interesting and less visited cities or seeing well-known cities in new ways, I decided to do a piece on Galveston this week, a Texas city I had visited some years ago. It doesn't have the cool reputation of Austin, or the pull of Dallas or Houston, and most Americans who know it envision it as a port and petroleum city.
Even though Galveston is less known than some other Texas cities, but has a very unique local scene and history influenced by the oil industry, hurricanes, and Texas growth in Victorian times. There is a lot to discover in this city if you know where to go, so book one of the cheap Galveston hotels and then try to do some of the following activities to really get at the heart of this Texas oil town.
Visit the Ocean Star Offshore Drilling Rig & Museum
Learn about the history and importance of oil drilling in Galveston while walking aboard a real life oil rig. The Ocean Star Offshore Drilling Rig is now a very interesting museum, featuring a lot of information about geology, oceanography and petroleum, where you can view scale models of rigs and equipment while also engaging in plenty of hands-on activities. One of the most interesting parts of the museum is learning about the daily lives of workers aboard rigs and how they go about their work.
Tour the East End Historic District
Start your walk through one of Galveston's most beautiful historic districts at the Visitor Center, where you can pick up a map of the East End Historic District. A great activity for travelers who enjoy self-guided tours and free exploration, this walk is filled with local Victorian houses and gardens to admire, with 100 stops over an area of 7 streets!
Stroll Through The Strand
Enjoy plenty of restaurants and great shopping at The Strand, one of the busiest streets in Galveston with plenty of activities for visitors of every age to enjoy. The Strand is the main street of old downtown Galveston, so the shops are mostly housed in historic buildings from the 1800s, and sell everything from chocolates to clothing. Foodies can try almost every cuisine imaginable, from local Tex-Mex and nearby Cajun to Italian and sandwich shops.
Visit Bishop's Palace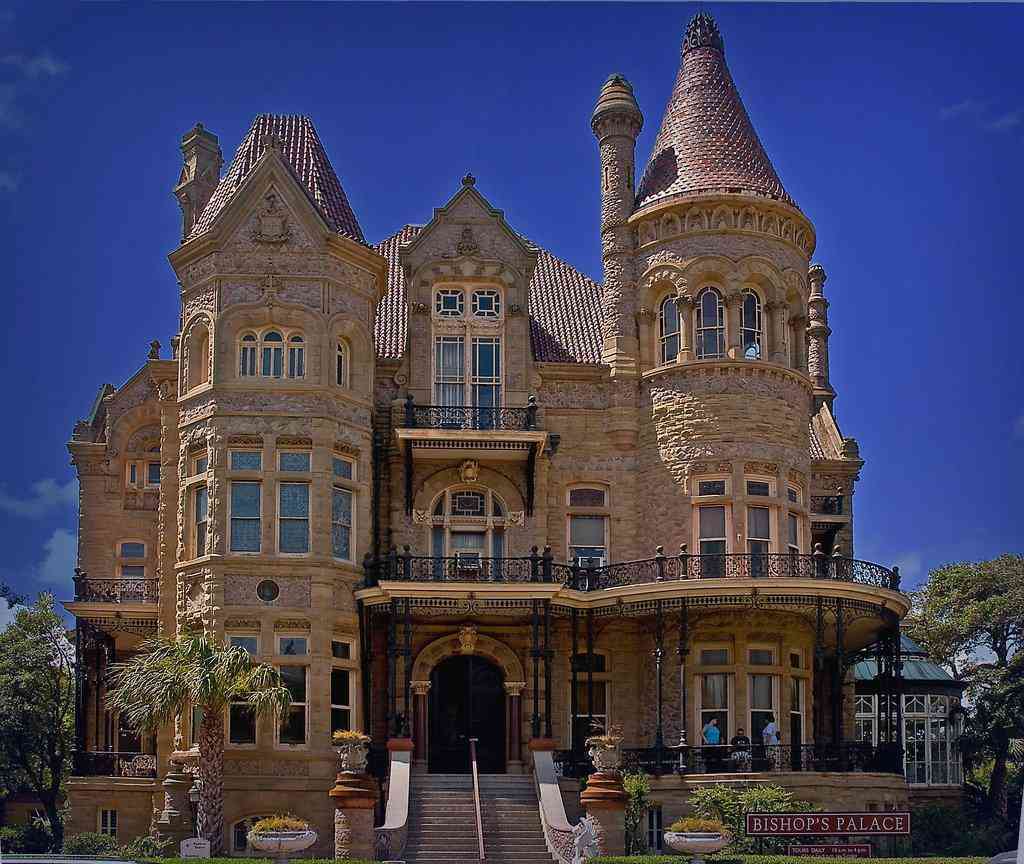 Bishop's Palace is one of the most beautiful buildings in Galveston, and one of the few to survive the great hurricane of 1900. This grand stone mansion was built in the late 1800s and is one of the 100 most significant buildings in the US according to the American Institute of Architects, and offers tours ranging from half an hour to almost three. It was originally built for lawyer and politician Walter Gresham along with his wife and nine children, so it is also nicknamed Gresham's Castle. Visit Bishop's Palace to admire the beautiful Victorian architecture and learn a little more about the history of the city and the house.
Check Out the Local Tree Sculptures
Spend an afternoon examining the quirky local tree sculptures found all throughout Galveston, especially in the area east of 25th Street. These sculptures were made by locals from huge oak trees that were removed after Hurricane Ike in 2008, and have now been turned into almost anything imaginable, from wood dolphins to mermaids.
There are plenty of ways to learn a little more about the culture and history of Galveston, and the above five activities should give a great starting point for any visitors to the city to soak up the local scene.