I rarely get really surprised by a destination, especially if it's a place I've been excited about for months.  Usually, I've looked it up so many times, and seen so many photos, that I arrive and find pretty much exactly what I expected.  So I'm going to start by saying that Bodie ghost town actually blew my mind.  And this is coming from someone that never even uses that expression.
Bodie State Park is an Old West town rumored to be the best preserved of all abandoned towns in America, so of course, I had to check it out for myself.  In addition to my strange obsession with anything forgotten and abandoned, I've had a fascination with everything Wild West-related since I was a little girl.  In fact, I passed quite a few years of my childhood wanting to be a cowboy.  Anyone who grew up in a country where Lucky Luke comics were popular will understand.  What's not to love?  You get on a horse, drift in and out of towns whenever you feel like it, and rely on yourself and your skills for survival.
Entering Bodie State Park
Which brings me to Bodie.  After leaving Yosemite's east entrance and driving on a 9-mile stretch of dirt road (which took half an hour – damn you, 2-wheel drive), I arrived at the crest of the last hill and got my first glimpse of Bodie.  I remember my first thought: it was EXACTLY what a ghost town should look like.
I've been to ghost towns that only have a couple of almost-collapsed buildings, or contain just the site of where a town used to be.  Bodie was different.  It still looked like a town.  Buildings – old, Western, frontier-style wooden structures – still lined the main street.  The afternoon sun lit up the windows with an eerie glow, and cast huge shadows behind the houses.  It was wonderfully, creepily, fantastic.  Bodie State Park did not disappoint.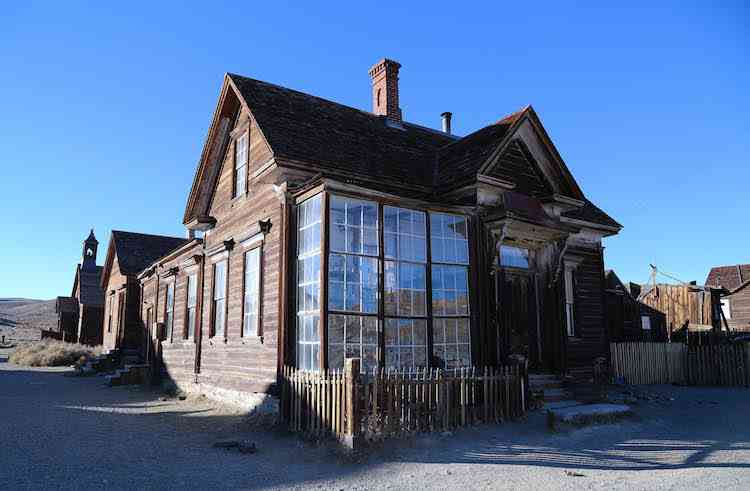 The first major building I came across was an old abandoned church on my left, the Bodie State Park Methodist Church.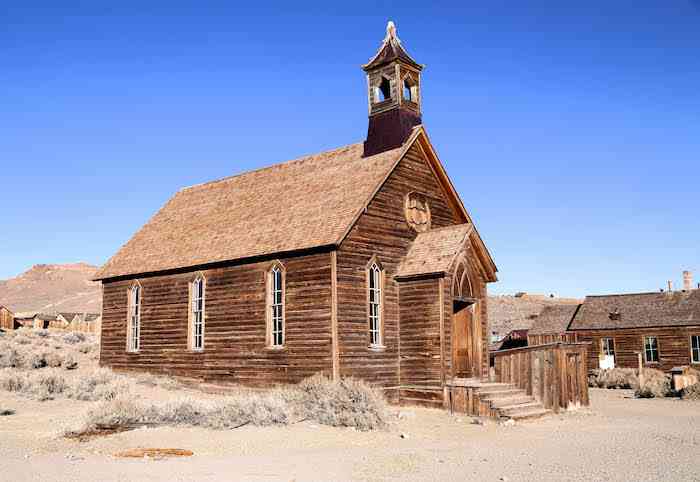 I walked up to the front entrance, and saw an organ, pulpit, and benches inside a building in the first stages of dilapidation.  It still felt lived in though, like the congregation could still come back at any time.  I felt like I was walking through my own version of a Silent Hill video game.
The Outlaw Town – Guns and Gold in Bodie
Of course, this nice little church at the entrance of the town could easily give visitors the wrong impression of what Bodie really was, especially in its early days.  The town had a bad reputation; a little girl whose family decided to move here wrote "Goodbye God, I'm going to Bodie", a phrase that became pretty representative of Bodie throughout the Old West.
After Waterman S. Body (who the hell is named Waterman?) found gold here in 1859, people poured into the town until it had a population of 10,000 in 1879, a huge number for the time and area.  Hotels even popped up to accommodate those who wanted to visit this gunshot-ridden town, for reasons unknown.
Generally, gold prospectors and frontiersmen were not the most mild-mannered and civilized of people, so Bodie became known as an outlaw town.  Gunfights broke out almost daily, robberies and holdups were pretty common, and the 65 saloons in the area played host to several fights a day.
Besides the killings and all that, Bodie is a damn harsh town to begin with.  Located pretty much in the middle of nowhere, on a plateau exposed to 100 mph winds, up in the mountains at almost 8,400 feet, I can only imagine you had to be pretty damn crazy to come set up a home here. The climate is considered subarctic (in central California, seriously); in winter it regularly drops to -20 degrees Fahrenheit, while frequent blizzards lead to 20-foot-deep snow, and to top it all off, there are no trees in the area to use for fire (wood for the buildings was imported).  People regularly faced starvation and death by exposure.  No wonder everyone's hobby was shooting each other in the face.
The "killing people" hobby led some people to the town jail, which is luckily still standing.  After all, how many chances do you get to see a real Wild West jail?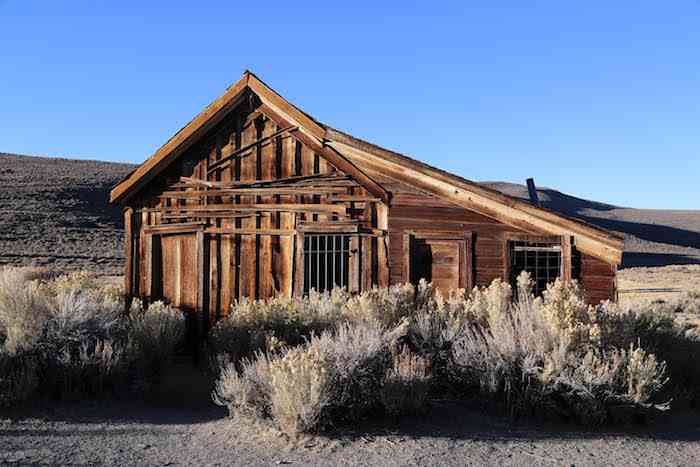 Like most buildings in Bodie State Park, visitors aren't allowed inside in case the whole structure crumbles on top of you, but I managed to get a peek at the interior through the jail bars.
This whole experience was just unbelievably cool so far.  But the best part of Bodie was yet to come.  Because to me, the best thing about Bodie Ghost Town is that the building interiors have been left as is.  Furniture, belongings, portraits – everything looks like the owners were sitting down living their lives one minute, and just decided to up and leave the next.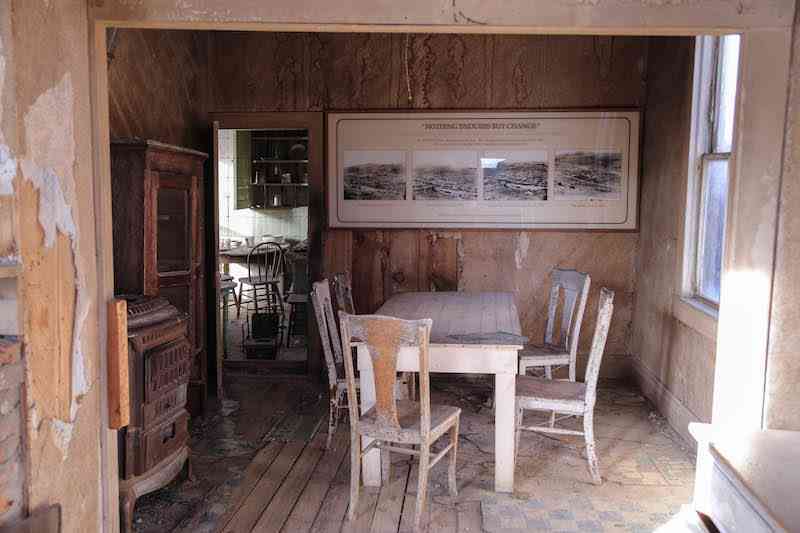 Above is the dining room of the one building you can safely enter in Bodie, although every step does feel uncomfortably creaky.  And below is the happy, cozy living room of that same house.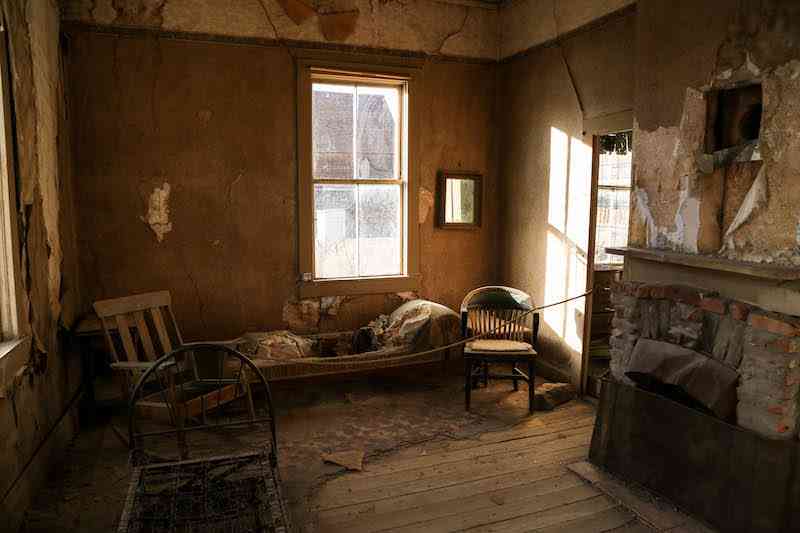 This is where the family town portion of Bodie history starts.  After the gold rush died down, a lot of people left, and those that remained behind were mostly families that had set up a life here.   So the town became a lot more civilized and law-abiding, something obvious in the (relatively) newer buildings in Bodie State Park, which include a schoolhouse.
Of course, even those buildings have a creepy vibe to them now, seeing as how everything inside has been left in place, as though a sudden apocalypse forced everyone to leave.  Looking through the window of the schoolhouse, I saw writing still on the blackboard, books left on the table, and even a teacher's hat left on the desk.
The Authentic Old West
In my eyes, this well-preserved look into the town's history is what really makes Bodie State Park special.  Other ghost towns like Calico have become "family fun" attractions; the original buildings have been torn down and replaced, flashing lights and neon signs put up to make it a fun, kid-friendly tourist attraction.  There's nothing wrong with that approach, but it's not the kind of thing I want to see when I visit a ghost town.  I want to feel like I'm walking through a real Wild West town.  I want to be able to picture what the town's residents did and the kind of lives they led 150 years ago.  That's what Bodie does.  It is, above all, authentic.  The only converted building is a small museum with artifacts from the town's old days, whose exterior blends in seamlessly with the rest of the town, so it doesn't stand out (and I mean that in a good way).
My friend and I spent hours wandering Bodie's streets, awestruck, looking in on the homes and lives of people long dead and gone.  These people were determined, and rugged, and so far removed from anything I know; I could not get enough of exploring their streets.
But the sun was starting to set, and the park closes to visitors at 6 PM sharp, so we had to eventually go.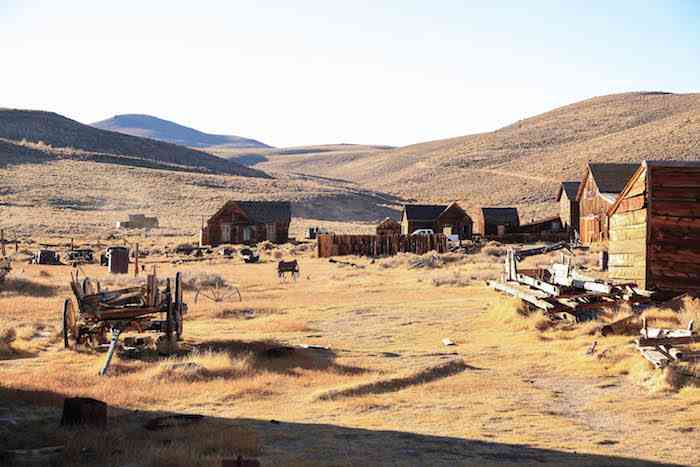 I will gladly go back to Bodie State Park, and I will strongly recommend it to anyone who wants a taste of the Old West.  I can describe my experience there for hours, but there is no way to explain the mesmerizing feeling of walking through that ghost town, unless you actually do it.  Bodie is honestly one of the most amazing places I have ever visited while on the road.
Check out Bodie's website to get more info on the town, including visiting hours and contact information.  Visit Bodie State Park during the summer months, as it's almost impossible to get through the snowed over dirt road leading into the town in winter.
Have you visited any places that absolutely amazed you?  Share your experiences below!