As someone who travels a lot and frequently works on my computer, bad or non-existent Internet on the road is a constant source of annoyance.
Sometimes I like to disconnect on my travels as much as the next person. However, there are times where work just needs to get done or some kind of communication has to happen ASAP, and there is no Wi-Fi available.
Usually, this means I either end up paying exorbitant charges on my cell phone or speed walking through the streets running my hands through my hair and asking scared strangers if they know a coffee shop where I find Wi-Fi. This, as you can imagine, affects my travels somewhat negatively.
So when I was approached by TEP Travel Wifi to try and review their portable Wi-Fi device, that helps provide wireless Internet in over 100 countries on six continents (sorry, Antarctica), I GLADLY accepted. Who doesn't want their own mobile hotspot?
After using their device (the Teppy!) in a few separate countries, including Greece and Egypt, here is my honest review of Teppy, and why I think you might want to look into TEP Travel Wifi, especially if you're someone who works and travels a lot.
Disclosure: This post contains affiliate links for which, at no additional cost to you, I will earn a small commission if you click through and make a purchase. I was provided the Teppy device for free for a year. However, all opinions and recommendations are my own – I will always give my honest opinion, even if it's pointing out the product's shortcomings.
TEP Travel Wifi: How Does It Work?
When you turn it on, Teppy finds the best wireless network, hotspot, or data network in the area, so you have plenty of Internet options it can use. This helps you find Internet on the road almost anywhere.
Turning it on is very simple: you just hold down the button underneath the device, and if it's charged, it should light up and turn on. I noticed some peoples' devices they showed online were different than mine, but on mine at least, the power button was on the bottom of the device.
The name and password to your own private network is sent to you along with the Teppy. Turn on your phone, find the name of the TEP network, and enter that password to log on and get Internet access almost anywhere you are in the world.
You Can Use TEP Travel Wifi With Up to Five Devices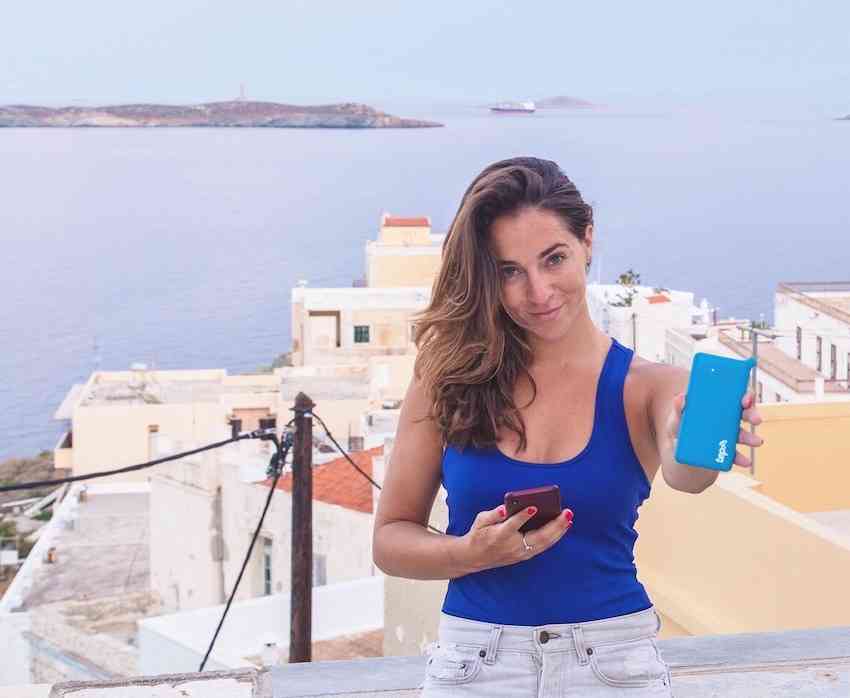 Maybe I'm working on Wordpress on my laptop, but also want to use WhatsApp on my phone, and my travel friend needs to check her e-mails on her phone as well. With Teppy, it's not a problem, as you can connect up to five devices as once.
I frequently had both my laptop and cellphone connected, and usually had a friend latch on with a third device as well, and rarely felt any slowdown in Internet speed.
The Coverage is Pretty Great Overall for Internet on The Road
In the middle of the Aegean Sea, with 22-knot-winds buffeting the high-speed ferry I was on, I managed to get two articles written before seasickness forced me to put my laptop away.
I don't know if there's a better way to vouch for the Teppy's connectivity than that. I was able to access service almost everywhere I went with few problems. In a day and age where truly free Wi-Fi is getting harder and harder to find, having the Teppy with me in these situations was a blessing.
There are some exceptions though, which I will speak about below.
The Service Can Be Slow If There Are Slow or No Networks Available Anywhere
If you are in an area abroad where, for whatever reasons, there is no Wi-Fi network or data connection available, you probably won't be able to use TEP Travel Wifi. As the Teppy latches on to these networks in order to deliver internet, if you are somewhere like, say, the middle of the desert in Egypt, where there's no cell service and no Internet service, it's proable you won't have access.
Also, even if you are in an area with Wi-Fi, but the network is either very far away or inconsistent, you will have an Internet connection, but it will be slow.
The Battery Life of TEP Travel Wifi Was Incredible
I suck at charging things. I'm out of the house a lot, or sometimes I fall asleep before remembering to plug my phone in, or sometimes I just don't pay attention at all and forget my electronics exist…it's an ongoing struggle.
Which is why I was really happy with the battery life of the Teppy. I would forget to charge it, sometimes for a couple of nights in a row, and it would still. Keep. Going. Granted, I was turning it off sometimes in order to extend the battery life; this was my efficient solution instead of, you know, remembering to charge it.
So even though you should charge your Teppy every night for optimal performance, in my experience at least, a full night's charge should last you the whole next day, if not more.
Extra Benefits of TEP Travel Wifi
Communication
Being able to access the Internet everywhere also meant I generally worried less about having a local SIM card at all. I've never used my Greek SIM phone so little as I did this summer with TEP; for those interested in staying connected, this makes TEP a great option.
Most people, especially outside the US, rely almost exclusively on WhatsApp, Messenger, Viber, or some other social media app to communicate, so as long as you have Internet, you can message all day long. You rarely need to have a local number anymore, meaning you can theoretically ditch both a local data plan and a cellular plan when you travel.
Solo Traveler Benefits
TEP now offers the TEP+ app, which enables users to check in with a local "concierge" – really, just locals who know the area and use the app – in over 160 top destinations cities worldwide. Ask for recommendations for almost anything – bars, museums, restaurants – and an experienced local will reply with their suggestions.
Solo travelers also have free access to a safety service called Kitestring. Though I've talked extensively about how solo travel is safer than you think, if you're traveling alone abroad, it's nice to know there is someone checking up on you.
With Kitestring, you can let the app know when it should be checking up on you. Then, respond to the app at the scheduled time you have told it to text you, and you let it know you're safe. If you don't respond, Kitestring will send out an alert to your personal emergency contacts.
What TEP Plans Can You Get?
TEP Travel Wifi offers its customers a selection of a couple of different plans, and you can decide to rent or buy.
Rent:
Rent a Teppy with 1GB/day of internet coverage, and 3G data speed for $8.95/day.
Or, rent a Teppy with 3GB/day of internet coverage, and 4G data speed for $10.95/day. (This plan includes a free travel adapted for your TEP device).
Buy:
Buy a Teppy device for $129, and pay $7.95/day for service, but only when you connect. This means you only pay for the days you are traveling and turn on the Teppy device.
For those who go abroad for long stretches of time rather than short trips, you can get a pay-as-you-go plan where you get your Teppy for free, and pay $99/month subscription to use Internet for the whole month.
Different options work for different travelers. I would say if you only need Internet on the go for 1-3 trips a year, renting a Teppy makes more sense.
Purchasing a Teppy makes sense if you are someone who spends long periods of time abroad, or travels very frequently. If you need it for several short-term trips (business travelers, for example), buying one and paying a daily fee for service is a good option. For digital nomads or those who spend months abroad, the pay-as-you-go per month option is a great choice.
If you want to buy a Teppy device, click through to TEP Travel Wifi. Let me know what you think!