When I first moved to New York, I spent most of the winter eagerly awaiting the day I would pull up with my parents to the front of the TWA Terminal at JFK Airport.
Being a ten year old at the time, it wasn't because I was looking forward to admiring Eero Saarinen's (admittedly stunning) architectural design. I was just excited to get on a plane and get back to my friends and old house in Greece.
TWA was one of the few airlines, if not the only one, that had a direct flight from New York to Athens at that time.
The TWA Terminal, along with Trans World Airlines itself, shut down in 2001. The building sat there for years, neglected, brought back to life only for the occasional movie shoot (such as the iconic Leo-as-fake-pilot scene in "Catch Me If You Can"), then left as a forgotten landmark the rest of the time.
Until recently that is, when the old, empty TWA terminal got turned into the brand new TWA Hotel.
So after an 18-year absence, I found myself hopping in an Uber and pulling up once more to the front of the TWA Terminal. Even after so many years away, the place seemed familiar. The young, excited part of me that was always counting down the hours to Greece popped back up for a split second.
Oh who am I kidding, that part never went away.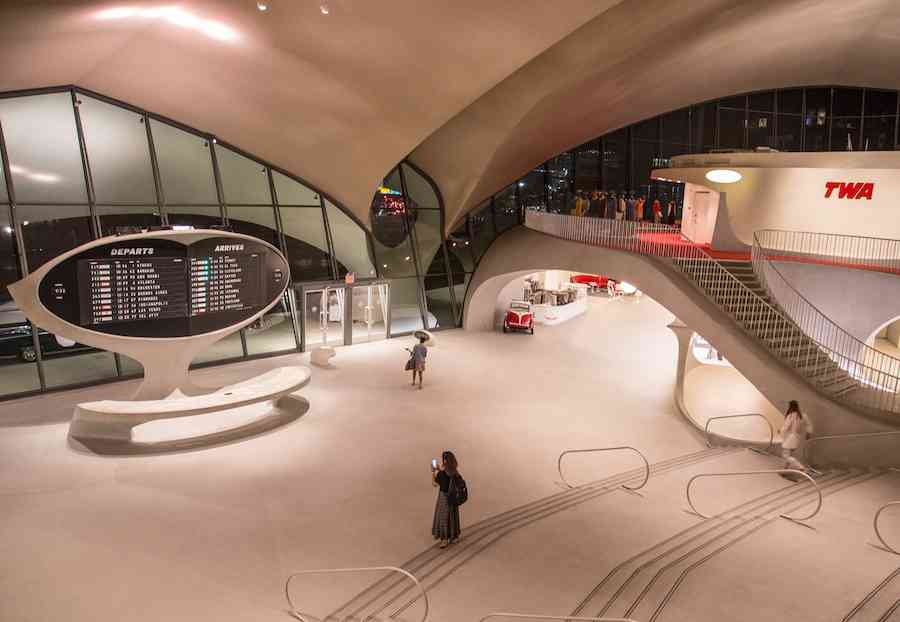 However, this time I was here for a little staycation with friends. So how was my night at the TWA Hotel?
A Throwback to The Glamorous Era of Flying
For those who miss the glamour associated with flying in the 60s, the TWA Hotel is a perfect fit. The TWA airline itself was founded in 1930 – just 27 years after the Wright Brothers piloted the first plane ever – reaching international prominence as the US' second unofficial flag carrier after Pan Am.
In the 50s, TWA expanded from domestic destinations to flights to Europe, the Middle East, and Asia, and was under the control of eccentric plane-obsessed billionaire Howard Hughes. The airline kept expanding in reach and prestige throughout the 60s and 70s before it started its slow decline.
The TWA Hotel manages to look retro without looking cheesy. A steady playlist of Beatles, Frank Sinatra, and other throwback stars is piped into the lobby and restaurants, without being cloying.
Airport hotels tend to be all about basic comforts and function, containing just enough to let passengers get some rest on an overnight layover or get 6-7 hours of sleep before catching an early morning flight.
The TWA Hotel, however, is designed as an experience.
From the moment you enter, the occasional clacking of the rotating letters on the (fake) departures and arrivals board brings you back to a different time. One when your chance of plummeting from the sky was actually much higher, but as a trade-off, people over 5'2″ could sit in a plane seat without assuming yoga positions.
There are also exhibits of TWA flight attendant uniforms by era, as well as beautiful 60s retro look in the hotel's interior design and color scheme.
Wining & Dining: 'Connie' and Jean-Georges
The cocktails and food available at the TWA Hotel, as well as the hotel itself, are several notches above what you may expect from airport-adjacent lodging.
Make a reservation at "Connie", and you can have a selection of fabulous cocktails in the repurposed interior of an old TWA plane sitting on the runway. Take a peek into the cockpit itself, which has been preserved for visitors.
For breakfast, lunch, and dinner, the Paris Cafe by famed chef Jean-Georges has an amazing selection of both comfort food with an upscale twist like burgers, fish and chips, and fish tacos, as well as more refined dishes.
(We all know I went directly for the comfort food).
The nearby Lisbon Lounge also has three meal services a day, and both areas have a 60s-inspired design as well as beautiful views.
Lounging Around at the TWA Hotel
At night, the aptly named Sunken Lounge in front of the throwback departures/arrivals board has a great drink selection and view of the old, lit up, TWA runway. It's a great place to kick back and relax at the end of the day.
When the sun's out, head up to the TWA Hotel's rooftop pool. Tip: Make a reservation if you can, because there are only a few lounge chairs and they fill up fast. Like, my-friend-went-up-at-8-am-and-everything-was-taken kind of fast.
The pool itself is quite narrow – not exactly a place to get your laps in – but it's a great spot for plane watching. The JFK runway is, after all, adjacent to the hotel.
Plane watching, for those who are not absolute nerds about travel, is actually really fun. Also, we had beer.
We passed several hours by the rooftop pool drinking, swimming, tanning, and guessing which airline was taking off or landing next.
But…It's Next to a Busy Runway?
As one of my friends asked when she saw that I was at the TWA Hotel – "but is it noisy and does it smell like gas?"
Fair question, as I did just mention the hotel is next to New York City's busiest airport, which includes a few active runways.
Well, 1) I didn't smell any gas, and 2) the truth is, I barely registered any noise at all. The hotel is exceptionally well-soundproofed, meaning you don't hear a peep from the aiport next door.
Our room had floor to ceiling windows, which the TWA Hotel site informs me are the second-thickest in the world. Absolutely no noise entered or disturbed our sleep.
The only place where you will hear the planes is (obviously) by the rooftop pool. However, due to whatever happy accident of noise configuration, the noise from the planes seems to come from a much more distant place than where the planes appear.
Should You Stay at the TWA Hotel?
I highly, highly recommend a night at the TWA Hotel. If you're flying out of JFK, stay there the night before and you will feel like you are starting your vacation one day early.
Or, as my friends and I did, if you're a local New Yorker, arrange a staycation there. A night at the TWA Hotel really does make you feel like you've gone on a mini getaway in both time and place.
As someone obsessed with travel and flight, I had an absolutely wonderful time.
So go! Relax with friends, soak in the cool, timeless atmosphere (and plenty of drinks) and enjoy a night at one of the most iconic US landmarks of travel.
Have you stayed at the TWA Hotel? If not, what was your best airport hotel experience?
Pin and share below!