I am planning a trip to Southeast Asia late this year, and half the fun of travel is getting a taste of what you might want to see. In cooperation with IHG hotels, I wrote this article on the 5 top sights I want to get to in Singapore, and the places I think every traveler should try to check out on their trip there!
In a bustling, exciting international hub like Singapore, first-time visitors can feel a little overwhelmed with everything available to do and see. Luckily, Singapore is a dense city with state of the art public transportation, thanks to its MRT (Mass Rapid Transit) system, so go ahead and book a Singapore hotel in any neighborhood you prefer — city sights are easily accessible, regardless of where in the city you're staying.
Naturally, everyone has different preferences when they go on trips, but whether you're a foodie, an adventurer, or any kind of traveler in between, here are the five top attractions you cannot skip while in Singapore.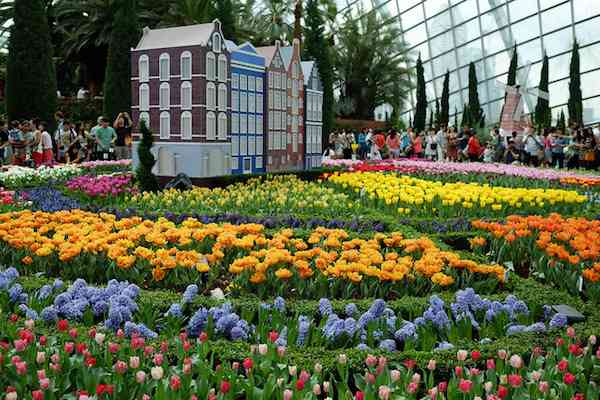 Photo via Flickr by chinnian
Gardens by the Bay
Walk through countless acres of beautiful, exotic gardens in the famous Gardens by the Bay, and you will discover why Singapore has a reputation as a green city. These three waterfront gardens are free to enter, unless you plan on exploring the two biodomes, and host plants from all over the world. The Gardens by the Bay are in Singapore's upscale Marina Bay neighborhood, only a couple of minutes' walk from the Bayfront MRT Station or Tanjong Pagar MRT Station, depending on where you are coming from. If you don't have time to explore the full gardens, make sure to stop at the mystical Cloud Forest first.
Buddha Tooth Relic Temple & Museum
Take a peek into religious life in Singapore at the Buddha Tooth Relic Temple & Museum, a mesmerizing red and gold structure with a tranquil garden on the fourth floor. Go early to avoid the crowds, and admire Buddhist art from as far back as the 2nd century. The temple is about a five-minute walk from the Chinatown MRT stop.
MacRitchie Nature Trail
Visit the MacRitchie Nature Trail to walk between treetops up in the air, and see the forest from a unique perspective. The hike around the reservoir and through to the sky bridge is about 7 miles, so prepare for a long stroll. MacRitchie Nature Trail is about a 20-minute walk from the Caldecott MRT station.
Waterfront Promenade
No visit to Singapore is complete without a long walk on Marina Bay's Waterfront Promenade, especially at night when the light and firework shows take place. In the evening, you can admire the beautiful waters of the bay, the modern art sculptures all along the promenade, and the lit-up Singapore skyline, before ducking into one of the many top-rated restaurants along the way to enjoy an incredible meal. Book one of Singapore's waterfront hotels to be just a few steps away from this beautiful nighttime scene. Otherwise, easily get to the promenade with a two-minute walk from the Bayfront MRT stop.
National Orchid Garden
View more of Singapore's "green" garden philosophy at the National Orchid Garden, where you can see these exceptional and rare flowers in colorful bloom. When you finish admiring the orchids, explore the other areas of the Singapore Botanic Gardens, and then get back to your hotel with a quick 2-minute walk to Botanic Gardens MRT Station.
Have you been to Singapore? What did you enjoy? If you want, you can further prepare for your trip to this tiny country by learning some cool Singapore facts!