All Swedish words in this post are given without their pronunciation; seek expert assistance before attempting to say words like Österlånggatan and Kungsträdgården on your own. Lose the Map is not responsible for any misunderstandings, embarrassment, or cabs driving you 10 miles in the wrong direction as a result of you thinking "you got this". 
I've never had as much fun wandering around a city as I did in Stockholm. I've also never run out of space on my memory card(s) so quickly.
I was going to include a picture of my bruised feet at the end of a day of exploring, but then I took pity on you, dear readers. Just know that the struggle was real.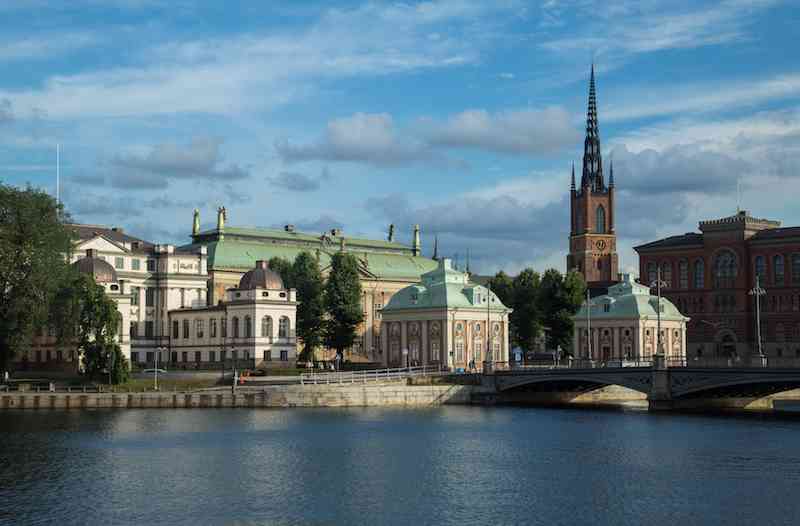 On to my main point: have you ever completely fallen in love with a city? I know I have because I fall in love with more cities than people. But let's move on from things I should discuss with a therapist.
I arrived at Stockholm this summer and something about it just…fit.
Stockholm is imbued with a sense of relaxed order – everything is clean, well-kept, and organized, but charming and filled with personality nonetheless. The city lacks that clinical vibe other exceptionally well-kept places occasionally develop.
Don't have time to read this post now? Pin and save for later!

The city's historic beauty, great food and nightlife, and its laid-back, youthful atmosphere in the summer, combined with the strange (to me) daily phenomenon of seeing the sun dip below the horizon after 10 PM and come back up again a few hours later, in what should be the middle of the night, was amazingly breathtaking.
Also, everyone is tall and beautiful. Ev-ery-one. That definitely helps as well.
Walks in the Old Town – Gamla Stan
Exploring Gamla Stan was the first order of business, and it completely delivered as I didn't put my camera down for over an hour.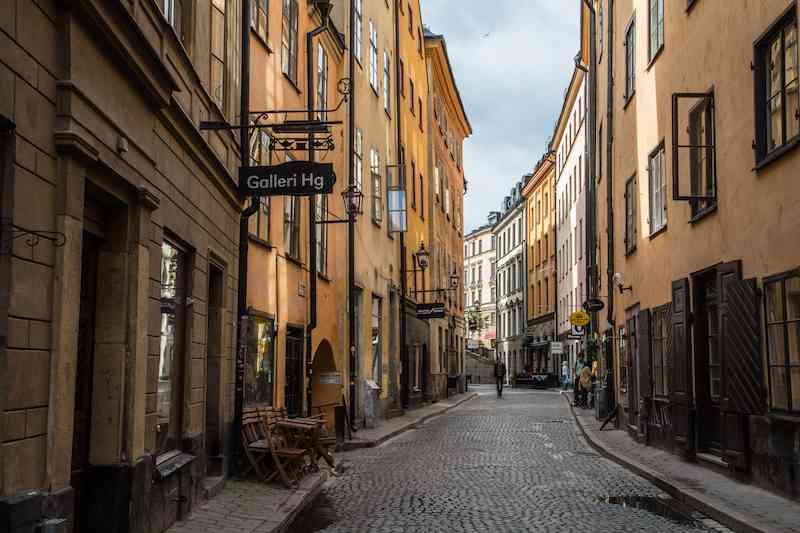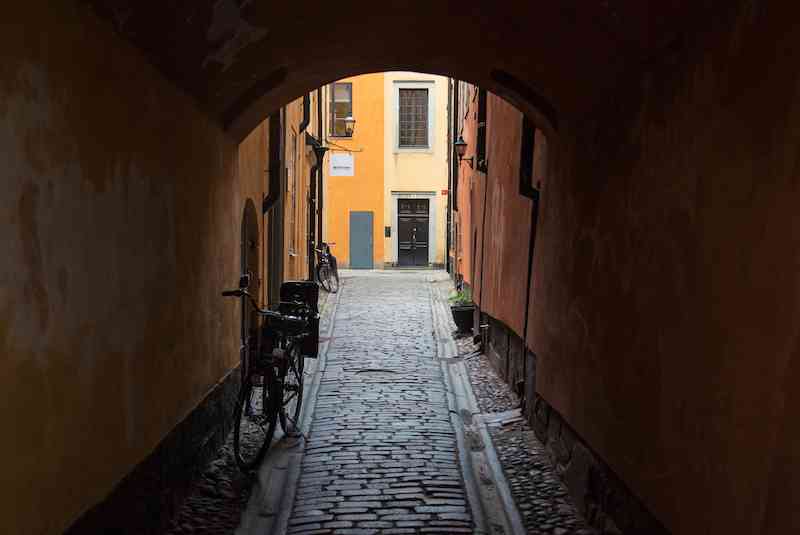 Gamla Stan is Stockholm's Old Town, established in the 13th century, easily making it one of the oldest preserved historic centers of Europe. It's pedestrian heaven, with narrow cobblestone streets winding through bright yellow, orange and red buildings, though an occasional car does manage to sneak through.
The area fills up with tourists, but once you're outside the main square of Stortorget (again, you think you're pronouncing that correctly, but I guarantee you, you are not) you can avoid most of the crowds if you duck into the narrower alleys.
Local Tip: A couple of cool places that seem to attract more locals than tourists are on the east side's Österlånggatan Street. Check out Tradition Gamla Stan, which serves authentic Swedish cuisine, and Österlånggatan 17 (or just ask for Bar 17). Book great Gamla Stan accommodation at Booking.com, or stay where I did, at Castle House Inn.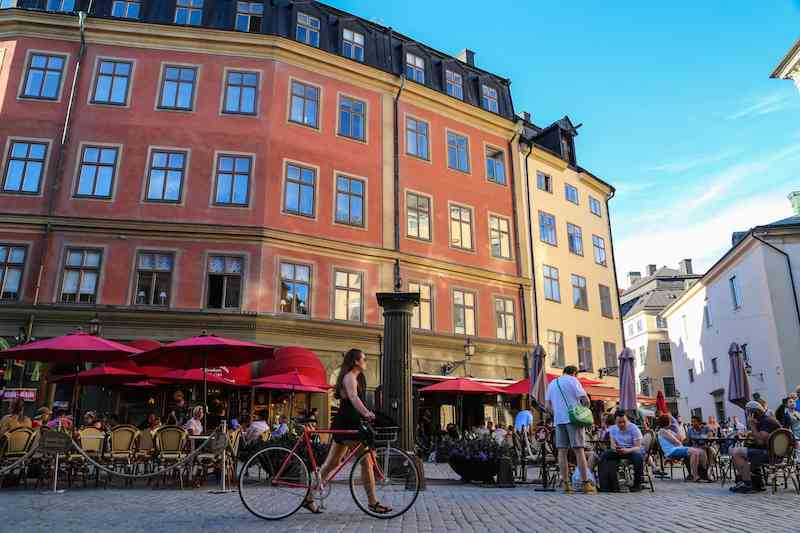 The slight breeze and brisk temperatures (brisk for an LA girl) give the air a wonderful, permanently fresh smell,  only occasionally overtaken by a slight saltiness when you approach the surrounding waters. I was always getting lost (I'm very serious about my "Lose the Map" philosophy) and somehow ending up by a ferry terminal.
Stockholm is an archipelago built on fourteen islands, so water is pretty much everywhere, which I love. The good thing about this unique urban design is that it also gives travelers a lot of transportation options.
Stockholm: Making Transportation Cool
One of the first things I noticed in Sweden, besides the stunningly clear sky when it was sunny outside, was the insane amount of bikes everywhere. At first, it may seem much more likely to be run over by a wayward bike than a wayward car, except you have nothing to fear here because bikers and drivers are much too polite to allow for either cycling mishaps or vehicular manslaughter.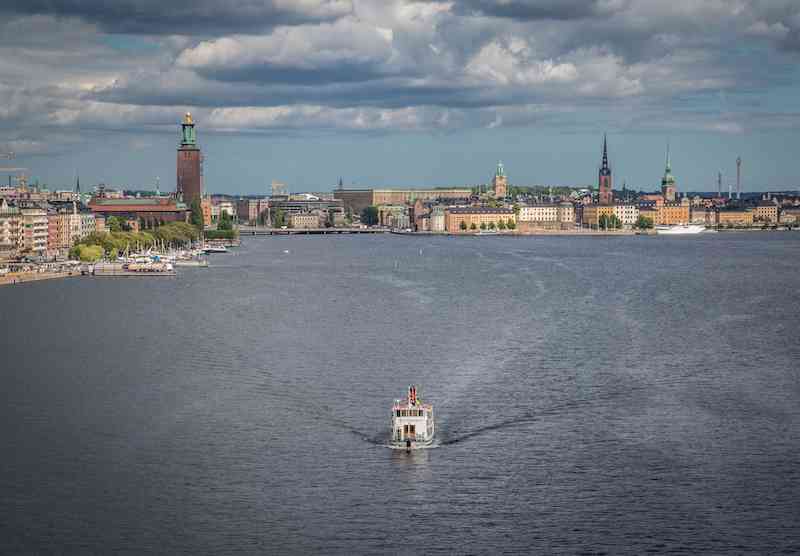 Thanks to Stockholm's archipelago status, boat hopping and bridge crossing are also quite common as a way of getting around.
Or if you're not in the mood for that, you can always take the super-artistic metro.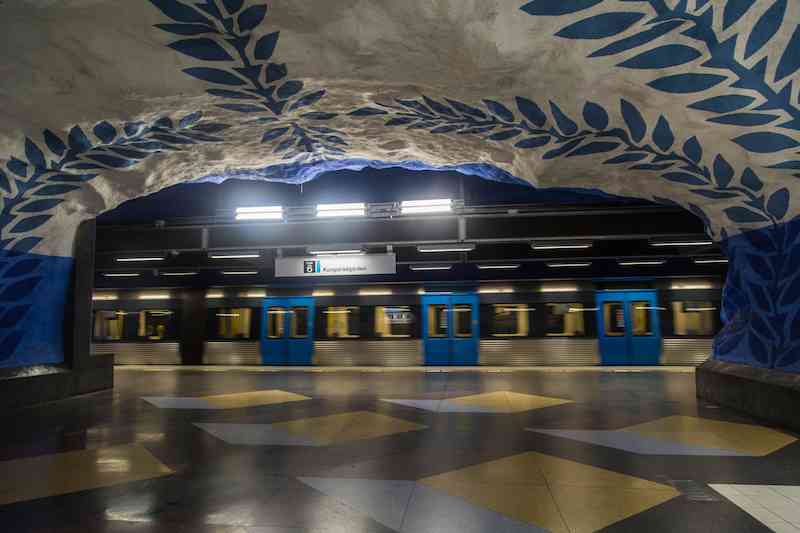 Almost every metro station in Stockholm has its own theme, which makes taking public transportation pretty cool, instead of a mind-numbing exercise in avoiding eye contact. It is basically a never-ending art installation, using mosaics, sculptures, and designs to take commuters through five decades of European art.
This project started in the 50s, as part of a political ideology called "The People's Home" (Folkhemmet). One part of the Folkhemmet philosophy involved spreading art to all Stockholmians (that's a word, right?), regardless of income level – thus the metro project was born.
Little touches like these throughout the city make you appreciate the country's unique philosophy, influenced by its more socialist attitudes. Of course, Sweden also had the luxury to spend money on such projects because it was extremely lucky for a European country in that it managed to opt out of World War II entirely. In fact, Swedes just marked 200 years without war in 2014. This peaceful legacy is evident in the abundant historic buildings of Stockholm, which remain beautifully preserved since the city has blissfully escaped destruction and reconstruction for some time.
Art, Ships and Museums
Moving on from the metro, I found my favorite kind of art – photography – at the incredible Fotografiska museum. When I visited, there were exhibits on urbanization and pollution in Africa, the life of Romani people, and Greta Garbo, among others; no matter what you're into, you will find something to enjoy, so I absolutely recommend a stop here.
I got a small taste of old, rural Sweden at Skansa, a giant open-air museum on Djurgården, which is basically Museum Island. Skansa is a bit kitschy, but fun to tour and see how the older generations lived.
*Travel Tip: Get the Stockholm Pass to get entry to over 60+ attractions for free, plus use the Hop On Hop Off Boat Tours to quickly get to different islands. I got the 2-Day Pass for 795 SEK (about $90), which sounds like a lot, but if you're planning on touring more than 3 museums and using transport, it saves you so much money. Use the pass to visit places like The Vasa Museum, The Royal Palace, The Nobel Museum, and others, though some (like Skansa) are not included.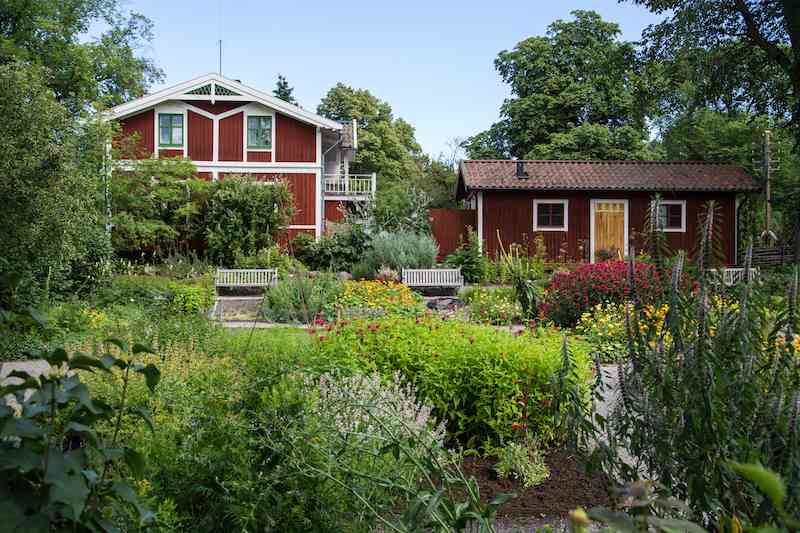 The second-coolest museum is hands down the Vasa Museum. A few decades ago, a group of probably insane but highly-motivated people decided to spend a massive amount of money in order to raise a sunken ship from the waters around Stockholm, and it's a good thing they did because the resulting exhibit is jaw-dropping. The Vasa was built in 1628, and it is now the oldest such preserved ship in the entire world.
In addition to the ship itself, plenty of excavated objects and remains are exhibited throughout the museum, giving you a sense of how people lived back in those times. That history, plus the telling of the complex excavation project in itself, is worth a trip to Vasa.
Summertime Fun
If you know me at all, you may be wondering around now, "Hey, you said you fell in love with this place, so how does beer factor into all this?"
Not to worry, as in addition to biking, outdoor drinking also seems to be high on every Stockholmian's summer priority list. Scenes like the one below are pretty much everywhere you turn during the long summer days.
Everywhere I looked, tables surrounded by happy drinkers filled outdoor patios and sidewalks. Myself personally, every time I would see the price of the beer I had just purchased, I would quickly drink another one in hopes of forgetting my eventual credit card bill.
*Local Tip: A lot of cool, young Stockholm people (you want to be cool, right?!) love going out in Södermalm, the hipster-y area of Stockholm. Bar hop down Götgatan (pictured below), grab some food, and if you have the energy to walk all the way down, you will end up near the south end of Södermalm at a very laid-back bar/club called Trädgården. Commence partying.
If you want a more relaxing experience, head to Kungsträdgården.
Families with baby strollers make the rounds of the park and young children splash around to refresh themselves in the water, friends lounge on the steps and catch up, all while the light splashing of the fountains goes on in the background. There's always a hint of flowers in the air, as the park is overflowing with them, and even though there are plenty of people throughout, the noise never rises above a pleasant murmur.
Kungsträdgården is one of the most relaxing places in the city. And if you're lucky in your afternoon stroll, you'll catch an outdoor concert.
City at Night
After 9 PM, with the sun hanging low on the horizon and a pink tinge deepening minute by minute in the sky, I walked back through the alleys of Gamla Stan, which now had a calm, abandoned, fairy tale vibe to them.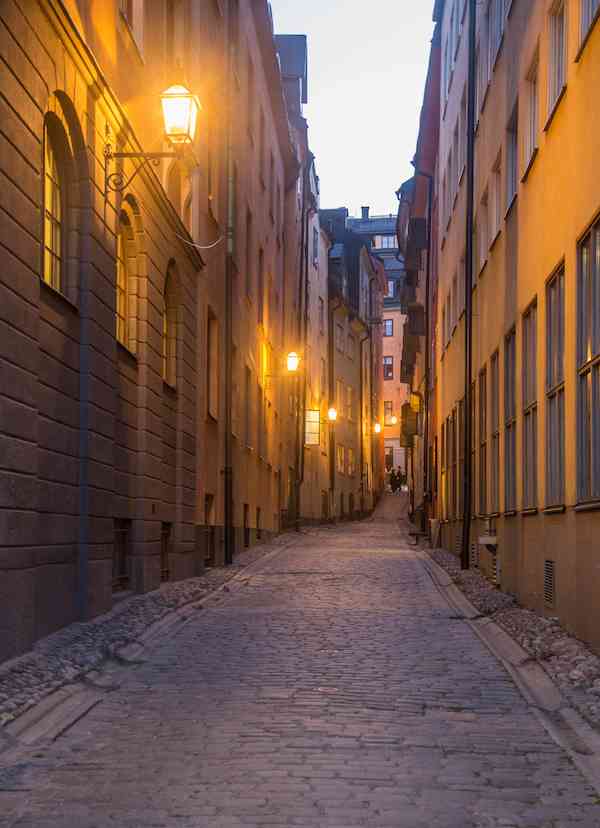 There's nothing like evening walks in Stockholm. Challenge your legs and walk from the east side of Gamla Stan up to Norrmalm/Östermalm. You can explore the restaurants and bars around Kungsträdgården or continue on to Stockholm Nybrokajen – the ferry terminal – just a couple of minutes away.
*Local Tip: My favorite bar in Östermalm was Riche, a restaurant/bar/dance club, which you can stay in the whole night – from your first bite to that ill-advised last drink that will all but ensure a piercing hangover the next day. Heads up though, Östermalm is a posh kind of area, so expect higher prices, and of course, some rich kids and businessmen in attendance at all times.
So why do I love Stockholm? Because if you heard the words "ferry terminal" and was wondering why on earth I would send you to an overcrowded, exhaust-filled, unbearable at low-tide location, don't worry; the ferry terminal in Stockholm looks like this:
Even the areas that should be shitty manage to look spectacular.
Do you need one more reason to fall in love with the city?
Summer Sunsets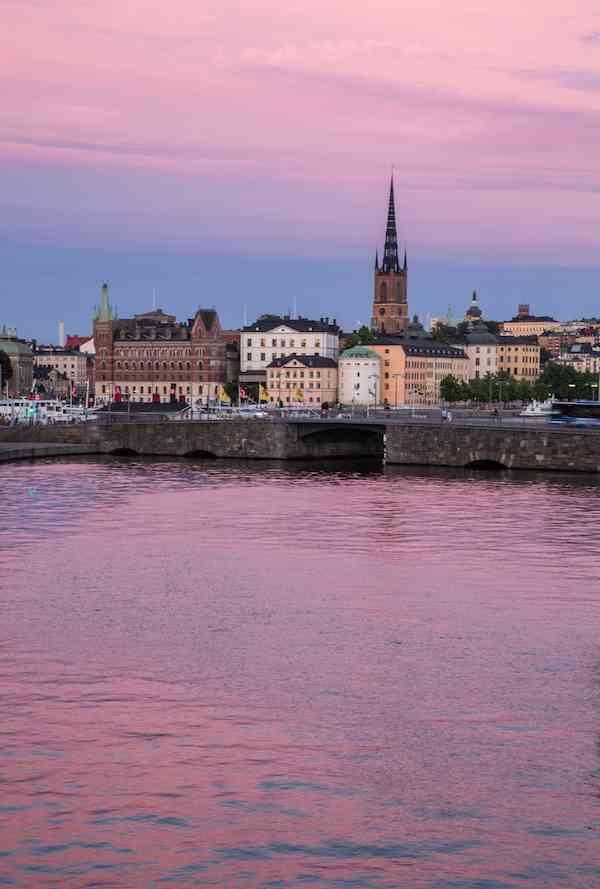 Enough said.
Have you ever fallen for a city? Which one, and what was your experience like? If you liked this post and want to spread the love, share or Pin below!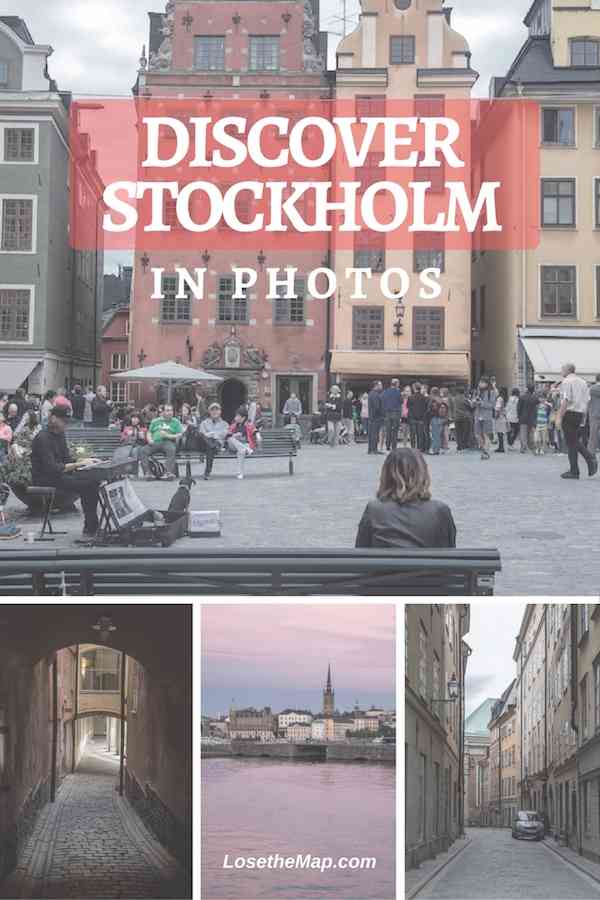 This post includes affiliate links for services I use and endorse, such as Booking.com. I get a small percentage if you book through the links, but your cost is not affected at all. As always, opinions and reviews are my own.
SaveSave