I will be honest here: in the past eight years of living in Los Angeles, I had not once been inclined to go on a classic Palm Springs getaway with my friends.
The distance from LA to Palm Springs is just over two hours. I had gladly traveled more hours to visit creepy abandoned places, strange little towns, and vast national parks.
For some reason, I had always written off Palm Springs in my mind as just a popular weekend getaway for Angelenos. I thought of it as a place to go lie by the pool, tan, sip cocktails, and not do much else. Nothing wrong with any of that, of course, but not my priority when traveling.
Disclaimer: This trip (but not this post) was sponsored by Palm Springs Preferred Small Hotels and Alcazar Hotel. However, all opinions and thoughts are, as always, my own. This post also includes affiliate links. If you click, I get a small commission for any products you purchase, at no extra cost to you.
In writing off this destination, however, I was committing a big travel sin I usually rail against. I was seeing only the popular image/stereotype of a place and refusing to do my own in-depth exploration.
Sidenote – if you'd rather see than read about Palm Springs, you can check out my vlog below:
When I got a call from the Palm Springs Preferred Small Hotels, they enthusiastically spoke about many offbeat sides of the city I genuinely had no clue about. So, I decided to take a trip of my own. What I found surprised and delighted me. I explored an adorably retro desert city with beautiful architecture and design, cool history, and all the big-city amenities you could want in a compact, relaxed atmosphere.
If you do want to support an independently-owned boutique hotel, I would highly recommend checking the list of hotels at Palm Springs Preferred Small Hotels. I always like supporting local businesses wherever I travel, and my stay at the Alcazar was incredible. I experienced great hospitality, airy, bright rooms, a relaxing atmosphere, and got lots of great local tips from the friendly staff!
For more information about Palm Springs Preferred Small Hotels, go to https://www.palmspringspreferredsmallhotels.com.
Palm Springs is Easily Walkable (and Bikable)
Most desert cities and destinations are not known for their accessibility. It usually takes a long time to traverse the desert and get there. Once you have arrived, everything is so spread out that you end up getting in your car for pretty much everything, even a late night supermarket run.
Palm Springs is nothing like this at all. If you stay in one of the many downtown boutique hotels for your Palm Springs getaway – I stayed at (and highly recommend) the Alcazar – you can walk all over downtown Palm Springs and the Uptown Design District quite easily since most shops, restaurants, and galleries are grouped together in the same area.
If you need to travel any further, no worries! The Alcazar, as well as some other hotels around town, provide bikes free of charge to hotel guests, which you can use to tour the gorgeous desert houses of the residential areas and the beautiful mid-century modern architecture all around town. Bike lanes make cycling around the city a breeze.
For those looking for a little local knowledge while walking around town, the Historical Society offers plenty of reasonably-priced Palm Springs tours.
The City Has One of the Best Views in Southern California
Since I always thought of Palm Springs as sitting on a flat desert, I was surprised to learn that Mt. San Jacinto State Park is actually right next to the city. Even better, the beautiful forest wilderness of the park is accessible by a ten-minute tramway journey.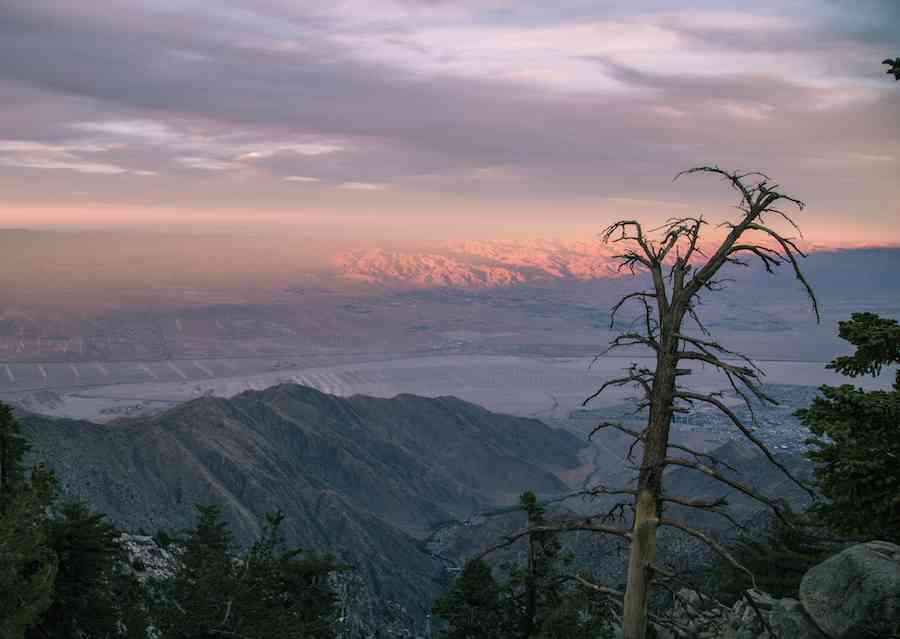 If you're looking for incredible views and beautiful hiking trails through the mountain and forest, but don't necessarily want to spend the whole day hiking, take the Palm Springs Aerial Tramway to the Mountain Station, located at 8,516 ft. The tramway rotates, so no matter where you are standing, you will get breathtaking 360° views of your ascent.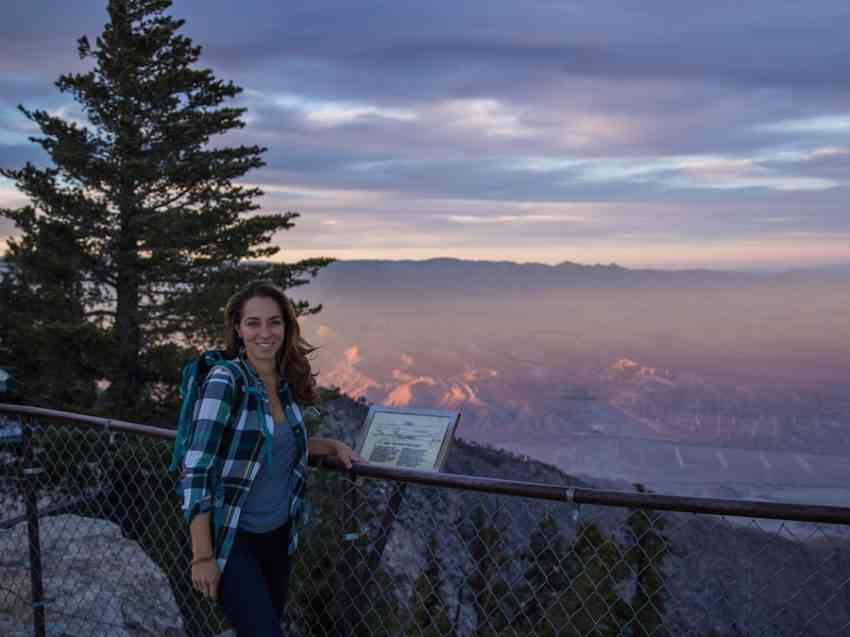 Local Tip: The weather at the Mountain Station can be up to 30°F colder than the weather at the base, so come prepared with an extra layer.
At the Mountain Station, you can take pictures of the Coachella Valley view below, eat and drink at the restaurant and bar at the station, or hike around the San Jacinto trails to explore a little nature around Palm Springs.
Palm Springs is the World Capital of Modernism
Even for someone as generally oblivious to architecture as myself, the design aspect of Palm Springs is undeniably impressive.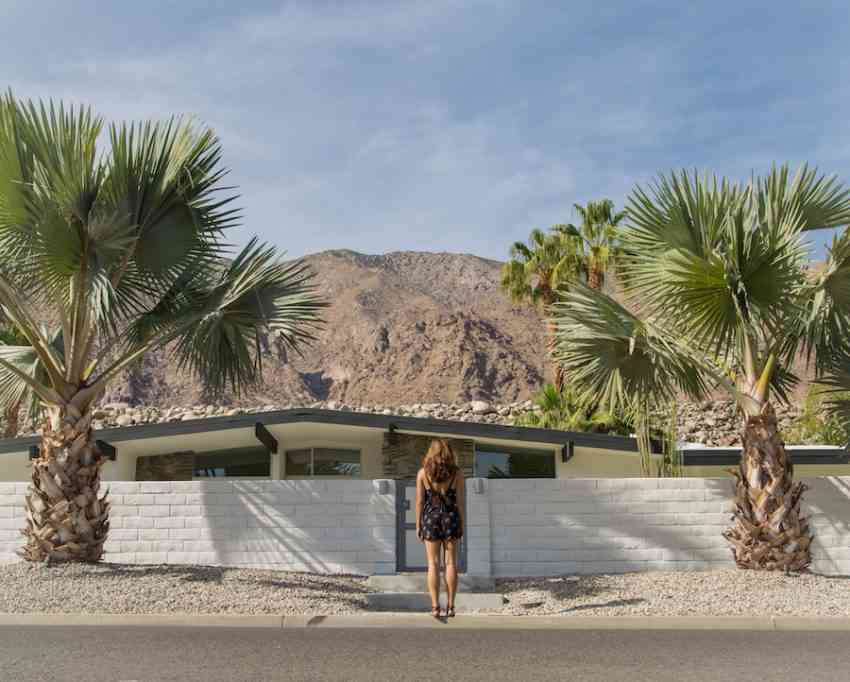 Featuring houses that look like the desert's tribute to the Jetsons, Palm Springs has the largest concentration of mid-century modern architecture in the world. Gleaming whites and cream colors, hard angles, endless panes of glass, and crisp designs reign throughout the city. This is especially true in the "Old Hollywood" neighborhoods of The Movie Colony and Old Las Palmas.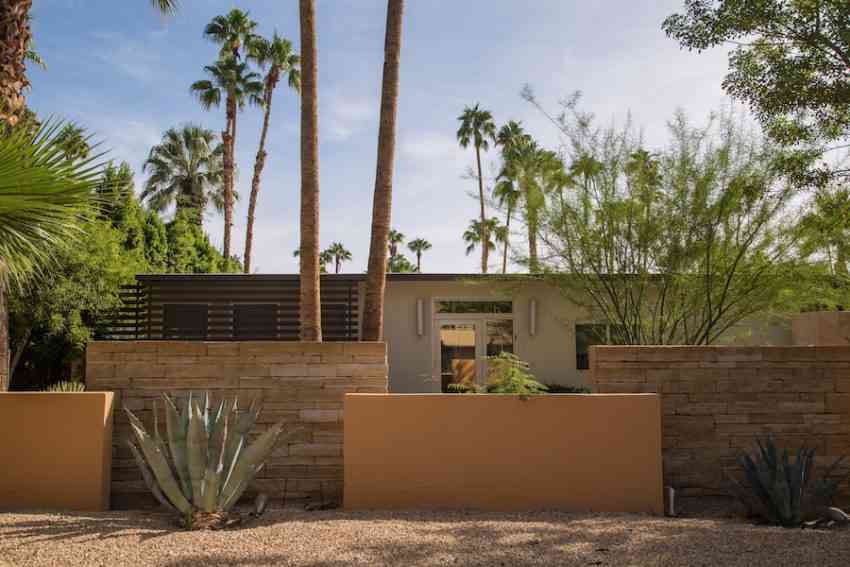 Beyond gazing at houses of the rich and (maybe) famous, you could arrange your Palm Springs getaway for Modernism Week, which usually takes place in February. This way, you can get a better understanding of this eccentric style of architecture. If you're in town any other time of the year, check out the offbeat antique and retro finds at the Palm Springs Art + Design Gallery, or take a look at the exhibit in the "sandbox" of the Palm Springs Art Museum – a minimalist, modern, open model house.
Go Back in Time to Retro Americana and Old Hollywood
Known as a playground for Hollywood in its most glamorous era, Palm Springs was either a home or second home for many celebrities. A popular spot since the 1920s, the city made a come-back in the post-war era of the 50s and 60s.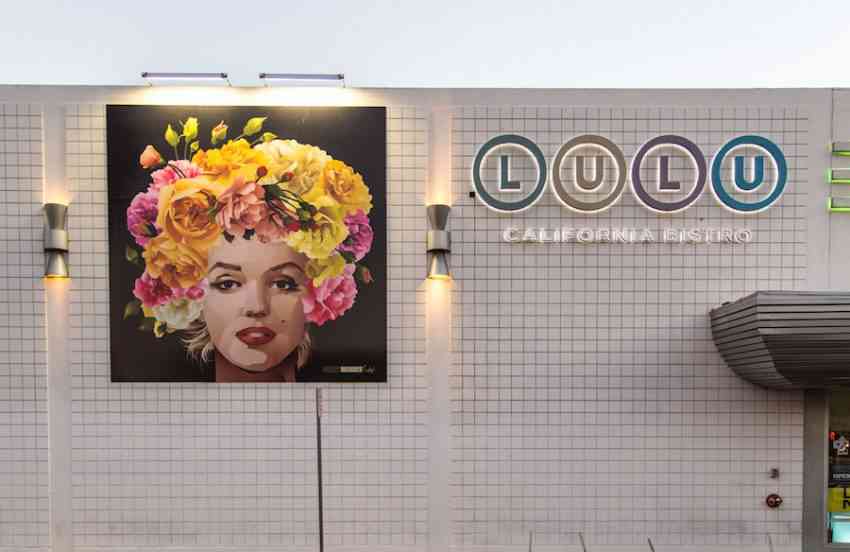 Members of the Rat Pack in particular (Frank Sinatra, Dean Martin, Sammy Davis Jr., and others) were known for frequently going on a Palm Springs getaway. In fact, the city even has its own Walk of Stars bearing the names of the celebrities that would frequently travel from LA to Palm Springs because they lived in and loved the city.
You can see the influence of this old Americana era in Palm Springs even today. Many local stores have an undeniably retro feel to them and retain that happy, old Main Town atmosphere.
Discover an Offbeat Artists' Enclave in Palm Springs
Countless galleries and artists' workshops line the streets of downtown Palm Springs. The Elena Bulatova Fine Art gallery and Artize Art Gallery are two local favorites. They feature work from both established and up-and-coming artists.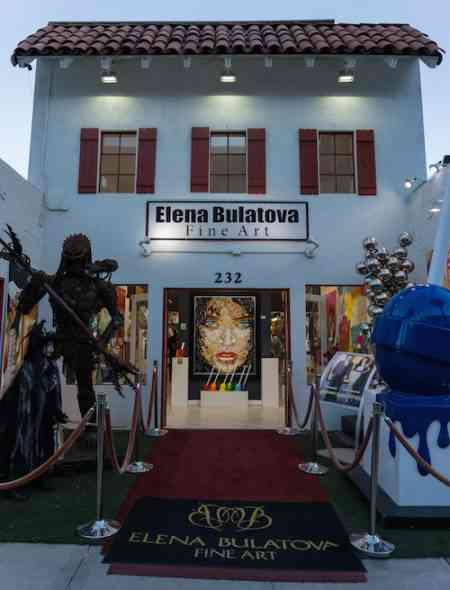 Local Tip: Spend a morning learn to make art yourself – whether it's painting, stained glass, or clay work – at the Desert Art Center.
You can also check out the Palm Springs Art Museum, filled with incredible, provocative exhibits on a variety of subjects. At the moment, they have an illuminating exhibit called "Unsettled: Art on the New Frontier, which runs until April 30, 2019". It focuses on Native American identity in culture and art, and highlights the conflict and clashes between European-American settlers and Native Americans, especially in the Southwest and West.
Find Big City Cuisine and Cocktails in a Small Desert Town
Even though its permanent population hovers just under 50,000 people, Palm Springs has an overload of innovative restaurants and bars popping up. There are so many that it can actually be hard to decide where to stop first. If you do stay at the Alcazar, two of the best places – Cheeky's and Birba – are literally right next to the hotel.
Part of what's great about Palm Springs is that you can get anything you would like in a big city – galleries, gourmet restaurants, cool cocktail bars, museums – in this small town with a relaxed atmosphere. So you can enjoy great food, art, and culture without traffic, noise, and crowds.
Here are some great brunch, dining, and drink options for your Palm Springs getaway, as tried by me AND recommended by locals:
Brunch:
Pinocchio in the Desert ($$-$$$) – One of the most popular, lively Sunday brunches in the area
The Farm ($$$) – Provencal-style menu with locally-sourced food
Cheeky's ($$) – Delicious American brunch cuisine (check out local tip below)
Local Tip: Cheeky's serves a brunch option called "bacon flight", which includes five different types of bacon. FIVE. DIFFERENT. TYPES.
Dinner:
Birba ($$-$$$) –  Get amazing dinner and cocktails all in one; focus is on Italian cuisine
Workshop Kitchen + Bar ($$$$)- Great American cuisine, modern vibe, food from local farms
Miro's Restaurant ($$$$) – Mediterranean food on a beautiful outdoor patio
Eight4Nine ($$-$$$) – American, vegetarian-friendly cuisine in the Uptown Design District
Drinks:
Bootlegger Tiki ($$-$$$) – Very small, intimate tiki bar, serving giant, well-made tiki bar cocktails
Seymour's ($$$) – This small, intimate bar is one of the best, with highly-rated craft cocktails
Amigo Room ($$$) – Upscale Ace Hotel bar, but with live music and karaoke nights
Truss & Twine ($$-$$$) – Good cocktail selection; dark, modern design
Immerse Yourself in the History of the Desert
Palm Springs has an intriguingly cool mix of influences since so many different groups of people have called this area of California home over the centuries.
The local Agua Caliente band of Cahuilla Indians were mistreated and massively displaced by European-American settlers, but a strong contingent of over 400 Cahuilla remains actively involved in shaping the character and policies of Palm Springs today. View rock art and incredible nature at Tahquitz Canyon, and in 2020, you can look forward to the re-opening of the Agua Caliente Cultural Museum.
You can also visit the Ruddy's General Store Museum to get a sense of Depression-era life and markets in the desert. Then, check out the nature of the desert at the well-preserved Moorten Botanical Garden.
Extra: LGBTQ in Palm Springs
Palm Springs is an internationally-renowned destination for LGBTQ travelers. As of 2018, the entire city government is LGBTQ, and the city hosts plenty of pride events throughout the year. It is one of the safest and most welcoming environments for people of all sexual orientations.
I love being as inclusive as possible towards all my readers, so if you are interested in LGBTQ travel in Palm Springs travel, head over to Two Bad Tourists to check out their list of the coolest things to do in Palm Springs since they can talk about the subject way better than I can! There's also an entire website called Visit Gay Palm Springs.
Have you been to Palm Springs? What do you think? If you liked this post, Pin away below!