An hour and 75 Krona ($8.50) by boat from the colorful skyline of Stockholm, nestled in the lush green 30,000-island sprawl of the Stockholm archipelago, lies the town of Vaxholm. The "Capital of the Archipelago", as its nicknamed, has just under 5,000 permanent inhabitants, and yet is is the biggest town in the whole island chain (aside from Stockholm, of course).
Many Stockholm residents come out to Vaxholm or to one of the thousands of other islands in the archipelago for day trips. If you're visiting Stockholm in the summer, a day trip to one of these islands is a must if you want to understand how Swedes spend their summer. With such a variety of islands, each with their own unique ambiance and character, you can even go ahead and pick which island suits your taste – use the Stockholm Archipelago site to browse through your options.
But before I get into my visit to Vaxholm, perhaps it makes sense to first convey what summer in Sweden means to Swedes.
Midsommar & Summer in Sweden
Many countries I've visited perk up significantly in the summer. How can they not? The days are longer and sunnier, people get to spend more time outside, and life just generally feels easier.
But summer in Sweden is elevated to a whole other level. This is obvious when you consider that one of the biggest celebrations of the Swedish calendar is Midsommar (Midsummer, as I'm sure you guessed).
Though technically supposed to be celebrated on the longest day of the year, Midsommar Eve takes place on a Friday between June 19 and 25, because Swedes enjoy a sense of order above all else, so they can't just let the holiday fall on whatever day actually is the longest.
Families and friends gather for huge, all-day lunches, there's some dancing around a maypole, and the more party-oriented of the crowd head out at night. Many Swedes leave the cities and celebrate in the countryside, as almost half the country has access to some kind of charming red Scandinavian cottage through friends or family (lucky).
This festive mood holds up for a good part of the summer; if you had spent almost half the year seeing the sun rise and fall for just a few hours outside your office window, expecting complete darkness by the time you got off work, you'd be overjoyed to suddenly experience 18-19 hours of bright sunlight a day as well. People in Stockholm are out walking, biking, and enjoying the ample green space in the city from early in the morning to almost midnight.
From an outsider point of view, summer seems almost revered in Sweden. Which is why towns and islands like Vaxholm fill up with residents wanting to get out on the water and into the countryside.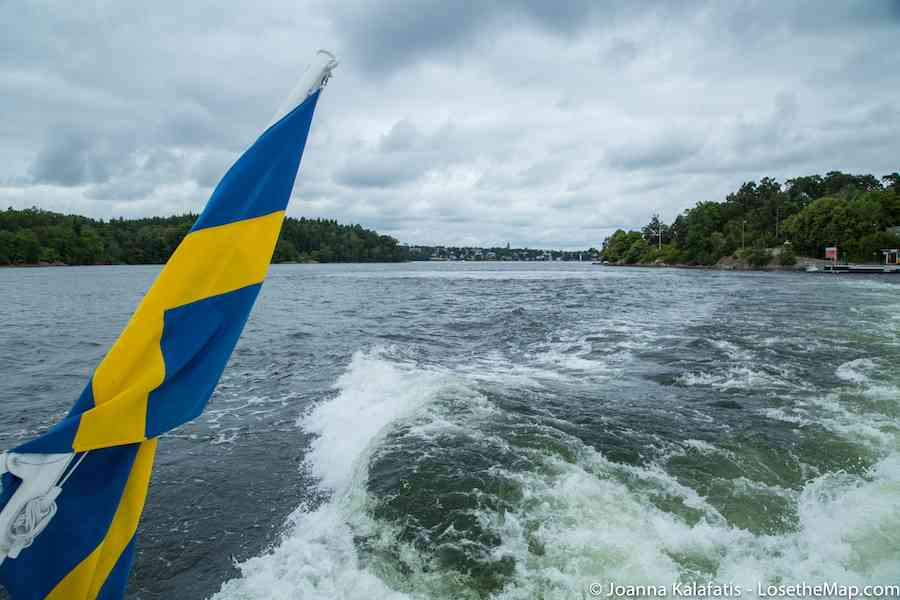 History of Vaxholm
Though established in 1647, the town of Vaxholm has actually been inhabited for the last 800 years. It originally housed Swedes forced to build the Vaxholm Fortress (which you can still visit), used as protection against the Danes.
Yes, I know it's hard to imagine now, but Sweden and Denmark used to fight pretty often. Now they're two of the happiest countries in the world, with incredible social structures and immaculate streets, so I guess fighting has fallen out of fashion.
After the fortress was built, most of the residents consisted of military members and fishermen.
And in case you weren't aware that Swedish women, some of the most successful in the world today thanks to great strides in gender equality, always kicked ass, we were told a little story about how women took over from men when it came to selling the local catch in Stockholm, because men would drink away all their money on the boat trip back home and arrive with nothing.
Who should run the world? Girls. (Copyright by Beyonce). I'm just saying.
Visiting Vaxholm Island
One of the best things about the island of Vaxholm is that it is easily walkable. It takes about 30 minutes to cross the island one way on foot, and five minutes to cross it in the other direction. No cars necessary, making a day trip all the more worthwhile.
If you want to stay the night, you can book a room at the Waxholms Hotell (I know what you're thinking, but no, that's not a type-o), but most people find a day trip is enough to cover the island's offerings; after all, you can literally walk around the island 10 times in a day, if you want to.
Check out small stores and galleries, visit the Vaxholm Fortess, walk around the scenic, colorful yellow and red cottages, or take a dive into the cold, clear waters surrounding the island.
One thing you can't miss out on is the island's fresh, delicious food.
Sweets, Food and Farms in Vaxholm
The most famous food destination in Vaxholm is probably Cafe Hembygdsgarden (damn these names). I entered the warm cafe on a chilly, overcast morning to discover tables overflowing with colorful, oversized treats and hot coffee.
Starting the day with a sugar rush? Yes, please.
At night, we were whisked 45 minutes away by boat to Husmor Lisa, a restaurant located in the chef's own charming house on one of the archipelago's tinier islands. The chef and homeowner, Lisa, serves six small courses prefaced by one of the tastiest (and prettiest) drinks I've had.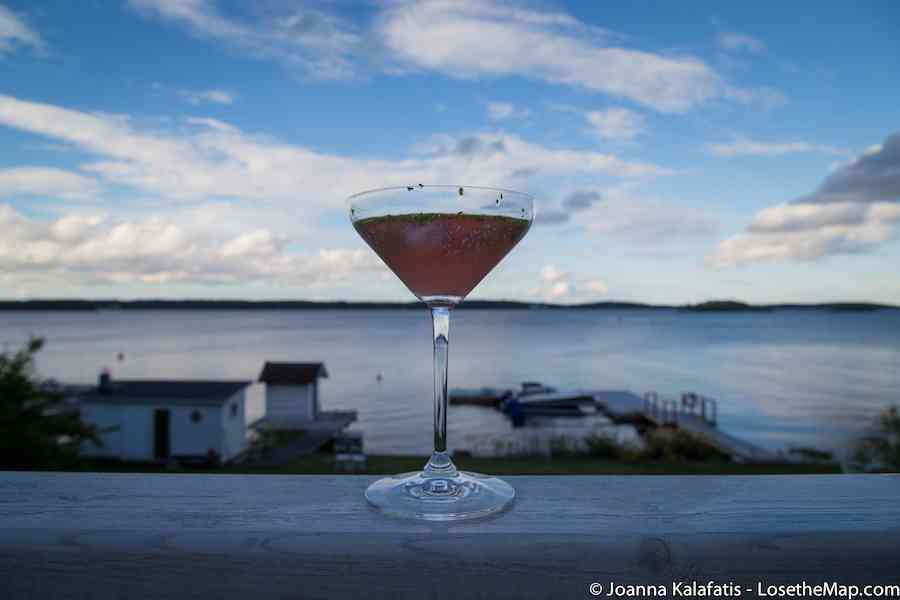 If you guessed the courses mostly consisted of herring, tartar, and pickled things, you'd be right. As Lisa explained to us, the Swedish cuisine is mostly about salting, smoking, and pickling anything you can get your hands on. Most of all, mirroring the general Swedish concern with the environment, Lisa follows the rapidly growing farm to table trend, working with local farmers and fishermen to personally pick out ingredients for her next dish.
Her restaurant is open Fridays and Saturdays all year around and four days in the summer, so check opening times ahead of your visit.
Why Should You Go?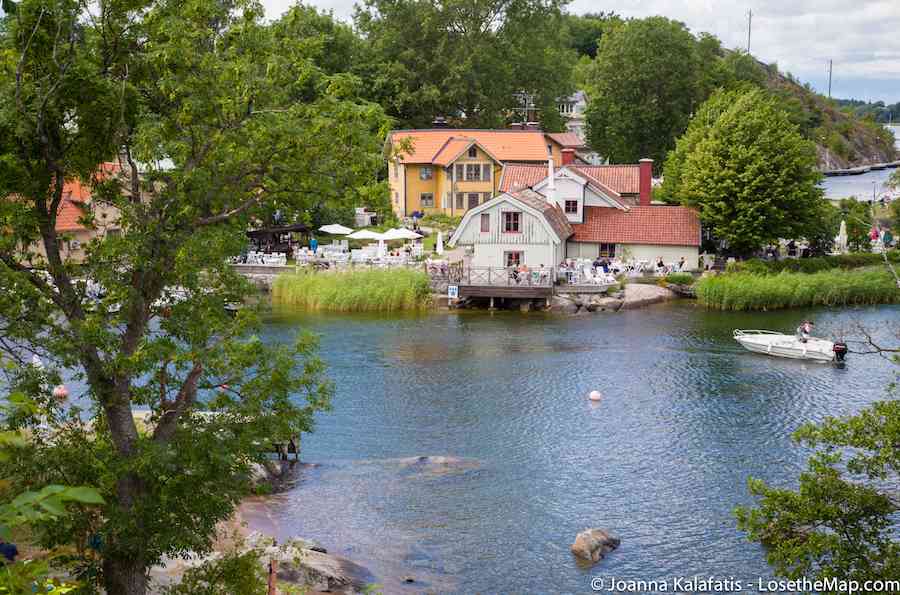 I only spent 36 hours in Vaxholm, but my stay there was the perfect introduction to my two week trip in Sweden. Thanks to my jet lag, I woke up at 5 AM and wandered the nearly empty streets, seeing the cafes and shops slowly open for customers.
I realized – when I talk about the benefits of traveling like a local – that's what experiencing local life is all about. Destinations are more than just their grand landscapes and busy cities; exploring is also about venturing to the small towns, experiencing the slower rhythms of life, wandering around charming places with nothing quite extraordinary and yet everything pleasant, that show you the life of this new place in which you find yourself.
The smell of the salt water,  the vivid colors and flower-filled gardens of the cottages, families enjoying the long sunny days of the weekend, kids splashing at the beach, the slower pace and leisurely walks of small-town life – that is the side of Sweden you get to see in Vaxholm.
What has your favorite small town destination been? Comment below! If you like the article, Pin away!