Since you follow this blog, I'm assuming you love to travel. For those of us stuck at home, not being able to explore much beyond our living room and bathroom is taking its toll.
There's definitely a certain comfort in knowing that at least we're all in the same boat. The priority right now is to stay home, safe safe, and keep ourselves healthy, happy and sane until this passes.
However, cabin fever does start to set in after a while. After you've made your tenth TikTok video and realized you're still not famous, after you've binged every show on Netflix that seems semi-decent and only the "Tall Girl" series of the world are left, that travel itch will inevitably hit again.
The good news is, there are ways to travel without actually leaving your living room! I don't mean in the "free your mind" and other New Age "travel beyond your body" ways. I mean you can actually see incredible destinations around the world and travel virtually to them from your own computer.
Below, I share a whole list of sources for travel lovers to use to travel virtually! The resources are grouped by the kind of travel you like to do (arts and culture, the outdoors, etc.). Skip on down to your favorite activities, and start exploring!
If you have a resource to contribute, please let me know in the comments below! I will update this post with your resources as well.
General Virtual Tour Site
To start off how to travel virtually, I am linking to 101+ virtual tours of some of the most popular attractions in the world, ranging from Uluru in Australia to the Forbidden City of Beijing. The attractions are sorted by country, and provide a great overview of some major world destinations.
Arts and Culture
Vienna Opera: One of the greatest opera houses in the world, the Vienna State Opera is a must-see when in Austria. The good news is, the Wiener Staatsoper has over 40 live performances you can watch online. Sit back, close your eyes, and let this classical, beautiful music overtake you.
National Gallery of Art: The National Gallery of Art in Washington, DC, has its whole collection available for online viewing.
Top Museums Around the World: In fact, Google Arts & Culture has a slew of amazing museum exhibits from top destinations around the world. From the British Museum in London and the Rijksmuseum in Amsterdam, to the Frida Kahlo Museum in Mexico City, there are plenty of exhibits for you to see. I was supposed to be in Mexico City a week ago. Which means I'll be taking advantage of that Frida Kahlo tour.
Tate Modern in London: For those looking for a little whimsy online, all 12 Andy Warhol rooms in London's famous Tate Modern can now be viewed online.
Hermitage Museum: This has been one of my dream destinations for a while; there is an epically long, beautiful virtual tour of Russia's Hermitage Museum on YouTube at the moment, so you can view it from home (this alone will let you kill 5 hours if you choose).
UK National Theater: Every week, the UK's National Theater will be uploading a new play online available for free, for one week. Arrange a play viewing night with friends (virtually) and discuss!
Metropolitan Opera in NY: The world-famous Metropolitan Opera will be streaming opera performances nightly. If you log on, please consider donating to help this wonderful institution through hard times as well.
Louvre Museum: Perhaps the most famous museum in the world, this top attraction in the world's top destination of Paris, France, offers plenty of 360-degree tours of its rooms and exhibits online. Since the Louvre can take a full day to explore, you have a lot to see here.
Broadway: Did you have to cancel your ticket when Broadway went dark? Get a 7-day free trial on Broadway's online site to stream your favorite show!
The Great Outdoors
Yosemite National Park: Enjoy the sweeping views and nature sounds of Yosemite, arguably the USA's most famous national park, with this Virtual Yosemite tour.
Monterey Bay Aquarium: Though not technically outdoors, the Monterey Bay Aquarium has an open sea camera from 7 AM to 7 PM Pacific Time in the one million gallon Open Sea exhibit, where you can view incredible ocean wildlife floating by on your screen.
Aerial America: Smithsonian Magazine has released 68 episodes of "Aerial America" for free, taking you across all 50 states from above.
US National Parks: Tour the US National Parks in stunning detail, from Hawaiian volcanoes to Alaska's Kenai Fjords, to Dry Tortugas National Park in Florida.
Try to Spot the Northern Lights: Every night, Polar Bears International streams the night sky in Northern Lights hotspots around the world. See if you can catch a glimpse!
Landmarks and Monuments
Google Arts & Culture: This site will be a recurring theme in this post, and for good reason. From the Taj Mahal to Tikal, Google has an incredible array of landmarks and monuments around the world you can view. Of course, nothing replaces the real experience. However, it's a wonderful way to get a sense of all our world has to offer. You might even find a new destination to put on your list!
UNESCO World Heritage Sites: Take virtual tours of UNESCO World Heritage Sites using Google Earth.
Hike the Great Wall of China: See how this incredible world wonder stretches out over the vast expanse of China's border online.
Travel With a Game
I might be revealing myself as a huge nerd here (I definitely am), but you can travel virtually around the world with a game called GeoGuessr. Basically, it starts by Google Earth dropping you into a random place on Earth. Based on what you see around you (landscapes, signs, etc.) you have to guess where in the world you are. It's…weirdly addictive.
Best Travel Shows on Netflix
Does this count as a Netflix binge still? Maybe, but at least you'll be discovering amazing places instead of learning more about Carole Baskin.
Parts Unknown: I cannot emphasize how much Anthony Bourdain inspired my love of travel, and many others'. He affected how I viewed traveling, and how I sought to travel myself. His show remains one of the most wonderful ways of exploring the world.
Dark Tourist: For those who prefer offbeat, quirky, and sometimes just straight-up dark, mystery travel, this show is for you. From cool things like voodoo festivals, to straight up insanity like swimming in nuclear blast lakes and hanging with Pablo Escobar's former enforcers, host David travels in his own unique, morbid way.
The Kindness Diaries: In a time of widespread worry and pessimism, Leon Logothetis' beautiful travel show is what we need. Leon's challenge is to travel on just $5 a day, reliant mostly on the kindness of strangers. One season involves Leon traveling the Pan-American highway from Alaska to Ushuaia, Argentina. I highly recommend it.
Chef's Table: For those interested in the culinary side of travel, Chef's Table is a must-watch. You get to visit chefs around the world, and learn an astoundingly diverse array of cooking methods, recipes, and dishes.
The World's Most Extraordinary Homes: This UK program features its main duo traveling to a different country for each episode. They visit some of the world's most unique, architecturally astounding homes. This isn't an MTV "Cribs" kind of show. Though many of the homes obviously required some financial investment, most are not sprawling, gaudy villas. In fact, most of the homes are rather average-sized. Rather, the show explores how homes can be designed to fit beautifully into their surrounding environment.
Travel Virtually By Country
I will be adding more to this how to travel virtually section in the coming days. I wanted to include a small sample to start with, and please feel free to drop your own country's virtual tours below!
If you want to share this post or keep these resources saved, Pin away below!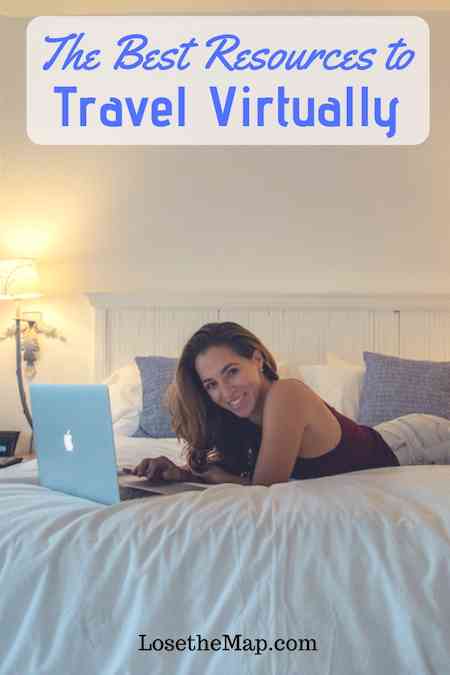 Asia
JAPAN: It's perhaps unsurprising that high-tech Japan has a virtual website where you can tour different parts of the country. Go ahead and check out the tourism organization's virtual site!
Europe
FRANCE: With YouVisit, you can now take 360 degree virtual tours of Paris' most famous attractions.
GREECE: This beautiful Mediterranean destination – I may be a bit biased towards my home country, but it's honestly the best – has launched an incredible initiative called "Greece From Home". Learn incredible recipes from Greek chefs, tour Greek islands and cities virtually, follow yoga classes on whitewashed houses with a turquoise sea backdrop…explore Greece!
Middle East
ISRAEL: Take this 360 tour of one day in Jerusalem to experience the world-famous holy city.
North America & Caribbean
PUERTO RICO: Yes, I know Puerto Rico is part of the United States and not its own country, but as a destination, Puerto Rico has a whole other wonderful identity to offer visitors. Explore Puerto Rico online with Lin-Manuel Miranda
South America
CHILE: As the last country I visited before quarantining in the US, perhaps the incredible nature of Chile just holds a special place in my heart. The Chile 360 app allows you to explore mesmerizing landscapes from the Atacama Desert to Chilean Patagonia.