8 hours after someone had stolen my laptop and camera (my most prized possessions), 5 hours before I would find my backup memory stick that I mistakenly thought had also been stolen and was causing me intense anxiety, and 12 hours before having to wake up to fly back to Los Angeles, I walked into Suzie's beautiful apartment on the Danube for a traditional Hungarian dinner at Eat & Meet thanks to VizEat.
I don't think I have ever been in a harder to please mood.
So when I say it was one of my best experiences in a 6 week solo adventure that took me through 7 different countries, that should carry some weight.
But let's back up a little to give this evening some context.
In this traveler echo chamber that bloggers, writers, photographers, and travel aficionados find themselves in, it's easy to get wrapped up in the thrill and adventure of it all. Everyone's positivity fuels the general group enthusiasm, until we're all one big mass of energy living in this bubble where even one moment of sadness or doubt on the road is an unacceptable betrayal that threatens to pop it.
Every day is a new memory waiting to be made! Every moment is an adventure waiting to be discovered! You should never for a moment miss home or anything remotely associated with it! You're on the road, damn it, that's all that matters!
And in a way, it's true a lot of the time. Most of my time I am on the road, I am curious, and excited, and happy, and humbled, and complete – that's a good 96% of the time. But it's not all the time.
I would be lying if I said that I never wished for an old friend to be next to me while sitting at a cafe on the Ljubljanica River.
I would be lying if I said that while drinking at some of the best clubs in Shibuya, I didn't for a moment think fondly of my same old neighborhood bar in LA, with the same old familiar friends.
And I would be lying if I said that while I was on the road, I never wanted to sit down at a table with my parents and cousins, and be our loud, familiar, hungry selves.
When I walked into Suzie's apartment that day, I was definitely missing that family table. I had composed myself enough after the robbery to get out of my hotel and get to this dinner, but I wasn't exactly flying high.
I looked around and saw a pretty blonde woman about my age, who I assumed to be Suzie Goldbach (I was correct), and her two smiling parents putting last minute touches on a meal behind her. Suzie greeted me as though I were a dear friend she hadn't seen in a couple of years, and then guided me to the balcony to introduce me to the rest of her guests.
I walked outside to see 7 other people, sipping on wine, loud and laughing, and occasionally pausing to stare out at the truly breathtaking Danube River (getting a whole waltz written about you usually means you're the prettiest of them all). Introductions were made all around and as we settled into conversation, I finally relaxed for the first time that day.
The incredibly delicious food we were served helped calm me down as well, of course. Suzie kindly explained all the dishes we were eating and wines we were drinking, and gave us quite a bit of intriguing backstory on the dishes and Hungarian cuisine in general. I won't give it all away here, partly because if you're ever in Budapest, you should visit Suzie yourself to find out at her Eat & Meet Hungarian Pop-Up Restaurant, and partly because it's possible I missed some salient points while unhinging my jaw to inhale every dish.
After a starter of grilled asparagus wrapped in bacon served on a bed of salad and fresh vegetables harvested in Suzie's garden, we tasted some local wines.
Later, we dined on the tastiest duck breast I've ever come across. Suzie served it with baked bread and bacon dumplings and a spicy braised apple with walnuts and black currant jam. I just salivated typing that out.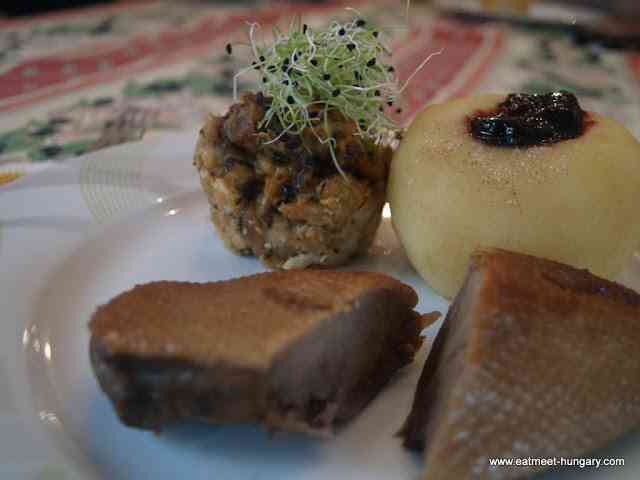 And then got an incredible chocolate and sour cherry cake for dessert.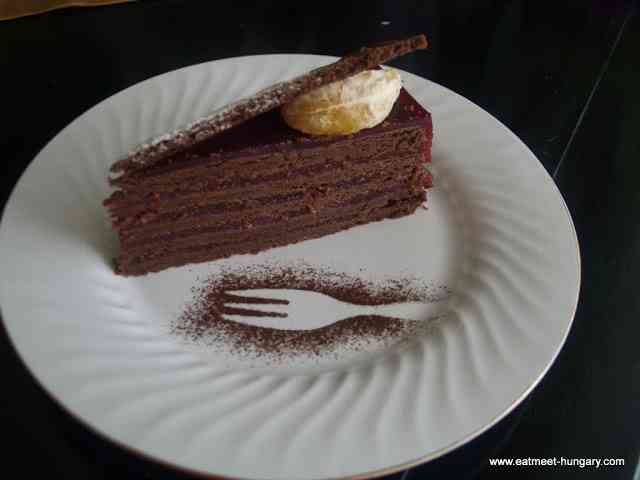 Since 5-6 nationalities were represented at the dinner table, the after-dinner conversation meandered between learning about each other's countries, lives, relationships, children and divorces. 
I listened to the Dutch couple on their second honeymoon try to outdo each other on corny Belgian jokes; an older couple from Fort Worth, Texas, talk with pride about their adult children, lament most of their neighbors' lack of desire to travel, and outline the rest of their 6-month trip; three British women in semi-retirement reminisce about their friendship which had been formed in their early 20s; and Suzie's wonderful parents try to teach us basic Hungarian, smiling warmly at our no-doubt awful butcherings of their native language and politely telling us we said everything well.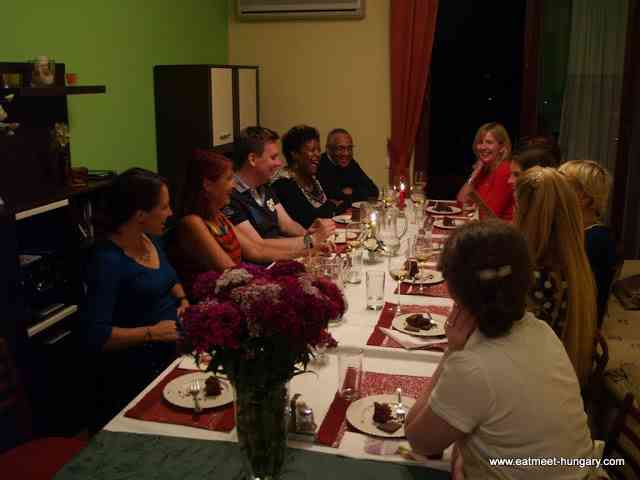 This was my strange little travel family of the evening. I relaxed, and laughed, and walked out feeling that warm, happy laziness that settles in after a big family meal. The couple from Fort Worth stayed with me until my taxi arrived to make sure I was safe, and gave me their address so I could drop by should I ever be in Fort Worth.
I could talk to you about how VizEat hosts have an incredible amount of local knowledge, especially about local cuisine, or how the food was delicious, or how it's nice to be in someone's home in a foreign city and learn about your destination that way.
But mostly, I will suggest trying VizEat because of this incredible feeling of home. If you want to have your own family of travelers for the night, or just experience a beautifully cooked traditional home meal on the road, you really need to check it out. And if you are ever in Budapest, you must not skip Suzie's wonderful dinner.
It was a memorable, welcoming, perfect end to my trip.
Do you ever miss home while on a long trip? What do you do?