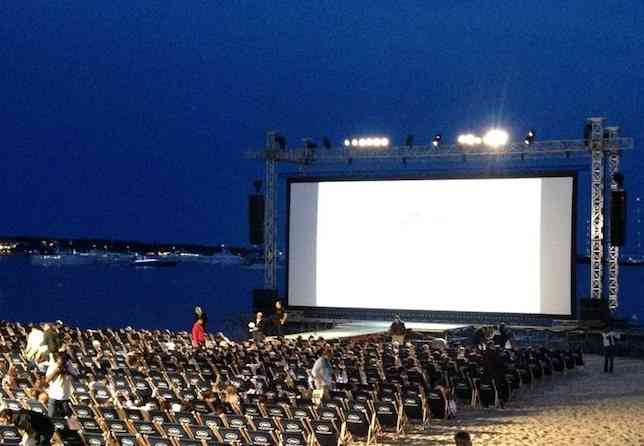 Attending the Cannes Film Festival ranks among the best experiences I have ever had in my life.  During the day it is a chaotic hub of activity, with producers, press, and film financiers running around from meeting to meeting, barely getting to enjoy any of the wonderful independent films playing at the festival.  But at night, people find the time to sit back, relax, and play.  There are events at bars and nightclubs all along the coast on the Promenade de la Croisette, which are attended by celebrities desperately trying to escape the paparazzi, and producers desperately trying to drown themselves in champagne so they can forget they have yet to sell their film.
However, my favorite nighttime activity was watching screenings at the Cinema de la Plage, pictured above.  When I attended in 2012, they were paying homage to James Bond.  The screen and chairs are set up right on the beach; I sat there watching a classic James Bond film while Mediterranean waves splashed softly in the background, cold sand rubbed against my feet, and a cool summer breeze enveloped me.  What a wonderful night.
If you're going to the Cannes Film Festival this year, definitely check the Cinema de la Plage out!  These free screenings are held at 9:30 PM on Mace Beach, and they are open to the public.